For creative teams, having the right surroundings and tools is crucial for generating ideas and keeping the inspiration flowing as they turn those concepts into reality. Dull, windowless workstations or open tables in a bland, neutral room can be uninspiring, to say the least. Feeling trapped or confined to one desk while being expected to churn out assets all day is the quickest route to stifling creativity. From graphic designers and multimedia artists to writers and photographers, creative professionals need office spaces that support the way they work.
Yet most creatives are operating in suboptimal workspaces. In a survey by AIGA, the Professional Association for Design, and the Creative Group, 61 percent of creative professionals describe their office spaces as either completely open concept (i.e., no privacy and rife with distractions), or at the other end of the spectrum, completely static individual cubicles.
To help spark innovative concepts, creatives need plenty of natural light, thoughtful imagery and art on the walls, and the flexibility to choose the space that works best for them throughout the day. Downtime is also very important for a creative's workflow, since a healthy break can help ideation and get creative juices flowing.
WeWork incorporates this and much more into all of our spaces, with some design elements crafted specifically for creative teams. We know that by providing companies with the optimal work environments for creative teams, they can help those employees stay motivated, energized, and productive. In addition, an ideal creative space can be an important recruitment tool for attracting creative professionals.
See how two enterprise organizations in partnership with WeWork have been able to rethink their workspaces to retain and inspire their in-house creative teams and attract new creative talent.
A fashion-forward office for Amaro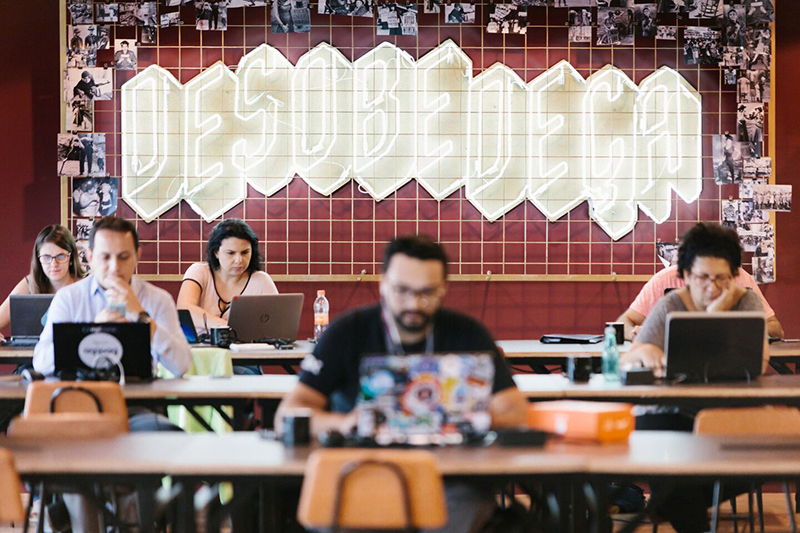 Amaro is one of Brazil's first digitally native fashion and technology companies. After outgrowing its offices, Amaro went in search of a new headquarters that would reflect the company's creative culture. By partnering with WeWork, it was able to do exactly that. Amaro's new office, at WeWork Paulista 2537 in Sao Paulo, has just the right amount of space, natural light, and decor to help staffers do inspired work. Custom artwork on the walls delights and inspires teams. What's more, creative staff members have the flexibility to move about to keep their creativity flowing. The office has an open layout, which includes meeting spaces with couches along floor-to-ceiling windows, as well as desks and quiet breakout rooms.
An innovative showroom for PUMA
As an iconic consumer activewear brand, PUMA employs many creatives that drive its product lines. While waiting for its new Boston headquarters to be built, PUMA didn't want to lose momentum in hiring the brightest and most in-demand creative talent. The company needed a high-quality interim space—and WeWork was able to deliver it, fast. From a conference room that doubles as a footwear showroom to custom paintings inspired by local street art, along with PUMA branding, the two-floor space at WeWork 33 Arch Street in downtown Boston exceeds creative teams' expectations. The office also includes a photo studio for marketing shoots, and phone booths for work that requires quiet and concentration.
"WeWork understands what our designers need to make footwear, and what marketers need to foster creativity," says Tom Coen, vice president and deputy general counsel at PUMA.
WeWork offers companies of all sizes space solutions that help solve their biggest business challenges.
Dawn Papandrea is a freelance writer who covers work, personal finance, and higher education. Her writing has appeared in numerous publications, including Family Circle and Monster.com. Follow her on Twitter.