In a globalized world, companies entering new markets need to be able to find the best local candidates who have the skills necessary to help the company grow. But that's not easy in an unfamiliar location.
Finding the right location that will attract the talent you need is a matter of knowing the city. This is just one way in which WeWork helps companies tap into local talent pools. Local WeWork staff in more than 100 cities worldwide have intimate knowledge of their location's workforce, culture, the neighborhoods, and perks that workers in your industry prefer, and insider tips on where to find the best talent.
A number of studies show that employee satisfaction, engagement, and retention closely correlate with the location, environment, and design of the workplace. This became clearer than ever in the wake of COVID-19. The most recent Steelcase Global Report on Engagement and the Global Workplace found that as a result of the pandemic, the priorities and preferences of employees have changed—possibly permanently.
In 2021 and beyond, the most important workplace considerations for engaging workers worldwide include enforced safety protocols, a work environment that fosters a sense of culture and belonging, a workplace design that offers a range of inspiring work areas, and an office vibe that promotes community and collaboration.
Since 2010, WeWork has led the charge to reinvent the workplace and improve the worker experience. Here's how four companies use WeWork to attract innovative thinkers—and keep them creative, engaged, and satisfied.
A large UK investment bank needs to attract top tech talent
The challenge: A large investment bank with headquarters in London was in the midst of building out a new engineering division and needed to access a strong talent pool in a city a few hours away. Their aggressive hiring plans included onboarding 150 new employees within 12 months, so they wanted a solution that would attract talented workers who spur growth and innovation.
The solution: WeWork provided the bank with a dedicated office space to serve as a regional headquarters in the new city. Located in the central business district, the new office is at the epicenter of the city's finance and tech sectors, close to nearby academic institutions, cafés, shops, and entertainment venues. A flexible, 24-month lease with expansion options enables the bank to add another nearly 200 desks over 18 months.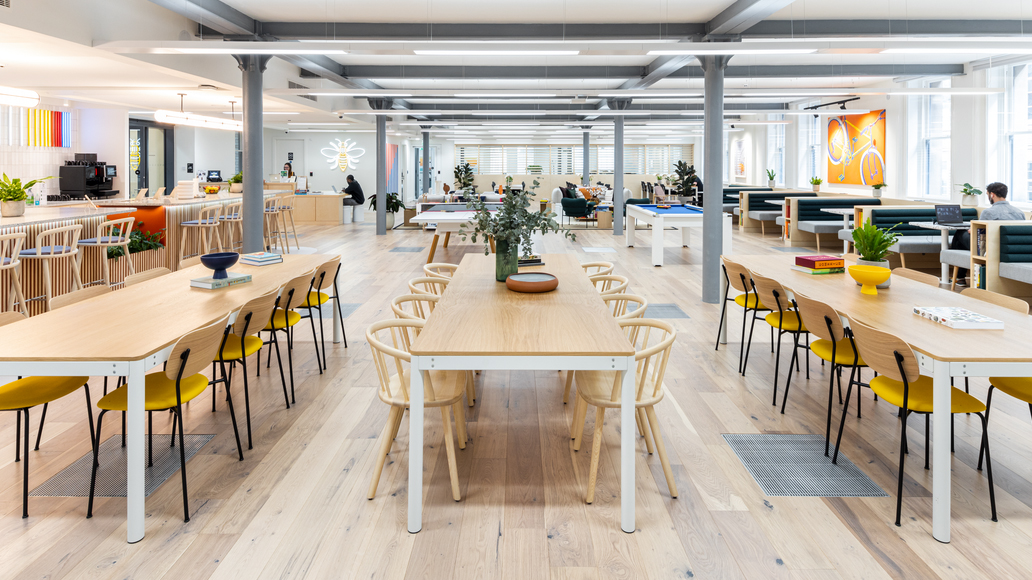 The result: In turning to WeWork for a solution, the investment bank saved time and capital expenditures it would otherwise have spent on finding, designing, and managing a new location—expenses it would have taken on if it had gone with a long-term lease.
Instead, WeWork leveraged its large portfolio of assets to quickly find the ideal space in the bank's preferred neighborhood, and the WeWork design team prepared the space to meet all of the bank's branding and technical requirements. The building's amenities—including comfortable common lounges, an on-site barista, and professional and social networking events planned by WeWork staff—help the bank attract and retain the top talent they need.
Connections provide a global tech firm with a wealth of skilled candidates
The challenge: A large global tech company with more than 14,000 associates in 35 countries depends on the ability to scale up and down fast. But ever-changing projects and constant growth made it difficult for the firm to create a cohesive company culture and a seamless employee experience on a global scale.
The solution: WeWork's portfolio of more than 800 real estate assets worldwide attracted the tech company initially, but the flexible leases, configurable spaces, and innovative design sealed the deal.
The result: The tech firm is now able to open, close, and scale its operations easily and affordably in new markets around the world. And thanks to WeWork, it's able to offer associates consistency across locations, and community in every building.
"WeWork feels like the product we've been waiting for in the property industry for as long as I can remember," explains the firm's real estate and delivery lead. "It's a workplace environment that is at the cutting edge of what offices should now offer workers." They add that associates have found a community of like-minded professionals in the tech sector and beyond. Through these connections—and the kind of prime real estate and amenities that attract workers—the firm has had no trouble finding the qualified candidates they're looking for.
A company heads into uncharted territory in different countries
The challenge: An expanding tech company in New York City wanted to attract the right workers for its local headquarters—but also for Mexico City and Singapore, two brand-new markets under consideration. Knowing the investment in effort, time, and expense that goes into getting an office space up and running in an unfamiliar city—especially with an uncertain headcount—the firm turned to WeWork for a solution.
The solution: WeWork partnered with the tech firm to develop a flexible portfolio strategy that addressed the most likely hiring scenarios in each location. The firm started out with 233 desks across the three cities and opted for six- and 12-month leases, with options to scale up or down as necessary.
The result: WeWork's large number of assets in each targeted location, coupled with the local WeWork staff's familiarity with the city's workforce and culture, made it easy for the firm to pick locations that attract the right talent—and help retain it.
Insurance giant reaps the benefits of inspired, engaged employees
The challenge: A large insurance firm looking to create a tech hub environment contacted WeWork for a solution that would improve collaboration and innovation—and allow the company to draw talented, creative-minded people to help it achieve its organizational goals.
The solution: Because the firm's tech and creative teams were spread across three locations in the city, WeWork consolidated both departments into a single, dedicated tech hub. Located just a few blocks away from the corporate headquarters, the new, 30,000-square-feet space was fully customized to create a warm, dynamic collaboration hub that promotes engagement and drives innovation.
The result: The tech hub reinvigorated both the creative and engineering teams. The science-backed interior design scheme provides employees with open, collaborative spaces for holding meetings and working on team projects. Drawing on the principles of activity-based work, the WeWork design team created public lounges with conversational seating arrangements to promote interaction, as well as workspace for people who do their best work surrounded by activity.
For those who prefer a serene environment for heads-down work, quiet workspaces feature subdued decor and lighting designed for focus. Like all of WeWork's office assets, the space is filled with original artwork, plants, and natural light.
The vice president and head of innovation at the insurance firm knows exactly why they saw significant business results following the consolidation of teams: The creative, human-centered space boosts employees' sense of community, and the ideas that come out of brainstorming sessions and even casual conversations in the office have driven innovation to new heights. "WeWork allows us to get access to new ideas—and new talent," they said. "You can do that pretty easily just rubbing shoulders in the hallway."
WeWork is the leader in providing companies of all sizes with the kind of modern, dynamic workspaces that workers want to spend time in. From dedicated desks for solopreneurs to entire floors for large enterprises—and everything in between—WeWork has a solution for businesses that want to attract and keep the most talented movers and shakers in any locale.
Kristen Bailey is a veteran writer and editor based in beautiful Lincoln, Nebraska. She has a penchant for helping large and small brands create stories that tell the why.
Rethinking your workspace?