The average American spends 26.1 minutes a day commuting to work, according to the U.S. Census Bureau. By some calculations, that adds up to about nine days of every year.
Our commutes put an enormous strain on the environment: According to the Federal Transit Administration, transportation makes up 29 percent of greenhouse-gas emissions in the U.S. Subways and metros reduce these emissions significantly.
With so much of our time spent in transit, mobility will become increasingly important as cities and populations grow. Over the past several months, cities across North America hosted Town Halls @ We events to explore specific transportation pain points, as well as new and developing innovations that are making the future of transportation brighter.
Stop planning for cars, start planning for people
"We need to stop building places for automobiles and start building places for people," said Atlanta regional commission executive director Doug Hooker at the newly opened WeWork Coda in the center of Atlanta's bustling midtown. "It's no secret that Atlanta is late to the transit game. We have a lot of work to do with building our transit infrastructure."
Atlanta will soon establish a Department of Transportation to meet the demands of the growing population. (The metro area has the fourth-fastest-growing population in the U.S.) The objective: to move away from sprawl and make the city denser, improve commute times, and boost the quality of life for existing and future residents.
With the help of scooters and shared-ride services, the last-mile connectivity gap—between train stations and bus stops—is narrowing across the city. "We [created an] equity clause that said that 25 percent of scooters need to be placed in places around the city besides the central business district, so these people can get to work and get home," said citywide council member Andre Dickens about the importance of last-mile connectivity for residents beyond midtown and downtown who need to get to the train station. "[Instead of sprawl] the preferred method is to create transportation leadership to get closer, without having a two-hour car commute," Dickens added.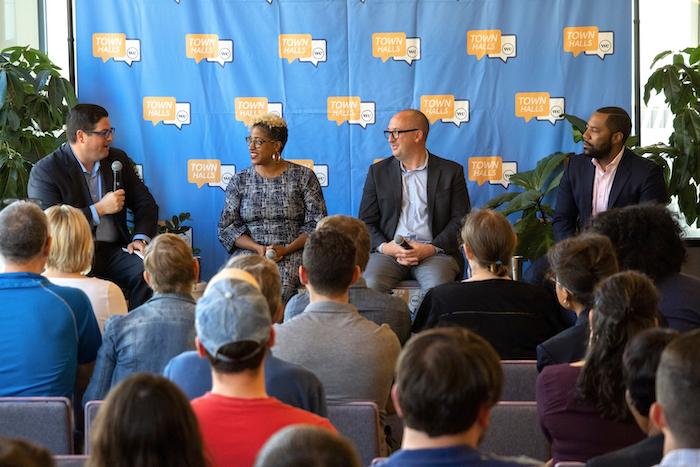 Think outside the box (or subway station)
An estimated 8.6 million people ride New York City's subway every day, a number that supports the sense it is in dire need of improvement and resources. Still, the subway isn't the only way to get around the city; at WeWork 450 Lexington Ave, transportation leaders held a discussion around micromobility, a category of transportation that refers to light vehicles like skateboards, electric scooters, and shared bikes.
"I do think there's tremendous potential for micromobility in Manhattan," said Ashwini Chhabra, the head of public affairs at Bird, an electric-scooter company and WeWork member. "If you think about the most congested parts of the city, the parts of the city where you don't want people riding solo in the back of an SUV, it's Manhattan."
Manhattan's congestion, however, may very well be a reason people don't take these lighter vehicles out: The roads can be a little scary. Rachel Haot, executive director of the NYC Transit Innovation Partnership, mentioned that a solution for safety is necessary for micromobility [usage or adoption] to really soar—"if you can solve for [the safety issues], and if we can have the kind of infrastructure we need to make this a real option for people such as protected bike lanes," she said.
Josh Gold, the senior manager of public affairs at Uber, said that the data exists—we're just not using it well. "There's an enormous amount of data that's not being used to its full potential," he said. "And if we can bring that to the table as we make planning decisions that may appear to be only about one small piece of the mobility puzzle, we'll have better decisions down the line."
Deincentivize driving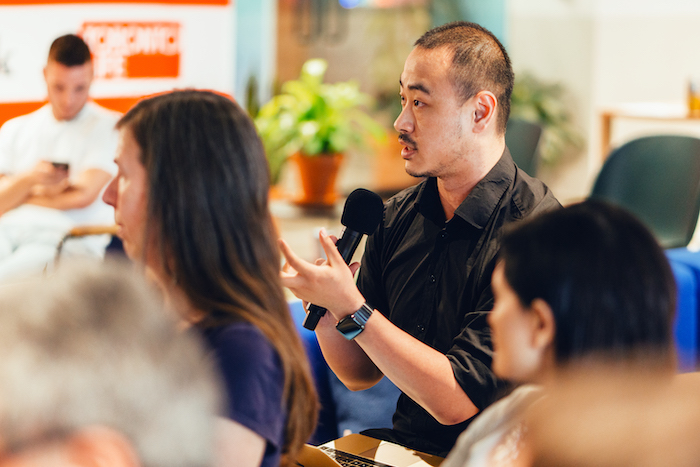 In Los Angeles, a city that's become a symbol for bumper-to-bumper congestion, panel moderator Alissa Walker, urbanism editor at Curbed, led a discussion at WeWork Gas Company Tower with the office of mayor Eric Garcetti, the Los Angeles County Metropolitan Transportation Authority, and Move LA, a nonprofit devoted to transportation issues. Many agreed that congestion pricing for cars and making mass transit free for all could help clear the roads and get people around the city more seamlessly.
"We should be investing in our rail system and making the train a way of life like it is in other cities," said Nelson Pena, an IT consultant who takes a 30-minute Metro ride from his home in Highland Park to his office at WeWork Gas Company Tower every day. By 2028, panelists said, the city should have greatly reduced congestion and myriad ways to get people from place to place. Measure M, a sales-tax increase passed in 2016, will collect about $120 billion over 40 years earmarked for transportation.
Make public transportation more pleasant
A 2018 study ranked Toronto the sixth-worst city for commuting, so it's no surprise that the transit system is a major source of frustration. At WeWork Scotia Plaza, Toronto Transit Commission chair Jaye Robinson, Toronto Region Board of Trade CEO Janet De Silva, and Ryerson City Building Institute executive director Cherise Burda centered the discussion around what's often the elephant in the room: the rail's $33.5 billion "state of good repair" backlog. The group also touched on overcrowding and the need to focus on short-term goals, like improving the congested King Street with the streetcar priority pilot.
WeWork member Wendy Carwardine, a transit user, says she attended the town hall because of a passion for a livable city. "I do find that overcrowding is a major issue," said Carwardine, who works at Action Sustainability, a company that helps businesses achieve their sustainability goals.
Make public transit for everyone
At WeWork 19 Clifford St in Detroit, panelists focused on how the city's subway system, QLine, is working toward inclusion to make coming to and from the city more fluid. "When you get on the streetcar, you see someone in a wheelchair, someone who is transit-dependent," said Sommer Wood, vice president of external relations, marketing, and communications for the QLine. "The idea is that all these different demographics can share within multiple spaces of transit. It's important to be intentional and reflective of everyone in Detroit."
Mark de La Vergne, chief of mobility innovation for Detroit, stressed the importance of looking ahead. "Instead of focusing on things from the past that didn't work, we are implementing new things that we know will work," he said, adding that the Detroit Transit App will help residents and visitors navigate the transit system more easily.
In Seattle, at WeWork Hawk Tower, town-hall attendees all had the same question: Is it possible to speed up light-rail construction? The Sound Transit System has been building and opening service stations every few years, which has helped broaden access around the city. Sound Transit CEO Peter Rogoff explained that planning is often the biggest obstacle to speed, noting that "the longest period… is in the planning, development, and design phase," which applies to a number of current projects.
While all cities have their own transportation qualms, the fact that improved access and quality of public-transportation systems would equate to better, more efficient living is a shared benefit.
Glyn Bowerman, Kavita Daswani, Spenser Davis, Amber Ogden, and Muriel Vega contributed to this story.