Headed to new territory for work? Our City Guides bring you tips from resident WeWork members and employees to help you do business lunches, coffee breaks, and culture like a local.
WeWork in Taipei
WeWork opened its first location in Taipei in July 2019.
Eat
For a modern hybrid: Proud and ostentatious, Peacock Bistro is a gorgeous little bistro in Dadaocheng, occupying a traditional colonial three-layered Taiwanese villa that dishes up hybrids of classic Taiwanese comfort food like water chestnut risotto, pan-fried Kuei Ting chicken leg, and Tieguanyin chiffon cake. "This is where traditional Taiwanese food comes to life," says Kandee Chen, a member at WeWork 97 Songren Lu and the creative director at Studio Kandee.
For legit Tainan cuisine: Finding authentic homemade Tainan [a regional cuisine] is no easy task. But James Kitchen is a cozy and affordable joint on YongKang Street in the Da'an District that has a breezy, authentic, 1940s charm. Here, you'll be served small plates teeming with big flavor, like five spice squid and cedar preserved eggs. Wash it all down with frosty bottles of 18 Days, a Taiwanese beer. "Sit upstairs for an old Taiwanese dining experience," recommends Chen.
For cultural dining three ways: French, Japanese, and Taiwanese cuisine mix in the kitchen of logy, a Michelin-starred newcomer from Hokkaido-born chef Ryogo Tahara, which opened in 2018 with a tasting menu and wine pairing to boot. Try the egg custard in consommé with celery sorbet and a mixture of aiyu jelly, cocoa juice, and nata de coco. "If you're feeling fancy, this is the place to go," says Chen. "It's definitely one of the hottest spots in Taipei for an exquisite dining experience."
For great pizza: Wen Tu, a community associate at WeWork 97 Songren Lu, loves Taipei for its multiculturalism. Her favorite pizza place, Deer Pizza, is located in the Da'an area. "Who doesn't like pizza? The truffle personal pizza is to die for!" she says.
Drink
For a cool speakeasy: Taipei has many cool speakeasies, says Tu, but her recommendation is Room by Le Kief. "It's an experimental bar and every creative drink comes with a gourmet bite." Look carefully for it, as it can be a challenge to find the entrance.
For movie-set sipping: If you've seen Ang Lee's early film Eat, Drink, Man, Woman, you might recognize the Wistaria Tea House shot here in the early 1990s. The Japanese-style wooden tea house was built in the Da'an District in the 1920s on Xinsheng South Road and named after three wisteria vines planted out front. It's still a great spot for soothing, meditative cuppas ranging from wisteria leaf to wild lotus and best paired with lucky mung bean cakes, sticky coconut balls, and bowls of crackly watermelon seeds.
Coffee and snacks
For a coffee high: "Going up?" Starbucks may seem like a run-of-the-mill recommendation, but the one atop the 35th floor of Taipei 101, Taiwan's tallest and most iconic skyscraper, is not only the highest Starbucks in the world but it offers up some of the best views of the city's surrounding verdant valleys and windswept peaks, like Elephant Mountain. Advance reservations for a 90-minute maximum time slot and a minimum purchase of NT$250 (around USD $8.17 at the time of writing) are required to visit. And of course, the views are enhanced with a limited-edition, only-in-Taipei seasonal brew like a venti brown sugar kuzuko jelly tea or a grande sesame green tea latte.
For casual work meetings: For work and meeting up with friends, Tu loves going to Swell Co. Cafe. "It is really spacious and it has my favorite Hawaiian food in town," she says.
For delicious croissants: "There are a couple of famous boulangeries in town, but I am picky from my six years of living in France," says Tu. "My favorite boulangerie is Purebread. It's hidden on a street in Da'an, and since there is nowhere to sit, I usually grab my favorite croissant to go."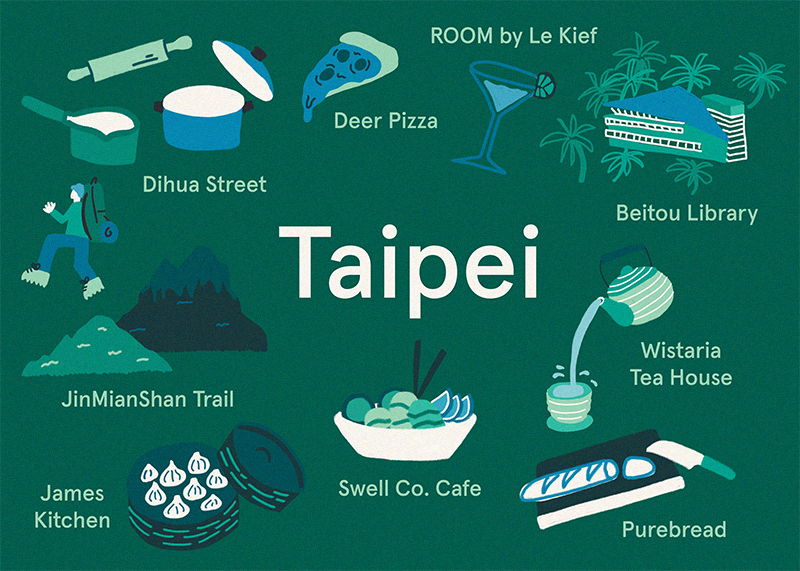 Explore
For a classic night-market experience: You haven't Taipei-ed until you've explored one or two bustling, fragrant, sizzling, neon-hued night markets. Many are touristy, but a solid local favorite is Ningxia Road night market in Datong. It's chockablock with stalls hawking milkfish, charred cuttlefish, sea snails, and oyster omelets that make locals swoon and queue. Like many of Taiwan's markets, Ningxia is a cabinet of curiosities, and vendors seem to outdo one another with newfangled dishes and new flavors that will delight food lovers—both adventurous and tame—for hours on end. Open nightly from 5 p.m. to 1 a.m.
For a library worth visiting even if you don't read a thing: You could opt for a day at Beitou Hot Springs Park or Beitou Hot Springs Museum, but the adjacent Beitou Library, Taiwan's first sustainable library (designed by the Taiwanese firm Bio-architecture Formosana in 2006), is a nice alternative. Housed in a modernist trilevel, solar-paneled masterpiece just opposite Daan Forest Park metro station, the wood structure appears to submerge into a sunken garden where manicured palms and pines bring a certain magnetism to the place.
For made-in-Taiwan finds: Dihua Street is a mecca for shoppers. "Strolling down Dihua Street, you can discover tea, herbs, fabrics, and bamboo goods, all handmade by local craftsmen since the 1940s," says Chen. "A must-try is the almond pudding from Summer Tree Sweet."
For a panoramic view of Taipei: Tu recommends climbing Jin Mian Shan for a wonderful view of Taipei. "It's much less touristy than other places, and a great place to hang out with friends and family," she says.
Stay
Eslite Hotel: Taiwan only recently started seeing hotel chains open in the city, so it teems with boutique hotels whose aesthetics run the gamut from elegant to edgy. Somewhere in the middle is Eslite Hotel run by the iconic local bookstore chain that operates several bookstores in the city, including a 24-hour branch in Da'an.
Grand Hyatt Taipei: Standing in the shadow of Taipei 101 in the city's Central Business District, the 850-room Grand Hyatt is hyper-connected to malls, subways, and dozens of restaurants and bars. With the Taipei World Trade Center and a constellation of conference halls next door, it's no wonder business travelers gravitate to the largest hotel in Taiwan. With its enormous three-story lobby, massive terraces, crystal chandeliers, and a cascading, orchid-ornamented fountain, and gold accents, it exemplifies opulence.
Adam H. Graham is a freelance food and travel journalist and a regular contributor to the New York Times, Condé Nast Traveler, AFAR, and more. He spent 10 years in New York City before moving to Switzerland full-time in 2012 and regularly writes about Asia and Europe, emphasizing sustainable tourism and off-the-beaten-path destinations.