Headed to new territory for work? Our City Guides bring you tips from resident WeWork members and employees to help you do business lunches, coffee breaks, and culture like a local.
WeWork in Tokyo
WeWork has 16 locations in Tokyo, with six more opening soon.
Eat
For a beautifully designed meal: Naho Irie, a community lead at WeWork Iceberg, recommends Hiroo Onogi as the perfect place to enjoy modern Japanese food. Both the food on the plate and the restaurant interior have been thoughtfully designed.
For dinner with a view of cherry trees: Take your shoes off, then slide into a sunken table or a tatami-mat room for dinner at Hashidaya, which overlooks the cherry-tree-lined Nakameguro canal. Tokyo's romantic two-story restaurant with wood-beamed ceilings swells to capacity on cool nights, as diners indulge in a variety of nabe, tabletop hot pots that simmer with fragrant gingered chicken balls, shiitake, snow peas, and tofu.
For a taste of California in Japan: California chef Katy Cole heads the stoves at 20-seat Locale, where the farm-to-table concept is next-level. The menu emphasizes vegetables, fruits, and meats sourced from organic Japanese farmers. Dishes like Saitama quail, sherry-marinated lentils, and cashew and roasted carrots are a nice alternative to dashi-based Japanese cuisine, while bang-up brunches at the Meguro location are a cozy way to start the weekend.
For late-night pizza: If you think Tokyo isn't a pizza town, think again. Japanese pizza can on par with New York and Napoli's, especially the pies created by Hisanori Yamamoto at Nakameguro's Pizzeria & Trattoria Isa (the chef won Napoli's World Pizza Cup three years in a row). "This place is famous and has been visited by many local celebrities," says Makao Nishina, Japan's regional manager of GetYourGuide, a member at WeWork Tokyu Yotsuya. Pizza creations topped with eggplant and cod roe offer tasty Japanese twists on the classics, both of which come on a brick-oven-baked, cracker-thin crust, the perfect vessel for chewy buffalo mozzarella and a sweet, earthy sauce made with San Marzano tomatoes.
For an unfussy experience: There are hundreds of Michelin-starred restaurants and izakaya in Tokyo. And then there's Shinpo, a tiny, humble Shibuya stalwart that's a local favorite. The chef plates up hyper-fresh sashimi, charred pumpkin slices, chicken wings, and crispy, gooey agedashi tofu (fried tofu floating in a savory dashi broth). Surprising seasonal specialties like corn tempura are what keeps the crowds coming back. 3-chōme-38-14 Shōan, Suginami-ku
For off-the-beaten-path ramen: Emoto Masahiro, located in the tranquil back streets of Nakameguro, specializes in a refined niboshi (dried boiled fish) ramen; its blended broth is made from sardines, horse mackerel, Hidaka kelp, chicken, and Shikoku soy sauce. "Usually, niboshi ramen is quite fishy in taste, but Emoto's is easy to eat and well balanced," says Nishina, who brings visitors here as part of his Tokyo Ramen Tour where he and his guides seek out ramen with an X factor. "My personal favorite ramen at Emoto is their ebi maze soba (soupless shrimp ramen), unlike anything I've ever tried in the 3,000-plus bowls of ramen I've eaten." 2-chōme-7-10 Kamimeguro, Meguro City

For classic Japanese soul food: Roll up your sleeves and drop your kaiseki pretensions for a rowdy and tasty meal at the bustling Asakusa Izakaya Tanuki, where a troupe of namesake tanuki (raccoon deity figurines) grin at you from behind the potted plants out front. The happy, bespectacled chef, not unlike a tanuki himself, serves up excellent Japanese soul food like sizzling charred eggplant doused in hot dashi, crispy pieces of karaage (fried chicken), and broken cukes splashed wildly in sesame oil. 1-chōme-8-9 Nishiasakusa, Taitō-ku
For dinner in a literal hole-in-the-wall: If you ever wanted to feel like Alice falling down the rabbit hole, head to Nakame no Teppen Honten behind the Nakameguro Train Station. The deeply hidden speakeasy lurks behind a miniature door padded with fabric for head bumpers; to enter, guests need to crouch down and shimmy through. There may be no Queen of Hearts inside the smokey, rowdy room, but it's packed with young singletons digging into cold tofu, seared wagyu, flaky grilled fish, and scallop gratin that's best washed down with sake and boisterous shouts of "Kampai!"
Drink
For upscale cocktails in Shibuya: WeWork community lead Naho Irie recommends the swanky SG Club for great cocktails and music. The first cocktail bar from acclaimed bartender Shingo Gokan, this two-story spot offers unique seasonal drinks and atmosphere to boot.
Coffee and snacks
For a low-key latte: Japan's kissaten (old-fashioned, Showa-era coffee shops) are relaxing sanctuaries of calm amid the neon and concrete urban buzz, and often places to hear classical music. But micro-sized Switch Coffee is a contemporary update on the classic, located on a relaxed side street in Tokyo's Meguro neighborhood and recognizable for its two-person bench and a sidewalk chalkboard menu. Barista Masahiro Onishi, who studied the art of espresso-making in Australia, runs the café and makes one of Tokyo's meanest lattes.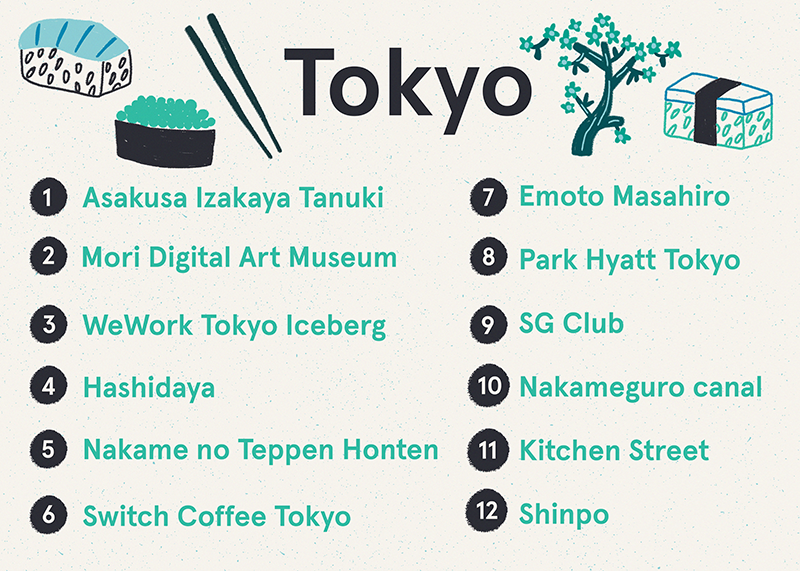 Explore
A home cook's heaven: Tokyo's beloved Kitchen Street (Kappabashi District), located between Ueno and Asakusa, is lined with dozens of restaurant supply shops offering bargains on Japanese ceramic bowls, plates, stylish knives, sake cups, chopsticks, chawamushi cups, nabe pots, charcoal grills, sukiyaki stands, and even extra luggage in case you overbuy.
For boutique shopping—and trendspotting: To take the pulse of Tokyo fashion, Irie recommends that you head to Cat Street, one of the city's most famous streets. There you'll find vintage stores, sneaker shops, and the fashion crowd hanging out in cafés.

A sprawling foodie paradise: There's something for everyone at Japan's largest depachika (basement-level department-store food courts) at Shibuya's Takashimaya Food Hall, a 2,700-square-foot hybridized labyrinth of grocery, food courts, bakeries, and street food markets all squished into one place. Aisles overflow with $100 Hokkaido melons, white strawberries, and wriggling fish hawked poetically by singing fruit vendors and fishmongers. A large selection of sake, whiskey, and Japanese wines, and not to mention 28 restaurants, sweeten the deal.
For a moment of quiet: First-timers to Tokyo mistakenly think that the city is all neon and noise. The truth is, Tokyo is actually an extremely quiet and refined city. The Nakameguro Canal, lined with cherry trees, upmarket shops, and coffee haunts, is beloved by nature and humankind alike. Avoid this area during cherry blossom season if you're crowd weary. "It's a very popular place for seeing cherry blossoms in the spring," warns Nishina.
For a completely unique art experience: If you have time for only one museum in Tokyo, make a beeline to Mori Digital Art Museum in Odaiba, Japan's stunning showcase of digital art that's deeply soulful. The museum's artists—part of a collective called Team Labo—feature pieces that include interactive screens, light art, 3D graphics, and motion-sensor exhibits. "Don't go on weekends and national holidays if you want to avoid the crowds," Nishina advises.
Stay
The Park Hyatt Tokyo occupies the top floors of Pritzker laureate Kenzo Tange's Shinjuku Tower. But it's the hotel's deeply tranquil rooms—designed by John Morford—that really shine. The rooms feature soothing turquoise carpets, soaking tubs with violet and yuzu bath salts, and bluebird-day views of Mt. Fuji with a sea of Shinjuku's neon below.
Japan's chain of Dormy Inns is one of the best values around. This national hotel chain emphasizes comfort and budget, and most locations feature excellent public sento baths. The rooftop baths at the Dormy Express Asakusa location are no exception, offering insane views of Tokyo Skytree and Asakusa's colorful skyline. Rooms with a terrace and river views are worth the upgrade.

Tokyo Summer Olympics
In anticipation of the Summer Olympics, which will take place beginning in July 2020, Tokyo is working to solve traffic problems before they arise. "Tokyo's 2020 Olympics is encouraging Tokyoites to change their commuting habits in the city, as the city will be super crowded with visitors and commuters during the games," says Nishina. "Currently, the Tokyo government is testing a ban on highway usage in the morning to make sure athletes can get to the venue smoothly."
Cheap taxis
Sprawling Tokyo is connected by a series of efficient, fast trains, trams, buses, and ferries. But the city's ubiquitous white-gloved taxis remain one of the cheapest ways to move around the city, and many have even gone green with ever-increasing electric and hybrid models. Taxis can be especially fast when traveling during off-peak hours.
Sustainable tourism in Tokyo
Kankou Kougai is a term invented by the Japanese press to describe the irresponsible tourism plaguing places like Kyoto and Niseko, akin to similar problems that Europe has been facing in Venice, Barcelona, and Florence. Foreign visitors to Japan have rapidly increased in recent years, hitting 31 million annual visitors last year, a sharp jump from only 8 million seven years ago, and popular destinations like Kamakura and Kyoto have suffered from too many visitors. Public transportation has been particularly affected, and some visitors are restricted from using the trains during certain times of the day. The local government is leading most of the effort, while the federal government is encouraging more flexible work schedules and partnerships with local tourism offices to increase off-peak tourism.
Adam H. Graham is a freelance food and travel journalist and regular contributor to the New York Times, Condé Nast Traveler, Afar, and more. He spent 10 years in New York City before moving to Switzerland full time in 2012, and regularly writes about Asia and Europe, emphasizing sustainable tourism and off-the-beaten-path destinations.