Headed to new territory for work? Our City Guides bring you tips from resident WeWork members and employees to help you do business lunches, coffee breaks, and culture like a local.
WeWork in Osaka
WeWork opened its first location in Osaka in December 2018 and recently opened its third.
Weekdays are a great time to explore Osaka, a 19-million-strong metropolitan area. The city can get mobbed on the weekends, when places like Dotonbori (the city's version of Times Square) and the hipster, boutique-lined Orange Street attract visitors from across Asia who flock to the city's shops, bars, and restaurants. To understand how the area really ticks, spend time exploring Osaka on weekdays, when it's more relaxed and you can linger in the shops and better communicate with sales staff.
Eat
For under-the-radar okonomiyaki: Settle into the red pleather seats and enclosed wooden booths at Hozenji Sanpei, which specializes in okonomiyaki, fluffy and savory Japanese pancakes grilled at your table's own teppanyaki grill. The legendary joint is tucked away in the historic Hozenji Yokocho, an alleyway chock-a-block with ramen, kushikatsu, and sushi counters, and includes dozens of variations on classics like okonomiyaki with yams.
For a street food snack: It's almost impossible to visit Osaka without being tempted to try the city's trademark snack, takoyaki (fried octopus mixed with batter and fried into greasy balls of perfection), which is cooked in specially designed cast iron grills on just about every corner of the city. Wanaka serves up a heaping plate of them topped voluminously with a jazzy drizzle of mayo, finely sliced negi rings (green onion), and a fistful of translucent katsuobushi (bonito flakes).
For a greasy kushikatsu counter: Like okonomiyaki and takoyaki, kushikatsu—skewered and deep-fried nibbles like shrimp, lotus root, asparagus, and eggplant—is an Osakan staple that's best eaten quickly and washed down with a frosty mug of beer. Kushikatsu Daruma Namba Honten, marked by a cartoonish statue of an angry chef outside, is considered by some to be the city's best, if not its most underrated. Remember the golden rule: No double-dipping in the communal table sauce!
For delicious soba noodles at a client lunch: WeWork community manager Kazuyoshi Yukami loves the relaxed, calm atmosphere at Hanako, close to WeWork Namba Sky O. "They have a unique lunch menu, and the soba is mixed with black beans, so you and your clients can enjoy the smell of it. You can also enjoy drinking sake here at night," he says.
For great neighborhood sushi: Step inside Toki Sushi, a micro sushi counter for fresh, artfully prepared sushi, nigiri, and sashimi fetched daily from the adjacent Kuromon fish market. This spot, near Osaka's iconic comedy theater Grand Kagetsu, offers the rare English menu and plates up high-quality uni (sea urchin), abalone, and even three grades of maguro (tuna)—akami, chutoro, and otoro—at rock-bottom prices.
For the sweetest izakaya fit for a work lunch: Yuzu lovers rejoice. Yuzu no Komachi—a cheery wallpapered dining room located on the third floor above a camera store and just a few minutes walk from Namba Station—offers a mixed menu of classic dishes spiked with Japan's signature sour citrus. Gyoza, steamed clams, fried tofu, and even Camembert cheese and spaghetti carbonara all come with a refreshing amount of yuzu, as do the sake, beer, and cocktails.
For a work dinner: Tabio, a member company at WeWork Namba Sky O, recommends Seitaro in the Hozenji Street area, a 10-minute walk from Namba: "The restaurant doesn't have a menu, but they serve their recommendations of the day for 20,000 yen including alcohol."
For a breakfast meeting or work dinner: Zojirushi, appliance company and member at WeWork Namba Sky O, makes high-end rice cookers as part of their range, and it just opened a restaurant, Zojirushi Shokudo, where you can enjoy perfect rice made in their cookers.
For a casual breakfast: Yukami recommends Massa, a Spanish-style cafe on the first floor of a hotel for breakfast. "The interior is very colorful and cheerful, and the atmosphere is open and casual," he says.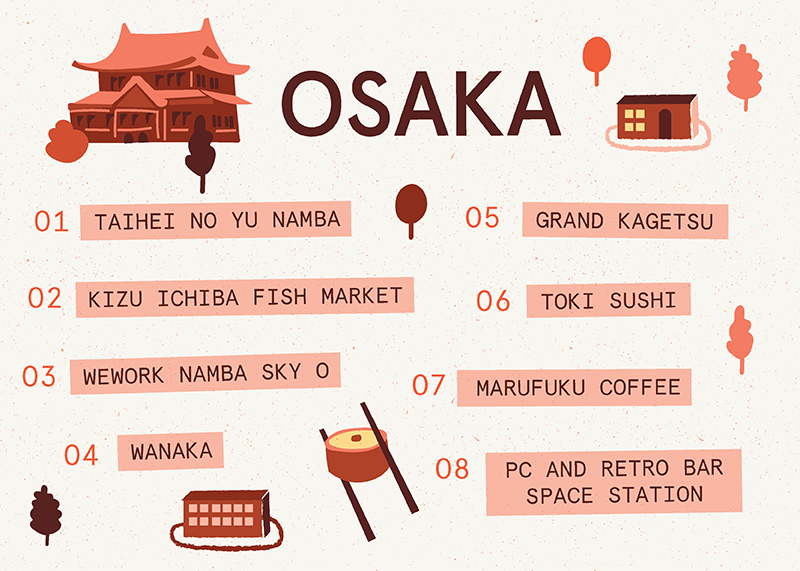 Drink
For a fun, wacky bar: Osaka's bars are known for outdoing one another with wacky themes to draw in drinkers—PC and Retro Bar Space Station is no exception. It offers up some 600 vintage video games and remains the best spot to sip Suntory highballs while slaying your Sega or to nurse drams of Dalwhinnie while playing Donkey Kong. Nintendo 64, Wii, Xbox, and more are on hand and free to use for patrons.
For a cluster of options: Line-Up, a member at WeWork Namba Sky O, recommends the nearby area Ura Namba. Favorite spots for work drinks include Eruandoeru and Bleu, a three-minute walk from Namba station.
Coffee and snacks
For casual meetings: Japan's kissaten (old-fashioned coffee shops) are sanctuaries of calm amid the concrete urban buzz. Marufuku Coffee, a brick-fronted go-to just five minutes from Namba Station, is one such establishment. They use percolators to meticulously brew single-origin beans, which courteous servers deliver to regulars in their oak and leather booths.
For an Italian-style coffee shop: Yukami recommends Micasadeco & Cafe as a place where you can relax in bustling Osaka, partly thanks to a calming blue color scheme. The cafe is also famous for its pancakes.
Explore
Kitchen supply district: Namba is known to tourists for the nearby, super-crowded Dotonbori, a neon-flooded shopping and eating district hugging the city's Dotonbori Canal, which swells with Instagrammers and 20-something weekenders. A better bet to get a flavor of the neighborhood is Sennichimae Doguyasuji Shotengai, the city's bargain-filled kitchen supply district heaving with dozens of shops hawking Japanese ceramic knives, sake cups, porcelain dishware, cedar chopsticks, chawamushi cups, nabe pots, charcoal grills, sukiyaki stands, and even extra luggage in case you overdo it.
Super sento: Osaka is not an onsen (natural hot spring) town, but what it lacks in meditative onsen it makes up for in super sentos, sprawling hot bath and spa complexes that are onsen-like to the untrained eye but use piped H20 instead of naturally volcanic thermal water. The multilevel, multibath facility Taihei no Yu Namba is located next to Kizu Ichiba Fish Market, so you not only can enjoy soaking in water but you also can revel in post-soak seafood meals purchased directly from the market and served at the sento's food court.
Explore Korean culture: Osaka is home to Japan's largest population of Zainichi Kankokujin (Korean immigrants living in Japan), many of whom are concentrated in the Korea Town district of Tsuruhashi in the Ikuno Ward. It's rumored to be 20 percent Korean, a high figure for a country with few immigrants, and not a bad place to Shazam the latest K-pop hits, stock up on snail slime beauty masks, and enjoy fiery kimchi and smoky Korean barbecue.
Stay
Grandee Hotel: Expect walls carpeted with plants and spacious, dark, quiet rooms with large beds and Toto toilets at this midrange seven-story hotel in the heart of Namba. Don't miss the killer homemade breakfast spread of quiche and pickled gobo burdock served in the sunny glass terrace.
St. Regis Osaka: Butler boxes and brocade curtains might not be in everyone's budget, but the 160-room St. Regis Hotel—occupying the top 16 floors of a Namba skyscraper—is worth a visit, even if just to see its rooftop raked-gravel Zen garden and adjacent bar, which offers an airy retreat from Osaka's grind below. The sun-flooded rooms have soaking tubs, and floor-to-ceiling windows offer an eagle-eye view of green Mount Ikoma in the distance, while a 24/7 gym and spa help you bring your A-game.
Transit tip: Use cheap taxis for off-peak travel
Sprawling Osaka is connected by a series of efficient, fast trains, trams, buses, and ferries, and residents must adhere to "no-car days" assigned by plate numbers. But its ubiquitous taxis remain some of Japan's cheapest, and many are even going green with ever-increasing electric and hybrid models. Most important, they can get you around the labyrinthine city particularly quickly during off-peak hours.
Sustainable Osaka
Osaka's Station City, one of the city's main train stations, was remodeled in 2011 to become more sustainable. The entire concourse is covered by a dome roof and solar panels, which produce 90,000 kilowatt-hours of electricity per year; a dry mist air-conditioning system, which recycles collected roof rainwater; and a rooftop "farm in the sky" cooling garden with 30,000 plants and 90 trees.
Osaka generates 10 percent of its electricity from renewable energy sources (mainly hydroelectricity) and has stringent national emission regulations that temper carbon-dioxide levels, regularly conducting baseline reviews of greenhouse gas emissions.
Adam H. Graham is a freelance food and travel journalist and a regular contributor to the New York Times, Condé Nast Traveler, AFAR, and more. He spent 10 years in New York City before moving to Switzerland full-time in 2012, and regularly writes about Asia and Europe, emphasizing sustainable tourism and off-the-beaten-path destinations. You can see his portfolio of work at adamhgraham.com.