An offsite is often met with skepticism. The idea of taking your employees away from their desks and—worst-case scenario—into a series of trust falls can elicit feelings of anxiety and disdain. But offsites can also be effective and rewarding if they meet their goals of bringing teams together and making them feel renewed, refreshed, and stocked with action plans.
If you're looking to create this kind of experience for employees, the good news is you don't need to blow your budget on special guests or activities to ensure a rewarding day. Here are some ways to run a successful offsite.
1. Don't book that dark, stuffy meeting room
A lack of natural light can deplete your immune system, making you more vulnerable to illness. Hold your offsite in a well-lit room that keeps energy levels high and creative juices flowing. (It's just science: Light can boost creativity by up to 15 percent!) Bright, open spaces are also critical for avoiding that end-of-day glazed-eyes effect.
Look for "hackable" spaces—ones that can be customized for whatever you've got planned. Perhaps the right meeting room is already out there, but think about what configuration makes the most sense for your team. Lighting is a huge consideration in the design of all WeWork spaces, and there's likely a room available at your location that can accommodate the mood you're going for.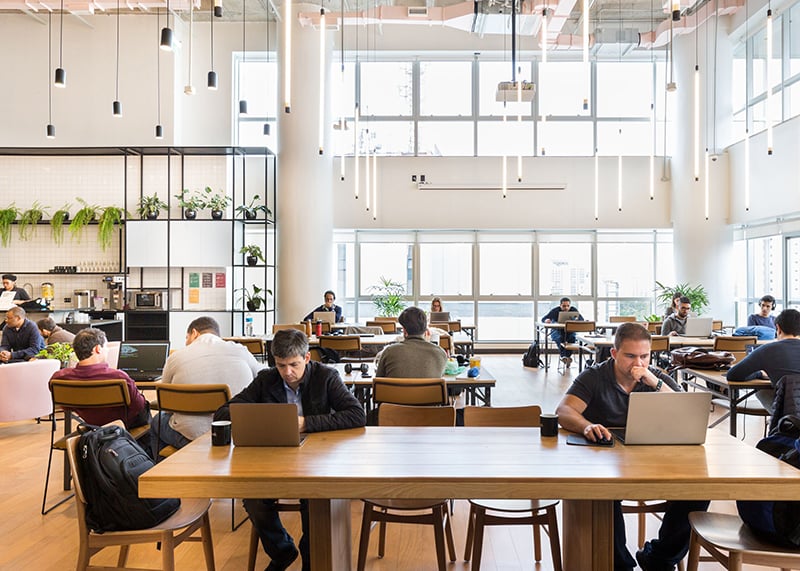 2. Get creative with the catering
Food is a great unifier, one that brings people together and lifts the mood. When planning a menu for your offsite, consider how diet and productivity are linked. Offer plenty of water to keep energy levels up, as well as fruits and vegetables, which can balance out any high-carb (energy-depleting) options.

Beyond that, have fun. Interactive treats like a smoothie bar or an ice cream truck can take things up a notch. Alternatively, rely on your city's most famous food institutions. Come mealtime, instead of scheduling a "working lunch," take time to bond beyond boardroom-related topics. Consider seating assignments that mix teams up to facilitate camaraderie and a cross-pollination of ideas that might otherwise not happen.
3. Head outside
If guests are flying in from out of town, create a mini scavenger hunt that gives them an opportunity to visit some of the city's must-see sights. Not only will team members bond, but they'll get a chance to see the city—something out-of-town offsites typically lack.

Alternatively, bring the outdoors in if you're crunched for time, even if that just means adding plants to the space. Seeing natural materials—plants, leaves, wood—is associated with greater calm and focus. Feeling like you're outdoors, or at least being surrounded by signs of it, can foster an overall sense of well-being.
4. Scale back on those presentations
Nothing kills the creative, collaborative vibe of an offsite faster than a 200-slide presentation. Keep presentations short and succinct. The idea is to interact and ideate, not have a one-sided conversation.

Overall, it's important to manage expectations and purpose from the get-go. Be sure to articulate the purpose of the offsite from the start, so that all team members understand their individual purpose for being there (instead of at their desks, which may continue to call their names). See it as an opportunity to solicit information and ideas—and format presentations to ensure that interaction is at the forefront.
5. Document everything
So many great ideas come to light during offsites but are quickly forgotten the next day. Assigning a member of the team to be a scribe, taking notes and assigning action items and owners, keeps the momentum going.
Introduce the scribe to the team, and encourage them to ask for clarity on anything throughout the day, including who an assigned owner should be for any tasks that require follow-up. The next day, send out the full recap to the team while ideas are top of mind.
6. Keep the space stocked with props
We're so programmed to keep our hands busy in the digital age that we often reach for our phones out of habit. Discourage auto-pilot phone-checking by setting out objects such as pipe cleaners, stress balls, or magnets—anything small and grabby that funnels energy can help restless minds focus.
Visit our community bar—a member of our team may be able to help you procure these props or may have ideas about where to obtain them.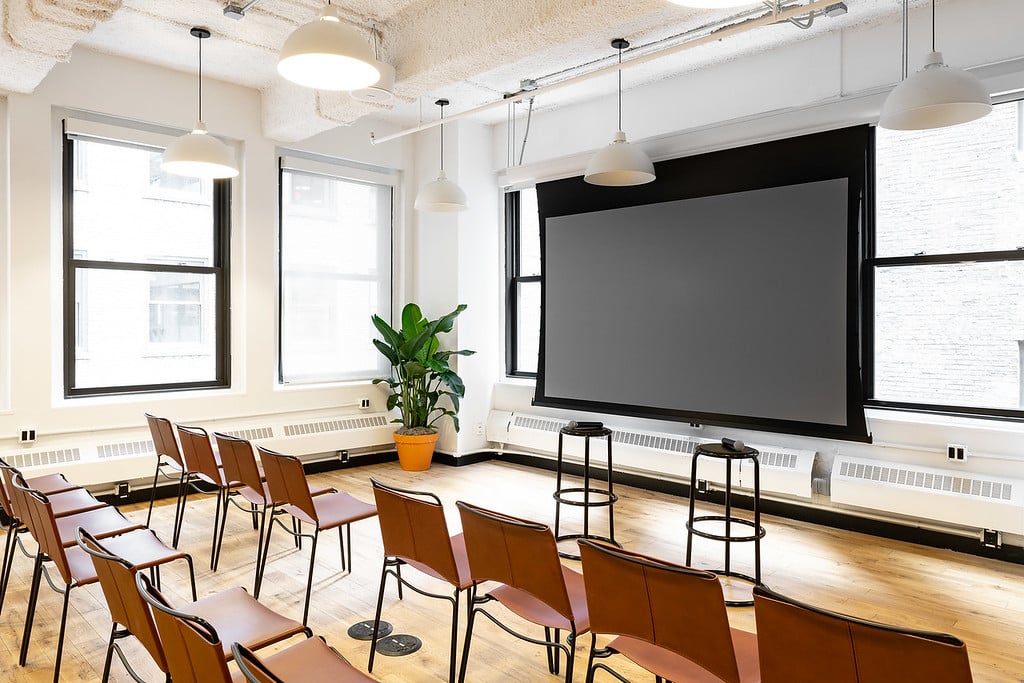 7. Select an offsite playlist
Background music keeps the energy high and the vibe relaxed. Make a custom playlist or find one to stream on Spotify. We love "Songs to Get You Through the Workday," created by Madewell, and "Energy Boost" is another one that fully delivers as promised. Intent on creating a more chill atmosphere? You can't go wrong with "Deep Focus" or a classical composer like Chopin.

Many WeWork meeting rooms are equipped with TV displays that can handle streaming music; ask at the time of booking to make sure the room you're requesting has this capability.
8. Schedule in plenty of breaks
It is a workday, and attendees will want to catch up on regular business at various points throughout the day. Schedule designated 15-minute catch-up windows to help alleviate any stress that team members might be experiencing while away from their desks. Keep the timing tight by using a timer for breaks—then get back to creative fun. After all, it's what you're all here for!
9. After hours can be happy hours (even without booze)
Include an optional post-workday activity for attendees to keep the bonding momentum up and offer employees a unique experience. Think beyond drinks: Consider a cooking class, ceramics workshop, walking tour—any novel experience that continues the fun.

Private classes can often be found—and rates negotiated—right near your WeWork space. Another option is a group volunteer opportunity, especially one that aligns with your company's ethos. Many people want to give back but often don't have the time to do so.
10. Surprise and delight
Thoughtfully tapping outside talent can inject novelty and whimsy into the day (and make that dry presentation more palatable). Hire a tarot card reader, stand-up comic, intuitive healer—any professional who can bring a different flavor to the schedule. This can be enormously fun, not to mention that it offers a huge incentive to not call in sick the day of the offsite. Ask a tapped-in member of the WeWork community team for recommendations—a personal referral can ensure a top-notch guest.
WeWork venues are available for corporate offsites to members and non-members. Learn more here. And with WeWork On Demand, choose from a wide selection of beautiful meeting rooms for up to 30 people directly in the WeWork app.
This article was originally published on March 2, 2020, and has been updated throughout by the editors.
Olivia Villanti is a freelance writer based in Mexico City, Mexico. Her work has appeared in Condé Nast Traveler, Condé Nast Traveller UK, Vogue.com, and more. She was formerly the editorial director at Madewell.
Want to learn more about flexible work?