Our series What Do People Do All Day? takes a look at the work life, lunch habits, and downtime of people across different industries.
Name: Meredith Guerriero
Title/company: Head of U.S. partnerships, Pinterest
Location: New York City
Years on the job: 2 years, 3 months
Meredith Guerriero, mother of three, was an early adopter of Pinterest. "I used it even before I had kids," she says. "I pinned everything at that point: dream houses, bulldogs. It was a creative outlet." So when the company's global head of partnerships reached out about a job in 2017, Guerriero was eager to hear more. "I was just such a big believer [in the product] and so passionate about what they were doing," she says.
Guerriero had spent the first decade of her career focused on specific verticals—at Google, she worked mostly on the company's automotive ad vertical, then at Facebook, she was director of the health, grocery, and politics verticals. What attracted her to the Pinterest opportunity—aside from her personal history with the platform—was that the role would allow her to take on more. More variety. More responsibility. More leadership.
"I was like, 'What advice would I give to my children?'" she says. "Do I stay in the comfort of this role [at Facebook] or build this other company, really prove myself, and stretch? It was a no-brainer." Below, Guerriero shares a snapshot of a typical day at the office. "It's never a dull moment," she says. "That's for sure."
(Pinterest is a WeWork enterprise member.)
I get up… between 5:15 and 5:30 a.m.
The first thing I do is… walk through what I'm grateful for and ensure that I have the right attitude for the day. Even if I'm exhausted or stressed, I try to stay focused on everything that's positive. I also try to give myself the first hour of waking up with no work emails.
I commute by… train, from Westchester. Typically, I do work on the way in and personal catch-up—e.g., scheduling for the kids, making online orders, etc.—on the way home.
My preferred email signoff is… "take care" or "chat soon."
I'm at my desk by… 7 a.m. I have so many meetings (typically seven hours a day) that this is really my only quiet time to prepare and catch up. I organize my day and figure out if I have blocks of time to do any longer-term strategic thinking.
My open tabs include… lots of Google docs. Because I'm in so many meetings, I use them to keep me organized on what action needs to come out of those meetings. For example, do I need to review a deck to provide comments/feedback?
The thing most likely to break my focus is… anything relating to my kids (ages eight, six, and three). If I get a call from the school, one is sick at home, or I'm traveling and I can't be there to help—this all weighs on me as I try to balance work and family.
I travel for work… almost weekly. I'm one of those nuts who disinfects her entire seat on a flight. I have those wet wipes. You may laugh, but almost everyone around me is like, Can I have one? I swear by them.
I work from home… one day a week (usually Fridays), and I'm very clear with my managers: That's nonnegotiable. I've always proven myself. If I'm needed for travel or something else, I do it, so therefore I need flexibility. My work speaks for itself. I try to help other women get confident enough to state that and know their value, too.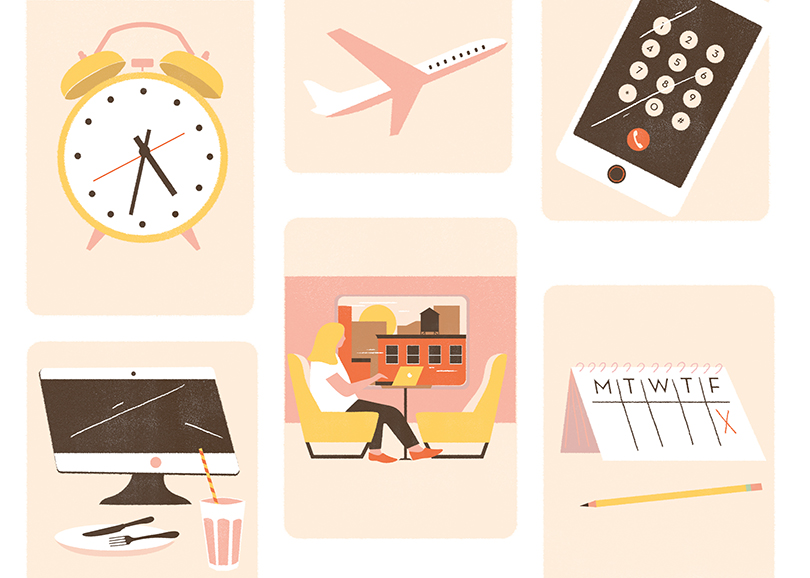 My thoughts on napping… I don't nap in general. I didn't even nap in college like all of my roommates, who could easily snooze for two hours. Once I'm up, I'm up, and I'm busy for the entire day. My friends and team always say I'm "bopping around."
As a leader, I emphasize… trust and transparency. Even though my expectations are very high for my teams—I'm very much known for a constant growth mindset and never settling—they also always know exactly where they stand. There's psychological safety. There's not a fear of failure. They can bring ideas half-baked, they can move fast, they don't need to be perfect. I'm not going to fault them because something wasn't 100 percent yet.
One of my biggest accomplishments so far has been… from a leadership perspective, coming in and outlining what my expectations were for the team. I was the new kid; I had to make sure these folks understood the value that I was going to bring. I really had to steer the ship, motivate the troops, and set course.
I take calls… anytime, anywhere. If I can address something quickly and keep things moving, I will. I always tell people to call me and not waste time.
I eat lunch… at my desk or in a conference room. Once in a while, I'm able to get lunch outside the office, but it's just my way of getting outside—I still do work.
I stop responding to email… roughly 30 minutes to an hour before I go to bed. I'll do a quick glance after getting the kids settled, and then I try not to look again. Once I'm in bed, I meditate for 15 to 30 minutes. I use several different apps, but Calm is my current favorite.
Marry, kiss, kill: Slack, email, phone…
Kill Slack, because I don't use it.
Marry email, because you can get so much done with it.
Kiss phone, because it allows you to choose how you'd like to interact with someone—e.g., through social media, text, call, etc.—but it's also so hard to shut off from, and that's not the best thing for your health.
Patti Greco is a freelance writer and editor whose work has appeared in Glamour, Elle, and Vanity Fair. She was previously the digital entertainment director at Cosmopolitan and a staff editor at New York magazine.