Extraordinary businesses often start simply, with a great idea. Turning that idea into a successful company takes hard work, dedication, and a strong team. Made at WeWork showcases the innovative services and products built within WeWork buildings around the world.
From providing underserved youth with technological equipment to increasing access to allergen-free snacks and specialty cocktails, many WeWork members are changing the landscape of their industries. This Black History Month, we're spotlighting the innovations of several Black-owned businesses.
Disrupting two industries at once
ByteChek founder AJ Yawn doesn't mince words when talking about his company's mission: "Our mission is to make compliance suck less," he says. ByteChek helps B2B companies grow their business while using cybersecurity as a differentiator. The company "enable[s] B2B companies to earn compliance certifications and build trust with customers and prospects," Yawn says.
After spending years in the cybersecurity compliance industry, Yawn recognized a need—and set out to fill it with ByteChek. "The industry was ready for automation and an easier way to earn these compliance certifications," he says.
But disrupting cybersecurity compliance wasn't Yawn's only goal in building ByteChek. "It has been important since day one for me to be public and authentically myself, to give Black kids and future Black cybersecurity professionals someone they can point to who looks like them, to give them hope that they can one day do something similar," he explains.
Yawn has also created a workplace culture he can be proud of. "We are intentional about building a diverse organization and empowering underrepresented groups," he says, "by placing people who are traditionally overlooked into leadership roles with significant responsibilities for the business."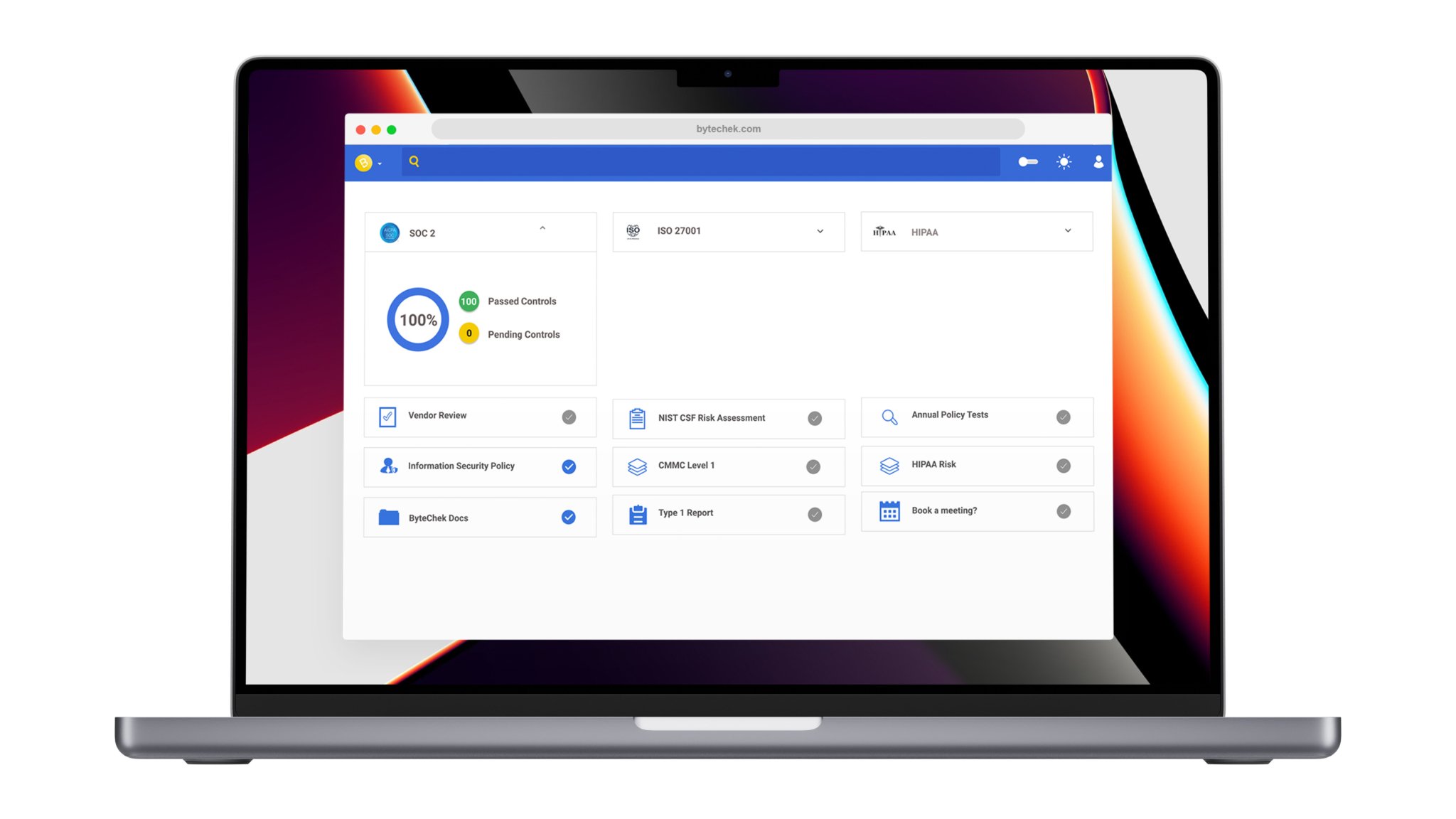 With ByteChek, Yawn also intentionally defies startup stereotypes by promoting an environment "where people are fulfilled, balanced, and feel comfortable being themselves at all times," he says. To help achieve that, the company has space in Miami's WeWork Brickell City Centre, Atlanta's WeWork 725 Ponce, and Houston's WeWork Galleria Office Tower 1.
"With WeWork, our remote team has locations around the world where they can work and collaborate with others in their local communities," he says. "When team members are traveling into cities, it makes it extremely easy to collaborate and meet in person, and also to network with other companies that may be looking for services in cybersecurity and compliance."
Yawn's formula for success is clearly working: ByteChek's first seed round raised $3 million last December. "What made it even more of a significant event was that 82 percent of our investors are Black Angels or Black-led funds," Yawn says. "Historically, it has been a challenge for underrepresented founders to have access to capital. This was critical for us to build and scale."
As Yawn builds out an all-star team of diverse talent and continues to deliver results to clients, he has big goals for the future. "ByteChek will be an example and beacon of the future of tech entrepreneurship," he predicts. "Black founders will point to ByteChek as the model for building an intentional business that solves real problems for customers in an authentic way."
Mention code WEWORK to the ByteChek sales team and receive 15% off a lifetime subscription. (Offer valid through March 31, 2022.)
Crafting cocktails on the spot
A passion for crafting cocktails inspired Michael Ford to found his mobile bartending and event service, Liquid on Wheels. "Providing crafted or even signature cocktails is something most people didn't realize they could get outside of a fancy restaurant," says the Houston-based Ford, who started the business nearly three years ago. "We love exposing our clients to something new and innovative."
We really didn't have an actual workspace to conduct business. WeWork has definitely given us a sense of home.

Michael Ford, founder of Liquid on Wheels
The company offers three different bar packages that feature expert mixologists, pure fruit mixers, signature cocktails, and even free drink consultations. "Our mixologists are so diverse in their cocktail and spirit knowledge," he says. "Clients and guests are always blown away and love engaging with them about all things cocktails."
The fact that Liquid on Wheels is a Black-owned business adds to the surprise and delight. Ford says, "I love being that surprise element and hidden gem."
Even though Liquid on Wheels is mobile, Ford is happy to have a permanent workspace at WeWork 708 Main St. in Houston. "Since we provide mobile services, we really didn't have an actual workspace to conduct business," he says. "WeWork has definitely given us a sense of home. I love having a space to come to and brainstorm, and to [meet with] clients and other hospitality partners."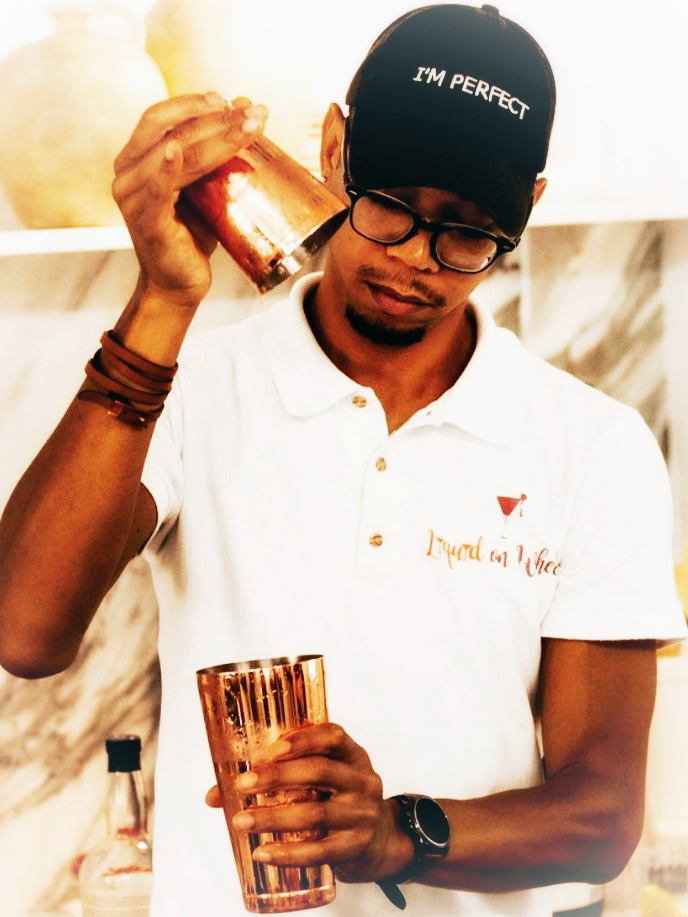 With the present going so well, Ford isn't too worried about roadmapping the future right now. "Working in such a highly competitive industry, no one needs the extra stress of trying to overachieve," he says. "But I would say staying true to our mission is always the goal."
Get information on bar packages or sign up for the brand's newsletter at the Liquid on Wheels website.
Making room for people of color in the gaming industry
Cxmmunity cofounders Ryan Johnson and Chris Peay launched their company in an effort to fix an imbalance in the gaming industry—one that Johnson finds is best told with numbers. He points out that:
83 percent of African American youth (both Gen Z and Millennials) play video games daily
There were roughly 240,000 jobs in the video game industry in 2019—an industry worth more than both the music and film industries combined
Only 2 percent of the video game workforce identifies as African American
Cxmmunity works to bring access to underserved youth to realize a career in the esports and video game industries through STEAM and career development. The company's programs include training in information technology, STEAM, live event production, business management, entrepreneurship, and family/parent esports education. A percentage of funds provides underserved youth with proper technological equipment (both hardware and software) to exceed in today's society and bridge the digital divide, Johnson says.
The company operates out of WeWork 1155 Perimeter Center W. in Atlanta—a relationship that has been invaluable, Johnson says. "WeWork has been what we like to call HQ for the past two years," he says. "We love everything about WeWork, from the community—pun intended—to the amenities to the WeWork Labs program we're part of, headed up by Joey Womack and Goodie Nation. This program has had a tremendous impact on our success."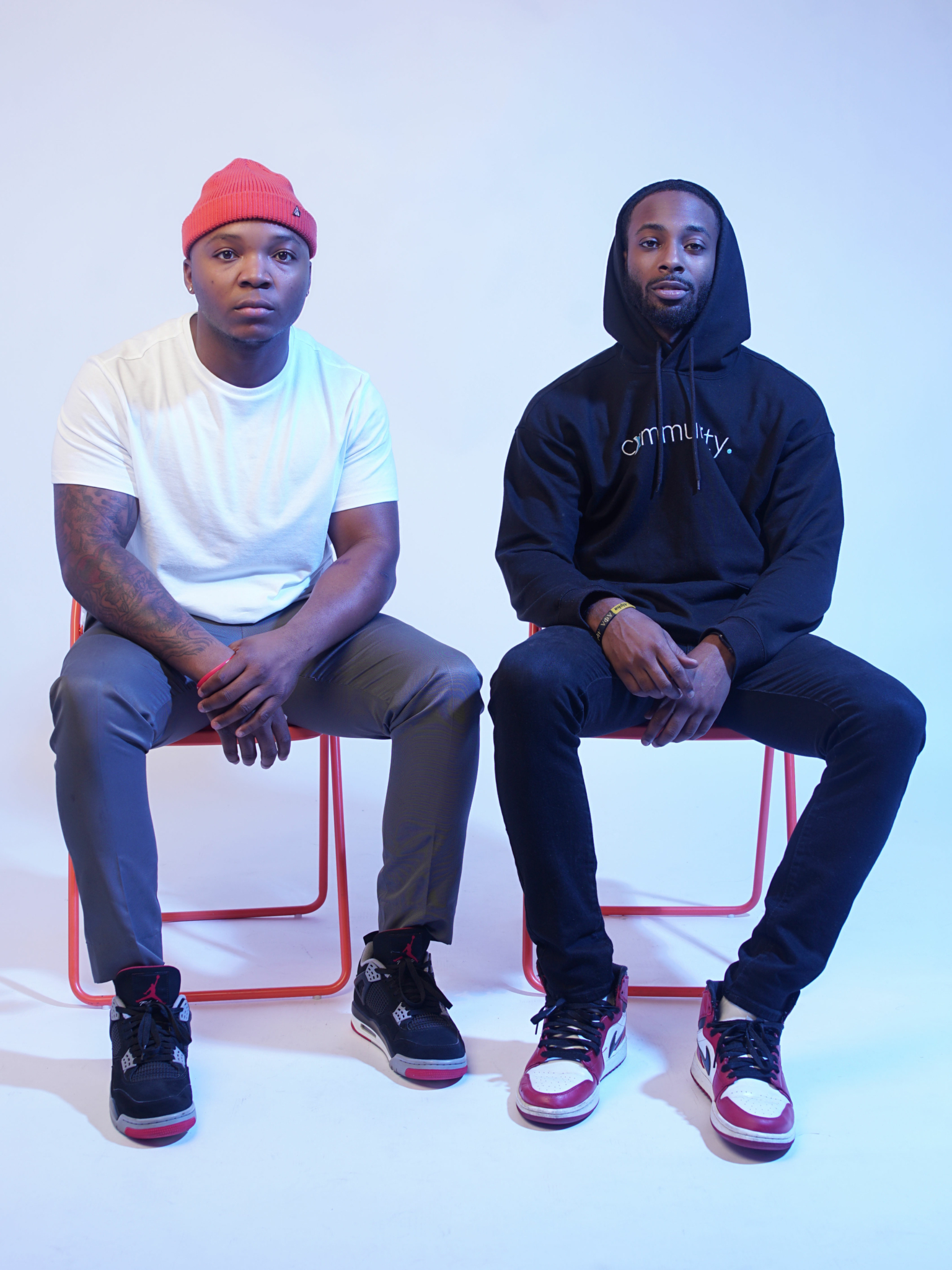 One bit of success Johnson is particularly proud of is a recent partnership with the Verizon Foundation, which has committed $1 million to increasing female representation in gaming and STEM through the creation of the Verizon Game Forward Scholarship for female students at historically Black colleges and universities (HBCUs), as well as the creation of tech centers on those campuses to benefit the students.
"Through this partnership with Verizon, Cxmmunity will be donating $1 million to five of our partner member institutions—$200,000 each," Johnson explains. Half the money will go toward a brand-new esports/innovation lab on campus, and the other half will be divided into five $20,000 scholarships for five women in STEM-related majors.
For anyone who wants to support Cxmmunity's mission, there are a variety of ways to help, whether it's purchasing merchandise on the company's site, or selecting Gaming Cxmmunity Co as a charitable organization of choice on Amazon Smile.
A snack company that champions food inclusivity
Food allergies affect 1 in 13 children across the country, according to foodallergy.org, and Black children are at a significantly higher risk of developing these allergies. In 2016, Denise Woodard founded Partake Foods, which makes allergen-free snacks like cookies, when her daughter was diagnosed with multiple food allergies. All Partake Foods products are certified gluten-free, vegan, non-GMO, and top nine allergen–free.
Woodard is passionate about championing food inclusivity. In addition to Partake's suite of products, the company achieves this in two main ways: by fighting food insecurity in the U.S. and opening doors for HBCU students interested in careers in the consumer packaged goods and food and beverage industries. A portion of Partake's proceeds go to organizations like No Kid Hungry, which provide access to the food, education, and advocacy these families deserve.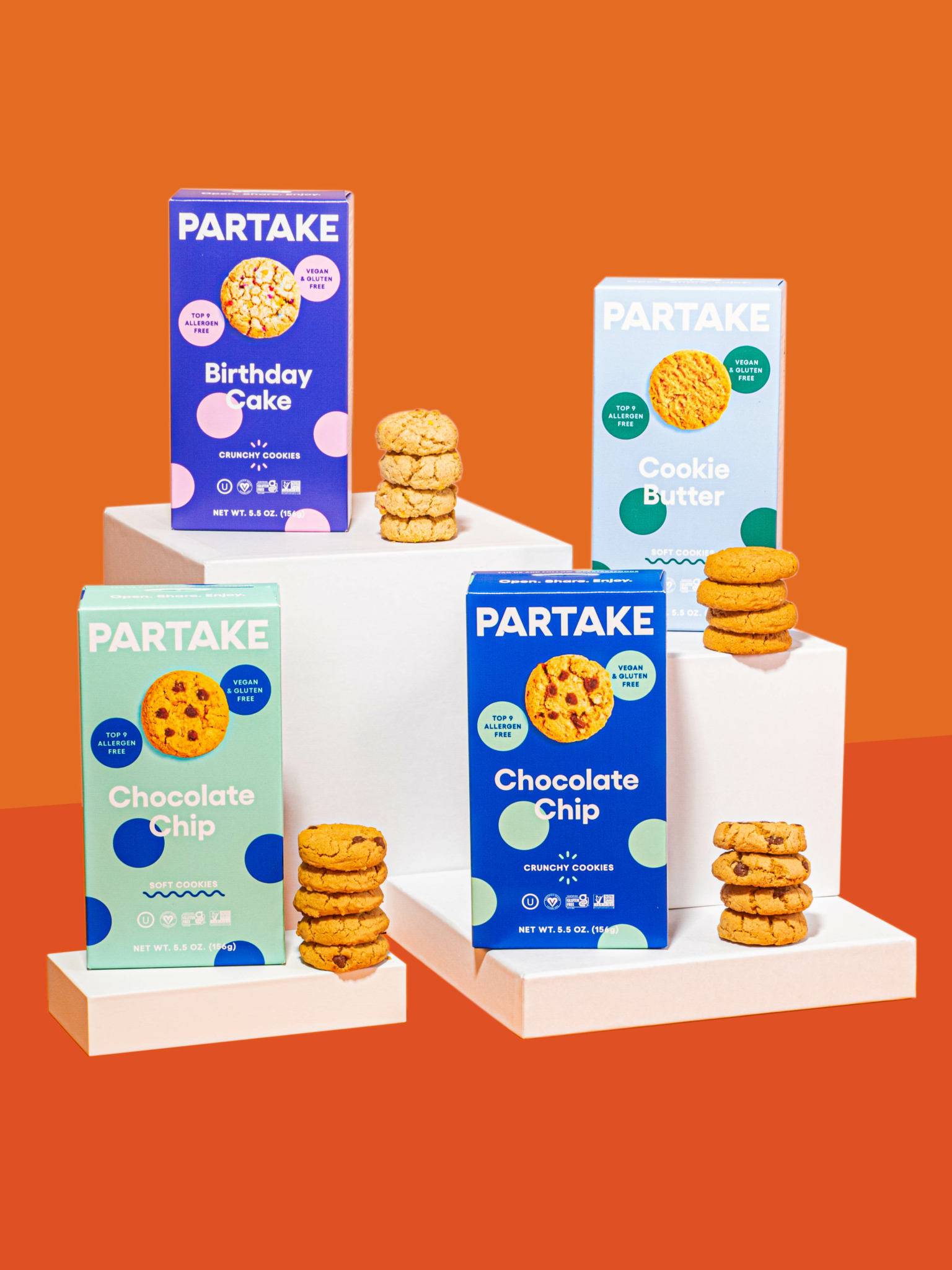 "As we've grown, I've quickly seen the importance and ability for us to lift as we climb," Woodard says.
Partake lives its values of quality, inclusivity, accessibility, and opportunity by building a diverse team. "Altogether we're giving one another the space and grace to bring our full selves to the company," Woodard says. "We're building the table instead of waiting for a seat. Culturally during these times, I believe consumers will align and share our values."
Partake grew from a team of one in January 2020 to a team of 15 two years later. It needed a physical space where people could come together, cement company culture, get to know one another, and scale the business. That's why Partake works out of WeWork 511 W 25th St in New York.
"Being together in person provides an opportunity to share ideas from multiple cross-functional teams, which allows for more creativity and innovation. WeWork helps our staff have a creative place to share our ideas with one another and execute them without a hiccup," Woodard says.
Recently, the company launched two new products: pancake and waffle mixes—available in classic and confetti flavors. The pancakes and waffles can be made in minutes, by just adding water and oil. This year, Partake is focused on launching more products and stores, and having an even bigger impact. Follow @Partakefoods on Instagram for updates.
Rethinking your workspace?