AAPI Heritage Month began as a way to honor the contributions of Asian Americans and Pacific Islanders to the history and culture of the United States, and has evolved into an opportunity to celebrate one another and how our backgrounds shape who we are.
WeWork thrives exactly because of the multitude of cultures, heritages, and perspectives that make up our community. For the month of May, WeWork's employee resource group We of Color produced a slate of events highlighting AAPI cultures and experiences, including a panel on diversity across the Asian diaspora. We caught up with three of the AAPI employees who participated, and asked them what traditions and values they hold close, and what they would like to pass on to the next generation.
At home with both friends and family
The power of community was a thread that ran through the panelists' experiences—one that they agreed makes them a natural fit for WeWork.
"It's why we're so invested and passionate about being here," says Erica Chen, a community manager at WeWork 1100 Ludlow St in Philadelphia. When she first stepped into a WeWork six years ago, she explains, she knew she wanted to be a part of it.
It's remarkable how things you do growing up become who you are.

Harish Krishna, global head of WeWork Workplace
When people care for one another, it's easy to view everyone as family. In fact, it took a while for Harish Krishna, the global head of WeWork Workplace, to figure out how many siblings his parents actually have. "I would call everyone my uncles and aunts," he says, because his parents treated friends as family. "In my head, my parents had 20 brothers and sisters."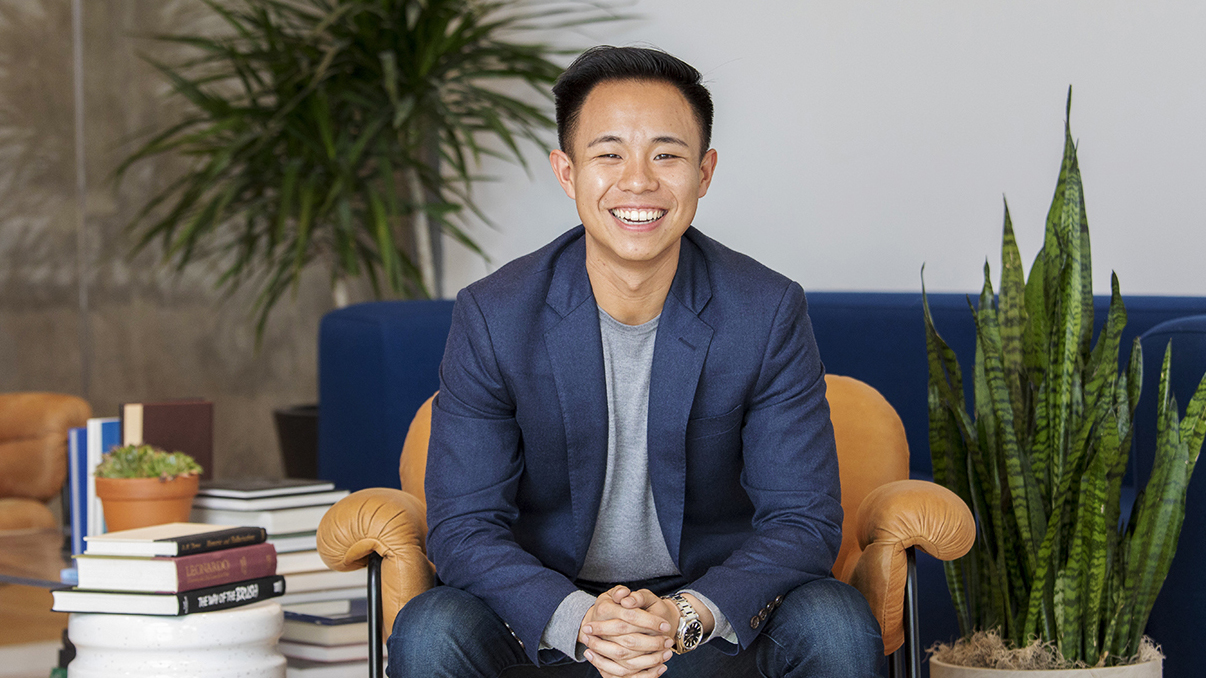 Elton Kwok can relate. The territory vice president of California and Nevada grew up in Los Angeles with a lot of family around (his parents have 16 brothers and sisters) and no shortage of friends of the family who were present for every big milestone. His grandmother's house was the center of gravity and everyone was welcome.
For Krishna, the blurred line between friends and family has shifted what he thinks of as home. Until a few years ago, he would have said that home is India. "I built a community of friends in New York because I was missing home," he says. "And now this bond has become so strong that this feels like home."
Making an effort to pass on traditions
Traditions are one way the panelists stay connected to their heritage. Chen lives an hour's drive from her parents—close enough that she can easily bring her 2-year-old daughter to enjoy her family's celebration of the Chinese Day of the Dead. They get together for a 10-course meal and then burn joss paper, symbolizing money being given to ancestors in the afterlife.
Chen only speaks Chinese to her daughter, a decision she made at a WeWork cultural exchange in Hong Kong, where she wished she'd worked harder to be fluent. "Language is my big thing in terms of passing things on," she says. "I'm trying to do everything to make sure she soaks in as much as she can."
Krishna learned how to meditate from his grandmother—it was a way of bonding with her as she would light incense and recite a mantra. Recently, he has gotten into the routine of doing it with his friends' kids. He tells them, "I'm trying to see if I can stay still for 10 minutes—can you do that?" and they'll explore together how interesting and hard it is. He thinks meditation is a powerful tool that's worth sharing with kids when they're young.
Kwok, who took up cooking during the pandemic, looks forward to passing on what he's learned. He sees exploring flavors and ingredients as a way of celebrating culture. "Cooking made me realize what makes each dish unique, whether it's the fresh chilis, herbs, or sauces," he says. "You understand the journey and the process a lot more."
Inheriting gratitude and appreciation
As the panelists reflected on the impact of their upbringings, gratitude and appreciation were consistent themes.
What Chen likes about the Day of the Dead is "we are not only appreciating our elders but also everyone who has come before us." It's a sentiment and a value she wants to instill in her daughter.
At weekly gatherings at Kwok's grandmother's house, he recalls, they'd find something to be grateful for even if there wasn't anything specific to celebrate. "Who I am is an outcome of how I grew up," says Kwok. "It's been really important as I've gotten older to find things to be grateful for, to celebrate, to show respect for, in a world that can be so up and down."
Krishna cooks dinner every weekend for friends—it's the perfect chance to gather and be thankful for one another. "Sometimes I forget where this comes from, but it's from my childhood," he observes. "It's remarkable how things you do growing up become who you are."
Personal values show up at work
Some of WeWork's values particularly resonate with the panelists' personal ones. For Kwok, the WeWork community commitment of "welcome with warmth" aligns with what he learned at a young age. When he had the chance to oversee WeWork in Los Angeles, "it felt like a homecoming for me, and I don't take a moment for granted." He considers it a gift to be a part of integrating WeWork into the communities he grew up in.
Krishna mentions "strive to be better, together" as a guiding value for him. He makes it a point to bring in many different viewpoints and ideas, even if that means holding meetings with 35 people. "Everyone gets their time, and I want to make sure everyone creates space and it's as inclusive as possible," he says. "I believe in my core that we're better together."
Lynette Chiu is a Brooklyn-based writer whose work has appeared in Guernica and Narratively.
Rethinking your workspace?