New York City's most populous borough, Brooklyn, is so enormous that if it were its own city, it would be the third most populated in the United States.
The area's booming tech scene is just as formidable, attracting huge numbers of startups, entrepreneurs, and established businesses. While many are lured across the East River by lower rents and larger offices than in neighboring Manhattan, space in this trendy borough is still at a premium.
The rising popularity of coworking in Brooklyn reflects the growing need for flexible, innovative office spaces that meet the specific needs of teams. Whether you're looking to launch or expand in New York City, or you're a freelancer in search of a hot desk, finding the best coworking space for your business can be a challenge. Here are five of our favorite shared workspaces in Brooklyn.
Brooklyn Heights
195 Montague St
Hot desks starting at: $410/mo
Nearby Transit: Borough Hall subway station (2, 3 trains), Court St subway station (N, R, W trains)
Cross Streets: Cadman Plaza W & Montague St
A relaxed coworking space in beautiful Brooklyn Heights, 195 Montague St is set over four floors and boasts stunning views of the Manhattan skyline and Brooklyn Bridge. This leafy, tree-lined location on the edge of Cadman Plaza Park is close to many of the borough's historic courthouses, making it popular with law firms of all sizes. Getting there is a breeze too, with the Borough Hall subway station right on the corner.
Inside, you'll find interior design inspired by the neighborhood's unique heritage. Bespoke lighting and woodwork features create focus-enhancing common areas, while convenient amenities such as the barista-staffed coffee bar and snack market will keep teams feeling energized and engaged.
Brooklyn Navy Yard
Dock 72
Hot desks starting at: $475/mo
Nearby Transit: York St subway station (F train)
Cross Streets: Market St & 8th Ave
This brand-new coworking space in Brooklyn's historic Navy Yard is right on the riverfront, offering unbeatable views of the Manhattan skyline that will make a lasting impression on visiting clients. This is a shared office in a rapidly evolving industrial area, attracting a diverse community of businesses of all sizes, from manufacturing entrepreneurs to film industry giants.
Brooklyn Navy Yard's shipbuilding heritage informs an oceanic color palette that runs throughout this innovative six-floor coworking space. Teams can unwind at the outdoor basketball court, feel productive in sleek private offices, and meet over an espresso in the light-filled common areas.
Dumbo
Dumbo Heights
Dedicated desks starting at: $520/mo
Nearby Transit: York St subway station (F train)
Cross Streets: Prospect St & Pearl St
This popular shared office space in Brooklyn epitomizes the neighborhood's unique character and style. Located across two reclaimed industrial buildings connected by a skybridge, the coworking community here is comprised of startups and businesses from a range of creative industries including technology, fashion, and music.
The building itself features artwork by WeWork's in-house muralist team, game-filled recreation areas for unwinding, and an outdoor terrace ideal for cooperative team meetings.
Williamsburg
134 N 4th St
Hot desks starting at: $540/mo
Nearby Transit: Bedford Ave subway station (L trains), Metropolitan Ave subway station (G train)
Cross Streets: Berry St & N 4th St
Be part of a growing community of creative startups and established companies at this popular new coworking space in the heart of Williamsburg. On the ground floor, you'll find Whole Foods—super convenient for grabbing lunch or groceries on the way home—while the legendary Radegast Hall & Biergarten across the street is the perfect after-work spot to celebrate team wins. With the Bedford Ave station just a few blocks away, downtown Manhattan is within easy reach too.
A collaborative and dog-friendly shared office, 134 N 4th St features private offices and spacious conference rooms inspired by Brooklyn's industrial heritage, all bathed in natural light thanks to steel-frame, floor-to-ceiling windows.
Whether you're a freelancer looking for an occasional desk or a startup looking for an office space that can grow with your team, there's a WeWork location in Brooklyn to suit your needs. These coworking spaces offer a collaborative environment for businesses of any size and type, in the most sought-after, conveniently located buildings.
109 S 5th St
Hot desks starting at: $330/mo
Nearby Transit: Marcy Ave subway station (J, M, Z trains)
Cross Streets: Berry St & S 5th St
Set over seven floors of a renovated textile plant, this affordable coworking space in Williamsburg is perfect for creative teams looking to make their home in one of Brooklyn's most popular neighborhoods. Enjoy delicious soul food at local lunch spot Pies 'n' Thighs, or entertain potential clients over a drink at The Four Horsemen, an impossibly cool wine bar owned by LCD Soundsystem frontman James Murphy.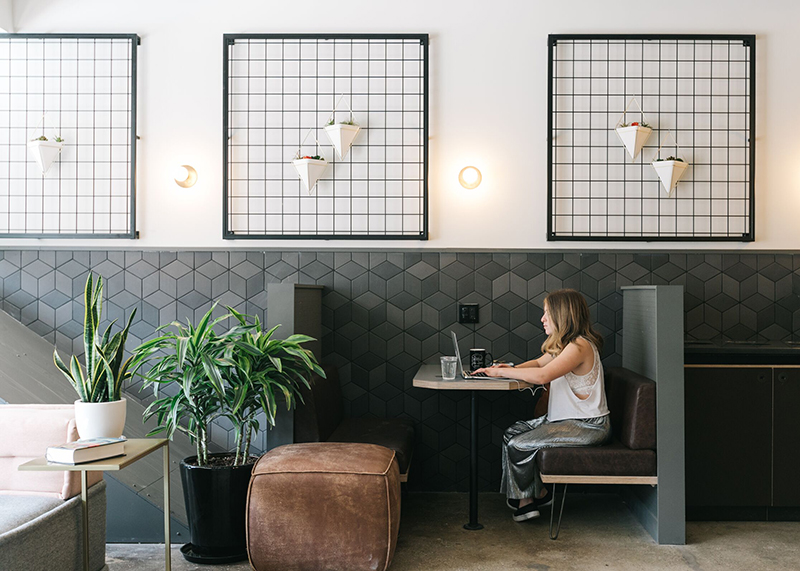 A dog-friendly shared office, 109 S 5th St is fully equipped with the amenities that startups need to get things done. Host cooperative networking events in conference rooms equipped with the latest AV tech, or catch up with colleagues over coffee in the sleekly designed common areas.
Steve Hogarty is a writer and journalist based in London. He is the travel editor of City AM newspaper and the deputy editor of City AM Magazine, where his work focuses on technology, travel, and entertainment.