As the vaccination programme continues to roll out in the US, university administrators across the country are gearing up for an autumn semester that will look far different from that of 2020. According to research from WeWork and brightspot strategy, remote learning during a pandemic has had a hugely detrimental effect on college students' satisfaction. Many colleges and universities are already opening up in-person learning to all students in 2021.
But that doesn't mean everyone will be on campus and in the classroom at the same time. Administrators know it could be 2023 before university life can safely return to its pre-pandemic state – if it ever does. In the meantime, masks and social distancing will still be required. Many institutions are continuing to implement strategies to de-densify campuses for 2021, including opening satellite locations and creating rotating schedules for on-campus learning.
A number of colleges and universities have turned to WeWork for Education over the last year to help develop a workspace strategy that support students' personal and academic growth and improve remote students' satisfaction. Some institutions de-densified or decentralised their campuses with satellite locations across a city – or across the world. Both of these strategies reduce the number of students in any one classroom, provide essential Internet connectivity to students who don't have it at home, and give remote learners a place to socialise and study.
Here's how two universities worked with WeWork to solve a variety of remote learning and workspace challenges. In turn, they were able to provide students with the built-in infrastructure, support and community culture they need and want for a rewarding college experience.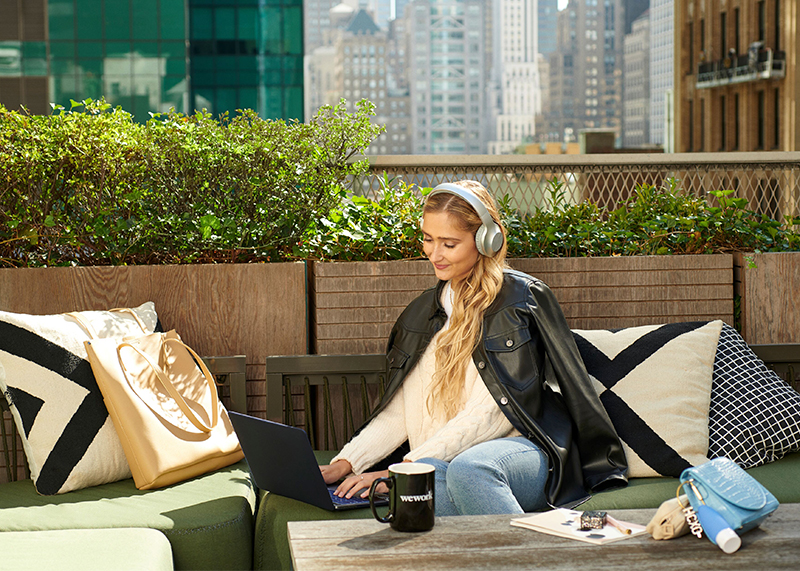 A university provides stranded international students with an overseas campus
The challenge: A cohort of international students attending a large university based in New York were unable to travel from China to the US in autumn 2020 due to travel restrictions. The university's local Shanghai campus couldn't handle the overflow, and it needed alternative learning spaces for around 3,000 stranded students. But the university didn't want to sign a long-term lease for a short-term problem.
The solution: WeWork provided the university with seven full floors – 7,000 square metres – of satellite learning space close to its Shanghai campus building. A short-term, flexible lease means the university can use the space as long as the students remain in China, and end the lease when they no longer need it. WeWork designers worked closely with the university to quickly renovate the new satellite location.
The result: Students waiting for the all-clear to travel to New York don't have to miss out on an engaging and meaningful college experience while they're in Shanghai. The bright, spacious education hub is a dedicated space designed to promote productivity and collaboration. Customised classrooms, lecture halls and meeting rooms are socially distanced but designed to inspire and motivate. Quiet study zones allow for focus, and collaborative workspaces, recreational areas and lounges offer opportunities to interact with peers and develop new friendships.
A university provides its global student body with Wi-Fi and workspace
The challenge: As a university implemented a study-at-home policy in response to the pandemic, a major concern was its large international student body spread across the globe. Many international students lacked access to the Internet at home or didn't have an adequate environment for studying or attending online classes. And they had few opportunities to socialise with their peers and develop a sense of college spirit. The university knew that without access to these college experience essentials, enrolment would drop.
The solution: WeWork partnered with the university to create a flexible, customised solution for students in more than 50 cities worldwide. The students were offered WeWork All Access passes. In several major cities in Asia and Europe with the largest concentration of students, WeWork provided dedicated, full-floor spaces where students could study or gather 24/7. Students in other cities could use any WeWork location. To make the arrangement more cost-effective, WeWork uses data reporting and a phased approach to enable the university to scale its spaces based on student usage and engagement.
The result: Students who need Internet access or a quiet place to attend online lectures or to study uninterrupted can now find both – and more – at their nearest WeWork. Whether or not the space is dedicated to the university, students can take advantage of all of the standard WeWork amenities, including printing capabilities and private phone booths, as well as any other perks the location offers, such as recreation areas, wellness rooms, gyms, showers or bicycle storage. In cities with dedicated spaces, students can hang out with their peers in bright, comfortable common areas or collaborate on projects in private workspaces. In other cities, students can reserve a meeting room or an event space at any location for a social meet-up or a group study session.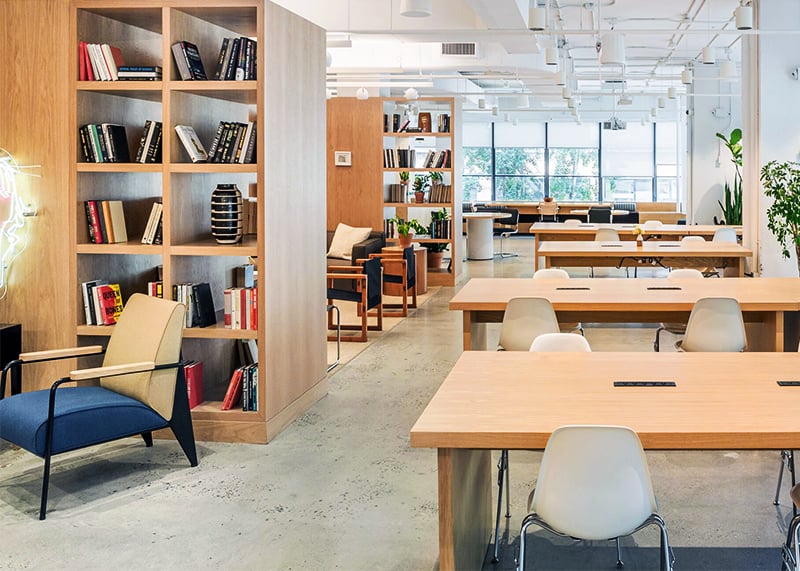 There's no doubt that the world of education was turned upside down last spring. Now, as universities move towards a return to normality, they may start embracing a more permanent version of the hybrid learning model, which gives students more choices about where and how they attend classes.
Many longtime educators see possibilities in a hub-and-spoke model, where satellite learning pods bring smaller groups of students together for more meaningful interactions. WeWork sees the possibilities too, and is there to help make it happen.
Kristen Bailey is a veteran writer and editor based in beautiful Lincoln, Nebraska. She has a penchant for helping large and small brands create stories that tell the why.