With the rise in hybrid work models, many business leaders are looking to create a greater purpose for their office space. That can mean more meaningful collaboration spaces, quiet spaces for concentration and heads-down work, or both. 
That's one of the key reasons WeWork partnered with Feather, a furniture rental company that provides WeWork members access to high-quality products and furniture add-ons. After launching a successful pilot programme in New York City, Feather now serves WeWork offices across the United States. 
'Feather and WeWork leaders put their heads together to offer options to members who were looking to create their dream office,' says Kendra Ovesen, Feather's vice president of merchandising. 'The partnership takes the strengths of what [both companies] do really well and marries them together,' she says. 
For example, a member may want to turn a 14-person office with just desks and chairs into a space with individual workspaces, a collaborative breakout area and a lounge. Feather has the ability to curate on-brand furniture across all WeWork locations in the US, along with white-glove delivery and an impeccable level of service, says Francesca Ling, senior manager of global product design management at WeWork. 'It was important that the rental programme provides flexibility to easily swap out pieces to reconfigure offices as needs evolve,' she says. 
The other factor that makes the WeWork and Feather partnership a natural fit is the furniture style itself. 'It was easy for our [WeWork] creative team to work together with their team on curating a dedicated assortment for our members that matches our company's look and feel and our members' needs,' says Ivan Aguirre, director of global product design management at WeWork. 'This assortment aligns with our concept of neutral materiality, which creates a workspace that can easily blend with each member's brand and identity.'
Ovesen agrees: 'a modern aesthetic has always been that filter that Feather has put its product designs through, and it happened to work really nicely with the direction that WeWork was going,' she says.
How it works
Through this partnership, WeWork members can choose from a collection of à la carte furniture and furniture bundles, all designed specifically to fit in WeWork spaces, and all available for rent on flexible terms for as long as members need. Feather furniture can also be easily mixed and matched with existing WeWork office furniture.
To customise their spaces with Feather, members with an office between two to 20 people start by taking an Office Builder quiz that lets them choose their building, office size and style, and then select a preferred configuration for their space. Feather offers recommendations based on those criteria, and the member can select what they like best, along with other add-ons and upgrades. 
If you're coming into your office, you want to be inspired by the environment and interacting with people in a safe place.

Kendra Ovesen, vice president of merchandising at Feather
'The Office Builder eases the customer in with questions about their space, and then helps them to visualise their options by offering pre-configured bundles,' says Ovesen.
The Brainstorm and Breakout layout bundles offer a collaboration space with a large table, chairs and a whiteboard to facilitate meetings and workshop ideas. The Lounge layout is designed with soft seating and coffee tables to encourage casual conversations and socialising among team members. 'You can even configure your own personal meeting room with the Meeting bundles,' says Ling.
'Our members are looking for ultimate flexibility, and their work needs are constantly shifting,' says Aguirre. 
As Ovesen says, 'if you're coming into your office, you want to be inspired by the environment and interacting with people in a safe place.'
Here's an inside look at how WeWork offices utilises Feather office furniture configurations.
A variety of work zones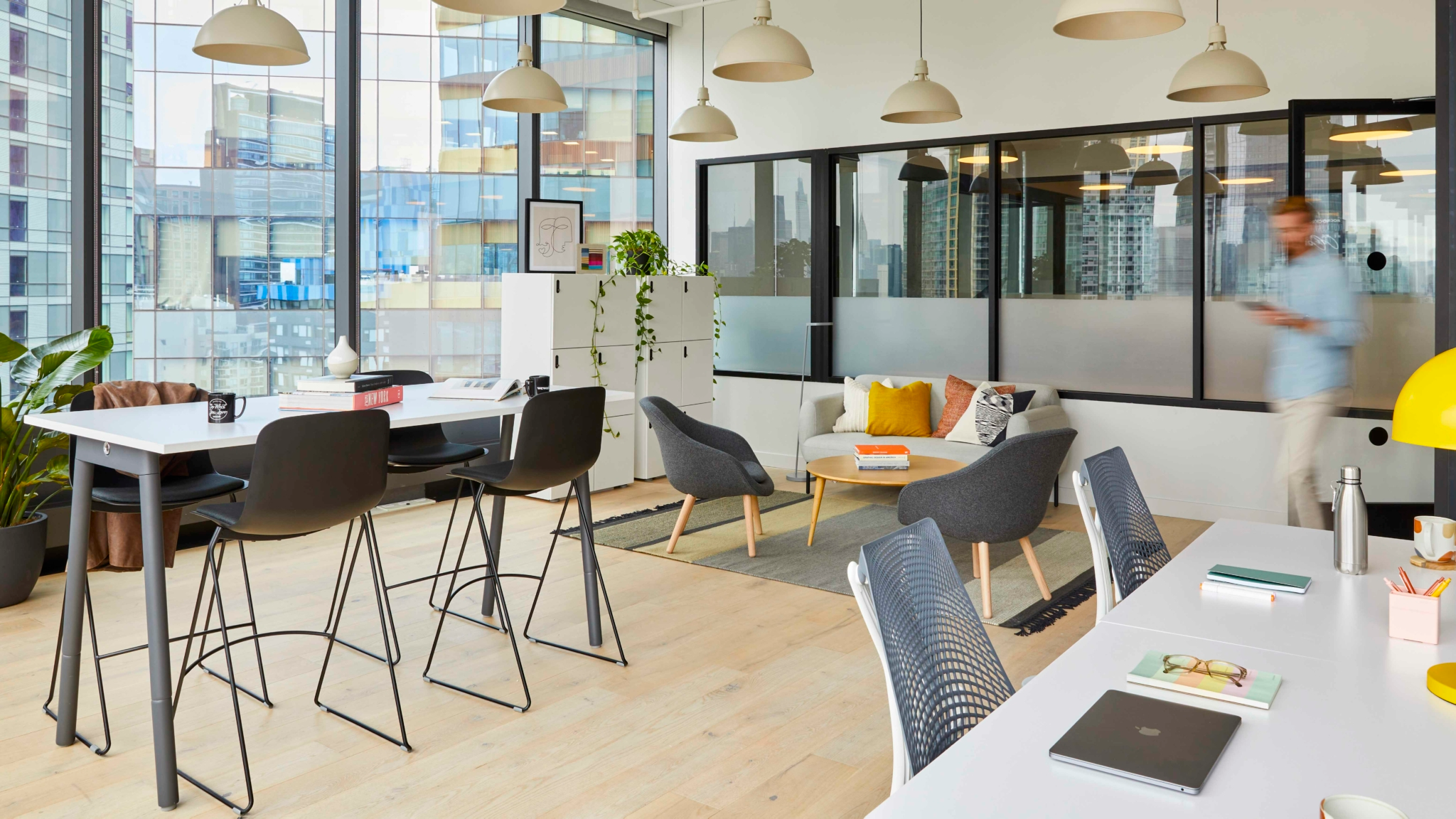 Pictured here is a standard WeWork office outfitted with a mix of bundle offerings to suit a company's day-to-day activities. Included is a Brainstorm Breakout Bundle (medium), a Lounge Bundle (medium), and an upgraded heads-down workspace with sit-stand desks and ergonomic task chairs. 'Overall, we trend towards lighter furniture, using wood to warm it up. Think light and airy, and more openness,' says Ovesen.
A centre of concentration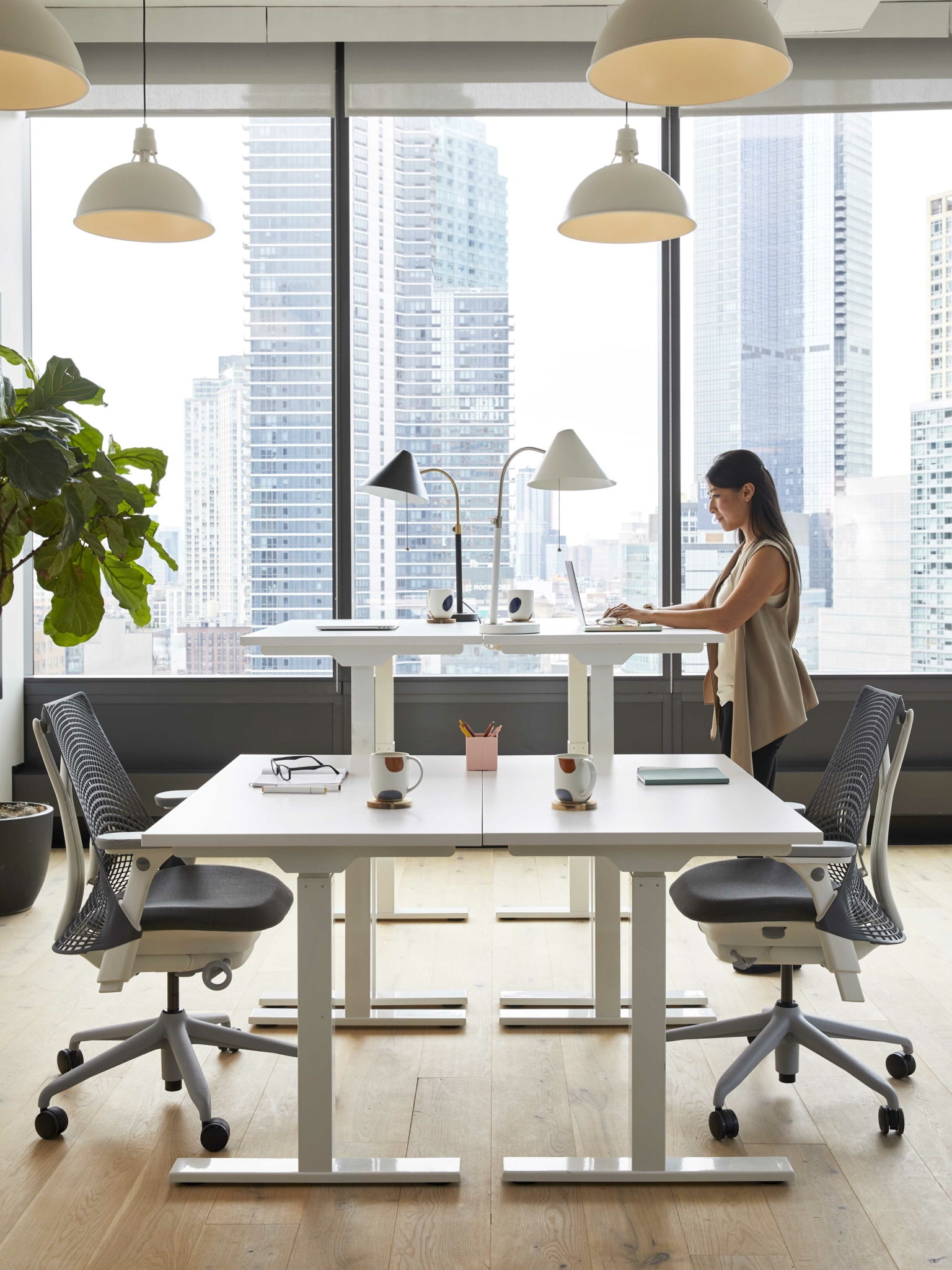 When it's time to dive into a project deadline, this upgraded heads-down work area with sit-stand desks, ergonomic task chairs and task lamps keeps workers focused. Ovesen notes that this furniture is also BIFMA-certified. (BIFMA is the Business and Institutional Furniture Manufacturers Association's third-party certification of sustainable products.)
A casual conversation spot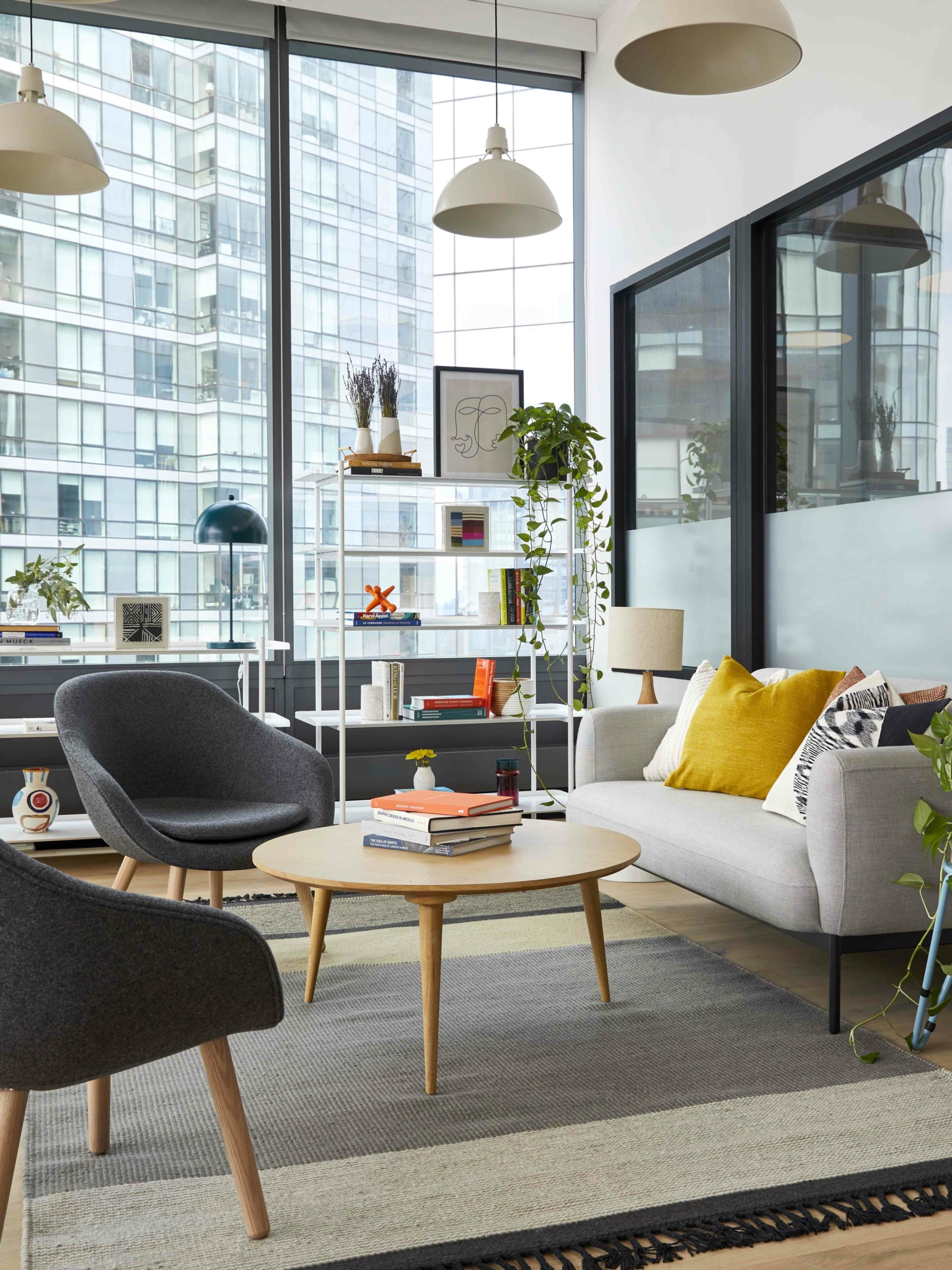 The Lounge Bundle (medium) includes one two-seater sofa, two lounge chairs, one coffee table and one rug to anchor the cosy space. This set-up provides an alternative seating area for chatting, reading or receiving clients.
A private space upgrade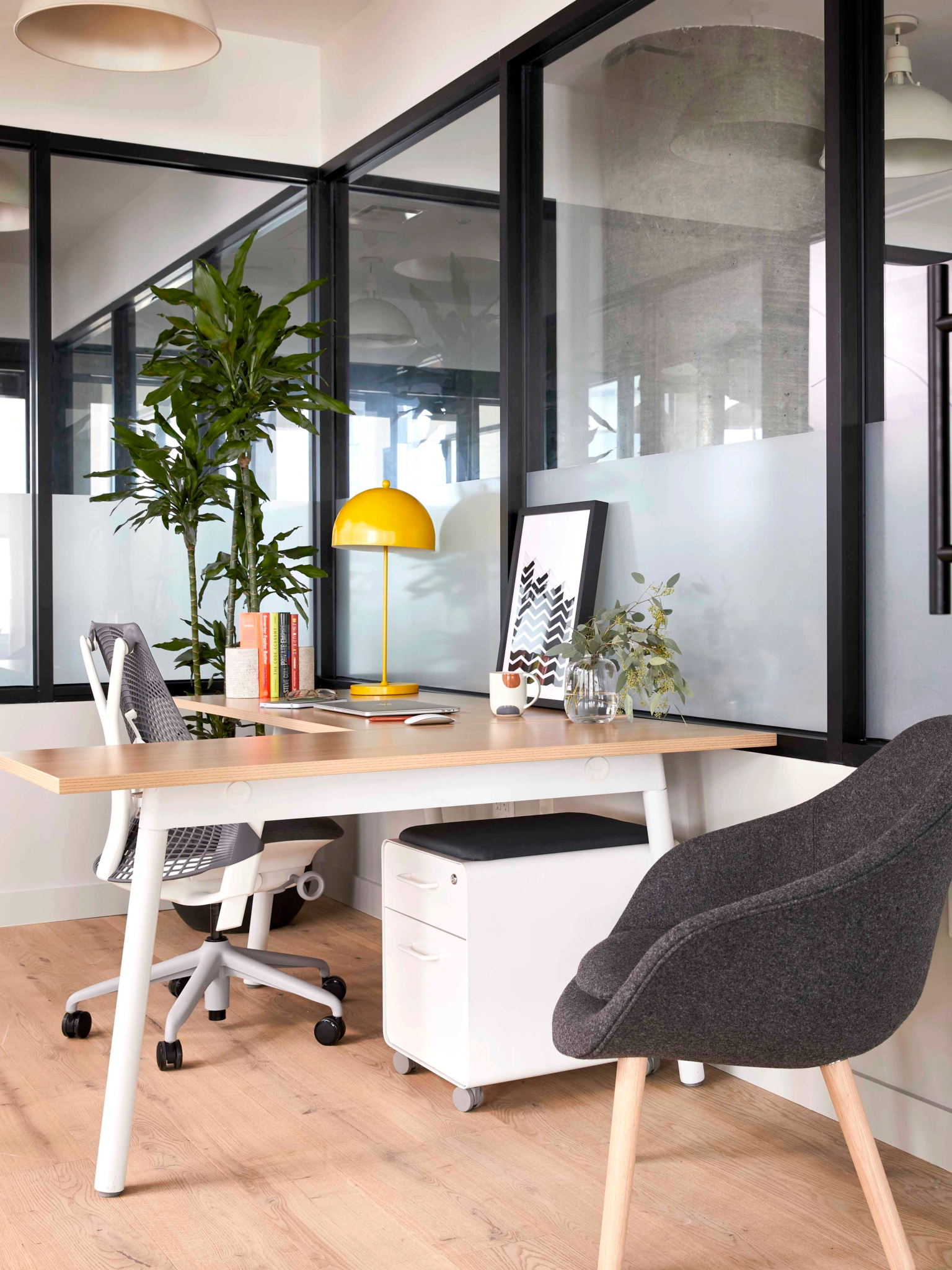 WeWork members can take the standard three-piece office and convert it into an Executive Office with the Executive Bundle (extra small size). It includes one executive desk, one ergonomic task chair, one padded storage ped and one guest chair. 
A balance of privacy and teamwork
Some members require more customisation: an independently owned company that needs an area for working with clients; a business that wants a private office separated from another company suite; or one that needs to set up a private office away from its remote headquarters. For such situations, members can convert the standard eight-piece WeWork office into a more functional Executive Office as pictured above. This space includes one Executive Bundle (extra small), one Breakout Bundle (small), and one bookcase as an add-on to the overall package. 
A modern meeting area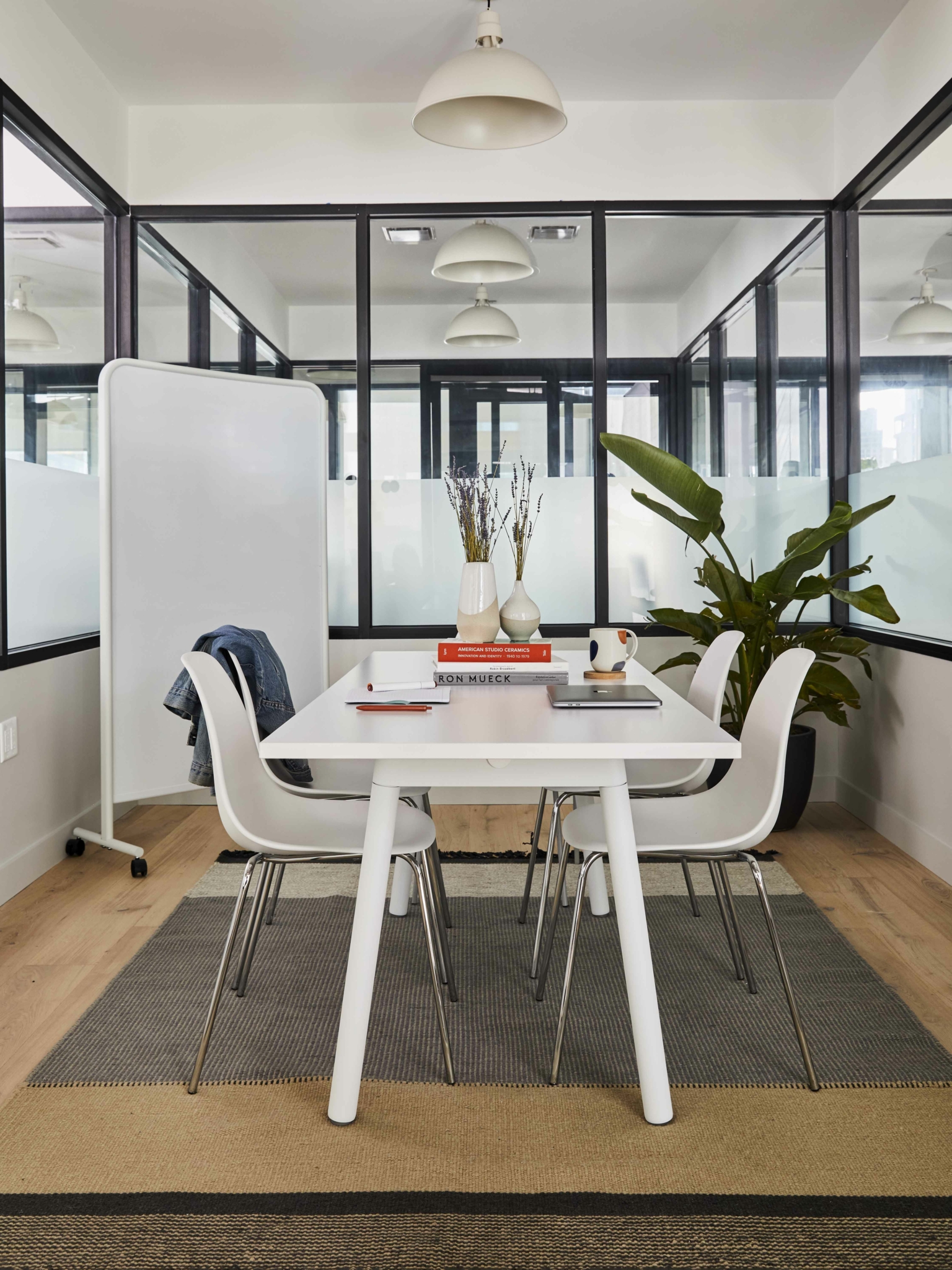 In-person collaboration and brainstorming is so important, which is why some members may wish to turn a standard six-piece capacity office area into a private, enclosed meeting room with one Breakout Bundle (medium). It comes with one meeting table, six chairs, and one mobile whiteboard for working through ideas and strategies. 
A well-lit breakout retreat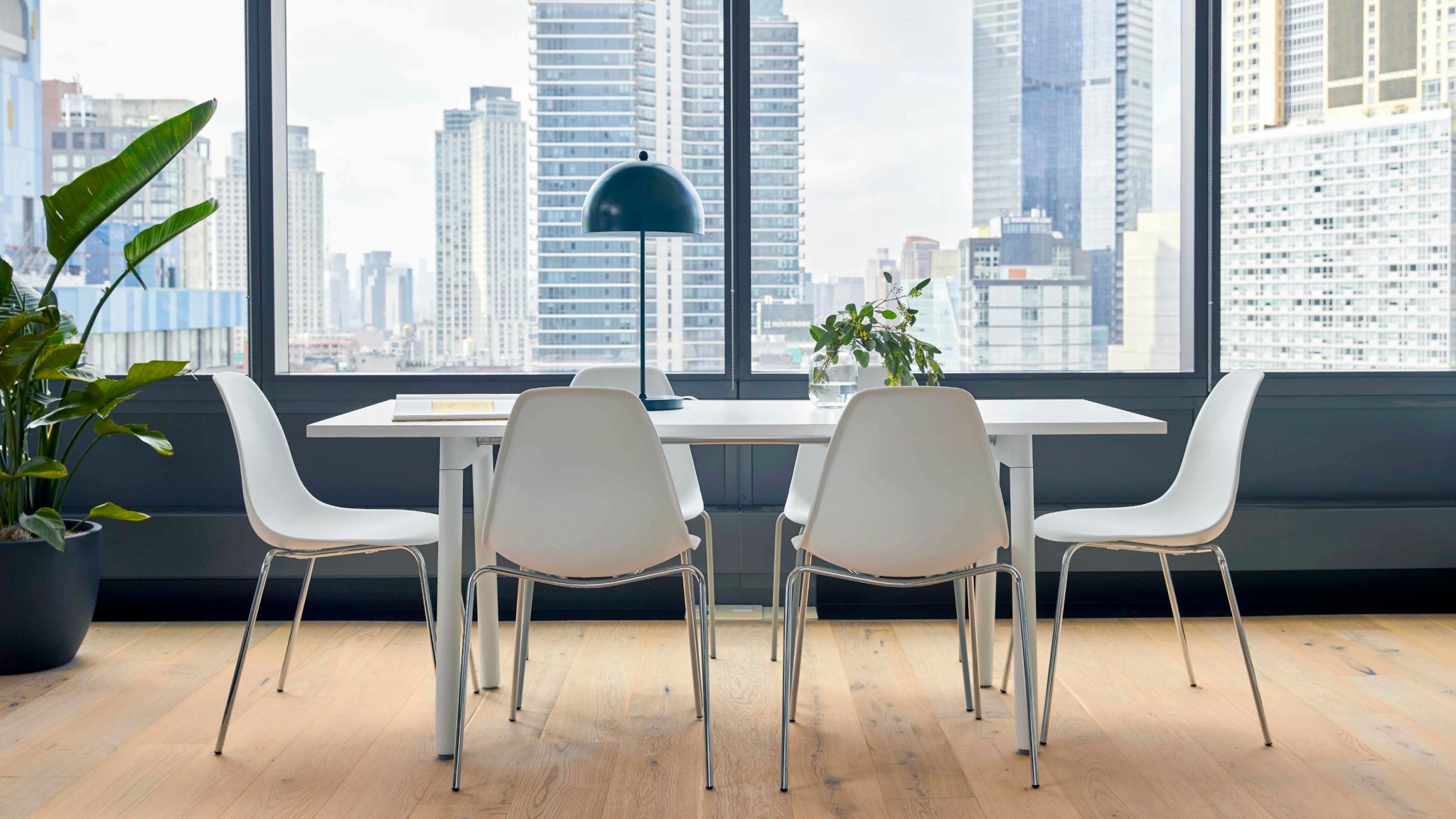 The Breakout Bundle (medium) works beyond small meeting areas. Here, it's situated in a larger standard office setting – with a great view!
A focused heads-down desk design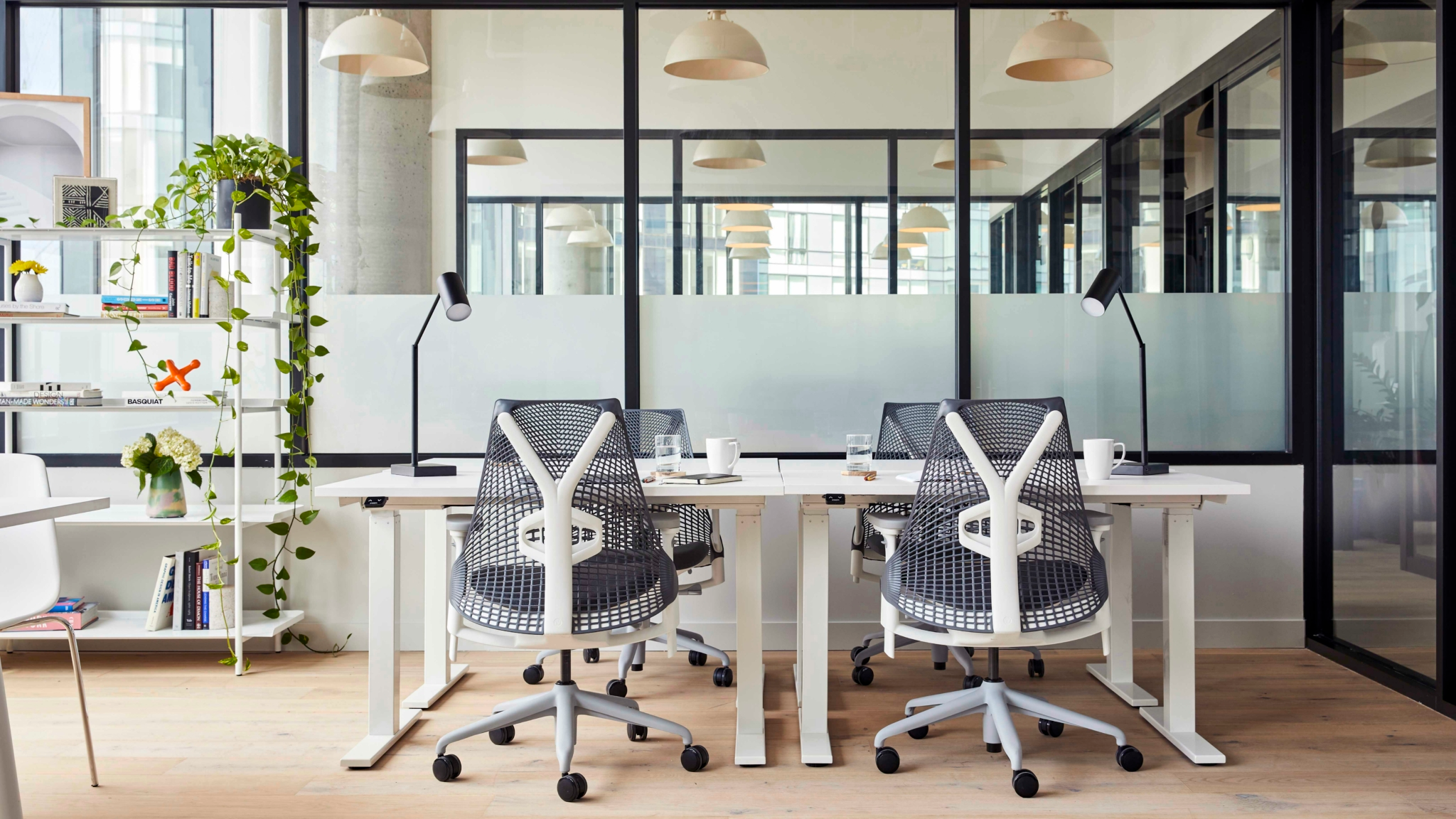 Ergonomics and the ability to change positions throughout a long work session is important for employee wellness. The upgraded heads-down work area with sit-stand desks and ergonomic task chairs provide that physical flexibility in a larger, standard office setting. 
A catch-up space
When set in a larger, standard office setting, the Lounge Bundle makes for an inviting conversation area. It includes one rug for a soft underfoot seating area, two lounge chairs and one coffee table. 'The furniture is built to last,' says Ovesen. 'We use more natural finishes so that we have the ability to make repairs.'
Dawn Papandrea is a freelance writer who covers work, personal finance and higher education. Her writing has appeared in numerous publications, including Family Circle and monster.com. Follow her on Twitter.
Rethinking your workspace?