The ways we work have fundamentally changed. People no longer seek just work-life balance. They want the power to choose when, where and how they work. They want the freedom to create their own schedules, to do work they find meaningful, and to be in a space that suits their unique needs. Gone are the days of a one-size-fits-all nine to five. In All the Ways You Work, WeWork members share how they're reimagining their professional lives and thriving in this new world of work.
It all came down to the flow—finding the workflow that would allow Cameron Love to have a work-life balance that suited his growing business and growing family. That's what Love, an independent entrepreneur and commercial real estate broker, was trying to find as he navigated how to be productive and efficient during the pandemic.
"I don't have a salary, and I wake up every day at zero" is how he describes his hustle. "I know exactly what I have to do to be successful, to execute for my clients and provide for my family," says Love.
These days, using WeWork All Access is essential to Love's flow and helps him get to a place where he can be the most efficient and productive. Since WeWork All Access allows him to use hundreds of WeWork locations, he also has touch-down spaces whenever he's traveling and showing clients offices. But in the early days of the pandemic, there was a lot of trial and error to get it right.
Love and his wife were living in a one-bedroom apartment in San Francisco with their newborn baby, Jackson. Their son was essentially living inside a large closet, and Love was trying to work in the family's living room. They quickly realized that it wouldn't work. So Love moved the kitchen table into the bedroom so his wife would have the rest of the apartment to take care of Jackson during the day.
"We discovered that I needed a lot more focus time and time spent on calls than I thought," Love says about those early days. "Early in the pandemic, every client of mine needed to talk through what to do with the office space they couldn't use, and I needed a space with fewer distractions but also needed not to displace my wife and son." The family soon moved across the Bay to Marin County to get more space, and once things started to open up safely, Love began working out of WeWork 1 Belvedere Dr in Mill Valley.
"WeWork was just 10 minutes from my house, and it is a truly inspiring and beautiful workspace," Love says.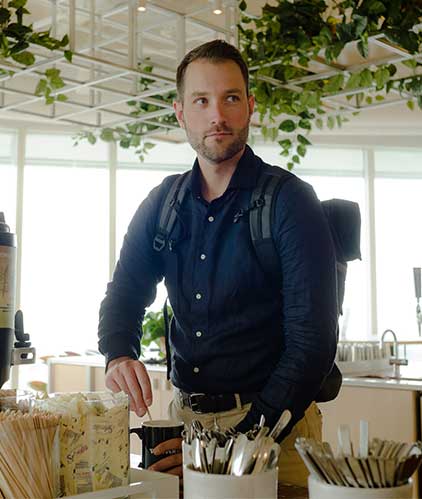 Cutting out the daily commute changed everything. "Being able to get quickly into a workflow state doesn't mean I need to be in a specific office or with my team every day," says Love. "I just need a dedicated space and routine. I'd prefer not to waste two hours commuting each day. I really need to maximize those hours between 8 and 5."
It's also a cost-effective move. The parking at WeWork 1 Belvedere Dr is free, compared to the $25 a day he pays to park in San Francisco. Plus, he doesn't have to pay for the ferry or for the tolls across the bridge unless he is meeting with a client.
Having that physical separation between home and work was extremely helpful. "I value the process of leaving my house, pulling into the parking lot, and walking into the office building to help me get into the flow of work," he says. "It's way different from making breakfast for Jackson and then going into the spare bedroom for conference calls."
His work of matching clients with the perfect office space takes Love all over the Bay Area, a wide radius that stretches north to wine country and Petaluma and south to Silicon Valley and Palo Alto. WeWork All Access allows him to pop into an office nearby whenever he may be.
"If I'm touring a space in Palo Alto in the morning, then I can find an office and go right to work afterward instead of getting into the car and losing that workflow state," Love says.
Being able to separate his personal and professional life and maximize the quality time he gets to spend at home will become even more important in a few months: Love's wife is expecting twins later this year.
"She's going to be a full-time mom, and I am going to need to be even better at my job and maximizing every minute of my time," Love says. "It's all worth it. I want to be home by 5:00 or 5:30 every day and I want to be able to put food on the table. Now I have a routine that will allow me to do both."
Jo Piazza is an award-winning journalist, bestselling author, digital strategist, and podcast host.
Rethinking your workspace?