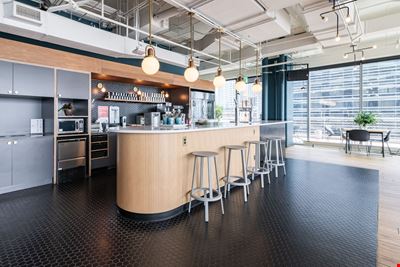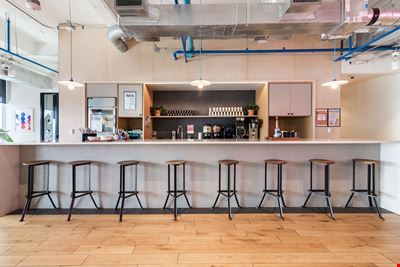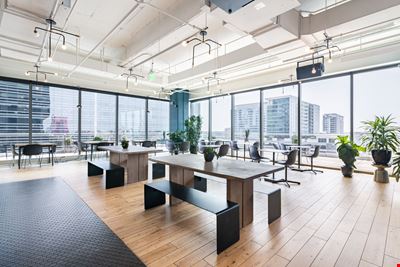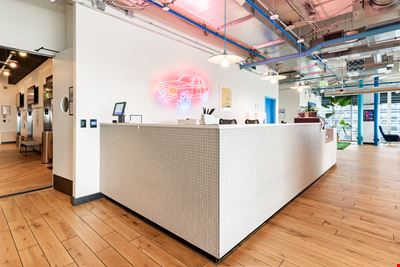 Interested in this location?
Complete the form below to book a tour or connect with one of our team members to learn more.
Available spaces and solutions
Recommended for you
Private Office
Move-in ready private workspace for teams of all sizes with your choice of shared or private amenities—plus Full Floor options available for added privacy and personalization.
Let's start a conversation
Workspace for the Day: WeWork On Demand
Book access to coworking space or a private office for the day. Learn more
Meeting Rooms: WeWork On Demand
Book conference rooms by the hour for groups of all sizes. Learn more
Monthly Membership: WeWork All Access
Access to hundreds of coworking spaces near you and around the world. Learn more
*Plus applicable taxes and fees
*Plus applicable taxes and fees
Dedicated Desk
Your own desk in a shared office. Flexible commitment terms.
Private Office
Select your move-in date and capacity to view inventory.
Full Floor Office
With private amenities and options for personal branding.
Professional amenities
Cleaning services Bike storage Event space Outdoor space Wellness room Fitness center Parking Showers
Learn more
Amenities
Cleaning services
Bike storage
Event space
Outdoor space
Wellness room
Fitness center
Parking
Showers
View all amenities
Location
615 S College St Charlotte NC 28202
Nearby transit
Right off the Stonewall Station stop off the Lightrail.

Parking available.

Interstate 277

Bike storage available.
Shared Workspace at Stonewall Station
Located near uptown, WeWork Stonewall Station brings thoughtful shared workspace to one of the most sought-after cities in the country. We've transformed two floors of this gleaming, glass-front building into the ultimate Charlotte office space, with unique areas for coworking, focusing, and meeting. We're directly off the light rail stop at Stonewall Station, have an attached parking lot, and offer bike storage, making for convenient commutes however you travel.
Why WeWork Stonewall Station for Charlotte Office Space?
Charlotte's rich history is steeped in Victorian homes, car racing, and big business. Today, it boasts one of the greenest urban tree canopies in the country. Our designs bring Charlotte's breath-of-fresh-air into growth-friendly workspace. NASCAR and neon informed our graphics and furniture, while brass fixtures add pops of sophistication. Beyond WeWork's hallmark amenities like stocked kitchens, event space, and new mothers' room, enjoy fantastic views from the ninth floor balcony or an onsite shower after using the fitness center. To get your wheels spinning in a city that's developing at lightning speeds, join us at WeWork Stonewall Station.
What people are saying
James Ferguson
November 13, 2023
Great space, staff are extremely nice.
Jake
October 20, 2022
Definitely a good vibe, love the location too. Be warned though, if you're an Ubuntu Linux user, especially 22.04, you'll have to connect to the WiFi via the command line. It's not super hard, but it's also not convenient. You should be ab ...

Read more
Calvin Moore
January 06, 2021
My wife and I have been looking for a new office we both like... Lets say we both feel in love with this location instantly!! The staff are all extremely helpful and truly add that WOW factor!! The community aspect is a major bonus. It's sa ...

Read more
Joann Guinn
June 18, 2019
Houston Millsap
September 27, 2018
Great amenities. Nice casual environment to relax at after work or during lunch breaks.