It's becoming hard to imagine a world in which remote work is not a possibility. Some would even say that it's more the norm now than the exception. And as professionals of all stripes start to experiment with different workspace setups to find the optimal fit for their needs, flexible work solutions are also on the rise.
We may have all tried, for lack of a better option, to turn a corner in our kitchen or living room – perhaps even our bed – into a home office. Some swear by working from a coffee shop where the service is impeccable, the Wi-Fi decent, and the brews delicious. People crouched over their laptops in airport lounges are also a common sight. We usually make do with what we have on the spot, but that can mean making compromises along the process. For instance, the boundaries between work and home become blurred, we are distracted by the noise in a coffee shop, or we wake up with back pain after having worked in uncomfortable positions at the airport.
Coworking spaces were designed to scratch compromises of this sort. In fact, the purpose behind their design makes all the difference: they were intended as a place where people can work comfortably, without distractions.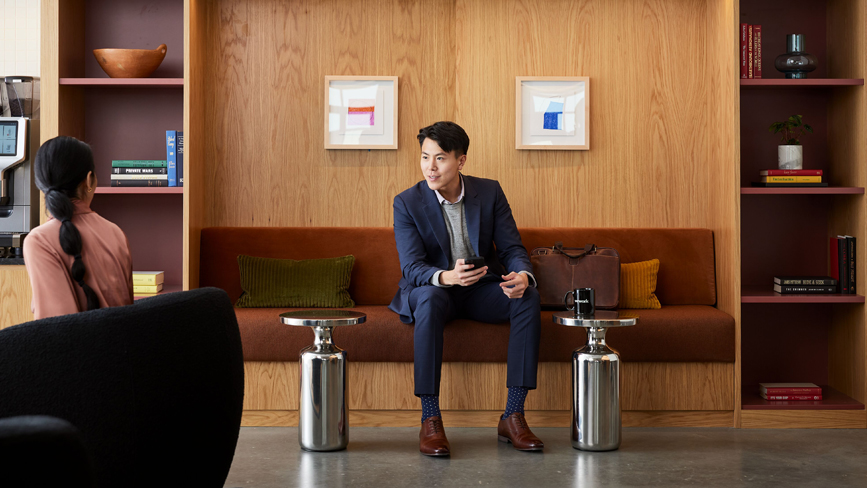 If you're on the lookout for a coworking space but aren't yet convinced that you're ready to trade your home office or favorite seat in a café for a monthly membership, then a day pass is your best bet.
What Is a Coworking Day Pass?
As the name itself suggests, a coworking day pass grants you access to shared workspaces with all the amenities and business supplies you need for a productive workday. They don't require a long-term commitment – instead, you can book a hot desk or a conference room and take advantage of the on-site perks without having to worry about monthly payments.
What is WeWork On Demand?
WeWork On Demand is a non-committal, pay-as-you-go day pass that makes it easy to book a desk, a private office or a meeting room in any of the 360+ WeWork On Demand enabled locations around the globe.
How Does WeWork On Demand Work?
The easy-to-use nature of WeWork On Demand allows you to reserve a workspace for the day or a meeting room by the hour in a matter of minutes. All you need to do is pick your preferred location, book a hot desk, a private office or a conference room, and bring your laptop. You'll find everything else readily available in the office, from coffee, tea, and indispensable amenities to comfortable nooks and friendly faces.
Start by simply downloading the WeWork mobile app from the iOS app store or Google Play. Then, take advantage of the intuitive design of the app to find and book the space you want, pay as you go, and manage your account with ease. 
WeWork On Demand enabled locations are open for members during regular business hours (between 9 AM and 6 PM on weekdays, excluding national holidays) and can be accessed using a keycard that you receive on your first visit.
Once you're all set to work, connect to the WeWorkWiFi network, get a fresh cup of coffee, and make the most of the focus hours. And when it's time to call it a day and unplug, make sure to collect your personal belongings before you leave, as WeWork locations do not take responsibility for personal property.
How to Cancel a Booking?
It can happen that something unexpected comes up or you simply change your mind and no longer need your upcoming meeting room or desk booking. In these cases, you have the option to cancel it at least 24 hours before the start of your reservation and receive an automatic refund. If you've missed the cancellation window, you can always reach out to help@wework.com for extra assistance.
WeWork On Demand Guest Policy
In addition to individuals who need a quiet pod for focused work, WeWork On Demand is an ideal solution for collaboration. As such, it is possible to bring guests to WeWork locations as long as you have a meeting room booked. This makes it easy to gather the team for a brainstorming session, a workshop, or meet clients in a professional setting without having to commit to a long-term office space.
There are a few things to keep in mind before you reserve the conference room. Firstly, the number of guests is limited to the room capacity, including the host. Secondly, the host must be present before the guests arrive and throughout the duration of the meeting. It's also important to note that access to the shared areas of the coworking space is not included for guests.
The Benefits of WeWork On Demand
Coworking spaces are excellent productivity boosters in general, and it's no wonder: anyone can find a quiet nook for heads-down work or a bright and open area to mix and mingle with other professionals. It's also no secret that the neighborhood coffee shops or people's homes were never intended as offices, so the lighting, air quality, temperature, and even the furniture may negatively impact your productivity in the long run. In turn, all these elements across our WeWork locations are carefully curated with a busy professional's needs in mind.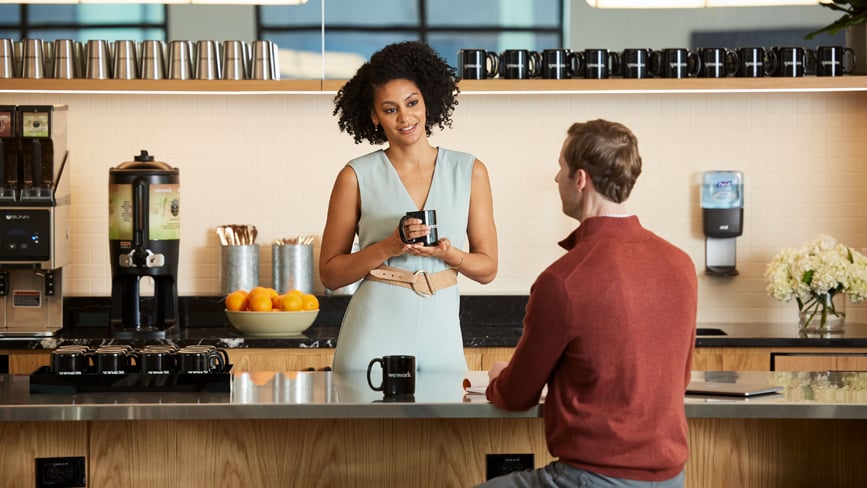 We also can't underestimate the power of face-to-face interactions, and here, coworking spaces shine once again. Many people choose collaborative workspaces precisely for their social dimension – they focus better when others around them are doing the same and they like spending their breaks sparking up conversations with other members. The nature of coworking spaces is also conducive to networking, so feel free to exchange ideas and even strike up a deal or two when you pop into the office for a day.
Where we work shapes how we work, and the comfortable and easy setups, attractive prices, convenient amenities and socializing opportunities all recommend WeWork On Demand for a productive workday.
Want to learn more about flexible work?