In today's rapidly evolving world, small- and midsize companies with fewer than 500 employees are faced with a wealth of opportunities—and some unique challenges.
On one hand, they're inherently more agile; they have the ability to pivot and readjust their strategies as needed for the health and growth of their business. But what these companies have in strategic agility, they often lack agility when it comes to real estate: A five-year-old company with 200 employees may have a harder time securing loans or leases than a Fortune 500 corporation. In addition, every decision greatly affects their cash flow. The money that a midsize company spends on real estate can come at the expense of growth efforts, like expanding staff, marketing, advertising, and investing in large-scale strategic efforts.
That's why WeWork provides a range of office solutions for small- and midsize companies, so that there's no need for a trade-off between business goals and real estate. As a startup-turned-enterprise ourselves, we understand more than most precisely what businesses of that size need. Our agile real estate solutions allow company leaders to minimize the risk and financial burden, maximize their investment, and—most important—allow them to focus on their business.
Take a look at how four midsize companies are using WeWork to do exactly that.
Headquarters: Thrive Global
When Arianna Huffington collapsed from sleep deprivation in 2007, she knew that she'd fallen victim to workplace stress and burnout. That's why, in 2016, she launched Thrive Global, a digital platform that helps individuals and companies improve wellbeing at work.
Thrive Global originally operated out of the same New York building where Huffington founded the Huffington Post. But they quickly ran out of space. Huffington knew that Thrive Global needed a larger home that reflected her company's mission. She learned about headquarters by WeWork, a private-office solution for teams of 20 to 250, and collaborated with WeWork to design and build out the space.
The result: an office that energizes employees while helping them to recharge. A variety of spaces meet employees' needs throughout the day, including quiet places for heads down work, nap pods, conference rooms, and informal areas for quick catchups.
Huffington noted that partnering with WeWork simplified the buildout process so she was able to stay focused on her business.
"Where our energy goes is really essential to our growth, and you can spend so much energy ordering furniture and haggling with suppliers, so I think it's incredible that [headquarters by WeWork] allows you both to create the space you want, then to focus on the important things," Huffington says. "What is great is—especially at our stage of growth, even in a year, we've outgrown the space—that WeWork can help us relocate. We want to continue growing together as we grow around the world."
Global expansion: TripActions
TripActions, a $1 billion business travel-tech company, knew success hinged on their ability to grow internationally. The company was headquartered in Palo Alto, but needed to open satellite offices in around the world, which would help them acquire talent while being in the same markets as their customers.
But as a fast-growing company, they had a hard time forecasting what their business would look like even a year or two in the future. In addition, they didn't want to sign long-term, inflexible leases for spaces that could quickly become too small or too large.
TripActions partnered with WeWork to quickly and strategically move into key markets around the world. Today, TripActions has more than 400 WeWork-based employees in six locations including San Francisco, London, Amsterdam, New York, and Sydney. "WeWork gives us the flexibility to grow fast without overpaying for space we don't need," says Rich Liu, TripActions' chief revenue officer.
"We've gone from 40 to 400 people in a year, and it would have been impossible to do that without WeWork. Impossible," adds Francis Moran, vice president of finance at TripActions. "WeWork has enabled our tenfold growth in a way that still embodies who we are as a company."
Expanding footprint within a building: Brooklinen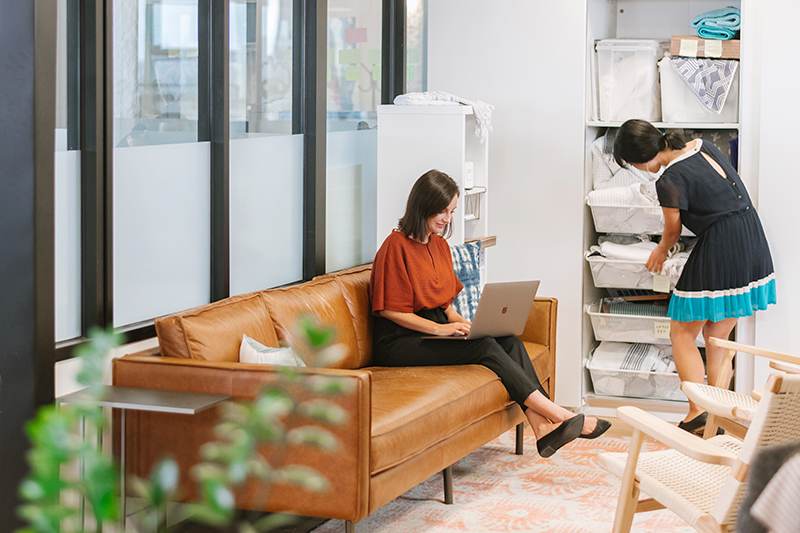 Vicki and Rich Fulop launched Brooklinen, a direct-to-consumer luxury bedding company, from their living room. After their sales immediately skyrocketed, the Fulops knew it was time to find an agile office solution that could keep pace.
"We didn't know what the future held for us, so we wanted a workspace that was extremely flexible," says Rich.
They moved into WeWork Dumbo Heights, in Brooklyn, as a team of two. Soon, they started hiring employees. Each time they needed more space, the co-founders reached out to their WeWork account lead, who accommodated their growth in the same building.
Three years and 30 employees later, Brooklinen has never had to go through the hassle of a big move. WeWork removed walls, created new layouts, and rearranged furniture to ensure that Brooklinen's growth was easy and frictionless. This has allowed Vicki and Rich to stay focused on building and scaling their successful company.
"Every logistical thing that would take hours away from focusing on our business, WeWork takes care of," says Vicki. "When we think about growth, we really think about growing the business within WeWork."
Workspace for remote employees: Pabst Brewing Co.
Despite having a headquarters in Los Angeles and offices in New York, San Antonio, and Dallas, most of Pabst Brewing Co.'s 300-plus employees are remote workers across the country. While remote working can be a benefit for employees, it can also lead to a disconnect among employees and their coworkers and customers.
To better engage remote employees, Pabst gave a group of employees WeWork access, an unlimited pass to WeWork locations in five U.S. cities: Chicago, Detroit, Seattle, Denver, and Charlotte. In just three months, global access has helped those employees reimagine their workday by providing them with a go-to workspace for a variety of needs, from focused work to client meetings.
"For a field-based employee, it is nice to have a community workspace to go to. All of the WeWork spaces are supernice and very inviting. It is awesome to be able to interact with so many different people, which helps me to stay motivated and inspired," says Ashley Swygert, vice president of commercial strategy and field sales at Pabst.
"What we are doing with WeWork is the future of how many businesses our size will look at real estate," says Matt Bruhn, general manager, Pabst Brewing Co.
For all these reasons and more, WeWork's agile real estate solutions can support your business goals. Let's talk about how we can build the future of work, together.