Across the world, WeWork locations are thoughtfully designed to inspire employees at businesses of all sizes. Books are a key component of that design—they're stacked on coffee tables, line hallway corridors, and are tucked into seating nooks and staircases. They evoke the comfort of a local library or a home bookshelf while providing a spark of creative inspiration. "The ultimate goal is to have books that will promote creativity," says Will Sacks, former style director at WeWork. "So we tend to go heavy on books about art, fashion, design, and architecture. You'll notice that most of the books we source lean more visual and graphic in an effort to excite and stimulate our brains." With shelving built into hallways and seating and serving as visual art displays, you're never far from texts that ignite imagination.
How are these books procured? By the foot, from shops like the Strand and Karma in New York City, explains Sacks. "We'll reach out to them with the linear feet needed and what subjects we want, and they'll pull options for us." After reviewing the look and feel of titles and book covers, the design team works with bookstores to make sure the books help workspaces feel less like an office and more like a residential library.
From Seattle to Tokyo, here's a glimpse at some of the ways books and bookshelves adorn WeWork spaces around the world.
Beijing, China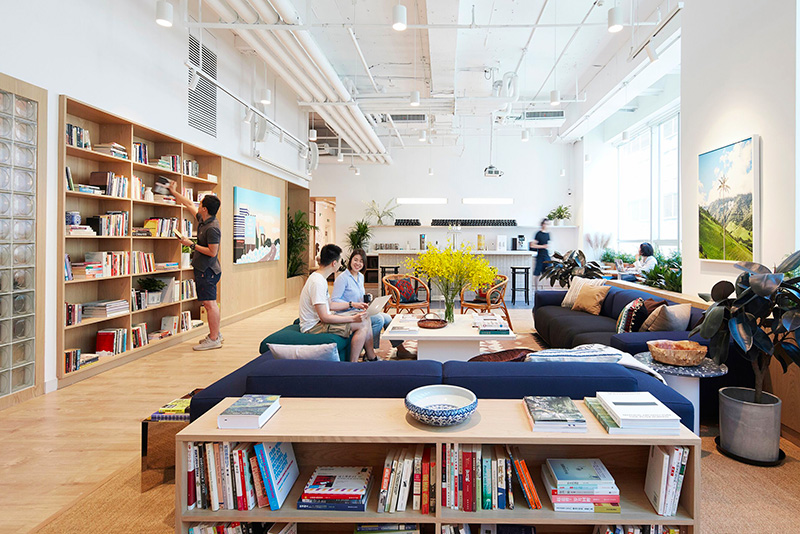 The understated built-in bookshelves lining the hallway at WeWork Internet Financial Center create a natural flow from kitchen to common area. Illuminated by the glow from the windows opposite, the books serve as an organic art installation, beckoning employees to meet for coffee on the nearby couches.
Guangzhou, China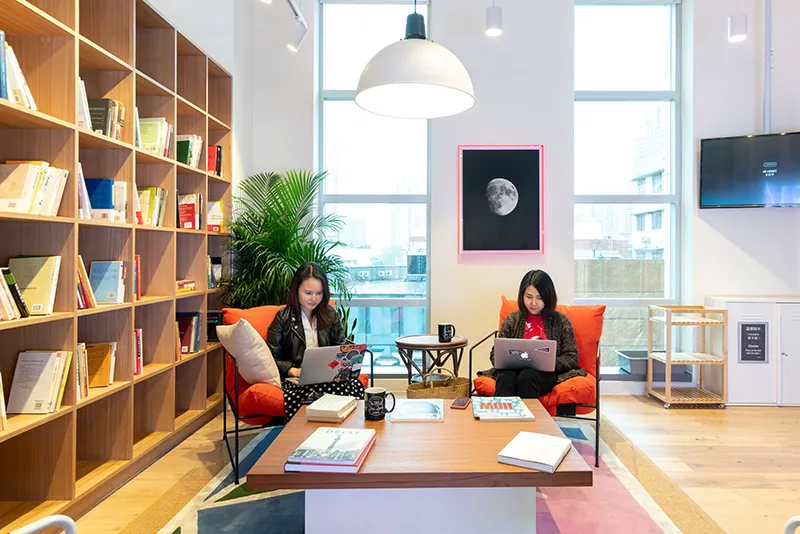 The light-toned bookshelf blocks blend seamlessly into the matching floorboards, creating an intentional alcove perfect for collaborating with teammates. With pops of pink and teal in the geometric rug and galactic artwork, this spot at WeWork Dama Station Business Center gives off a playful yet studious energy.
New York, New York
The expansive bookcase at WeWork 125 W 25th transforms this corner den into a cozy home library. Natural browns from the bookshelf balance the cheerful pastel pipes and eclectic shelf and table stackings.
Mill Valley, California
Design details are localized at WeWork 1 Belvedere Dr, highlighting coastal accents pulled from nearby Big Sur. The subtle white oak bookshelves arranged with color-coordinated books accentuate an array of records from the local and iconic Amoeba Records. Albums from Fleetwood Mac and Marvin Gaye are purposely displayed on the shelves to create a sense of nostalgia.
Emeryville, California
The common area at WeWork The Towers at Emeryville provides a comforting and colorful backdrop for any employee lounging nearby. Warm-colored books with accents of white and blue decor animate this meeting spot, providing an optimal location for catching up on emails or chatting with a colleague.
Suzhou, China

A panoramic bookshelf spans the entire wall at WeWork Suzhou Center Tower B. The book selection is enlivened by a geometric neon glow at the center and rows of lush greenery. With a pop of primary colors on one side and glass block windows on the other, the bookshelf ties the room together and creates the illusion of a more intimate space, ideal for either a getaway from the day-to-day or a lively meetup spot for team gatherings.
Tokyo, Japan

The matching oak wraparound bookshelf and tables coupled with the blue folding chairs make this conference room at WeWork Nogizaka feel more like an ideal camping spot. The books bring coziness to the space, while plants placed on various shelves help spark energy by bringing the outdoors inside.
Mexico City, Mexico

Tucked away under the staircase at WeWork Artz Pedregal, this corner bookshelf full of aqua and teal shades creates a calm retreat for pit stops between meetings.
Seattle, Washington
The metallics in the exposed ceiling coupled with the curved bookshelf-turned-seating create a tone that is both industrial and modern. Surrounded by a myriad of literature, local neon artwork, and expansive windows overlooking the Seattle cityscape, employees at WeWork 500 Yale Ave N are met with inspiration.
Whether lining a long hallway or providing a decorative nook, bookshelves are a key design element at WeWork locations around the world. Books help balance natural or vibrant hues in a room and can add comfort or movement in an otherwise standard meeting spot. The carefully curated selection of books is guaranteed to spark inspiration for anyone working nearby.
This article was originally published on November 21, 2019, and has been updated throughout by the editors.