Around the world, companies of all sizes find space to succeed at WeWork. Our case studies share their unique stories.
SalesLoft is a sales engagement platform that improves communication between businesses and their customers. Founded in Atlanta in 2011, the business soon wanted to expand globally, says Nathan Remmes, SalesLoft's senior vice president of business operations.
"Scaling within certain markets is fundamental to SalesLoft's growth strategy," says Remmes. SalesLoft needed a flexible real estate partner that would grow with its team. That's where WeWork stepped in, helping the business expand globally while maximizing its bandwidth—so that SalesLoft could keep a laser-sharp focus on servicing its customers.
The challenge: choosing and customizing satellite offices
Although headquartered in Atlanta, a lot of SalesLoft's customers resided in New York City and Silicon Valley, California. To begin building a presence closer to its customers, SalesLoft set up its first satellite office in New York City toward the end of 2018.
The management team at SalesLoft had some idea of what they wanted: a location in midtown Manhattan, with specific customizations that included easy-to-use security cameras and larger conference rooms for added privacy. WeWork set up SalesLoft with an ideal Midtown office at WeWork 500 7th Ave that not only featured the desired modifications but allowed the team to grow. In what felt like a blink of an eye, the New York team grew from four to 26 people.
On the back of the success setting up the New York office, SalesLoft and WeWork soon turned their attention to other strategic locations.
The solution: carefully planned spaces that flex as the business grows
In just six months, SalesLoft expanded to three different locations. After the New York team settled in, SalesLoft found a dedicated space for its developers in Guadalajara, Mexico, at WeWork Midtown Jalisco. A month later, it opened an office in San Francisco at WeWork 535 Mission St.
Next, they headed across the pond, establishing a regional headquarters at WeWork Aviation House in London, where SalesLoft sought WeWork's expertise to secure an ideal office in the Soho neighborhood.
Thanks to WeWork's agile leasing model, SalesLoft now has the flexibility to expand or relocate as needed. This proved useful recently, when it moved from its original London space, which had room for just 22 desks, to its current space at Aviation House that contains 40 desks.
At each step, WeWork's dedicated communication team worked with SalesLoft to simplify its growth plans. This meant that while the WeWork team helped SalesLoft secure space in a central area with convenient commuting options, leadership at SalesLoft were free to focus on developing its product, the sales engagement platform.
"We love the fact that WeWork can scale up and down with our needs as the market ebbs and flows," Remmes says.
The result: freeing up business leaders to focus on the business
It's well documented that multitasking makes workers less productive. For the team at SalesLoft, partnering with WeWork on one priority—office space—allowed them to accomplish more in less time. The partnership between WeWork and SalesLoft has helped SalesLoft expand globally and keep its eye on what matters most: moving their business forward.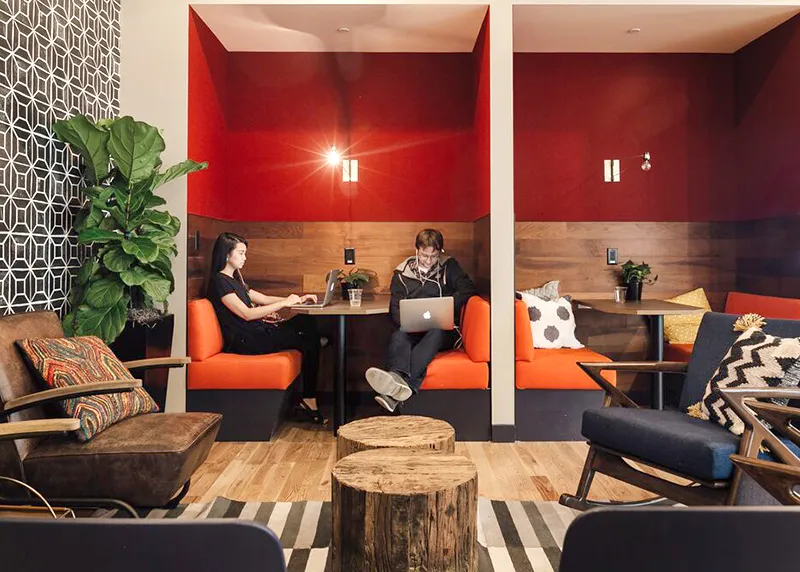 "You don't want to focus on the complications of scaling infrastructure when you're focusing on the needs of your customers and building software to meet those needs that are ever-evolving," Remmes explains. "You need to focus on the customer."
"Focusing on customer and market opportunities while leaving infrastructure challenges to WeWork helps the business," says Remmes. "It kind of allows us to de-risk ourselves," he says. "We're still growing fast and want a flexible way to expand that doesn't lock us into antiquated corporate contracts from real estate."
These efforts have paid off. Because of this focus, SalesLoft has signed large enterprise customers to its platform.
As the company's expansion continues, it will rely on WeWork's expertise and focus on what matters most: customers. "We are positioned not just to survive but also thrive," Remmes says. "We want to help the most customers as possible so that their businesses can thrive as well."
Key highlights:
Global expansion to meet customers where they are
Reliance on WeWork's local expertise to find the right space for its needs
Rapid expansion with little distraction
Flexibility of scale as markets expand and contract
One dedicated WeWork team to handle the key details
WeWork offers companies of all sizes space solutions that help solve their biggest business challenges.