Today's leading companies know that future success depends on being customer-centric.
And while strategically gathering digital data to learn about customers can help companies, there's still tremendous value in connecting with people in person. That's why forward-thinking organizations are tapping into creative real estate solutions to gain firsthand insights into the customer experience—and using those learnings to inform their products and strategies.
The payoff can be huge. Research shows that organizations that leverage customer behavioral insights are outperforming their peers by 85 percent in sales growth and more than 25 percent in gross margin.
Here's how three companies are leveraging WeWork to get close to customers and drive business success.
RBC gains valuable customer insights through advice hubs
When the Royal Bank of Canada (RBC) was considering WeWork to grow teams in key markets, they discovered an even better opportunity: reaching a new customer base and gaining valuable insights.
The idea was simple: Within WeWork locations, RBC advisors would be on hand to offer free, personalized financial advice to business owners who also had offices in the space. RBC launched their first advice hubs in Toronto and Montreal.
The advice hubs have been a win-win for RBC employees and the people they've served. "It allows us to understand our clients' business and financial needs on a deeper level," says Niranjan Vivekanandan, vice president of strategy and commercial banking at RBC. "Our teams tell us they're able to create and build out tailor-fit solutions collaboratively with our clients, versus just providing a standard solution to a unique business problem."
White Castle leverages workspace for R&D while breaking into China
When White Castle, an American fast-food chain, sought to open their first location in China, they saw a massive opportunity—and a challenge. In order to break into the competitive yet potentially lucrative market, they needed to ensure that their menu and promotions resonated with their target customers: young Chinese professionals.
White Castle was exploring locations in Shanghai for their corporate office, and realized that with a WeWork partnership, they could also get direct access to the customers they wanted to reach.
White Castle moved into WeWork Weihai Lu, which is just 328 feet from their flagship store. With an office so close to the restaurant, White Castle was able to conduct focus groups and tastings there. They used the insights they gained to quickly streamline their services and product offerings, especially during the soft opening weeks.
"WeWork has effectively become an extension of our dining room," says Jason Poon, CEO of White Castle China.
By the end of 2018, White Castle had enough intel to launch a new product, the 1921 Burger, named for the year White Castle was founded and tailored to the Chinese market. Poon says the success of that launch has been in large part thanks to their office space, which gave his team the perfect place to test, adapt, localize, and innovate.
TripActions scales globally to meet customers where they are
TripActions, which bills itself as a "travel agent in your pocket," is an app that helps travelers solve problems they encounter when they're on the road. The company prides itself on being available with 24-7 customer support. And while that was being done virtually by the team from the Palo Alto headquarters, TripActions leaders knew that placing teams around the world, in strategic locations where their customers are, would be key to their growth.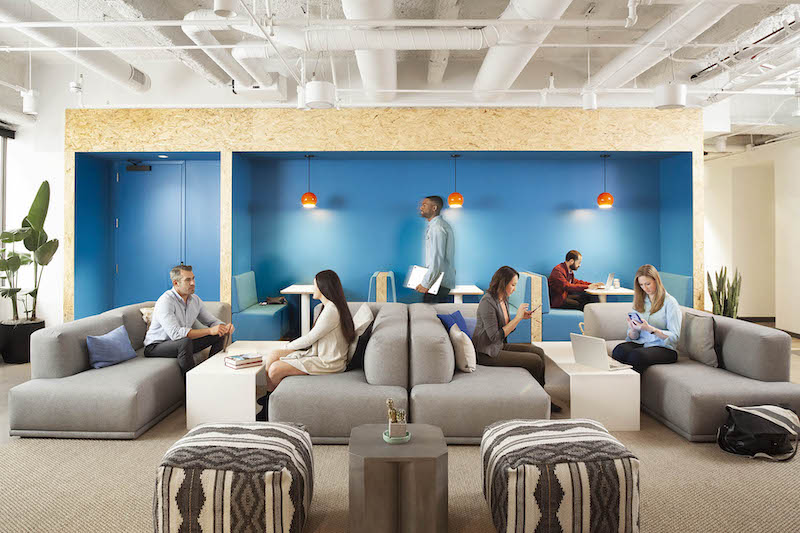 "Having physical offices allows our teams to be there for our travelers no matter where they are in the world," says Nina Gionvanelli, vice president of business operations at TripActions. "Even though we are headquartered in the Bay Area, we operate globally and serve global customers. With this in mind, we want to deeply experience the unique facets, characteristics, and culture of each location—so that we can truly understand what our travelers want and need."
The challenge was not only finding office locations in unfamiliar territories. TripActions also wasn't entirely sure how their head count would grow, so committing to long-term leases was a potential stumbling block.
WeWork's low-risk space solutions were the perfect fit for this agile tech company. TripActions has opened six new offices, in San Francisco, London, Amsterdam, Sydney, New York, and Dallas. "WeWork has enabled our tenfold growth in a way that still embodies who we are as a company," says Francis Moran, vice president of finance at TripActions.
In today's competitive business space, companies need to leverage every asset they have. The right space, along with some creativity, can help improve the customer experience while cultivating amazing and unexpected business results.
WeWork offers companies of all sizes space solutions that help solve their biggest business challenges.
Dawn Papandrea is a freelance writer who covers work, personal finance, and higher education. Her writing has appeared in numerous publications, including Family Circleand Monster.com. Follow her on Twitter.