Founded in Tokyo in June 2018, PayPay is a Japanese cashless payment service with over 36 million users in Japan. Once the COVID-19 pandemic hit in early 2020, it became of paramount importance for PayPay's leadership to ensure the safety and well-being of its thousands of employees from 35 different countries.
The leadership reexamined plans that they'd had for building a head office at WeWork Kamiyacho Trust Tower, and the standard layout of the floor was overhauled after management realized that their business needed to coexist with a virus that wasn't going away. WeWork's fast and flexible response to PayPay's customization request allowed for a flawless move to the new office.
The challenge: a paradigm shift in defining the office
According to PayPay CFO Masanori Sode, a new way of working was necessary in order to run the business during COVID-19. The company assembled members from multiple departments to form a New Work Style Project, a task force who tried to answer the question: What is the optimal work style for PayPay?
It was essential for hybrid working to accommodate the company's core concepts of work from anywhere at anytime (WFA) and activity-based working (ABW). Also, with the transition to a virtual office, great value was placed on making the physical office safe and secure. According to Sode, this decreased density office was designed to be a "symbol of public health." Ensuring this during COVID-19 meant employing very strict social distancing measures, such as having free address areas (common work areas with unassigned seats) that could be used at only 25 percent capacity.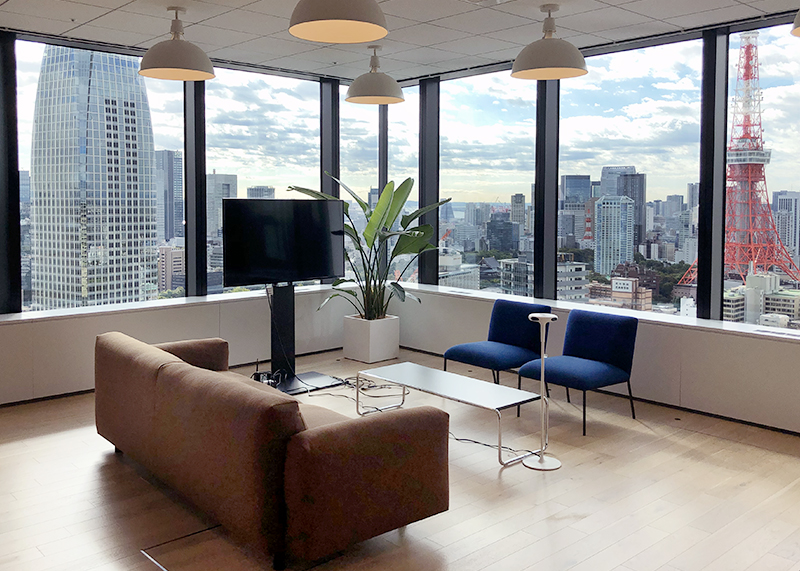 PayPay also wanted to redefine the office's role as one of building connections between employees and motivating them to work hard together. As such, a space that facilitates collaboration was of utmost priority.
The solution: distinct zones that target different needs
PayPay's solution was to alter what the office was used for. "We upended traditional ideas to reconfigure [the office] as a place for encounters with others, increasing engagement and collaboration, and engendering loyalty to PayPay," says Sode. "All other tasks could be completed at home."
In partnership with WeWork, PayPay decided to divide the office into several zones. Of all the zones, the Active Collaboration area most reflects PayPay's desire to have the office facilitate connections between employees. "With Active Collaboration, we devised an environment where those in the office and those working from home could be easily connected via Zoom," says Sode.
Every table was equipped with monitors for this purpose, and chairs were arranged to be conducive to meetings, team-building, and other face-to-face interactions. PayPay aims for this area to be used the most, made evident by the fact that it occupies the greatest amount of floor space.
A more casual version of exchange occurs in the Community and Social zone, where employees can pop in for a coffee or a chat when they need a break. Sode describes it as a place where "depending on the serendipity of who you meet there, new ideas and collaborations can be born." This lounge-like area is where all types of communication can take place. But Sode acknowledges that this zone has yet to live up to its potential, as only 5 to 10 percent of employees are coming into the office due to restrictions imposed by Tokyo's current emergency declaration.
The Learning zone is a seminar area for increasing teamwork and encouraging engagement. "Learning is less about studying or gaining necessary work skills; it's more of a place for employees to learn about our organization and acquire information that will allow them to fit better into our corporate culture and understand why it's great to work here," says Sode.
Through onboarding for new employees and other programs offered in the Learning zone, PayPay hopes that it will enable employees to carry out their jobs more smoothly.
The entire layout needed to prevent any type of crowding. Beacon technology is being utilized to measure the areas people are in and how they are moving around. "If there are too many people in a specific area, an alert goes off saying that no one else can enter," Sode says. "Through this design, social distancing is ensured and we're able to collect data on employee density."
The result: increased productivity and future improvement
Thanks to PayPay's redesign of the office with WeWork, productivity has increased. Sode references business growth data such as user base expansion and large growth in Japan's payment sector.
A recent employee survey asked about productivity: An overwhelming 90 percent of respondents said that their productivity had either increased or stayed the same, compared with before the office revamp. Sode praises these results and credits PayPay's skillful differentiation between home and office use. "I strongly feel that this productivity would not be possible without an office, nor could we have achieved it with just the office alone."
Communication was another topic in the survey. There were some gaps in how effective an employee judged their own level of communication versus how their manager judged it. This kind of discrepancy is something Sode would like to tackle in the future. He explains, "Once everything settles down and it's easier to come into the office, I want to use areas such as Active Collaboration and Learning to effectively bridge those gaps and keep everyone happy."
In the meantime, Sode has been hearing from employees that they are trying to re-create the WeWork environment—especially the music that plays in the office. So "if there was a way to access these soundtracks, it could enhance working from home," Sode says. Perhaps bringing a piece of the actual office to those working at home is another way WeWork could contribute to redefining the office in the COVID-19 era.
Key highlights
Redefining the office as a place for increasing engagement and collaboration
Ensuring employee safety and well-being with a layout that facilitates social distancing
Tracking employee density via Beacon technology
Improving productivity thanks to the hybrid working model
Further innovation to allow working from home to more closely resemble the office experience
Stacy Smith is a freelance Japanese interpreter, translator, and writer. She maintains a Japan-related blog, and her work can be found at stacysmith.webs.com.
Rethinking your workspace?