In today's competitive job market, businesses must stand out from the crowd to acquire talent. So what motivates prospective employees to select one company over another?
The answer may surprise you: Company culture is a deciding factor—even over salary. A recent survey by Glassdoor, a WeWork enterprise member, found that 77 percent of job seekers and employees consider a company's culture before applying for a position, and 56 percent report that culture is more important than salary when it comes to job satisfaction. Culture also has an effect on retention; 65 percent of employees say their company's culture is one of the main reasons they stay in their job.
"Strong company culture, at its core, is driven by a clear, aspirational mission that unites everyone at the company," says Amanda Stansell, senior economic research analyst at Glassdoor. "Maintaining company culture is a continual process, and the most successful leaders understand this."
A number of factors go into creating a company's culture: mission, values, ethics, and work environment. When a company culture is strong, employees can feel it everywhere; it's present at all-hands meetings, during celebrations, in daily operations, and in the physical workspace.
Company culture isn't static; it can be enhanced (or damaged by) the physical work environment—which can strongly influence top talent considering their next career move.
How the workplace reflects company culture
The physical space that companies offer their employees sets the tone and brings culture to life. It affects how people work, communicate with each other, and even how high or low energy is distributed throughout the space. Get your physical workspace right, and it brings your culture to life—anyone who steps into your office will immediately know who your company is and what you value. Everything from how someone is greeted, to the music playing, to the lighting and color scheme creates that first impression.
Here's an example: Suppose one of a company's core values is transparency—an appealing tenet for millennials and Gen Z, who tend to be more skeptical of business, according to the Deloitte Global Millennial Survey 2019. An open floor plan, where employees can easily connect with each other and sit among executives, fosters a sense of openness and trust, where information flows freely between cross-functional groups and empowers people to make decisions and produce their best work. Conversely, a traditional layout, with workers in cubicles and leaders closed off in private offices, suggests a less collaborative atmosphere where people may not innovate as quickly.
Likewise, a company that claims to put "employees first" should invest in workplace design that says, "We care about your wellbeing." This can include spaces with natural light, dedicated wellness rooms, acoustic modifications, plants, and ergonomic furniture.
When companies design their spaces to reflect their values, candidates can feel more at ease knowing that the company is walking the talk.
Three workspaces that showcase their company's culture
Forward-thinking companies are creating workspaces that embody and promote their unique cultures and values. Here's a look at three:
Thrive Global: Arianna Huffington's company aims to end the stress and burnout epidemic by changing the way people work and live. When it came time to find a new office for Thrive Global, Huffington partnered with WeWork to create a headquarters that matches her company mission. Huffington envisioned a place that fosters employee wellbeing. That's why the office includes cozy nooks, cushioned seating, colorful bookshelves, and a wellness room—spaces where employees can recharge during the day. Phone booths were also added for calls, while the conference rooms feature long tables and natural wooden blinds.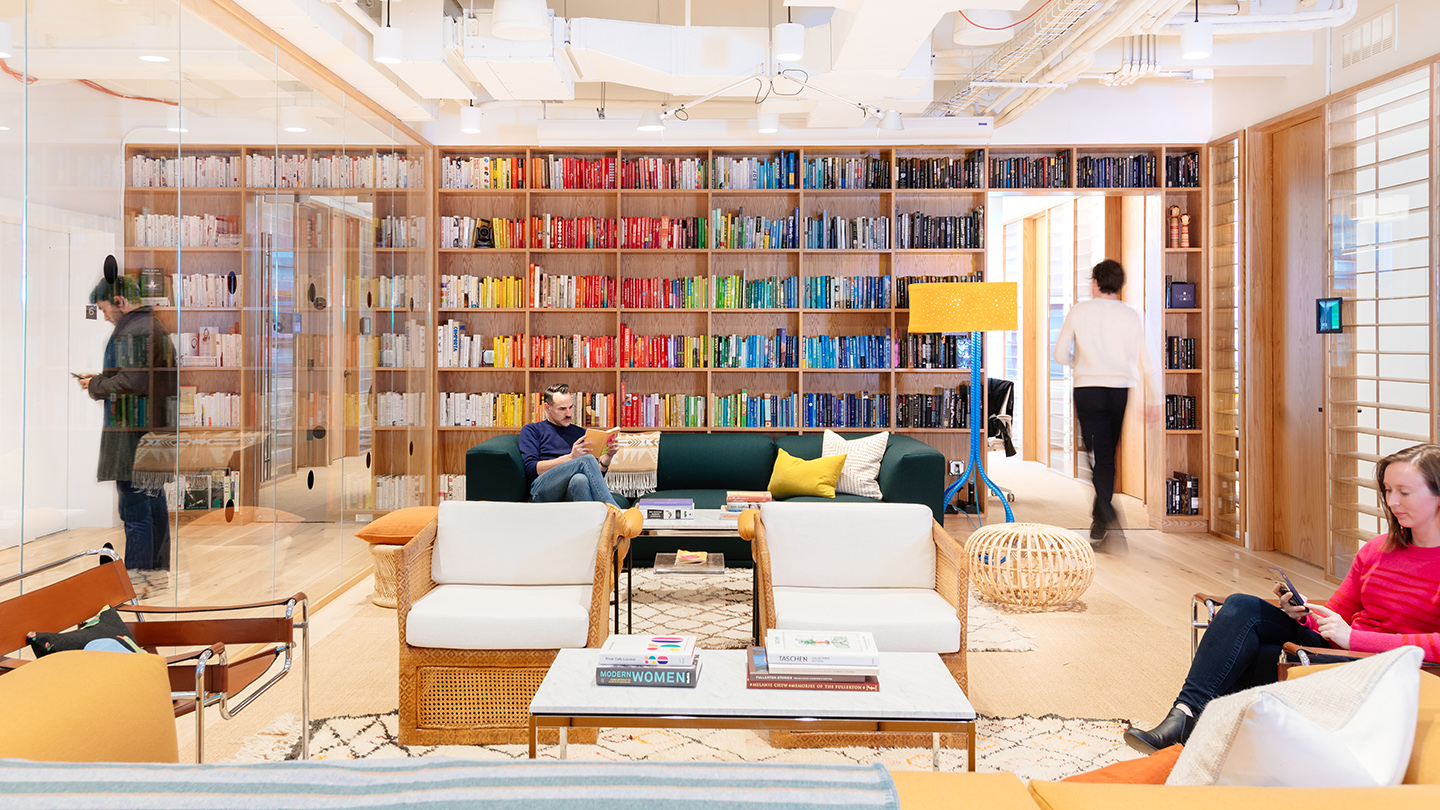 Pinterest: The company's key values of inclusivity and diversity can be felt throughout Pinterest's warm and welcoming offices. Key touches include gender-neutral restrooms, a mother's room, quiet areas for recharging, lounge areas for meetings, wheelchair-accessible elevators, and adequate space to connect, socialize, and eat with coworkers. Their offices are designed to make all employees feel comfortable, no matter their backgrounds or working styles.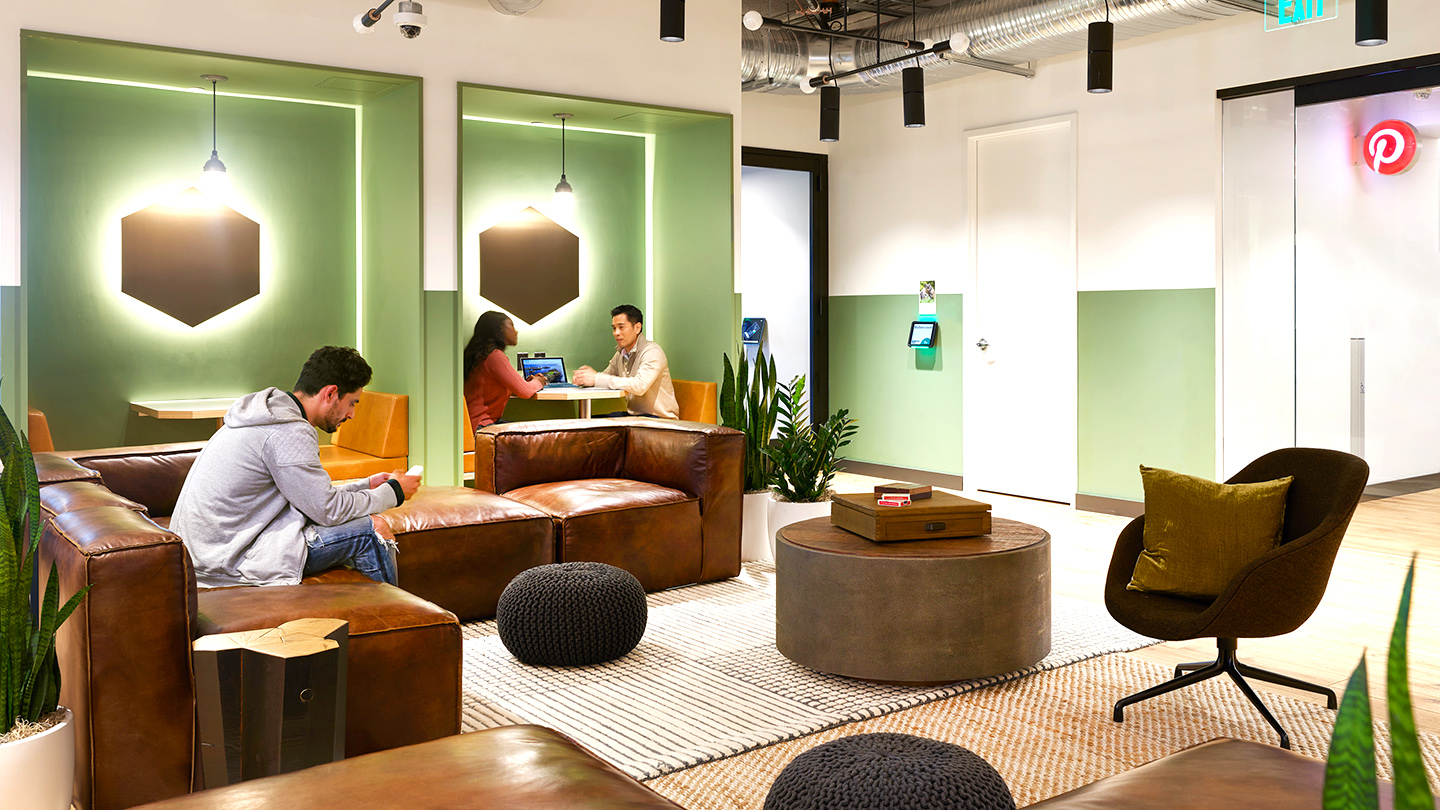 GE Healthcare Korea: When GE Healthcare Korea embarked on a cultural transformation, they decided to give their employees more flexibility in when, how, and where they work. Their new space in Seoul minimized the number of fixed desks and provides plenty of collaboration areas. In addition, GE Healthcare Korea gave employees access to every WeWork location in Seoul—ultimately letting employees cut down on their commutes and giving them more freedom to work from locations that best suit their needs.
As these organizations have illustrated, workspaces can and should become the embodiment of a company's culture.
"If employers are not promoting their employer brand and culture, they may be missing out," says Stansell. "Company culture is ultimately one of the biggest factors that will separate you from your competitors."
WeWork offers companies of all sizes space solutions that help solve their biggest business challenges.
Dawn Papandrea is a freelance writer who covers work, personal finance, and higher education. Her writing has appeared in numerous publications, including Family Circle and Monster.com. Follow her on Twitter.