Employee experience is all about how it feels to work at a company: from the day somebody finds out about the organization to the day they leave it behind, and every major milestone in between.
The employee experience includes the big-picture stuff, like career progression and whether an employee feels aligned with the company's vision. It also involves more specific aspects of working for a company, such as job perks, their relationship with managers, and their access to technology and workspaces that meet their needs.
A flexible office solution such as WeWork All Access can help improve your employee experience by providing teams with access to hundreds of dedicated workspaces near where they live. For last-minute flexibility, WeWork On Demand lets you access workspaces and meeting rooms in hundreds of locations in cities all around the world, without the hassle or constraints of a monthly commitment.
In this article, we'll take a closer look at how the employee experience is influenced by the physical spaces in which we work, and how it can impact everything from job satisfaction to employee retention. But first, let's define what we mean when we talk about the employee experience.
What does employee experience mean?
"Employee experience" is an umbrella term describing the sum of all of the interactions an employee has with their organization. This can include everything from how they were recruited and trained, to how they're managed and compensated, to how they end up leaving the company.
As more flexible and hybrid models of working become more commonplace, the way we think about the employee life cycle has evolved to reflect this new reality. To stand out from their competitors, organizations need to do more than simply meet the basic needs of their employees. They need to pay close attention to the employee experience outside, as well as inside, the workplace.
How to measure employee experience
There are many different ways to measure employee experience. One of the simplest and most commonly used methods is to carry out regular employee engagement surveys throughout their time with the company, such as during onboarding, after six months, and at the one-year mark.
Exit interviews are another way to measure employee experience. This voluntary type of survey can reveal a lot about what it's really like to work for the organization and is often more candid than the feedback given while the respondent is still in the role.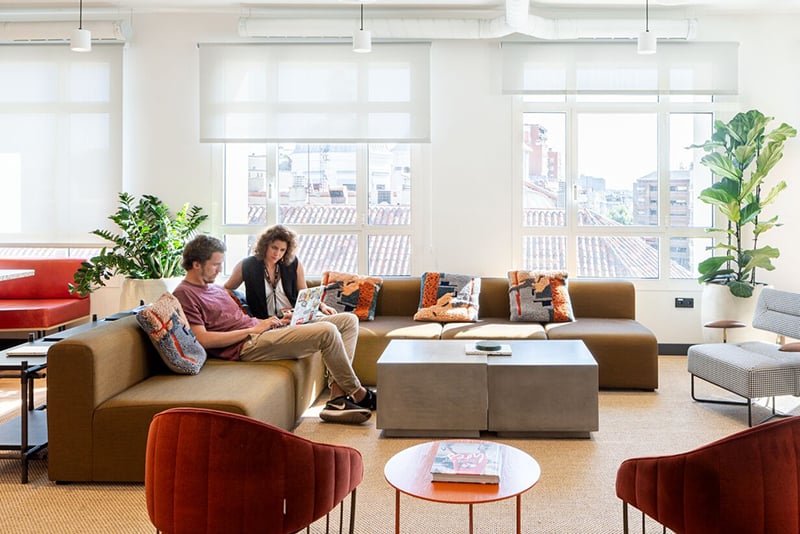 How to improve employee experience
Improving the employee experience should be a major priority for any business that wants to grow its operation, attract the best talent, and boost employee retention.
An outstanding employee experience not only means happier teams in general, but it can also reduce absenteeism and turnover. It can improve the quality of the work being done, and increases the likelihood that an employee will recommend the organization to talented contacts within their professional network.
So how do you set about improving the employee experience? Every organization will do things differently, but here are some basic ideas to keep in mind:
Make sure the onboarding process is smooth and informative
Provide regular opportunities for feedback and development
Offer competitive compensation and benefits
Create a positive and supportive work environment
Encourage a healthy work/life balance
The importance of a happy workplace environment
The key to providing a great employee experience is meeting the needs of your teams. One of the most fundamental needs of any employee is a physical place to work. Whether your organization has returned to the traditional office or has adopted a more flexible model of working, giving employees access to a dynamic workspace that's responsive to their needs is vital to their overall experience.
That means understanding how and where your teams do their best work, figuring out which features of the space matter most to them, and then using the information you've gathered to design a new workplace environment that keeps employees safe, happy, and productive.
WeWork's offices are built with the future of hybrid working in mind. Whether you're launching a remote team in a new city, or want a modern workspace that meets the evolving demands of your workforce, you'll find beautiful offices to serve and enhance the employee experience.
How onboarding influences the employee experience
The onboarding process is usually an employee's first interaction with an organization after they've been recruited, and first impressions really do matter. That's why a well-structured introduction to the business—with training, socializing, and mentorship—can make all the difference to the overall employee experience.
A positive onboarding process fosters a sense of trust and belonging in new recruits, while a bad experience shortly after joining the company can tarnish the relationship between employee and employer, sometimes irreparably. A survey by The Wynhurst Group found that 4 percent of new hires will quit a job if their first day goes badly. The employee experience doesn't get much worse than that.
The difference between employee experience and employee engagement
The terms are sometimes used interchangeably, but employee experience and employee engagement have slightly different meanings. Employee experience is the broader of the two concepts, encompassing the entire spectrum of interactions an employee has with their organization, from recruitment to the moment they leave, and sometimes beyond. Rehiring employees who have left the company can also be considered part of the employee life cycle.
Employee engagement is a more specific metric and is a measure of how those interactions make an employee feel at any given moment. A world-class employee experience that is designed around a comfortable workplace, a rewarding company culture, and a firm belief in the organization's mission will almost always result in greater employee engagement. But employee engagement is just one dimension of the wider and more complex notion of employee experience.
Why is employee experience important?
Improving the employee experience is good for business. Teams that value their relationship with the company and who feel positively about their interactions with their managers, colleagues, and the physical workplace itself are more engaged, more productive, and happier.
Organizations that take the lead in cultivating a better employee experience will find it easier to recruit the best talent and be better able to inspire and motivate the talent they already have. A positive employee experience can boost employee retention, unlock productivity, and create new advocates for the business.
But beyond these benefits, providing employees with a great experience should be one of the core principles of any decent company. Employers of all sizes should strive to lead teams that feel proud of the work they do, and who care deeply about the future of the organization they're part of.
Steve Hogarty is a writer and journalist based in London. He is the travel editor of City AM newspaper and the deputy editor of City AM Magazine, where his work focuses on technology, travel, and entertainment.
Want to learn more about flexible work?