Headed to new territory for work? Our City Guides bring you tips from resident WeWork members and employees to help you do business lunches, coffee breaks, and culture like a local.
WeWork in Johannesburg
The Link in Rosebank, our first Johannesburg location, opened Aug. 1 and is home to 2,000 members from companies of all sizes.
155 West St in Sandton will open later this year.
Eat
For a reliable business lunch: The popular Tasha's Cafe chain is always a safe bet for its spacious and lively atmosphere. Each location has a different theme, and the menu adapts accordingly: The one in Sandton's Nelson Mandela Square (near WeWork 155 West St) is inspired by African glam, while the Rosebank outpost (near WeWork The Link) is dedicated to New York City (with dishes like the Upper East Side or Wall Street bagel).
For a breakfast meeting any time of day: The quirky suburb of Melville is where you'll find the cheekily named Pablo Eggs Go Bar, where a design-centric dining room tricked out in blond woods, gilt trimmings, and teal accents is the setting for a decadent brekkie anytime.
To impress a new client: Urbanologi ticks all the boxes, starting with a funky location tucked away in a cavernous inner-city brewery. To show that you're sustainability minded, mention this spot's culinary creed, which dictates all ingredients be sourced within 150 kilometers of Jo'burg. An innovative menu with globally inspired dishes like beetroot-cured trout sashimi will show you're worldly. Reserve online to ensure no wait.
For a little of everything: Weekend-market culture is huge in Johannesburg, and Neighbourgoods Market is the mother of them all, open Saturday from 9 a.m. to 3 p.m. Whether you're feeling peckish and just want some nibbles or ravenous and crave a big feast, you can find what you want as you meander through multiple levels of a former parking garage in Braamfontein: From pizza to pasteis de nata to paella, it's all under one roof.
For interiors that are as delicious as the food: The more Instagrammable a restaurant, the more mediocre the food, right? Not at chef David Higgs's glamorous Saint in Sandton, great for lunch or dinner. Come to take photos of the constantly-changing artwork projected onto the roof and leave with a belly full of picture-perfect ricotta gnocchi with leeks and kale, and tiramisu with mascarpone gelato.
For an ethical choice: The all-day menu Brik Cafe at the Rosebank Firestation has an ethical ethos The ingredients are local, and no single-use plastic is allowed. Food choices "cater to different dietary needs, with vegan, vegetarian, and gluten-free options," says WeWork member Lauren Woolf, founder and owner of Mrs Woolf, a strategic-marketing consultancy. "The coffee, juices, and just about everything is delicious, and the space is thoughtfully designed.
For great connection over food: Woolf also loves the sharing culture of Greek food and the connections it makes between friends and colleagues. "Both Mezepoli or Parea on Corlett Drive have outstanding, authentic food," she says.
For impeccable service, all day: Dolci Cafe is an all-day hidden gem in Craighall Park with great Italian food, says WeWork member Inez Willeboordse, managing partner of Jobnet Africa. "It has the best service, with huge smiles."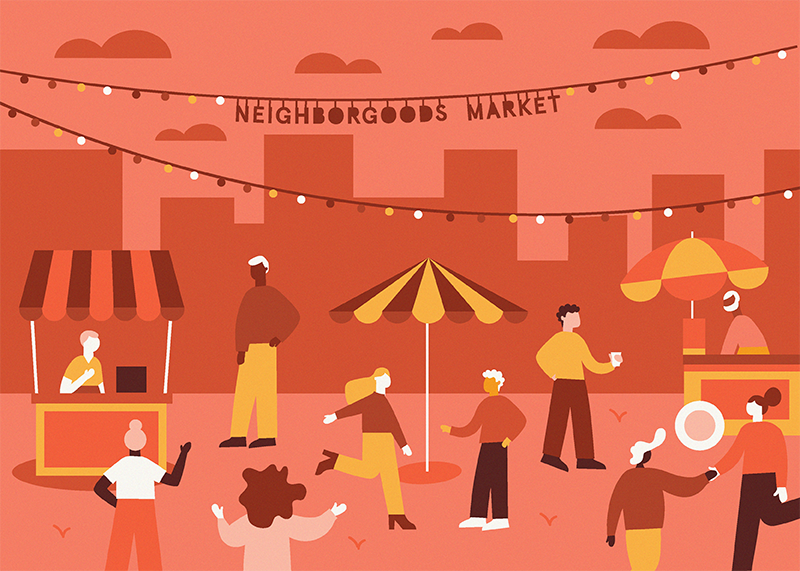 Drink
For jazz lovers: Jo'burg has a vibrant music scene, and the dim, atmospheric Marabi Club in the basement of the Hallmark House near the Maboneng Precinct reliably hosts some of the best gigs. The music starts at 6:30 and goes late, Wednesdays to Saturdays.
For art buffs: This slip of a bar in Braamfontein is, as the name Artivist suggests, a bar-meets-art-gallery hybrid. Muse about the rotating exhibitions while you nurse a coffee-and-tonic cocktail (elderflower, gin, and cold-brew coffee).
For gin connoisseurs: While everyone else is at the massive Mad Giant craft brewery, head to Little Fox in the Ginologist gin distillery at the vibey 1 Fox precinct downtown. Here, Jozi mixologist Gareth Wainwright works his magic on any number of the 100 gins he stocks, with unexpected drinks like a Sour Worm Sour and a Coco Pops Milk Punch.
For drinks with colleagues (and friends!): Woolf recommends Streetbar Named Desire in Rosebank, a buzzing spot with small bites and cocktails with a beautiful terrace. Social in Bryanston is another good option, with brightly colored walls, trendy brass bar stools, and plants hanging from the ceiling.
Post-garden drinks: After a walk in the Johannesburg Botanic Gardens in the Emmarentia area, Inez Willeboordse recommends Craft Beer Library for a cool vibe, lots of beers on tap or by the bottle, and great bites to eat.

Coffee and snacks
For a casual coffee meeting (and the aesthetics): An homage to wood-paneled minimalism, Father Coffee—both its original branch in Braamfontein and the newer Rosebank cafe and roastery—serves the most consistent cuppas in town.
For a touch of France in Jo'burg: Bertrand in the Maboneng Precinct looks like the charmingly cluttered French apartment you wish you'd called home on your year abroad, brimming with well-worn couches, antique clocks, and books stacked upon books stacked upon books. It transitions smoothly from coffee shop by day to jazz bar by night.
The longtime favorite for takeaway coffee: 4th Avenue Coffee Roasters is so tiny it's easy to miss if you're strolling past in Parkhurst, but it packs a punch with its full-bodied roasts and hearty breakfast favorites like Nutella crumpets and Elvis French toast with fried bananas and bacon.
For a drive-by coffee: On the days when you're in a rush and on the way to or from a meeting, Woolf recommends The Grind in Melrose Arch. "It's not just because the coffee is great and the team is super-friendly, but you can WhatsApp your order five minutes before and drive past to pick it up. The wonderful Frank delivers it to your car with a card machine or Zapper scan."
If you need to host a brunch with colleagues: Trendy upstarts may come and go, but Salvation Café has endured every wave and maintained its place among Jo'burg's weekend-brunch stalwarts. Seats on the patio of the 44 Stanley complex are prime for keeping an eye on chic locals as they browse boutiques like Guillotine Design and Rowdy Bags.
For French flair: If you're craving a taste of Paris, Willeboordse says to head for Patisserie de Paris in Blairgowrie. "It offers a true French breakfast with baguettes, pastries, and sweets – and a lovely spot in the sun."
Explore
A visit to the Apartheid Museum starts with an admission ticket—but no ordinary ticket. Patrons are randomly designated blanke (white) or nie-blanke (nonwhite), and move through the first part of the exhibit in their respective lanes. It's a jarring start, but the experience gets even more harrowing from there: What follows is a powerful, heart-wrenching account of the origin of apartheid and the brutality of life under the system.
For decades, Johannesburg's Central Business District had fallen on hard times. These days, things couldn't be more different—pockets of the CBD have been revived, and neighborhoods like Braamfontein and the Maboneng Precinct are the hippest 'hoods in town. Spend time exploring both, then sign up for a walking tour with Past Experiences to discover more unsung corners of the city's pulsing heart.
One of the best ways to explore sprawling Soweto township, one of the areas to which blacks were forcibly relocated during apartheid, is with a guide from Lebo's Soweto Backpackers on a bicycle or tuk-tuk tour. One of the highlights: Nelson Mandela's former home on Vilakazi Street.
Victoria Yards in Lourenzville aims to redefine the Jo'burg inner-city landscape, with urban farming and artists' studios. The best time to visit is the first Sunday of the month, when all of the studios and restaurants are open. "Don't miss the studio of Jozi artist and resident James Delaney," says Woolf. "He is famous for almost singlehandedly reviving The Wilds, Jozi's favorite inner-city park. Take a stroll there with friends and family on a weekend." The Wilds is about a 15-minute car ride from Victoria Yards.
For a 360-degree view of Jo'burg, Willeboordse recommends Northcliff Hill. "Bring a bottle of wine for the most amazing sundowners, and wait for the lights of the city to come on after dark. It's a great spot for taking pictures and selfies, too," she says.
Neighborhood focus: Rosebank
Posh Rosebank (where WeWork The Link is located) has that perfect balance of work and play: People from across the city converge in the suburb's office complexes by day, and there are plenty of restaurants and bars that keep them going long past sunset. Much of the action is centered around the Keyes Art Mile, a hub of galleries and restaurants. Johannesburg's top chef, David Higgs, heads the kitchen at Marble, a celebrated restaurant crowning the complex and known for its wood-fired meats. Coffee, champagne, and chocolate make up the menu at the glam new Afrikoa Cafe. And if you can't get into the sleek, members-only Mesh Club, don't fret—its Mix bar open to the public, and is the spot for after-work cocktails. Art and design lovers won't want to miss the celebrated Everard Read, Circa, TMRW, and SMAC galleries and Anatomy and True Design boutiques. And on the first Thursday of every month, the precinct is one of the hubs of Johannesburg's First Thursdays festivities, with a slate of cultural events and when art galleries stay open late. Other buzzy spots include the easy-to-miss speakeasy-style Sin + Tax bar, hidden away behind Coalition Pizza; Publik Wine Bar, a Cape Town import that specializes in indie labels from South Africa's lesser-known wine estates; and Saigon Suzy, a lively pan-Asian BBQ joint with karaoke pods. "With Asian fare, a funky interior, and karaoke rooms, what's there not to love about Saigon Suzy?" says Woolf.
Interested in office space in Johannesburg? WeWork offers companies of all sizes space solutions that help solve their biggest business challenges.