Headed to new territory for work? Our City Guides bring you tips from resident WeWork members and employees to help you do business lunches, coffee breaks, and culture like a local.
WeWork in São Paulo
WeWork opened its first WeWork location in São Paulo in 2017, and has opened 18 additional WeWork locations since.
Eat
For a casual lunch with colleagues and friends: At Jiquitaia enjoy a simple, welcoming environment and a focus on local products and spices, under the care of local chef Marceo Corrêa Bastos. "It's a great option that offers varied menus that always highlight typical Brazilian ingredients and food," says Isabelle Oliveira of ADN23, member at WeWork Paulista 2537. The name refers to a Baniwa Indian pepper from the Amazon, so expect spice in your dish.
For the city's best people-watching: Head to Spot Restaurante for good food and one of the best crowds in the city. It's definitely the place to go, so expect long lines.
For contemporary Brazilian food: Sal Gastronomia features contemporary Brazilian dishes inspired by market visits. Chef Henrique Fogaça is a local food celebrity and appears as a judge on MasterChef Brazil. The restaurant is located next to Galeria Vermelho, which holds important contemporary art exhibits and has a cinema room showing video art.
For casual poke: Given that Brazil borders the sea, seafood and sushi are popular dishes throughout the country–even in landlocked São Paulo. At Hi Pokee, enjoy variations on poke, the light, healthy (and trendy) raw fish dish from Hawaii. The restaurant is located in a small, quiet villa along the bustling Rua Augusta, and offers a nice respite from the city's buzz.
For a fun team dinner: Tapas is always a solid choice for a group dinner, and with more than 20 Spanish-style tapas at Sancho Bar y Tapas, there is something to please everyone. To round it out, there is a great bar menu of sangria, wine, beer, and cocktails.
For delicious vegetarian and vegan meals: WeWork territory manager Dimitri Fernandes recommends two nice spots for those seeking vegetarian and vegan options: Apfel Jardins and Gopala Restaurante. At Apfel, the huge buffet with tons of vegetables is a local favorite, and it serves only organic food and juice. Gopala is a great choice for those who love Indian food and flavors.
For a local dessert: Located in the same villa as Hi Pokee, you can enjoy the city's best banoffee (banana toffee tart originally from England) at Nanica Brasil. There are four versions, but try the one with homemade dulce de leche and whipped cream.
Drink
For a traditional bar: The Riviera is a historic watering hole, known for attracting intellectual and creative types in São Paulo since 1949. There is also a restaurant upstairs, serving both simple sandwiches and creative dishes.
For a New York City vibe: Greenwich Village's legendary Blue Note Jazz Club opened an outpost here, Blue Note São Paulo, in 2018. It's located at the iconic Conjunto Nacional, and is known for great shows, music, and drinks.
Coffee and snacks
For a caffeine-fueled meeting any time of day (literally): Padarias are a Brazilian institution–where a café, restaurant, and bakery comes together. Open 24 hours a day, Padaria Bella Paulista is a popular choice and features a huge selection of pastries and treats, plus sandwiches and other food.
For coffee connoisseurs: Coffee is the highlight at Urbe, with several bean varieties ranging from full- and deep-bodied to light and sweet. You'll also find caipirinhas (Brazil's national cocktail made with cachaça, sugar, and lime), beers, and light meals.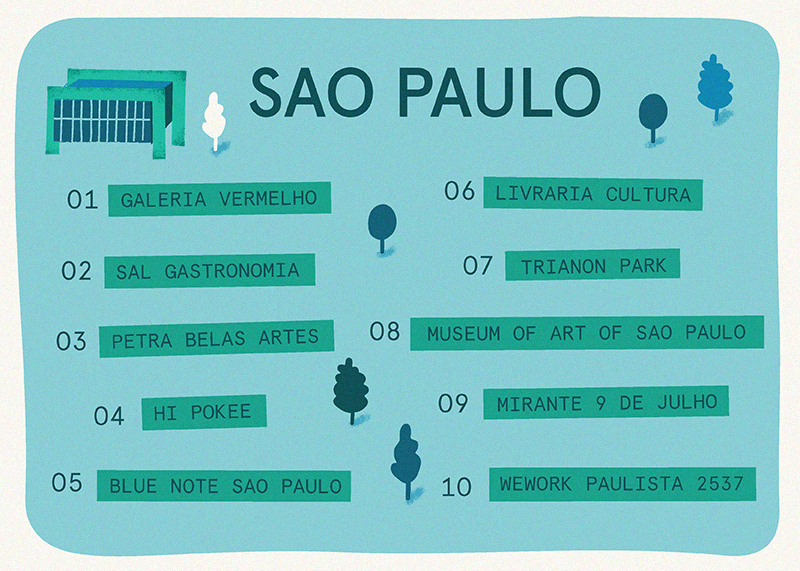 Explore
For a powerhouse museum: Considered to be the most important museum in the city, the Museum of Art of São Paulo Assis Chateaubriand (MASP) features historical and contemporary collections. Designed by renowned architect Lina Bo Bardi, the building is an ode to Modernism and a work of art in itself. Here, you can see the works of some of Brazil's most celebrated artists, such as Tarsila do Amaral, Portinari, and Volpi.
For a breather in between meetings: Stop for a breath of fresh air in Trianon Park, in front of MASP. The two-block area is an ideal place to unwind, with centuries-old trees, benches, and fresh air amid the urban jungle. Or visit Mário Covas Park, a small oasis with flowers, a pergola for shade, benches, and tables.
For sweeping views: To feel like you're in the center of the city's action, head to Mirante 9 de Julho, an elevated park located next to the MASP structure. The park also holds a cultural space with exhibitions and concerts, plus a cafeteria.
For rotating art exhibits with great food: Set over seven double-height floors, Instituto Moreira Salles (IMS) is a center for rotating art exhibits and permanent photography collections, plus a library, bookshop, café, and a much-hyped (and worth it) restaurant, Balaio IMS. Don't miss dadinhos de tapioca (cheesy deep-fried cubes) there.
For a fun team-building activity: Oliveira recommends Escape60, an escape room that helps with team-building and community. "There are rooms with puzzles where teams must together decipher codes and challenges in order to leave the room," she says.
, an escape room that helps with team-building and community. "There are rooms with puzzles where teams must together decipher codes and challenges in order to leave the room," she says.
For the best local bookstore: Stop at the Livraria Cultura bookstore in the Conjunto Nacional (a gallery/shopping center). There is a huge selection of books, of course, but also a theater and café.
For an after-work outing: Enjoy a movie at the Petra Belas Artes (Cine Fine Arts), with six theaters featuring classic and art films. "This historical movie theater is just across the street from WeWork Paulista 2537, and is a great option for after-work entertainment," says Oliveira.
Stay
Tivoli Mofarrej: This five-star hotel is very well located, close to MASP and Trianon Park. Among the highlights: an outdoor pool, complimentary breakfast, and a rooftop restaurant with a standout view of the São Paulo skyline.
Meliá Paulista: This four-star option also has a great location, and is a nice option for a business trip, with fast WiFi, a business center, and a sleek fitness center to keep up your exercise routine on the road.
Sustainability in São Paulo
In recent years, São Paulo has prioritized sustainable urban development and more communal use of the city. An example: Since 2015, Paulista Avenue is closed on Sundays to traffic and is used by pedestrians only for recreational use. The city also offers many bike lanes (especially in the Paulista Avenue area) and continues to build more, a relief in a highly congested city. A strategic master sustainability plan was unveiled in 2014 and continues to guide city planning and development.
Juliana A. Saad is a Brazilian writer and editor who specializes in travel, lifestyle, and luxury. Her company, The Travel Lifestyle, develops special editorial content and projects for numerous publications and companies.