The stats are pretty familiar at this point: Approximately 40 percent of food in the U.S. goes to waste every year. Food waste is harmful for multiple reasons, and one staggering statistic—that 40 million Americans struggle with hunger while there is more than enough food to go around—emphasizes the incongruity of it all. There are a myriad of ways to tackle this problem, including changes at the federal level, education within communities, and resourcefulness in our own kitchens.
During a recent zero waste vegan dinner and discussion hosted by WeWork in partnership with the James Beard Foundation at WeWork 54 W 40th St in Manhattan, two renowned chefs explained the importance of preventing food waste and supporting food-insecure communities while proving that food we typically trash—stems, skins, and everything in between—can be absolutely delicious.
"My grandmother naturally would use everything [when she cooked]," said chef Esther Choi, the owner of three Korean restaurants in New York. Choi adopted her grandmother's practicality in the kitchen and always makes stock out of vegetable peels and meat carcasses. "The skin [of the vegetables] is where all of the nutritional value is, so you're really missing out if you don't use them," she said. (Here's a recipe for making stock from veggie scraps if you're not sure where to start.)
Beyond capitalizing on flavor and nutrients, mindfulness about food waste in the kitchen makes economical sense, said James Beard Award-winning chef JJ Johnson, who's currently focused on his fast-casual rice-centered spot FieldTrip in Harlem. "I try to use every part [of food] for sustainability, but also there's the cost factor," said Johnson, explaining that running a sustainable kitchen ends up bringing costs down.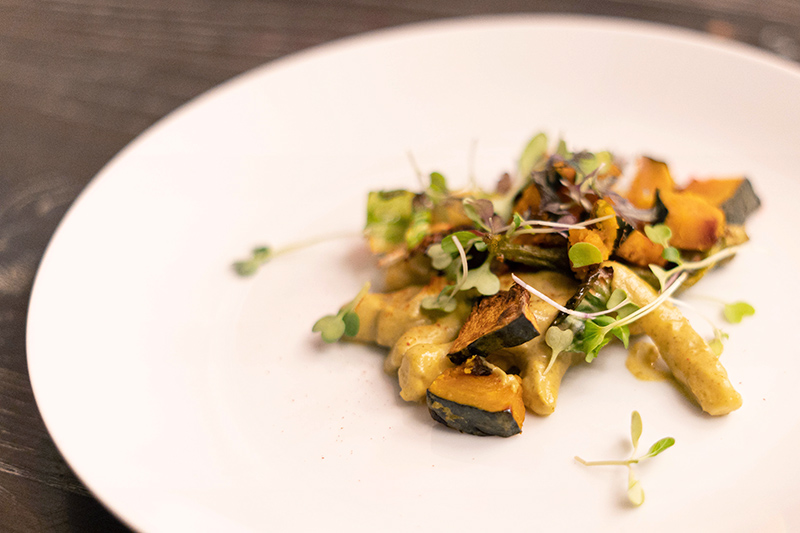 The evening's third course—jackfruit Korean BBQ with homemade tofu, vegan kimchi, assorted lettuce wraps, ssamjang—was garnished with cilantro with stems attached. Johnson said it's an unfortunate truth that this is pretty atypical in the restaurant world; in culinary school, chefs are taught to discard stems when prepping food. But "the stems are the best part," according to Johnson, and while a minuscule shoot doesn't seem like much in terms of waste, it adds up. When Johnson asked his vegetable distributor to keep the stems on the collard greens he orders for his restaurant, the distributor lowered the cost of the vegetable, since Johnson was saving him hours of labor just by choosing to embrace a vegetable in its entirety.
The dinner was the second in a series of events focused on food and sustainability. "We all look at sustainability differently, but we're all trying to make a difference," Choi said of her like-minded community of chefs. While the night's menu was all vegan and zero waste, a panel of experts encouraged the guests to think more broadly about what they can do to make an impact on the environment.
"People always ask me, 'What can I do?'" marine biologist Dr. Ayana Elizabeth Johnson said to the room. "And I always ask, 'Well, what are you good at?'" Johnson stressed that rather than feel paralyzed by the dire reports about the future of our planet, we should put our energy toward working together. "We need to be less afraid to join things," she said. Instead of coming up with something new to attempt to make an impact, "join a thing that already exists and make it even more successful," Johnson said, citing the Sunrise Movement as one group that's doing great work to fight climate change.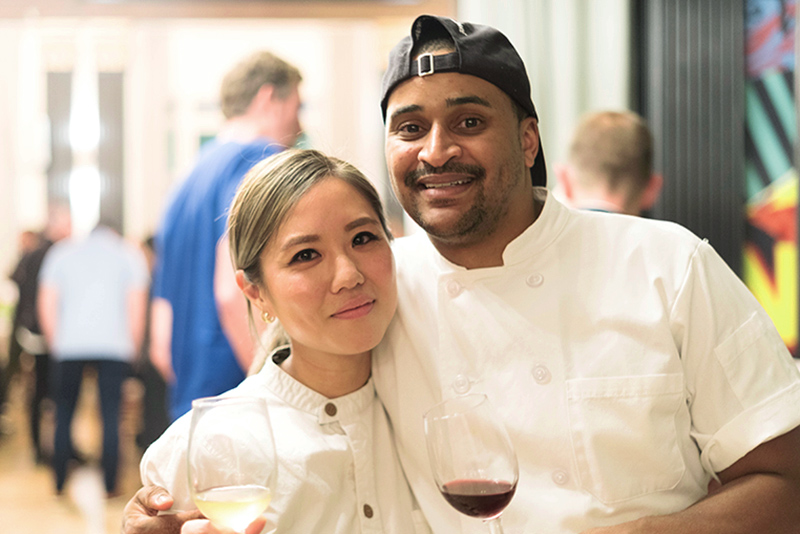 Even more, there's an opportunity to take action to support the environment in every food-purchasing decision you make, said Katherine Miller, James Beard's vice president of impact. "Start locally, then expand regionally, then expand naturally," she said, explaining that buying local prioritizes the triple bottom line.
As more people rally around change, more change happens. This is the reason Jon Gray, a culinary evangelist behind Ghetto Gastro, a Bronx-based collective that works at the intersection of food, design, and art, is so intent on helping young people in his community explore the world in creative ways. "Arts and critical thinking and creativity are a radical part of the movement," Gray said. Saving the world from crumbling is, in part, empowering others to do the same. Ultimately, the responsibility to change the world by changing how we eat isn't just on chefs and policy makers; as individuals, as families, and as communities we all have an obligation to make more mindful choices and support others to rise up with us.
Kate Bratskeir is a writer for WeWork's Ideas by We, focusing on sustainability and workplace psychology. Previously, she was a senior editor at Mic and HuffPost. Her work has appeared in New York magazine, Health, Travel & Leisure, Women's Health, and more.