Cooking seafood at home can be intimidating. There's the smell, the mess—and then there's the somewhat daunting consideration of where your fish actually comes from, and whether it's sustainable.
The good news is that none of this is all that hard; you just need to arm yourself with a bit of information about sourcing and prepping to feel confident in the kitchen. At the end of June, WeWork and the James Beard Foundation held the first of a four-city dinner series at WeWork Hawk Tower in Seattle, which focused on sustainable seafood. James Beard Award–winning Seattle-based chefs Renee Erickson and Edouardo Jordan prepared a meat-free four-course meal that incited a conversation about food sustainability while proving the concept could be delicious in practice.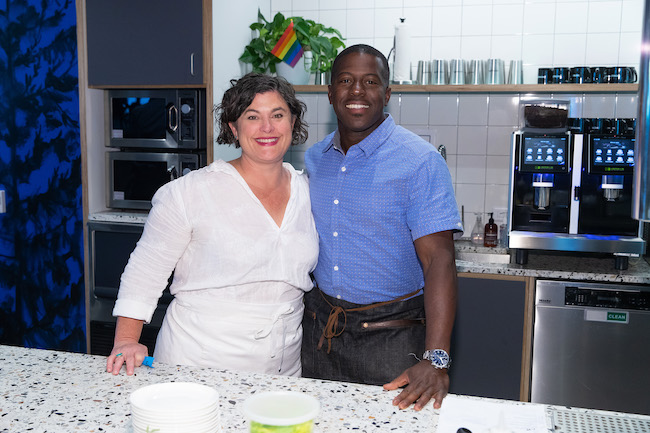 The stars of the menu were undoubtedly two fishy finds: chef Erickson's baked oysters and chef Jordan's mussels escabeche tartine. Even if you've never made mollusks at home, these recipes are both accessible and, with a bit of patience, can be mastered by even a novice chef.
The best thing about these recipes? They feature two of the most sustainable seafood options available. Mussels and oysters "lend themselves to being farmed," says Ryan Bigelow, the senior program manager at Seafood Watch, a nonprofit that educates consumers about sustainable seafood. (You can use their app or website to look up the most and least sustainable species.) "They love to be smashed together, they don't need any food, and they leave water cleaner than it started," Bigelow adds, praising the shellfish as a great source of protein.
How to buy sustainable seafood
Bigelow describes sustainable seafood as fish that can continue to be consumed "in the future without impact to the environment or the species in question." While you can practically assume the mussels and oysters you buy aren't wreaking any environmental havoc, decoding whether other seafood species are "green" is a bit more complicated. A few things to note:
When you're looking to buy sustainable seafood, look for reputable certification. Labels from both the Marine Stewardship Council (MSC) and the Aquaculture Stewardship Council (ASC) "go an extra step in making sure whatever you're buying is what it says it is, and there's a certain level of sustainability associated with that," says Bigelow.
Farmed fish isn't necessarily bad. While farmed seafood often carries negative connotations, more than 50 percent of the seafood Americans eat is farmed, says Bigelow. "There's a strong sense that wild is better, but the simple fact is that there's not enough wild for everyone, so that solution doesn't hold," he explains. "We have to farm seafood if we're going to continue to eat it as we do."
That being said, there are certain species that are unlikely to be sustainable when they are farmed. Most farmed salmon, Bigelow says, is marked with Seafood Watch's "red" category, which signals it should be avoided.
If you're eager to eat more sustainably, try consuming less popular types of fish. Americans primarily eat shrimp, salmon, and tuna, says Bigelow. "Having the courage to step outside of that and try new things" can benefit the seafood population and ease the pressure on the industries with less-than-quality labor practices.
If you're unsure about where something came from or how it was raised, ask! "Consumers just need to show interest in the fish's sustainability, and that's what's driving [businesses] to make sustainable commitments," Bigelow says. Your interest in the ethical practices affecting your dinner signals to businesses that you care.
Most fish can be caught sustainably, but if you want to be extra cautious, Bigelow suggests avoiding eel and bluefin tuna ("hon maguro" or "kuro maguro" on Japanese menus). Both species are overfished, depleted, and rarely sourced sustainably.
On to the tasty stuff. Now that you know how to buy responsibly, it's time to get cooking. Check out the recipes from the James Beard chefs below.
Baked oysters with togarashi butter
by Renee Erickson, chef and co-owner, Sea Creatures
Ingredients
1 stick (8 oz) unsalted butter, softened
¼ cup Sea of Seeds blend (or togarashi)
1 tsp sea salt
1 tsp lemon zest plus 3 tbsp lemon juice
12 to 14 oysters, top shells discarded
Rock salt for roasting
Method
Beat softened butter in the bowl of a stand mixer fitted with the paddle attachment on medium-high speed until creamy. Add Sea of Seeds blend, lemon zest and juice, and sea salt. Beat on high speed, stopping to scrape down the sides of the bowl once or twice, for 1 minute.
Preheat oven to 450°F. Line a rimmed baking sheet with rock salt. Place oysters in a single layer on rock salt.
Top each oyster with 1 tsp of butter mixture.
Roast in preheated oven until the edges of the oysters start to pull away and curl, about 10 minutes.
Serve immediately.
Mussels escabeche tartine
with togarashi aioli and garden flowers
by Edouardo Jordan, chef, JuneBaby, Salare, and Lucinda Grain Bar
Ingredients
For the mussels escabeche
2¼ cup sherry vinegar
1 cup water
¾ cup sugar
3 tsp salt
Pinch of chili flakes
5 black peppercorns
¼ yellow onion, sliced
5 cloves garlic, sliced
¼ tsp cumin
¼ tsp coriander
2 tsp Sea of Seeds blend (or togarashi)
Extra-virgin olive oil
1¾ lb mussels, steamed open and removed from shell
For the Sea of Seeds mayonnaise
4 egg yolks
1 whole egg
1 tbsp Sea of Seeds blend
1 garlic clove, minced
¼ cup lemon juice
Grapeseed or canola oil as needed
Salt for seasoning
For the tartine
Sourdough bread, sliced thick
Escabeche mussels
Sea of Seeds mayonnaise
Butter
Herbs and flowers
Method
In a sauté pan over medium heat, cook onions and garlic in olive oil until softened. Add in the chili flakes, peppercorns, cumin, coriander, and Sea of Seeds blend and continue to cook for one minute. Add in the sherry vinegar, water, sugar, and salt and bring to a boil. Place the mussels in a non-reactive container and pour the liquid mixture over the mussels. Allow to sit for 2 hours before using.
To make the mayonnaise, place the eggs, Sea of Seeds blend, garlic, and lemon juice in a food processor and blend. Drizzle in oil, drop by drop, until the mixture thickens. Season to taste with salt.
To assemble the tartine, first warm the sourdough in a sauté pan with butter until toasted. Once it is toasted on both sides, remove from the pan and add a layer of Sea of Seeds mayonnaise, followed by a shingling of pickled mussels. Garnish with fresh herbs and flowers.