The pandemic has blurred the lines between the spaces where we work and the spaces where we live. There's no better evidence of this than the sudden and unexpected ubiquity of the home office.
But with apartments shrinking and shared living a reality for many younger workers, carving out a practical and permanent workspace inside the home often isn't an option. Instead, many remote workers are turning to coworking solutions and flexible workspaces to give them the freedom to choose where and when they do their best work.
That's not to say that a home office can't be an important piece of the hybrid working puzzle. A private space away from the office can provide room to focus on solo tasks at your own pace, a place to create and pursue new projects, and the opportunity to work near pets and loved ones.
To help you create a space at home where you can feel happy and productive, we've pulled together a few of our favorite design ideas below. But first, let's take a moment to think about some of the advantages and disadvantages to working where you live.
Work from home vs. the office: things to consider
So you're all set for your home office renovation project. But before you start emptying closets and dragging furniture around, you should pause to consider the benefits and downsides of working exclusively from a home office.
With space at a premium, you're less likely to fit some of the most essential office facilities into your available space. If you use them heavily, printers and scanners can cost a small fortune to run, and sending and receiving packages and other mail becomes tricky and time-consuming without a mail department.
Meeting people at your home office is inconvenient too, so you'll need to have a space in mind for collaborating with colleagues in person. A coffee shop or dedicated coworking space can help here.
How can you design your own home office space?
Whether you've taken on design projects in the past or you've never cracked open a can of paint, embarking on a home office design mission always begins at the same place: looking for inspiration.
The home office design ideas below are just a jumping-off point. Once you've taken a look, research a few themes you're interested in and keep tabs on anything that works for you.
For smaller spaces such as alcoves and nooks, you'll most likely need bespoke desks and shelving cut to precise lengths. Plenty of furniture stores offer this service, but you can also do it yourself by sourcing recycled wood and reclaimed timber online.
Why should you make your home office look good?
Whether you believe that a tidy space makes for a tidy mind, or you prefer to exist in a state of organized chaos, your home office should be a comfortable place to work and hang out. Not only that, but it should look and feel like a cohesive part of the home rather than a tacked-on, half-thought-out solution.
Maybe you hastily rearranged a corner of your apartment to act as a temporary office at the beginning of the pandemic, only for that setup to unintentionally become permanent as the weeks and months went by. By making a few small changes to that space, you can create a pleasant environment you enjoy working in.
Where should you put your home office?
You might be fortunate enough to have an entire room you could renovate for home office space, or you could get creative with micro-office solutions using foldaway desks and empty closet space.
The design ideas we've selected cover a range of different styles and sizes of home office, from simple bedside desks to dedicated studies, but the decor and aesthetics of each one can apply to a home office of any shape.
Home office design ideas
1. Modern home office
Draw inspiration from everyone's favorite Swedish furniture store, even if you end up shopping elsewhere. IKEA has led the modern design aesthetic for many home office renovations, with sharp lines, bold contrast, practical storage, and compact shelving.
2. Classic home office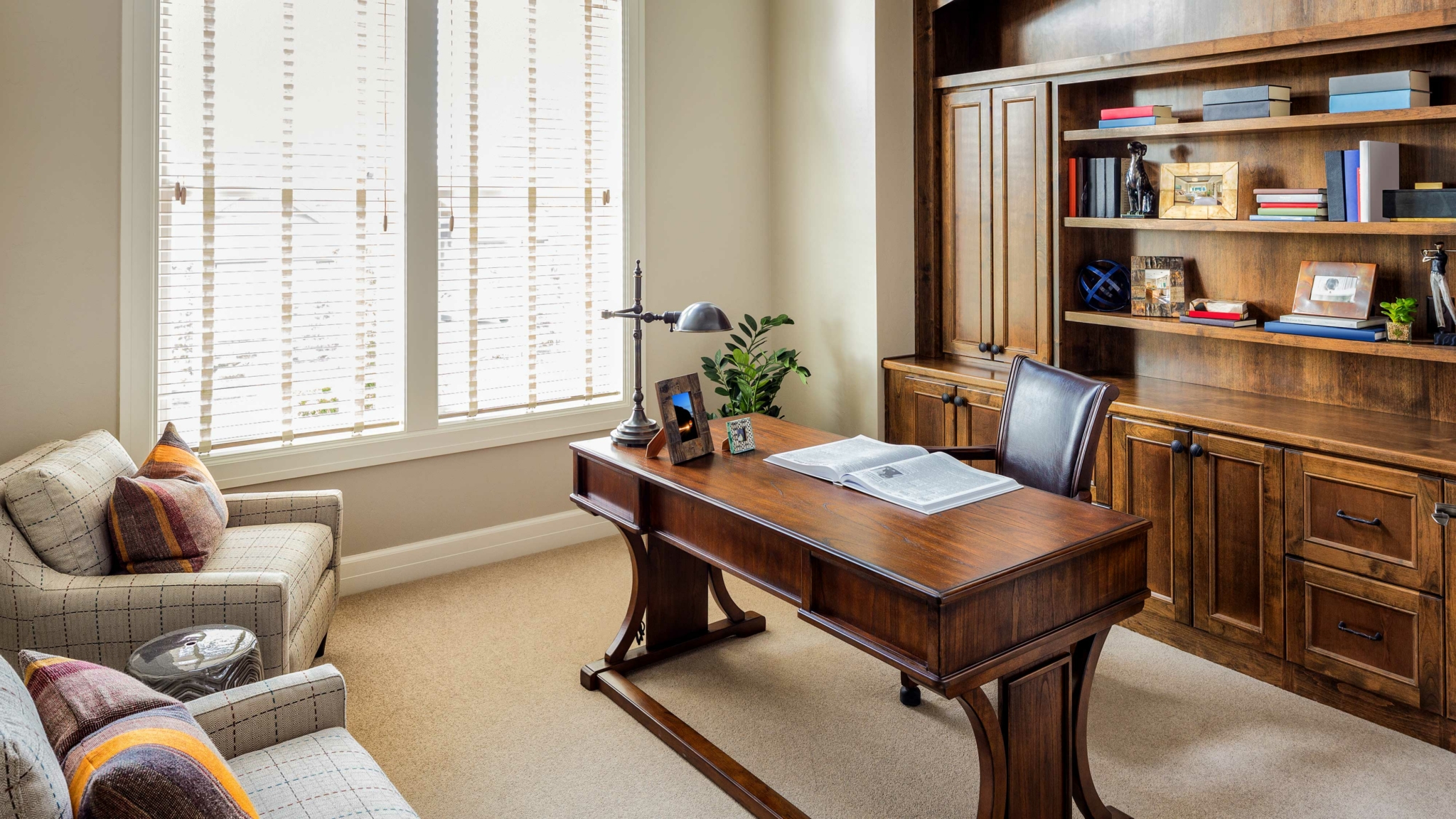 Thick shag carpets, floor-to-ceiling bookshelves, and ornate, mahogany desks are hallmarks of the classic home office. Authentic period furniture is costly, but cheap reproductions of antique pedestal desks are booming in popularity. We won't tell.
3. Minimalist home office
For a home office that disappears when you no longer need it, a minimalist solution can fit entirely within an existing wardrobe. Now you just need to find somewhere else to store your clothes.
4. Contemporary home office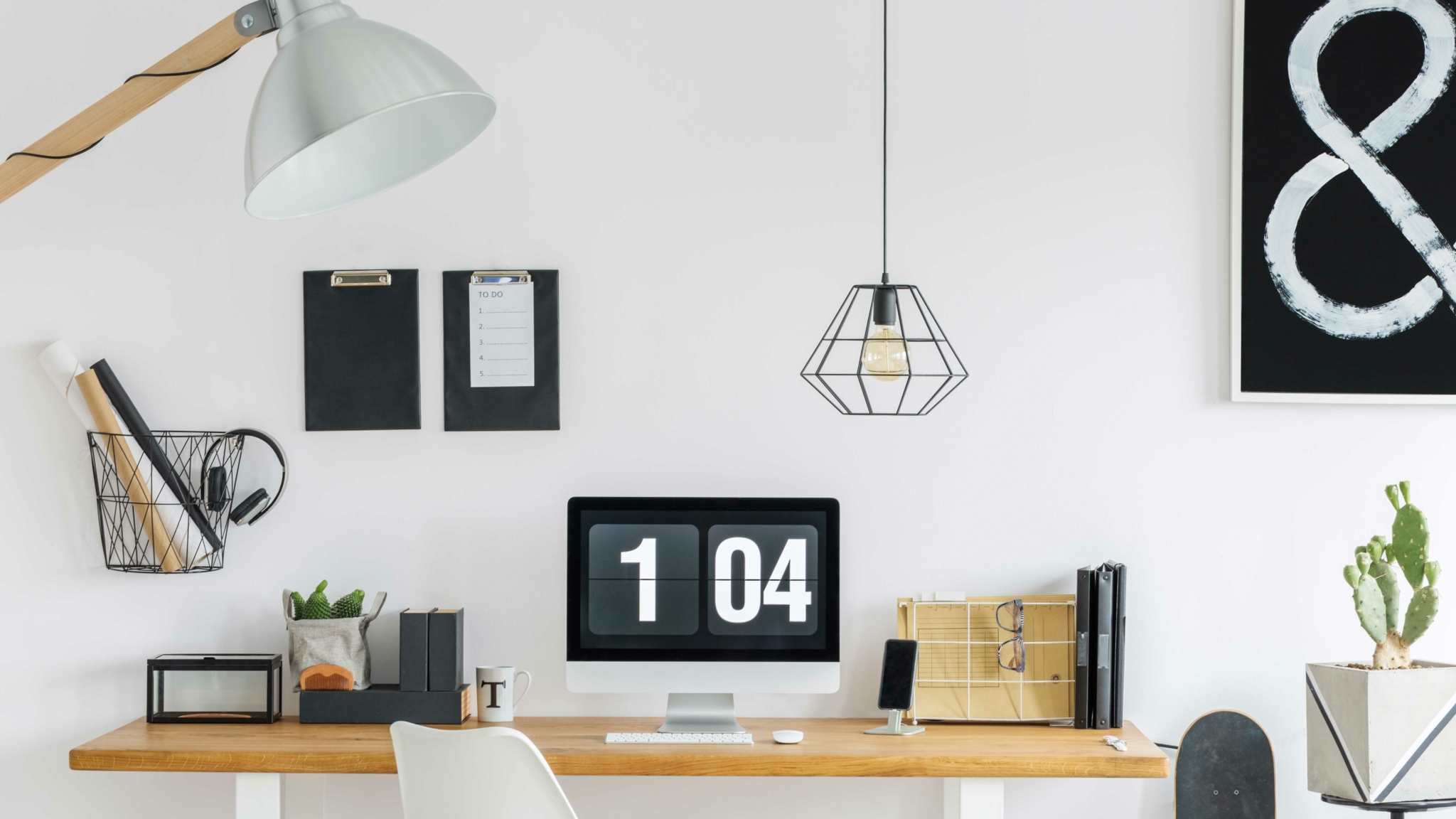 Plenty of natural light and playful decor complete the contemporary home office look, which fits comfortably into the home rather than existing separately from it. This style of home office can be a place to relax as well as work.
5. Industrial home office
The industrial aesthetic leans heavily on exposed brick or bare concrete, which can be easily achieved using tiles if you have nothing interesting behind your existing walls. Use copper accents, low lighting, and clean, straight lines to complete the effect.
6. Cozy home office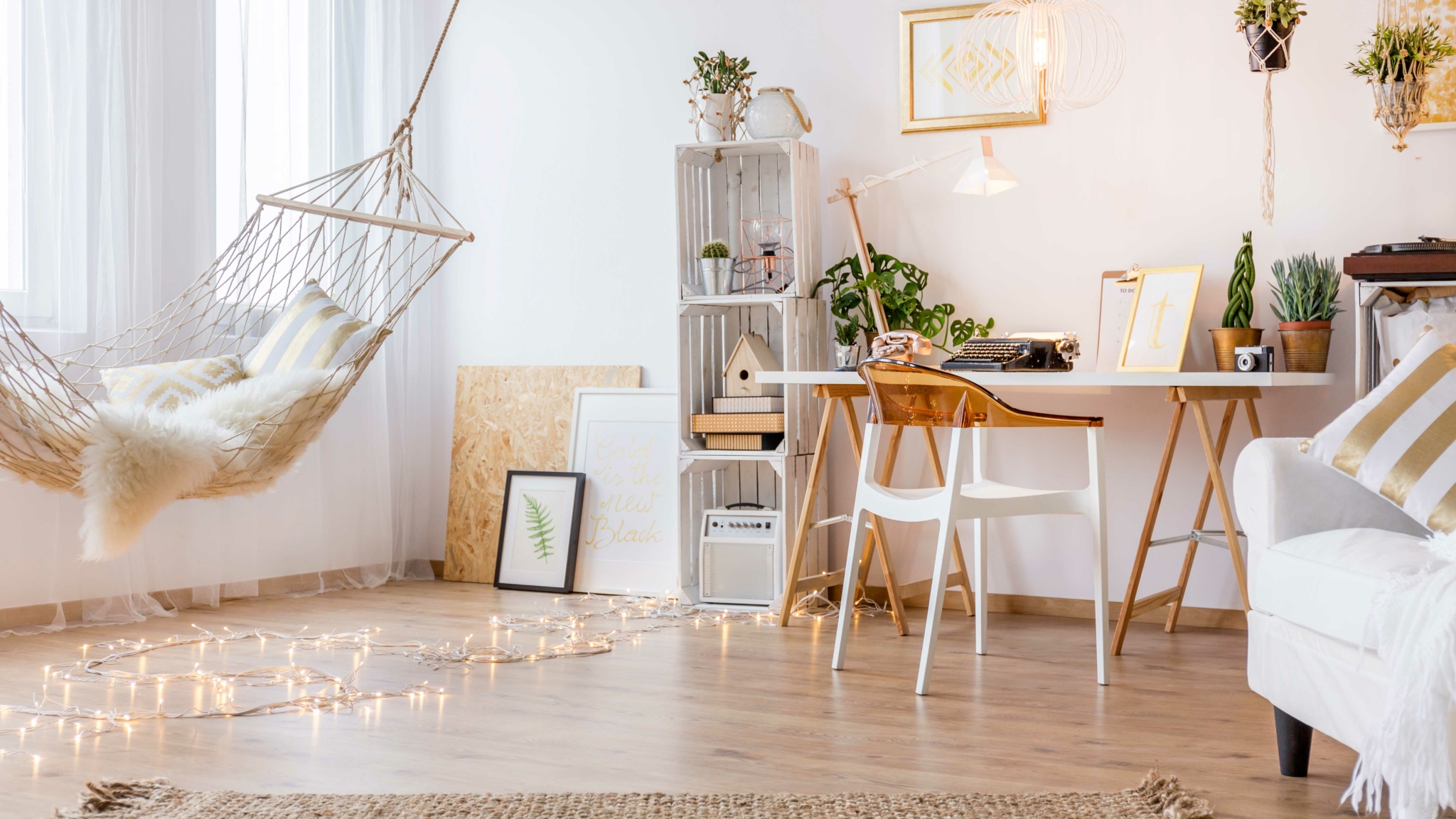 If you're ambitious, or just short on space, you can fit your entire office into a nook. Use floating desks and removable baskets to keep things looking tidy, as the smallest amount of clutter can turn a cozy home office into a claustrophobic one.
7. Futuristic home office
A challenging aesthetic to achieve, a futuristic home office design demands bespoke lighting solutions and modernist showpiece furniture. Done right, it can turn your home office into something out of a Ridley Scott movie.
8. Chic home office
Use contrasting textures to create a work environment that's chic with a modern edge. This example doesn't need much room, and the wall decor helps draw the eye upward and define the boundaries of the office space.
9. Bedroom office ideas
Don't let the desk dominate the room where you sleep. A bedroom office should be compact and functional, without compromising on style. Pinboards can be design features as well as useful places to store notes, photos, and important information.
10. Luxury home office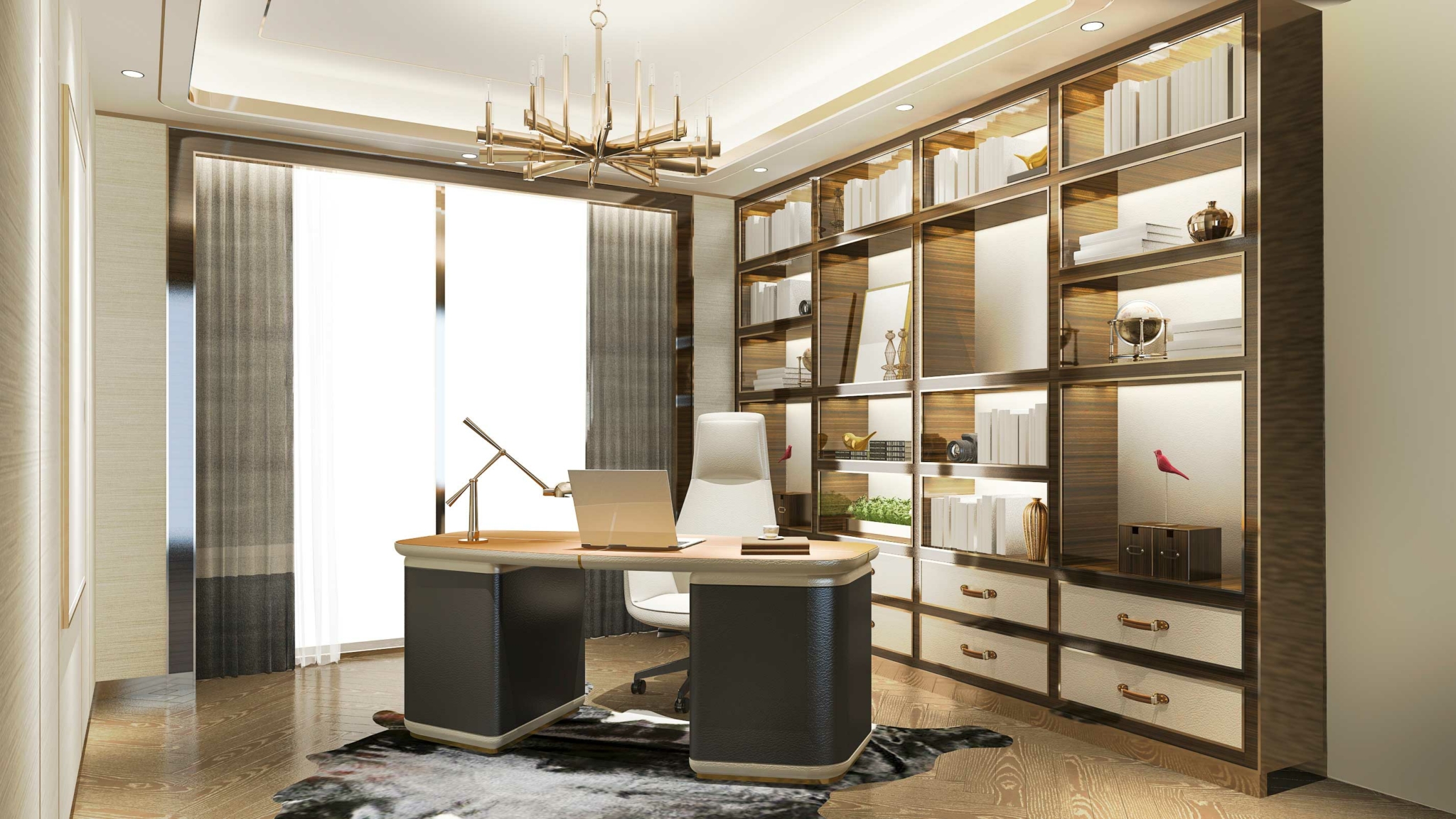 If you've got the space and the resources, you can go all out on a luxury home office. This example uses marble, dark wood, and copper accents throughout, with a high-backed office chair and patterned ottoman completing the look.
11. Limited surface area office
A home office usually means a shallow, space-saving desk. One way to reclaim that limited surface area and expand your available storage? Use pegboards to stick things to the wall. Don't be afraid to choose bold colors to create a statement.
12. Living room office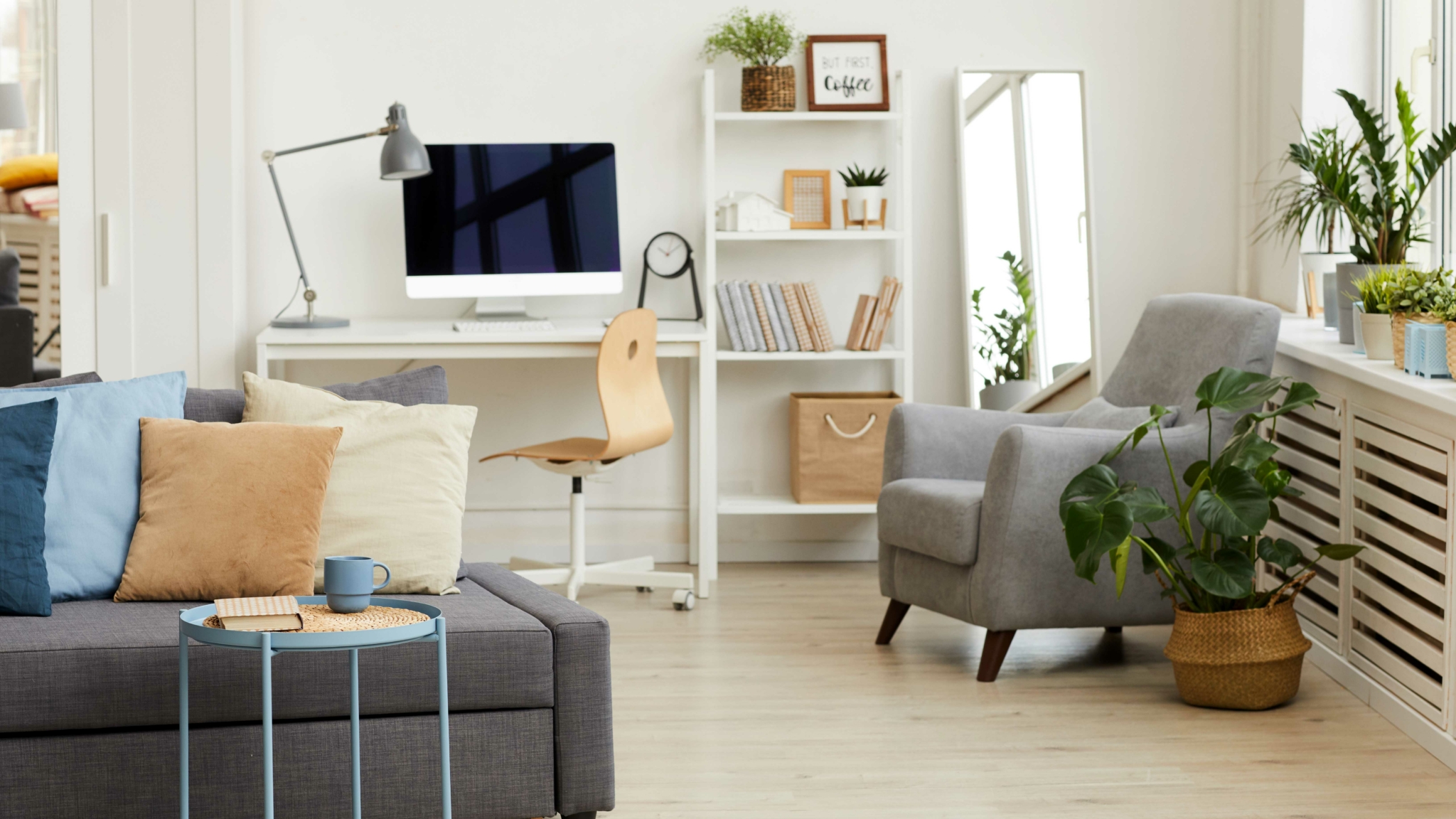 DIY shelves and strategically positioned plants can help carve out some office space within an existing room. Angle your computer away from the living area to further enforce this invisible boundary line.
13. Small home office ideas
Use your imagination to turn unlikely corners into smart-looking office space. A bespoke fitted oak desk can transform an alcove. Potted plants can add vibrancy, while a hand-stitched leather seat will look more at home than a typical office chair.
14. Cool home office
Bring personality to your office space through inspirational artwork that reflects your style and personality. Well-spaced frames will never look cluttered, and will add color and excitement to the darkest corners of the room.
How to choose the right home office furniture
Start by measuring out your available space, then choosing a size-appropriate desk to base the rest of your home office furniture around. You'll want to maximize the surface area available for working, so pick a desk that efficiently fills the space you've got to play with.
When you don't have much room, floating desks can create usable surfaces without taking up floor space. If you're fitting one yourself, ensure you hang the desk at the correct height to achieve a healthy and comfortable posture.
Don't skimp on the office chair either. Go for a height-adjustable seat with lumbar support and armrests to avoid serious aches and pains later on.
While top-of-the-line office chairs can be expensive, you can rent high-quality, ergonomic home office furniture from companies like Feather, which recently partnered with WeWork to offer office furniture rental services for members with spaces in our New York City buildings.
Tips to make your home office more cozy
Desk decor. Grab a few small potted plants to liven up your desk, especially if your home office isn't graced with a spectacular view of the great outdoors. A small splash of green can make a huge difference to your mood.
Home office wall decor. Pegboards and pinboards serve a dual purpose. They store your things, obviously, but they can also act as a visually interesting design feature. Wall decor creates a boundary around a home office that helps separate it from the rest of the room.
Home office shelving. Without good storage solutions, clutter will slowly spill out of the office and into other parts of the home. Use stacked shelving and removable containers and crates to keep everything in its place.
A comfortable office chair. A classic office chair can look really out of place in the home, but there are smaller and more discreet options available that still offer excellent posture support and overall comfort.
Home office lighting. A daylight lamp is a wise investment if your home office isn't near a window. When evening draws near, switch to warmer, cozier lighting to help reincorporate the workspace into the rest of the home.
If you don't have the space or resources to set up a home office that works for you—or if you just need to get out of the house occasionally for meetings or better focus—WeWork has flexible workspace solutions for those who aren't returning to the office full-time. With WeWork All Access, you can find inspiring and adaptable offices in hundreds of dedicated workspaces in WeWork locations around the world. For even greater flexibility, WeWork On Demand gives you access to stylishly designed workspaces and meeting rooms in dozens of cities, with no monthly commitment to worry about.
Steve Hogarty is a writer and journalist based in London. He is the travel editor of City AM newspaper and the deputy editor of City AM Magazine, where his work focuses on technology, travel, and entertainment.
Rethinking your workspace?