Traveling through East Africa and Latin America during much of his childhood, Generation Citizen cofounder and CEO Scott Warren says he witnessed the positive impact of democracy—as well as how fragile it can be.
"When I came back to the U.S., I wanted to build and preserve our American democracy by ensuring that young people were as excited about political participation as people I saw abroad," he says.
From in-class lessons to the competitions where students present their ideas for community-building projects, the nonprofit Generation Citizen is determined to shine a light on the next generation of patriots.
"Young people learn politics by taking action on real issues they care about and in turn, develop a sense of agency," Warren says.
Generation Citizen has offices in six regions, including WeWork offices in New York's 175 Varick St, San Francisco's Soma, Austin's University Park, and Boston's South Station.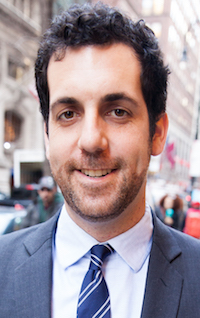 What year was your organization founded?
I cofounded Generation Citizen in college in 2009.
How many employees are in your organization?
We have 30 employees, up from 16 this time last year.
What made you want to get involved in this kind of work?
I spent the majority of my childhood growing up abroad as the son of a foreign service officer, living throughout Latin America and East Africa. In all of these places, I saw the promises of democracy, like seeing the excitement of Kenyans participating in their first truly democratic elections, and the fragility, like a coup in Ecuador.
What makes your organization unique?
Generation Citizen is trying to get civics back in the classroom and make it directly relevant to students' lives. We want civics to be the most exciting class in school, where students feel engaged and in the driver's seat. We also implement it as an in-school class, which is unique compared to other nonprofits in this space.
What was a moment you were inspired by the work you were doing?
Every fall and spring, we hold a Civics Day—a sort of "science fair for civics" where young people come together and present on the issues they've taken action on. Each Civics Day, we see how powerful and transformative political participation can be.
What has been you biggest hurdle?
Ensuring that our program quality remains strong as we scale. We want to reach more places, and we want to ensure fidelity of implementation remains strong. We recently launched in Central Texas and Oklahoma City, so we're focusing on providing those sites extra support.
How do you want to change the world?
We want to ensure that American democracy is one in which everyone participates, and all voices are heard, especially our youth.