The ways we work have fundamentally changed. People no longer seek just work-life balance. They want the power to choose when, where, and how they work. They want the freedom to create their own schedules, to do work they find meaningful, and to be in a space that suits their unique needs. Gone are the days of a one-size-fits-all nine to five. In All the Ways You Work, WeWork members share how they're reimagining their professional lives and thriving in this new world of work.
Jaye Hamel had to wait for the world to get loud again in order for her business to pick back up after the pandemic struck in 2020.
Live music is her lifeblood as the sales manager for 1of1 Custom, a company that makes custom hearing protection and in-ear monitors for musicians and concertgoers. So when concerts and other live events were put on pause, so was Hamel's workflow and the company's income stream.
1of1 Custom is based in Burlingame, CA, and currently has sales reps in Nashville, New York, and Los Angeles. The business used to have an office in New York City, but during the early days of the pandemic, that space was sold and the lease was terminated. But the company still needed space: 1of1 customers order their products through the company's website, but they have to meet in person to get a physical mold of their ear. It's something that just can't be done remotely. 1of1's earplugs are known for their tight custom fit and for bringing sound down to a comfortable level where it can still be enjoyed and you can have a conversation without damaging your ears.
WeWork was a godsend when we were looking for a new space because I didn't have to save three months of rent for a deposit.

Jaye Hamel, sales manager, 1of1 Custom
The company decided to use the pandemic to think about ways to change its business so that it could become more accessible to more people around the country, instead of just those in New York and Los Angeles. That's when 1of1 found WeWork On Demand. The app, which allows the company to book office space by the day in cities across the country, offered flexibility but also affordability.
"WeWork was a godsend when we were looking for a new space because I didn't have to save three months of rent for a deposit after having low income for 14 months," Hamel says.
The kind of work she does is incredibly intimate. Hamel needs a private workspace to meet with clients in order to fit them for their devices. She chose to use WeWork On Demand because she can rent out an entire office for a whole day, by the day. She frequently works from WeWork 205 Hudson Street in New York City, but she likes the ability to switch it up when she needs to.
"I can move around to different offices when it is convenient for me or my clients, and I'm not obligated to go to one specific location," Hamel says. "Plus, the offices look professional and feel professional. It's a great alternative to having my own office."
Hamel lives in Philadelphia and commutes to New York City. But with WeWork On Demand, she has the flexibility to meet clients wherever they are. One day, she might book an office in New York, and the next she can book one in Washington, D.C.
"Having my WeWork On Demand app makes it very flexible to meet with people I need to see in different cities," Hamel says.
Over the course of the next year, the company is looking to expand to Miami and Austin, TX.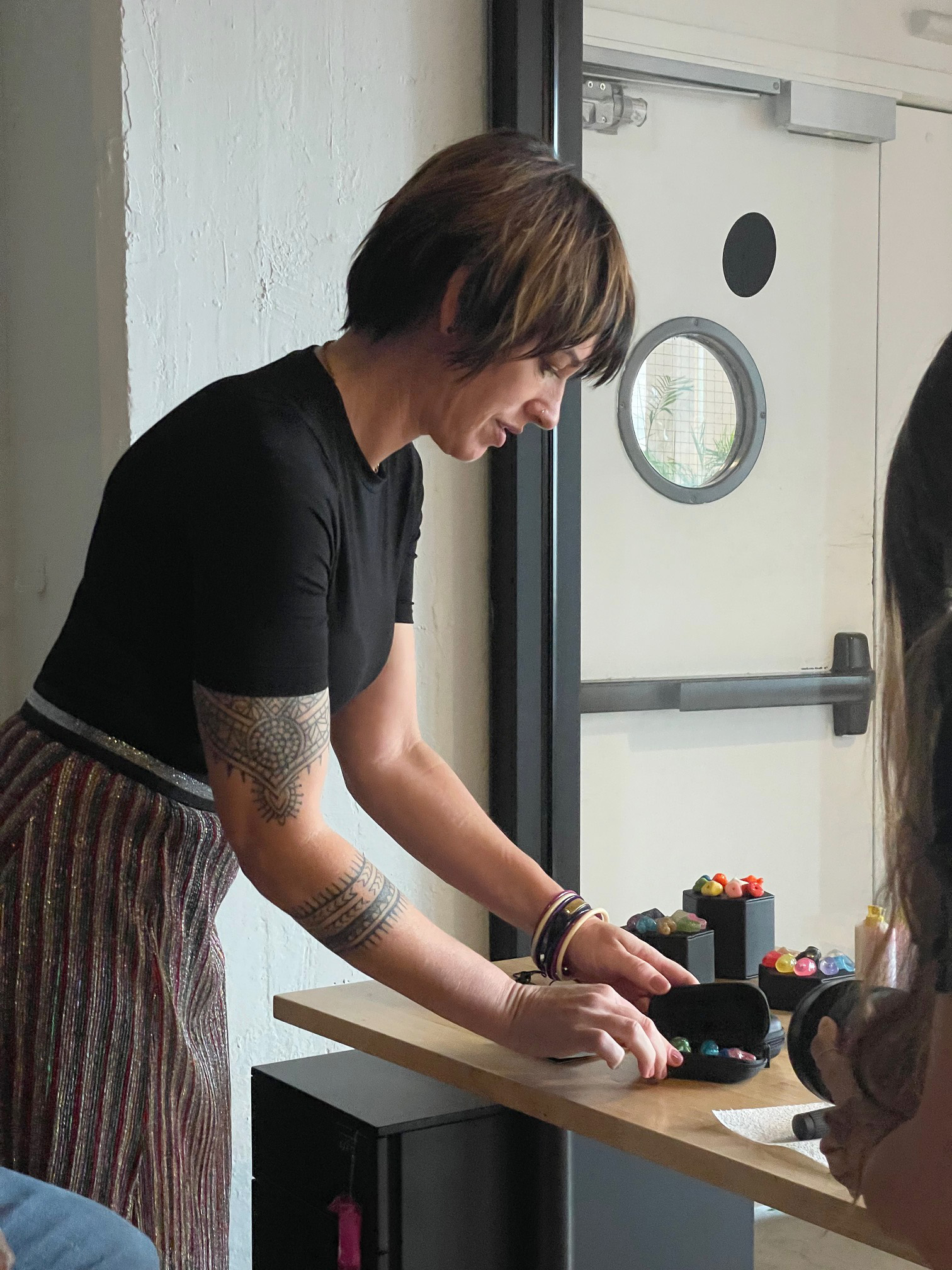 "My plan is going to be the same for the new locations. We won't have a storefront in any of these places. We will schedule our employees for a certain day and book them a WeWork to do their customer fittings," Hamel says.
Hamel schedules herself out three to four weeks in advance, which lets her manage her time in a way that allows for plenty of work but also hobbies and socializing.
Right now Hamel can see about 20 clients a day in a single WeWork. She takes a mold of their ear, which is then sent ​to the company's lab in Burlingame so the device can be manufactured. Her clients often include some fairly high-profile musicians. She's had entire bands come see her in WeWork offices. She can always tell when they've never been to a WeWork before.
"It's like clockwork. I can always tell that they're going to say they've never been in a WeWork by a certain point when they're walking through the office," Hamel says, laughing about how regularly it happens. "And they're always so pleasantly surprised by the space."
But more than that, WeWork offers Hamel the flexibility to work from where she wants, and it gives her a community that helps make her job a little less solitary.
"This is so much more fun," Hamel says. "Before it was just me, and even though it's still just me working for my company, now I'm working with people and I'm around people when I'm in the office."
Jo Piazza is an award-winning journalist, best-selling author, digital strategist, and podcast host.
Rethinking your workspace?