Nashville is known as Music City, but ambitious professionals across a variety of businesses can find a home here, often at lower costs than in other major metropolitan areas.
All of Nashville's amazing attributes, however, can make it difficult to find office space in this increasingly popular location.
A shared office space can be a creative and beneficial solution. Shared office spaces offer a sense of community and enticing amenities to help fuel productivity. Coworking spaces in Nashville are convenient and agile workspaces, but all without the stress of long-term leases and exorbitant startup costs.
Check out three coworking spaces in Nashville that are designed to support your success and offer the freedom to work where you can thrive.
Downtown
One Nashville Place
WeWork All Access starting at: $299 per month
Workspace starting at: $29/day
Conference Room starting at: $10/hr
Nearby Transit: Parking available; I-40, I-24
Cross Streets: Commerce St & 4th Ave N
Professionals will flourish in a coworking space in Nashville at One Nashville Place. The high-energy downtown area is home to iconic landmarks like the Ryman Auditorium and the Johnny Cash Museum and Cafe, so after a long workday you have plenty of options for entertainment. Bicentennial Park is a mere eight-minute walk away and has views of the Cumberland River to spark your creativity.
When it's time for a break, there are numerous spots for lunch as well as eateries suitable for big celebrations or entertaining clients. From midrange casual restaurants to a food hall with a wide variety of options to high-end steakhouses to bars and pubs, there's something for everyone in the area. Choosing a coworking space here means being surrounded by history, which can help motivate you to focus on what matters most—building your own brand and legacy.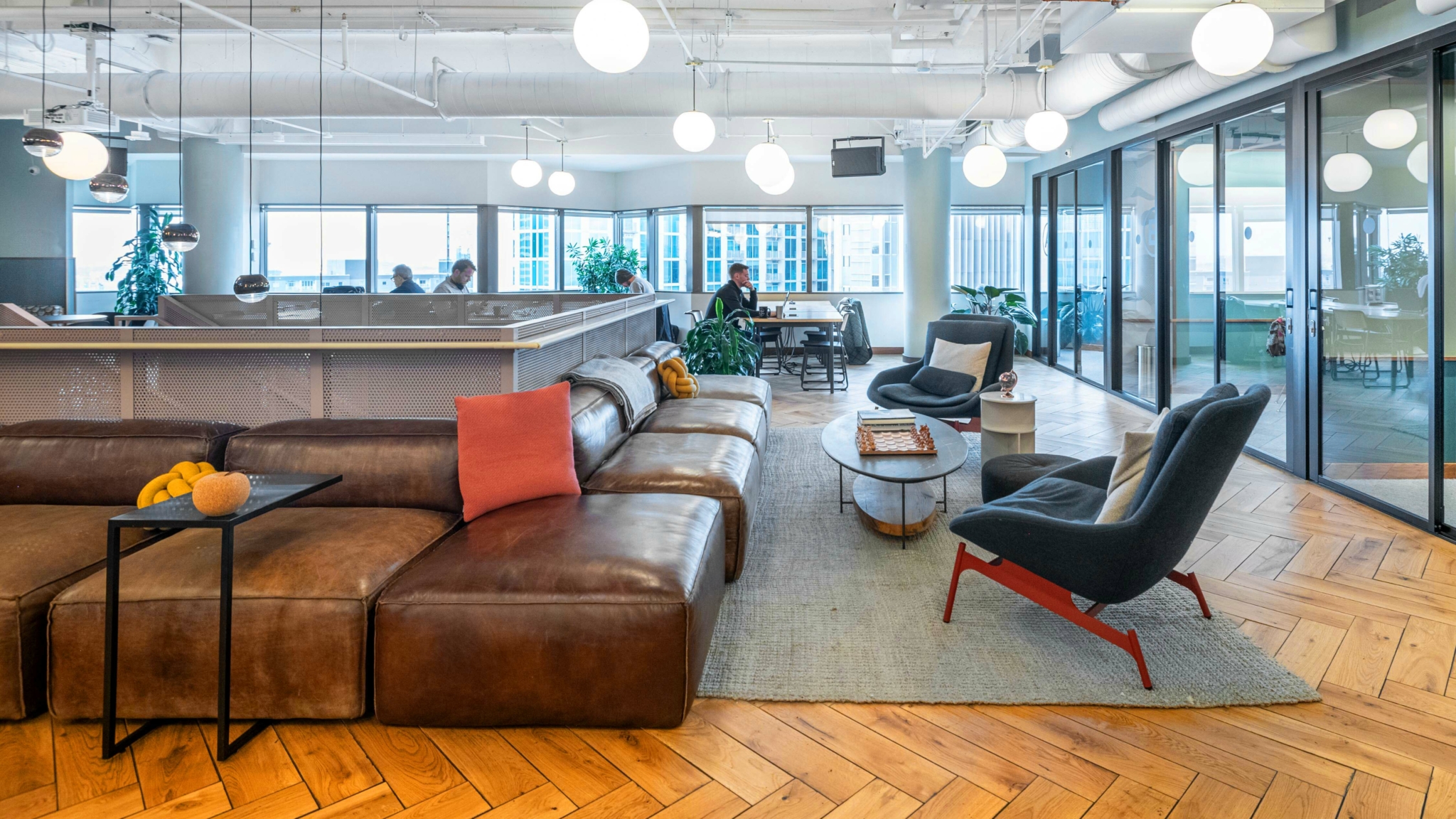 The building itself is incredible. A facade with a mix of modern glass and classical-looking architecture greets workers on the street; inside, airy, open common spaces are interspersed with cozy lounge areas suitable for both working and relaxing. Choose from private offices if you work best alone or with a small team, or opt to rent a conference room for as little as $10 per hour for larger meetings and brainstorming sessions.
In addition to valuable resources, you'll find plenty of amenities to make your workdays more pleasant, including a serene wellness room when you need a moment of peace, recreational games to help you regroup, and a fitness center so you can keep up with your active lifestyle. Whether you prefer to bike to work or want to spend your lunch hour sweating, in-house showers ensure you'll return to work refreshed. The building is dog-friendly, so feel free to bring your furry best friend to work with you. And be sure to take advantage of community-hosted gatherings in the on-site event space—they're excellent opportunities to network with your peers. With a shared office space providing all your day-to-day necessities, you'll be able to concentrate on taking your career to the next level of success.
Music Row
18th & Chet
WeWork All Access starting at: $299 per month
Workspace starting at: $29/day
Conference Room starting at: $10/hr
Nearby Transit: On-site parking available
Cross Streets: Chet Atkins Pl & 19th Ave S
Creative professionals will feel right at home in a coworking space on Nashville's Music Row. Record companies, music publishers, and recording studios all call the area home, providing plenty of inspiration for those working in a creative industry.
Cap off a long day of work with a team happy hour at one of the many bars in the area, or go for a laid-back meal at any number of eateries that are less than a 10-minute walk away. Nature lovers will appreciate the close proximity of Owen Bradley Park, an ideal spot for fresh air when you need a break from the office. With veritable music giants residing in the same area, you'll find the productivity to take your career to new heights.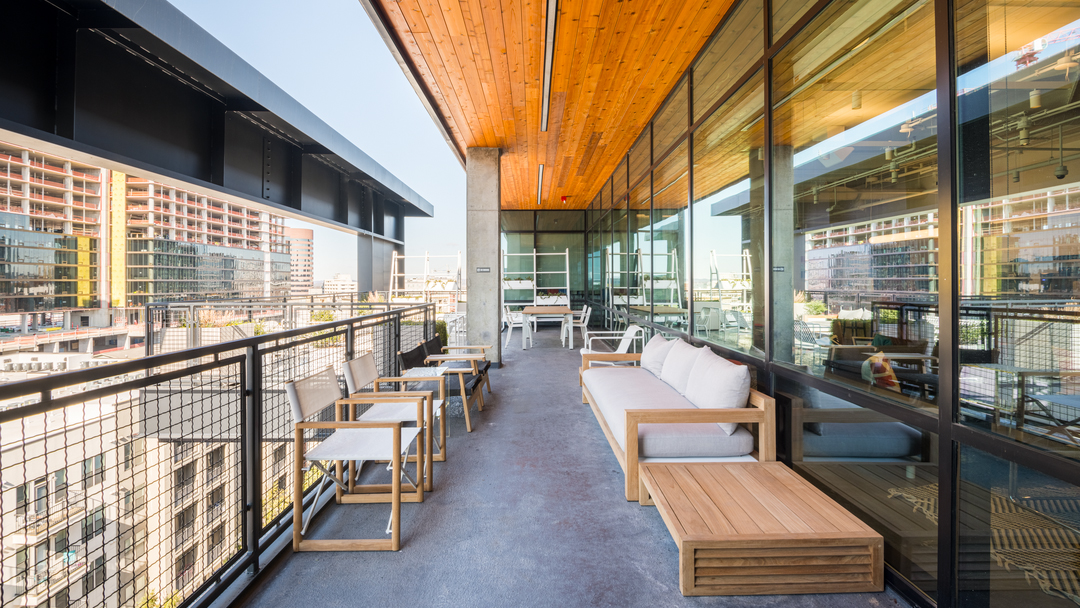 The facade of this shared office space in Nashville may look unassuming, with its metal and wood design, but inside you'll find wide open areas with plenty of natural light. Private offices are available for those who prefer to work on their own, or you can rent a conference room for as little as $10 per person per hour to meet with your team or potential clients.
On-site parking is available, so commuters won't have to waste part of their morning looking for a space, and bike storage in-house allows those who prefer to commute that way breathe easier knowing that their bike is safely stored away. New moms will appreciate the dedicated mothers' room, which is private, lockable, and equipped with a sink and refrigerator for convenience. The outdoor space offers lovely views of the surroundings, a spot for a laid-back meeting, or even just a break to take in fresh air and sunshine. A wellness room and on-site event space round out the amenities of this coworking space in Nashville.
East Nashville
901 Woodland St
WeWork All Access starting at: $299 per month
Workspace starting at: $29/day
Conference Room starting at: $10/hr
Nearby Transit: I-24; Woodland St & S 9th St bus stop
Cross Streets: Woodland St & S 9th St
This neighborhood might seem quieter than other parts of the city, but that's precisely why some professionals will be drawn to a coworking space in East Nashville. There's not a lot of nightlife in the area, but there are plenty of eateries with hip vibes for a fun evening out. Take a local lunch break and enjoy pizza, sushi, Thai, Greek, and barbecue in the immediate area, and later head to happy hour at a nearby brewery or cocktail bar. Need a morning treat or an afternoon pick-me-up? There's a breakfast restaurant, as well as a spot that offers coffee and donuts, only a short walk away. Further down the strip, options include Asian street food and Southern fare, so there's bound to be a type of cuisine for every palate.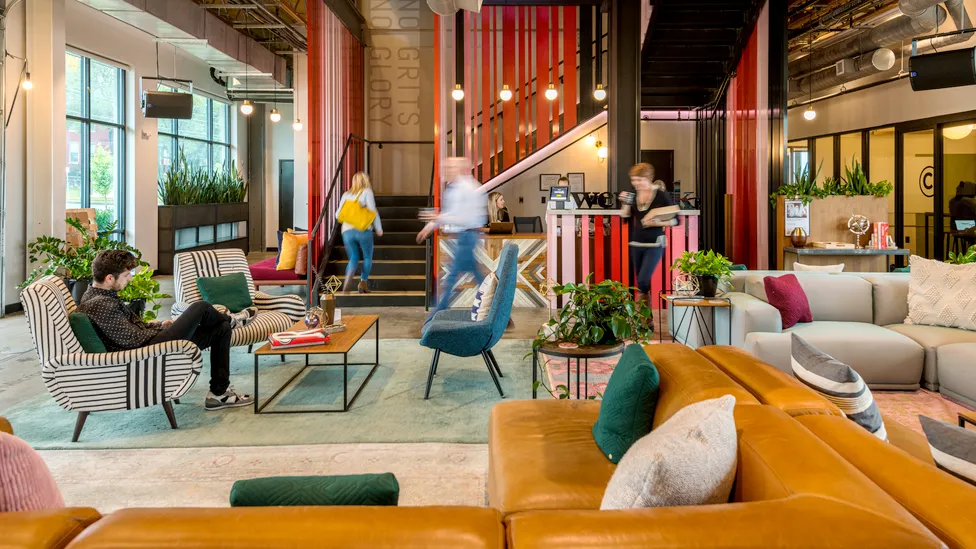 Inside this shared office space in Nashville, you'll find amazing architecture and trendy, modern design. Common areas are bright and open, with plenty of natural light and charming features like exposed beams that bring an industrial chic feel. Cozy sofas offer a comfortable spot for working and relaxing alike, while tables and chairs provide a more traditional setup if you need more structure. Private offices are also available if you prefer to work solo, while those who thrive around others can opt for dedicated desks in a shared, lockable space. Need to brainstorm with your team? Rent a conference room for as little as $10 per person per hour.
Being comfortable at work means you'll be able to focus on building your brand, and the amenities in these flexible office spaces don't disappoint. The building is dog-friendly and features an outdoor space, wellness room, and on-site event space, where you can mingle and network with your peers and form lasting connections that'll help your current success and power future ones as well.
Whether you're a freelancer looking for an occasional desk, a startup looking for your first office space, or an established company expanding to a new location, there's a WeWork location in Nashville to fit your needs. WeWork On Demand offers pay-as-you-go access to shared office spaces across Nashville, while WeWork All Access unlocks WeWork locations in cities around the world.
Rethinking your workspace?