Marcus Blackwell blew his first chance to be a model. When his mother took her baby boy to auditions, he cried so much that the casting agents said thanks, but no thanks.
But the founder of Make Music Count was able to to call his mother to tell her that he aced his second chance. Wearing a crisp blue suit and striped repp tie, he's featured in a photo spread for J.Crew.
"I told her that back then, it just wasn't my time yet," said Blackwell, who says he's gotten numerous calls from friends asking whether he's switched careers.
Blackwell is one of 11 founders — eight men and three women — in a variety of fields who are part of the campaign, a joint project between WeWork, J.Crew, and LinkedIn. The entrepreneurs are all members at WeWork locations across the country.
The photos, which are currently on the J.Crew website, are just piece of the program, which will include events at WeWork locations in San Francisco, Atlanta, and New York. The first is a panel discussion featuring two of the models at San Francisco's WeWork Embarcadero Center.
The models were chosen from among the more than 200,000 WeWork members not just because they are standouts in their fields. Take Blackwell, a member at Atlanta's WeWork Colony Square. His startup is a pioneering platform that teaches kids math through their favorite music — think of it as a math version of Guitar Hero.
Blackwell says that when he entered New York's WeWork 524 Broadway, he was surprised to see that the team had already transformed a large office into a temporary photo studio.
"I walked in and thought, 'Oh, this is the real deal,'" he says. He was one of a half a dozen models being shot that day, all of them being fitted with different items from J.Crew's new collection.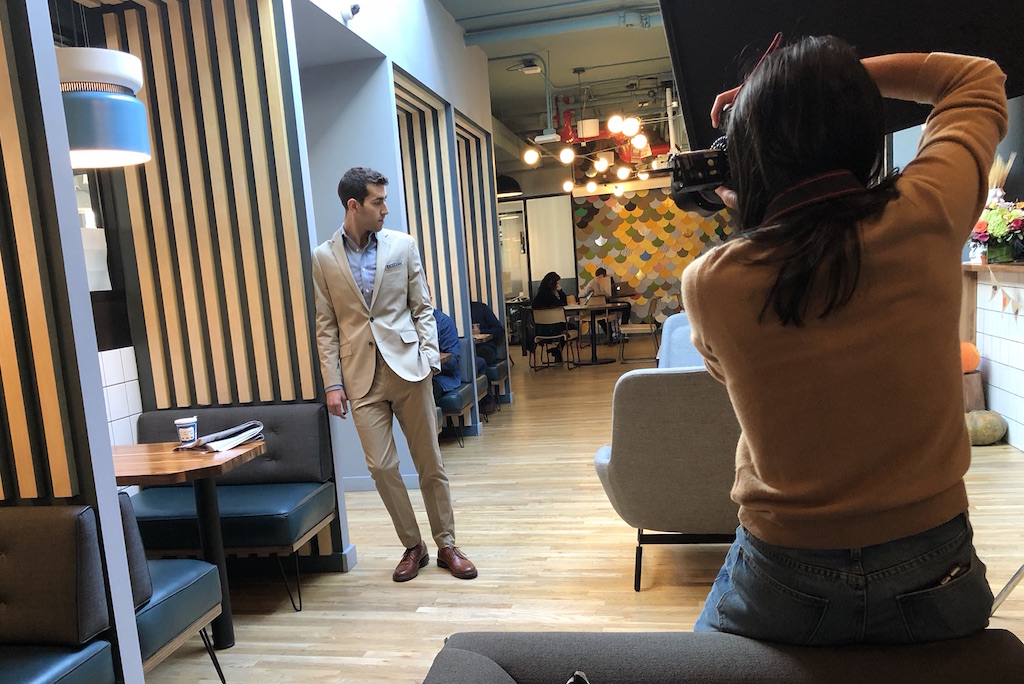 Cynthia Nimmo, President and CEO of the Women's Funding Network, had a similar reaction when she arrived for her 7 a.m. call at San Francisco's WeWork SOMA.
"It was one of the oddest days I've ever had," Nimmo says. "I run an association of foundations that are dedicated to gender equality. This is completely different from my usual day at the office."
Nimmo was the only model being shot that day, so the crew of about 10 people was dedicated to making her look great. One person was applying the finishing touches to her makeup as another was at a sewing machine making last-minute alterations to her outfit — a blazer, striped shirt, and wide-leg cropped pants. A team of photographers was nearby adjusting lights.
The shoot started in a WeWork office, then moved to the street, where the cameras clicked away as she walked down the sidewalk and pretended to hail a taxi.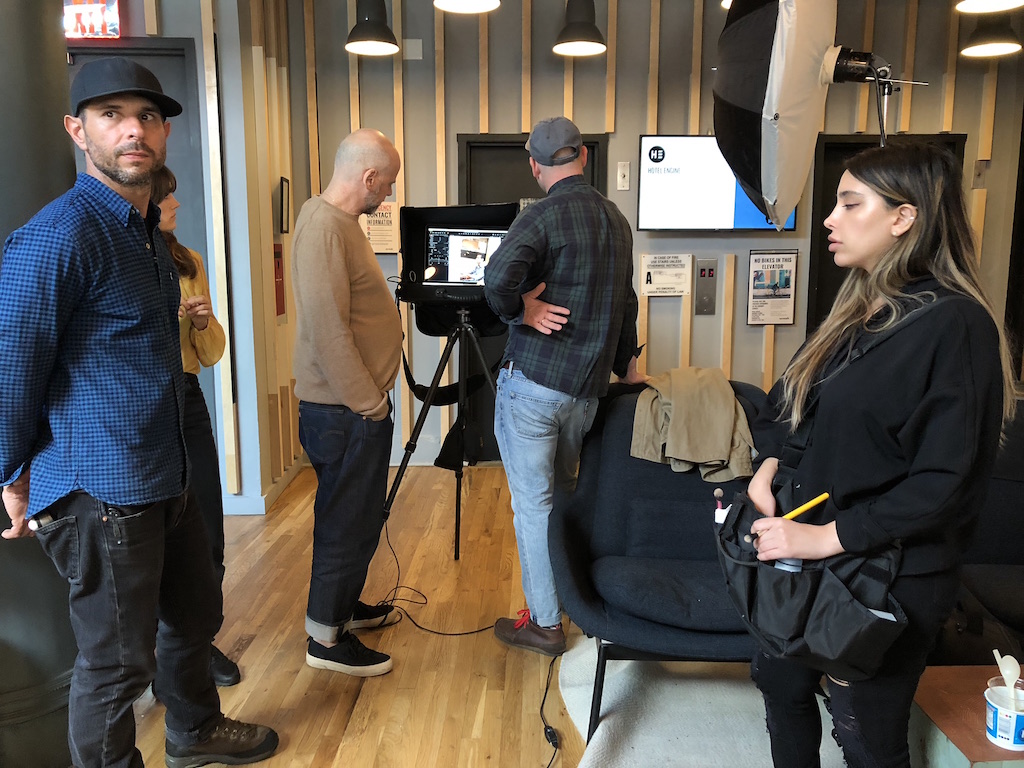 "They would shoot, take a look at the camera, and then try again from a different angle or with a different pose," she says. "The crew would ask me to put the handbag over my shoulder, or carry it in my hand. They definitely had in mind what each shot should look like."
The shoot lasted until 4:30, when Nimmo had to rush to a meeting. She says she was a little sad to leave the clothing for the shoot behind.
"I loved the clothes, but then again I love J.Crew," she says. "I am moving all the time, walking in San Francisco from meeting to meeting, leading a discussion, or taking part in a focus group. I need clothes that are comfortable and look awesome."
Michelle Dalzon, founder of theBOM, says that many people have asked her if she's a model. This month her J.Crew photo spread is just one of the times she's been in front of the cameras.
"It's weird because after I had this opportunity with J.Crew, and then another came up through Adidas," she says. "What are the chances of that?"
Dalzon, whose company puts together pop-up shops featuring black-owned businesses, says that she really enjoyed her shoot at Brooklyn's WeWork Montague Street.
"My style is a little edgy," she says. "And the team worked hard to choose a look that I thought looked like me."
Her look for the shoot? A wrap shirt in a subtle shade of blue that she says perfectly reflected her own personal style.
Now that she has two modeling gigs under her belt, will she be changing careers? Dalzon laughs.
"It was fun," she says, "but I think I'll stick to what brings in the cash."
Photos: Ariel Amar