Click here to try a WeWork private office for one month for free. Terms apply.
With the beauty of the Rocky Mountains in close proximity to bustling city life, Denver offers a unique spot that ambitious professionals of all types can appreciate. Whether you're trying to build a startup, working as a digital nomad or freelancer, or even expanding an established corporation, coworking spaces in Denver are on the rise as workers look for inspiring places in which to create and innovate.
Fortunately, you can find exactly the office space you need by taking advantage of these modern, spacious shared office spaces in Denver. Set up a private office or work out of one on an as-needed basis using WeWork All Access or WeWork On Demand. Here are five Denver coworking spaces designed to help you grow and succeed.
Lower Highland (LoHi)
The Circa Building
Nearby Transit: 28, 32, 44 at 15th St/Platte St; B-Cycle at 16th St/Little Raven
Cross Streets: 16th St & Central St
Professionals of all types will be drawn to the coworking space in this modern building with a sleek glass facade. You'll have two floors with different layouts to choose from, including private offices if you need to put in some solo work time and conference rooms if you want to gather the whole team.
Commuters who prefer to drive or ride a bike to work will appreciate the available on-site parking and bike storage, while those who use public transportation can take advantage of bus stops only a block away. The wellness room is a tranquil place to take a breather during a busy day, while the event space allows you to host and attend occasions to meet and network with your peers. And if you need to blow off steam, recreational games are on hand to help you do just that, or host a movie night in the screening room for your team at the end of a long, successful week.
With plenty of dining options near this coworking space in Denver, going out for lunch or dinner will be a breeze. Casual restaurants and bars are close by, as is the Denver Brewery, ideal for a post-work happy hour with your team. Commons Park is within a 10-minute walk and has trails for after-work jogging or a riverside stroll. The Museum of Contemporary Art is also within walking distance, perfect for enjoying some culture at the end of a long day. Take your business to the next level with this coworking space in LoHi.
Book this location for as little as $10 per hour for a conference room or $29 per day for workspace via the WeWork On Demand app.
Union Station
Triangle Building
Nearby Transit: A, B, C, D, E, F, H, W trains at Union Station
Cross Streets: Wewatta St & 15th St
From private offices for solitary work to open-area shared workspaces, this building has options that will suit anyone. Opt for a dedicated desk if you don't want the private office but want a space to call your own. Rent a spacious conference room so you can easily collaborate with your team to develop new ideas and strategies. Those who prefer to drive or bike to the office will appreciate the available bike storage and affordable on-site parking. Need a break? The wellness room is the perfect escape to provide a moment of peace on a hectic day, while recreational games will help you blow off steam as well. And when you're ready to network with others, the event space is ideal for team-building events or community-hosted occasions.
Thanks to a plethora of dining options in the neighborhood, professionals will never have to worry about finding a nice spot for lunch or dinner, whether you're in the mood for a casual bite or prefer more high-end fare, ideal for treating your team or potential clients. A short drive away is the Ball Arena, where you can check out a basketball or ice hockey game, or even a concert from a big-name artist. Larimer Square is also nearby if you prefer historical sites over sports. Want to take in a different kind of show? With the Denver Performing Arts Complex, Bovine Metropolis Theater, and CCD Studio Theatre nearby, you'll have numerous options for plays, live music, and even improv classes, if you're seeking a new hobby.
Book this location for as little as $10 per hour for a conference room or $29 per day for workspace via the WeWork On Demand app.
Central Business District
Tabor Center
Nearby Transit: Union Station; 17th St & Lawrence St buses; B-Cycle at 17th St & Larimer
Cross Streets: 17th St & Lawrence St
With five floors devoted to coworking space, the Tabor Center is suitable for established businesses and fresh startups alike. Professionals can opt for private offices if they prefer working alone, or be energized by a shared coworking space. Need to collaborate with your team? Rent a roomy conference area so you can bounce ideas off one another and create new strategies to grow your business.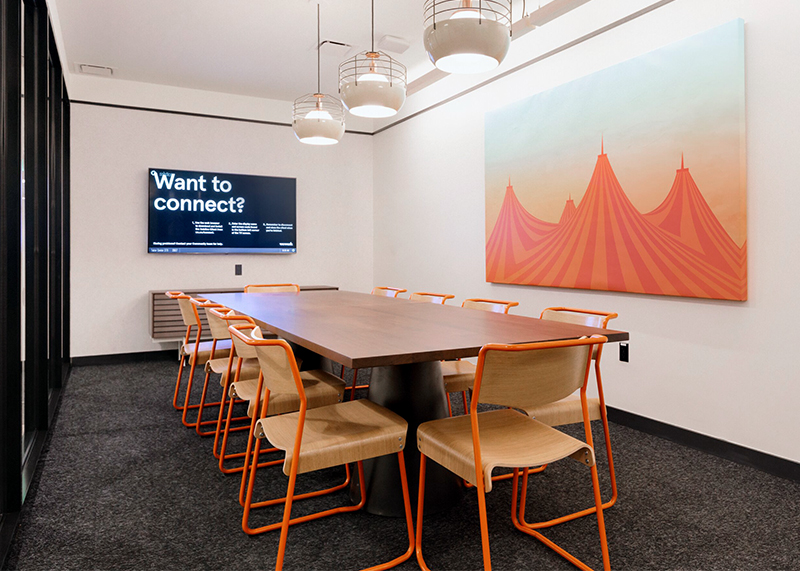 On-site parking, bike storage, and nearby trains and buses make commuting easy for those making the trip. If you need to reinvigorate throughout the day, you can take advantage of the in-house fitness center or swimming pool, as well as the showers. The on-site barista bar provides premium caffeine doses to help combat the afternoon slump, and the event space means plenty of community-hosted occasions to network with your peers. And if you need a maker space, you'll find a Creator Lab in Tabor Center as well, with 3D printers, laser cutting machines, and more.
Entertain both potential clients and team members at an array of nearby restaurants. You'll find plenty of casual eateries near the coworking space in this Denver building, but there are also opportunities for fine dining. Both the Writer Square and 16th St Mall are close by if you want to do some shopping, while Larimer Square is a short drive. Skyline Park is a short walk away and offers green space as well as ice skating for a diversion after a long day.
Book this location for as little as $10 per hour for a conference room or $29 per day for workspace via the WeWork On Demand app.
North Capitol Hill
Wells Fargo Center
Nearby Transit: Metroride at Lincoln St/E 17th Ave; B-Cycle at Glenarm Station
Cross Streets: Lincoln St & E 17th Ave
Choose from a mix of private offices or communal spaces in this building. Need to meet with your team? Rent a spacious conference room and focus on brainstorming, team-building, and new strategies. Take a break in the wellness room to get a moment of peace, or enjoy some fresh air or conduct an al fresco meeting in the outdoor space. The barista bar and food hall ensure you're covered—from morning coffee to lunch to afternoon snacks. And with the in-house fitness center and showers, you can maintain your wellness routine without having to worry about joining another gym.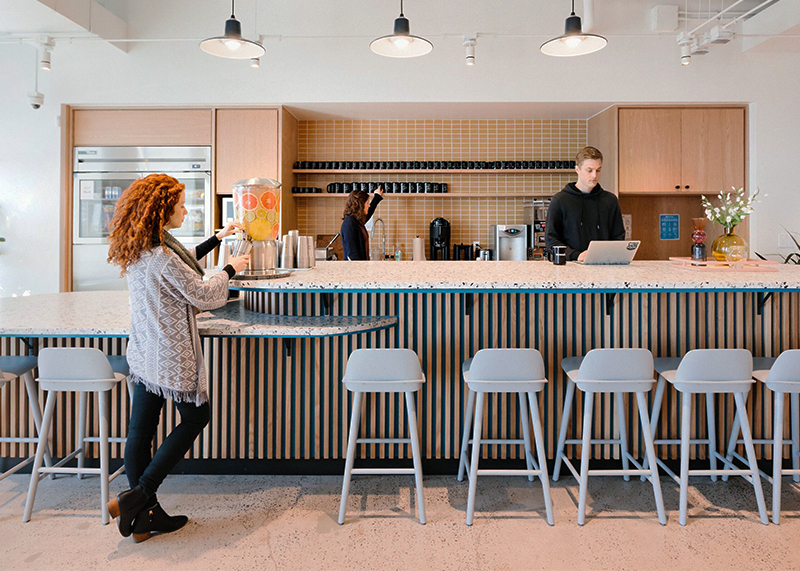 When the workday is over, take advantage of a range of restaurants a short drive away, shop for reading material at Capitol Hill Books, or take in a Denver Free Walking Tour and discover a part of the city you may have overlooked before. You can also learn more about the state at History Colorado Center, or experience the bustling nightlife at clubs like The Church, Temple, and The Hive.
Book this location for as little as $10 per hour for a conference room or $29 per day for workspace via the WeWork On Demand app.
Cherry Creek
Financial House
Nearby Transit: 1, 3, 3L, 83D, 83L at 1st Ave & Fillmore Plaza; B-Cycle at Cherry Creek
Cross Streets: Detroit St & E 2nd Ave
Both startups and established businesses will find a coworking space that suits them here in the heart of Denver. Private offices ensure a place for solitary work but also provide an excellent area to meet with potential clients or new hires. Dedicated desk spaces allow peers to have a spot to call their own while taking advantage of the energy of working around others. You'll also find areas in communal spaces suitable for digital nomads.
Conference rooms are also available for rent if you want to brainstorm with your team or deliver a presentation to important investors. On-site bike storage allows those who want to ride to work the place to safely keep their bikes during the workday, while a Mother's Room appeals to new moms who need to pump in a designated, lockable space with a refrigerator and sink.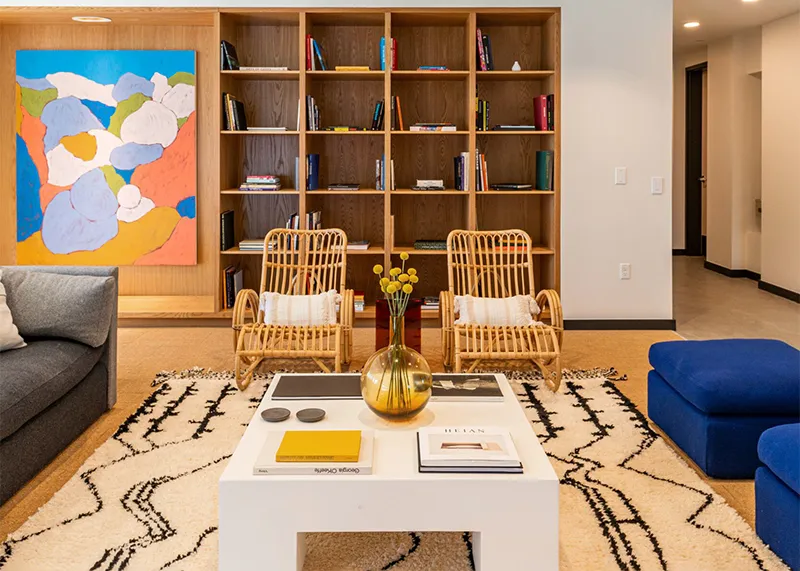 These coworking spaces in Denver are situated in the center of the action, and as such, there is plenty of dining and shopping nearby. From Amazon Books just around the corner to boutique shopping a short walk away, you can find a variety of shops whenever you want to indulge in retail therapy. A short drive away, the extensive Cherry Creek Shopping Center has even more options for dining and shopping. Nearby health food restaurants and coffee shops ensure you can stick to healthier eating and give yourself a boost when you need an afternoon pick-me-up. If you want to treat your team to a nicer lunch or dinner, you'll find bistros nearby that are ideal for such an occasion. Book this location for as little as $10 per hour for a conference room or $29 per day for workspace via the WeWork On Demand app.
Whether you're a freelancer looking for occasional meeting rooms, or a startup looking for a workspace to call home, there's a WeWork location in Denver to fit your needs. To find your ideal coworking space, check out all of the WeWork locations in Denver.