Around the world, companies of all sizes find space to succeed at WeWork. Our Member Spotlight series shares their unique stories.
The challenge: connecting a diverse group of colleagues  
Improving diversity in tech is a core focus for IBM. When the company was looking for a new space for their CIO Office, the arm that develops and manages IBM's Business Partner applications and focuses on IBMer productivity, they wanted one that would foster an environment of inclusivity. Molly O'Rourke, research and design leader at IBM, says it's important that this team varies across genders, backgrounds and languages. 'We have a very diverse set of people using our tools. If we didn't have a diverse set of people building them, we'd be in trouble.'
IBM's CIO Office also wanted a workspace that could attract and retain a broad range of talent. 'We were looking for something that supported our vision of being a really attractive place to work, but also design it in such a way that would suit the type of work we're trying to do across multiple missions [from tech development to help desk support],' says Kamaran Sheikh, director of the CIO: Partner Ecosystem at IBM.  
Although for many years the CIO team had a culture of working remotely via technology, IBM wanted to refocus on the power of teams being together physically. One mission for the new space was to start bringing people back to the office to encourage collaboration and innovation. It was also important to be centrally located and close to the existing IBM office in central London.
As the team looked for new office space, they realised the right space could help improve diversity, collaboration and productivity. The team was 'ready to test a new workspace environment', says Ryan Brambles, engagement leader at IBM.  
The solution: a space that's building a sense of community  
IBM chose the entire seventh floor of​ WeWork 10 York Road​ in Waterloo for its CIO Office. The company worked with WeWork to design an optimal space for its team, which included dedicated areas for silent focus, breakout spaces with comfortable seating and inspiring views of the city. The team deliberately positioned desks near the windows so that people could experience natural light for the majority of the day.​  
IBM also wanted the office to help alleviate stress and encourage employee well-being. Even seemingly small design features, such as installing a moss wall in a communal space to bring ​the outside in​, has helped with productivity. And the ability to attend well-being classes, including those that offer meditation in the middle of the day, 'is huge', says O'Rourke.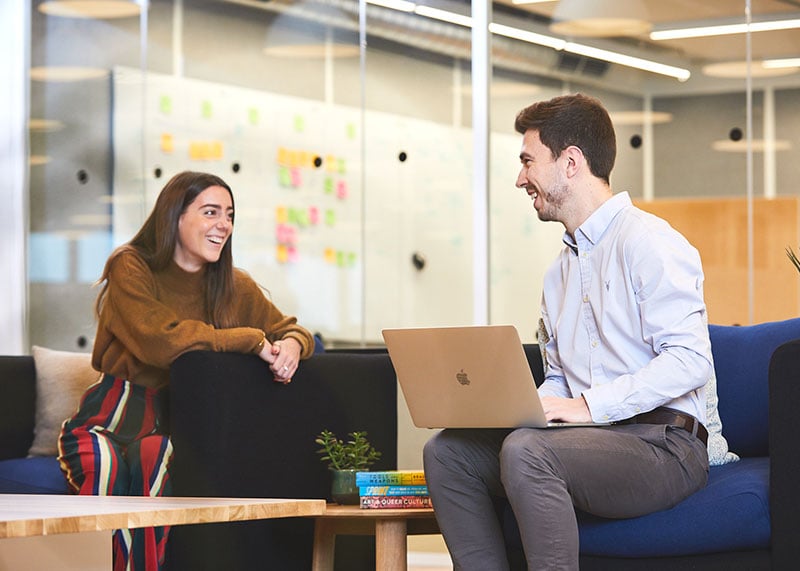 At the centre of the office is the pantry and communal area, which enables teams to work together and learn from one another. '​What this floor does is it allows two teams to connect that may never have connected,' says Brambles. ​There is also a sense of community that goes beyond the IBM floor by being in a building with multiple organisations.
The IBM team has access to 10 York Road's facilities, including the well-being studio and the library. 'The team enjoys having that diversity of spaces, where they can get out from the work environment and go and socialise and meet people from other organisations too. WeWork understood what we were trying to do, and as we went through the journey, reflecting on how our teams worked, they were adaptive,' says Sheikh. 
The result: a space where everyone can belong 
Not only does the new office cater to a diverse group of people, depending on what they need at any given time, it's also become a community that everyone can feel a part of. The IBM CIO Office has begun an initiative called Our Space, where people on the floor can ​give feedback on how they want to use the space. ​The IBM CIO team is reimagining what a workspace is and has created opportunities for everyone to help shape it. 'Belonging is a huge part of doing your best work,' says O'Rourke.  
The IBM CIO office is at the forefront of reimagining how a workspace can impact its business and are continuing to use space as a flexible and ever-evolving tool, to empower its people. 'I think the future of work is going back to what makes us human and remembering that people are not just resources. They have lives, and work is a portion of that life,' says O'Rourke.
Key highlights  
Occupies an entire floor at 10 York Road  
A location for the CIO Office that's close to IBM's current London headquarters
Custom-designed spaces that cater to a broad range of teams and ways of working  
Increased productivity  
A space that supports IBM's ambition to improve diversity in tech  
IBM has 700-plus desks across multiple locations in EMEA, including London  
WeWork offers companies of all sizes space solutions that help solve their biggest business challenges.