As COVID-19 lockdown restrictions ease and society returns to something approaching a sense of normality, employees around the world are having to adjust to an entirely new way of working.
Our office spaces are flickering back to life, freshly redesigned around a set of social distancing rules and supercharged cleaning standards. Familiar hallways now form intricate one-way systems that snake around the building, hand-sanitising stations lurk around every corner, and meeting rooms suddenly feel a lot, well, roomier.
While some people will continue to work from home at least part of the time, many employees are eager to get back to the office. The benefits of remote working are numerous and varied, but there are limitations to what can be achieved over a video call. Collaboration, culture, innovation and mentorship can flourish when teams share the same physical workspace.
So how can businesses ensure they're doing all they can to protect the health and safety of their teams when they're ready to return to the office? Every office is different, but there are adaptations most workplaces will have introduced, including:
Implementing more intensive and frequent cleaning regimes
Displaying strategically placed signage to guide workers around the office
Providing sanitisation equipment such as soap dispensers and wipes
Mandating face coverings when social distancing cannot be maintained
Above all, a set of clearly communicated and easy-to-follow social distancing guidelines will form the backbone of the reconfigured workplace. But before we take a look at some of the ways you can begin to practise social distancing at work, let's talk about what social distancing means.
What is social distancing?
Social distancing is a set of measures designed to help prevent the spread of COVID-19 by limiting physical contact between people. This is primarily achieved by avoiding crowded spaces, maintaining a distance of at least six feet (two metres) between individuals, and avoiding social interactions such as hugs and handshakes.
To boost its effectiveness in slowing the transmission of diseases, social distancing is practised alongside other preventive actions, such as avoiding touching your eyes and mouth, wearing face coverings while in public, and regularly washing your hands with soap and water for 20 seconds or more. If your internal stopwatch isn't very accurate, that's about the time it takes to sing 'Happy Birthday' twice.
Why is social distancing important?
According to the US Centers for Disease Control (CDC), social distancing is one of the most effective measures available that helps reduce the transmission of COVID-19 as society continues to safely reopen. Scientists are still learning about how the coronavirus functions, but research by global health organisations suggests that the rapid speed at which COVID-19 spreads is in part due to the behaviour of people who show mild symptoms of the disease or no symptoms at all.
These asymptomatic carriers transmit the virus on surfaces they touch and through microscopic droplets exhaled into the air. Because they feel physically healthy, they are more likely to engage in their usual social activities, such as visiting friends at home.
Social distancing is important not just because it lowers the personal risk of contracting the virus, but also because it greatly reduces the opportunity for those who are already infected to unwittingly pass COVID-19 on to somebody else through physical proximity. Social distancing is especially important for the minority of people who are at higher risk of becoming severely ill after contracting the virus, such as older people or those with underlying medical conditions, according to the CDC.
New information about COVID-19 is being discovered all the time, but one thing that experts agree on is that social distancing works. Many different factors contribute to the rate at which new COVID-19 cases emerge, but experts including the CDC conclude that when properly applied, the practice of social distancing has been a highly effective tool in slowing the spread of the disease.
WeWork has introduced a range of new measures to make sure that your team can work in our coworking spaces that prioritise health and safety while observing proper social distancing rules. On top of enhanced sanitisation measures in all of our buildings, we've modified our shared spaces to create buffer zones through staggered seating and introduced behavioural signage to guide teams safely around their workspaces. Many key WeWork features remain the same and contribute to a welcoming environment, including spacious private offices and single-occupancy work nooks.
Tips for distancing at work
1. Remain six feet apart (two metres) from coworkers
This is the golden rule of social distancing. Maintain a distance of six feet (two metres) from your coworkers whenever you can. Some other actions you can take to maintain this rule:
Break the habit of introducing yourself with a handshake or a hug
Rearrange desks to prioritise personal space; organize seating so that no two people are facing each other while they work
Give others plenty of elbow room when moving around the building
To help teams meet these new social distancing rules, WeWork has de-densified common spaces and meeting rooms to create more space per person. You'll notice improvements such as buffer zones and stickers that indicate which seats in lounges and kitchenettes can be occupied, floor signage to indicate one-way travel, and reduced capacity in lifts.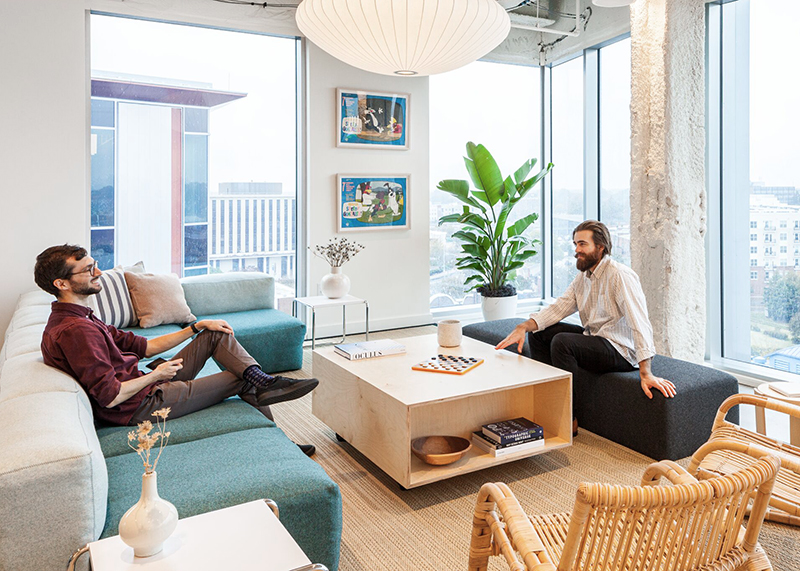 Members in private offices are encouraged to retrofit their workspace to meet social distancing guidelines by introducing physical features such as transparent partitions, as well as organisational changes, such as rotational staffing models. WeWork staff is on hand to provide advice on how to best redesign your workspace.
2. Avoid busy areas
Identify places in the building where people tend to congregate – such as canteens, kitchens, lobbies and coffee bars – and either plan around them or avoid them entirely. Consider eating at your desk rather than in a communal dining area, and time your lunch breaks to avoid the afternoon lift rush.
We've kept the amenity areas in WeWork spaces open where possible. Game rooms, pool tables and barista bars are regularly cleaned to our new, enhanced standards, while signage clearly communicates each room's unique distancing guidelines and maximum capacity.
3. Host meetings outside
Try to reduce the frequency of in-person meetings as much as you reasonably can. If you can't avoid gathering the team in one place, consider hosting it somewhere outside or in a meeting room that's been properly adapted to allow for social distancing.
At WeWork, we've reconfigured all of our meeting rooms by decreasing their maximum occupancy, removing chairs and labelling which seats should be occupied. The member app will display the new meeting room capacities, and signage on the doors and tables will remind attendees to maintain a healthy distance while using the room. Many WeWork buildings also offer outdoor areas such as terraces and gardens, which provide plenty of wide-open space for our members to meet safely.
4. Use video-conferencing tools
These last few months have seen a meteoric rise in the use of video-conferencing software. As more and more people are returning to the office, tools such as Zoom, Google Hangouts Meet and Skype will continue to play an important role in how teams communicate and collaborate, not just internally, but also with clients and customers they would previously have met with face-to-face.
If you can, use video conferencing as an alternative to in-person meetings with clients, to link up with colleagues who continue to work remotely, or even to speak with colleagues working in the same building. In many WeWork spaces, secure phone booths are an ideal way to attend video calls while remaining socially distanced from others around you.
5. Avoid sharing items like pens and printed documents
It's always been good practice to avoid printing anything you don't have to, but now is the time to avoid sharing any physical items such as stationery and printed documents around the team. Not only can COVID-19 linger on hard surfaces for hours or even days, but unless you're folding your printouts into paper aeroplanes, you'll be breaking social distancing rules when you hand them over.
This could mean restructuring your team's usual workflow to eliminate the need for passing around printed documents. Communicate the new protocol ahead of your team's return to the office, and be on the lookout for anyone absentmindedly returning to old habits.
6. Take the stairs if you're able to
Reserve the lifts for those who need them most, and familiarise yourself with your building's updated guidance on their use. In most cases, the capacity of lifts will have been reduced by at least 50 per cent, so observe social distancing while waiting in the lobby by maintaining a distance of at least six feet between you and your fellow passengers. In the lift lobbies and inside lifts in spaces managed by WeWork, floor decals will act as a friendly reminder of safe distancing guidelines.
If you're able to, consider getting into the habit of taking the stairs instead. Where it's been possible to do so, stairwells will have been made one-way, greatly reducing the chances of your passing another worker on your way to and from your desk. WeWork has worked with landlords and property managers to implement new lift guidelines and passenger limits.
7. Be aware of new signage
Just as you'll find in large department stores and indoor public spaces, offices will be decorated with various signs to help guide people around the building using a one-way system. This might mean you may be asked to take another route to avoid passing other workers in a hallway, or that your usual stairwell has been designated for up or down use only. Cooperation is really important here. The more people following the signs, the more effective the system becomes.
Here's what to look out for in WeWork coworking spaces. There are now printed notices in lounges and hallways displaying new guidance and clear instructions on best practices. On the floors and walls, you'll spot vinyl decals indicating one-way traffic flow systems, usually spaced exactly six feet apart to help you measure out a safe distance. And in common areas and meeting rooms, you'll see coloured decals that create buffer spaces between seats.
8. Speak up if something's not right
Many of the measures designed to promote social distancing in the workspace will have been designed before anyone returned to the office, so there may be a few unexpected things that only become apparent when people begin to use the space again.
If you encounter areas in the office where you feel you're unable to socially distance safely, make a note of it and discuss the problem with your team and office manager. New office layouts should be adaptable and as flexible as needs dictate, so any bottlenecks and unclear signage can be easily remedied.
9. Wear a face covering
Inevitably there will be places and situations where it's simply not possible to stay more than six feet apart, such as in a confined corridor or lift. In these moments, you should wear your mask and limit face-to-face contact as much as you can.
At WeWork, our Community teams and daily vendors will wear face coverings and gloves when they handle things such as food and post. It's recommended that you carry a mask with you wherever you go. But if you've lost or forgotten yours, speak to a member of the team. They may be able to provide you with a single-use, disposable face covering.
How to craft a social distancing strategy for your team
Understanding your office's typical capacity is at the core of an effective social distancing strategy. Before you start moving desks, changing layouts and positioning signage, you need a reliable idea of how many people will be inhabiting each part of the office at a given time. Once you've evaluated how many socially distanced workers your office can comfortably hold, you can start to design crowd control measures to help them move safely between areas.
Determine who needs to be in the office
Consider employees' responsibilities and preferences to decide who can continue working remotely and who might want to return to the office, but also consider their personal circumstances. One thing you may want to consider is if they, or someone in their family, have health conditions that might put them at risk of severe illness if they were to contract COVID-19.
Measure every work area to evaluate its capacity
Creating enough space between desks is an important starting point, but keep in mind that employees will need to be able to socially distance in every part of the office. Identify high-traffic areas such as lifts and entrances, smaller rooms such as kitchens and bathrooms, as well as the smaller spaces that surround printers, scanners and other shared facilities where people are likely to gather.
Stagger attendance by grouping employees
Avoid a full office by splitting your team into one or more groups and staggering their attendance. For instance, one half of the team might work from the office one week, then swap with the other half to work from home the next. This halves occupancy in the office at any one time, and de-densifies the space, allowing employees to socially distance more easily.
Help employees avoid public transportation
Your social distancing strategy extends beyond the office doors. Give your team the flexibility to arrive and leave earlier or later in the day to avoid peak travel times. Pay attention to any advisories issued by your city's local transport authority and incorporate its guidance into your policies. Consider offering incentives to use alternative forms of transport, too, such as cycling vouchers or credit toward rideshare services.
However you decide to shape your team's social distancing strategy, make sure the plan is communicated clearly and before anyone returns to the office. The coronavirus pandemic has transformed the office in ways nobody could have predicted, and the health and safety of everyone in the workplace is more of a priority now than it's ever been. Be flexible and ready to adjust your guidance as your team gets used to the new way of working.
Steve Hogarty is a writer and journalist based in London. He is the travel editor of City AM newspaper and the deputy editor of City AM Magazine, where his work focuses on technology, travel and entertainment.