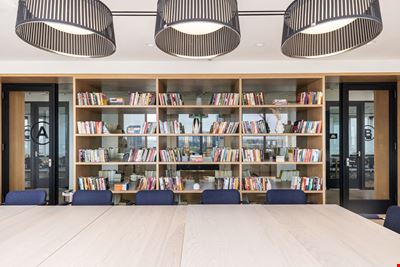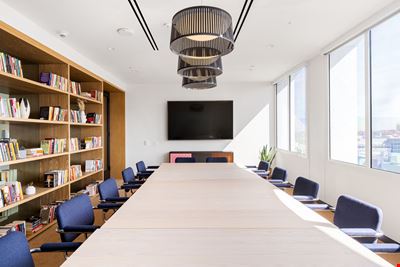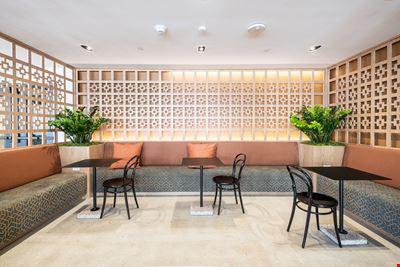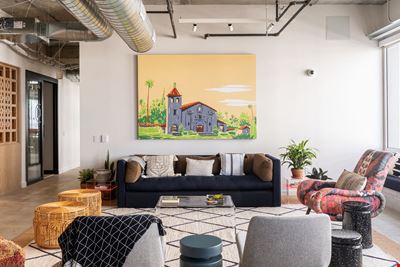 Interested in this location?
Complete the form below to book a tour or connect with one of our team members to learn more.
Available spaces and solutions
Recommended for you
Private Office
Move-in ready private workspace for teams of all sizes with your choice of shared or private amenities—plus Full Floor options available for added privacy and personalization.
Let's start a conversation
Workspace for the Day: WeWork On Demand
Book access to coworking space or a private office for the day. Learn more
Meeting Rooms: WeWork On Demand
Book conference rooms by the hour for groups of all sizes. Learn more
Monthly Membership: WeWork All Access
Access to hundreds of coworking spaces near you and around the world. Learn more
*Plus applicable taxes and fees
*Plus applicable taxes and fees
Dedicated Desk
Your own desk in a shared office. Flexible commitment terms.
Private Office
Select your move-in date and capacity to view inventory.
Full Floor Office
With private amenities and options for personal branding.
Professional amenities
Cleaning services Mother's room Bike storage Electric vehicle charging stations Event space Outdoor space Recreational games Wellness room
Learn more
Amenities
Cleaning services
Mother's room
Bike storage
Electric vehicle charging stations
Event space
Outdoor space
Recreational games
Wellness room
View all amenities
Location
75 E Santa Clara Street San Jose CA 95113
Nearby transit
Light Rail, Caltrain is 1 mile away

Third Street Garage or the Second and San Carlos Street Garage (starting at $135/month)

280, 101

17, 65, 68

Storage available
Finding Downtown San Jose Office Space at 75 E Santa Clara St
Situated amid modern urban design and quaint historic architecture in downtown San Jose, our office space on Santa Clara Street has valuable solutions to match your business needs. Spanning several floors in a light-filled building, our workspaces feature vibrant lounges for informal conversations, conference rooms for collaboration, and private offices for quiet productivity. Plus, an onsite wellness room, arcade space, and a sundrenched outdoor terrace offer multiple opportunities to take a break from the workday. Commuting is simple with easy access to major highways, the VTA light rail, and commuter trains at Diridon station just a five-minute drive away. Celebrating team wins is easy, with restaurants and entertainment in San Pedro Square nearby. Between the lifestyle of Naglee Park and the ongoing innovation at San Jose State University, this building will drive your business goals forward. Join WeWork at 75 E Santa Clara St today.
WeWork's Unique Shared Office Space in the Historic District
WeWork brings some of San Jose's best features to your shared working space. Bold patterns, vibrant colors, and references to local architecture highlight some of the aesthetic delights that make San Jose such a special city. Spacious conference rooms are perfect for team meetings and the patio is ideal for hosting networking event. Amenities at this San Jose office space include a gym with showers, a locker room, a game room, and an outdoor wellness space. That's not to mention WeWork standards—fruit water, endless coffee, onsite staff, personal help from Community Managers, and more. Valley Towers is exactly where you want to be to freshen up your workday.
What people are saying
Casey Thornsberry
October 17, 2023
I almost don't want to post five stars so I can keep my amazing view of the Capitol Corridor in the morning all to myself. I have the monthly subscription and come in several times a week. The people who work here are amazing, the co-work ...

Read more
E H
October 13, 2023
This is the most continent WeWork building in South Bay. Even if I had some issues with using WeWork keycard to access the building, the building security guard is always there, and the front desk worked very hard to get us access keycard f ...

Read more
Anthony Manalo
June 12, 2023
Awesome Staff! Something that I look forward to whenever I visit WeWork is the Nitro Cold Brew Coffee on tap. Although the cold brew tap was broken, Dana (Office Manager) went above and beyond and got me me some iced coffee. Thanks for hel ...

Read more
Narasimha G
April 11, 2023
Ollie
August 05, 2022
My favorite WeWork location. It's a hidden gem, usually not crowded (unlike the Palo Alto location), with lots of space and great amenities. Plus, the daily rate is cheaper. Win-win.