"Make no little plans. They have no magic to stir men's blood and probably themselves will not be realized. Make big plans; aim high in hope and work, remembering that a noble, logical diagram once recorded will never die, but long after we are gone will be a living thing, asserting itself with ever-growing insistency."
—Daniel Burnham, architect of the Flatiron Building

Earlier this year, I had the honor of graduating from Baruch College. This was an incredible moment for me that was 15 years in the making. I started at Baruch in 2002 just after moving to New York and launching several failed businesses. I found my passion when I met my wife Rebekah, partnered with Miguel and started WeWork. My experiences have taught me that we are all students for life and that learning from others through meaningful experiences and connections leads to a happier life. We are better when we are together.
Today, I am thrilled to welcome the Flatiron School to the WeWork family.
Flatiron is an accelerated programming school whose mission is to enable a better life through education. Founded in 2012 by Adam Enbar and Avi Flombaum, Flatiron School has worked to create a new educational model that is accessible, transformative, and delivers fulfilling careers in today's tech-oriented world.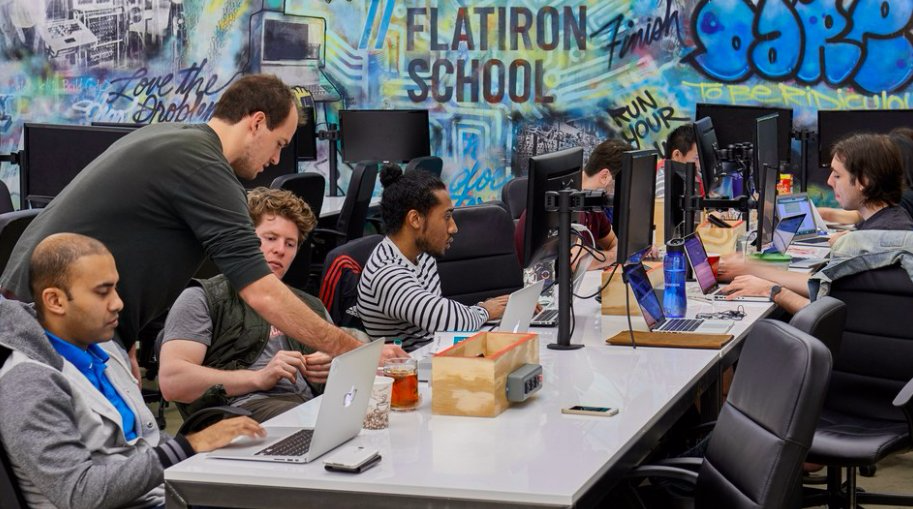 WeWork employees and members will now have access to one of the world's leading coding academies. As we move forward, WeWork will offer new Flatiron in-person courses in new locations and online through new models and new channels. WeWork's global community will be able to meet Flatiron graduates and explore new opportunities. By bringing our communities together we are creating a new way for even more people to make a life, not just a living.
Our culture is one in which we are always ready to do more, to learn more, and we are proud to expand our offering with this new platform for learning. In Flatiron, we have found a partner who shares our vision of connecting people—through space, design, technology and community—and understands that those connections are what humanizes the way we work and live. We are all students for life. I am excited to welcome the entire Flatiron School team of educators, engineers and innovators to WeWork to continue to learn, together.