NEW YORK – November 16, 2023 – WeWork Inc., the leading global flexible space provider, today announced new features to WeWork Workplace, its space management and planning software, to provide employers with enhanced visibility into where, when, and how their employees are using their offices. 
WeWork Workplace administrators now have access to a self-serve dashboard with analytics on user bookings, keycard swipes into WeWork locations, office and meeting room utilization, WeWork credit usage, and more. This information can be accessed on the platform in real time and easily filtered by location, time, and asset type. In addition to aggregated data, admins can also view detailed user-level reports.
As hybrid work schedules gain in popularity, it has become more challenging for companies to understand how employees are actually utilizing their offices. WeWork Workplace's analytics unlock insights on how much space an employer needs, where that space should be located, how it should be configured, and what employees should have access to it. Together, leaders can use this information to have informed conversations with their teams about office utilization and optimize their real estate footprints for this new world of work.
"As companies around the world accelerate their return to office, it is critical for them to understand how their employees are using the office today in order to successfully plan for the future," said Harish Krishna, Global Head of WeWork Workplace. "These WeWork Workplace updates further solidify our ability to provide members the accurate and actionable data they need to fine-tune their real estate strategies for the post-Covid world."
Key features of the WeWork Workplace analytics dashboard include*:
Occupancy & Booking Overview
A headline dashboard gives administrators a quick pulse on their teams' behavior, including the average number of people booking space and meeting rooms in the office each day, the number of people swiping into a company's WeWork locations, and how this compares to prior periods.

Aggregate Utilization by Day
Blue bars show the unique number of bookings per day, while purple bars show the unique number of keycard swipes per day. Administrators can toggle "Check-ins" to replace keycard swipes with user check-ins in the WeWork Workplace app, and toggle "Capacity" to show unique bookings and keycard swipes as a percentage of the total occupancy of the space.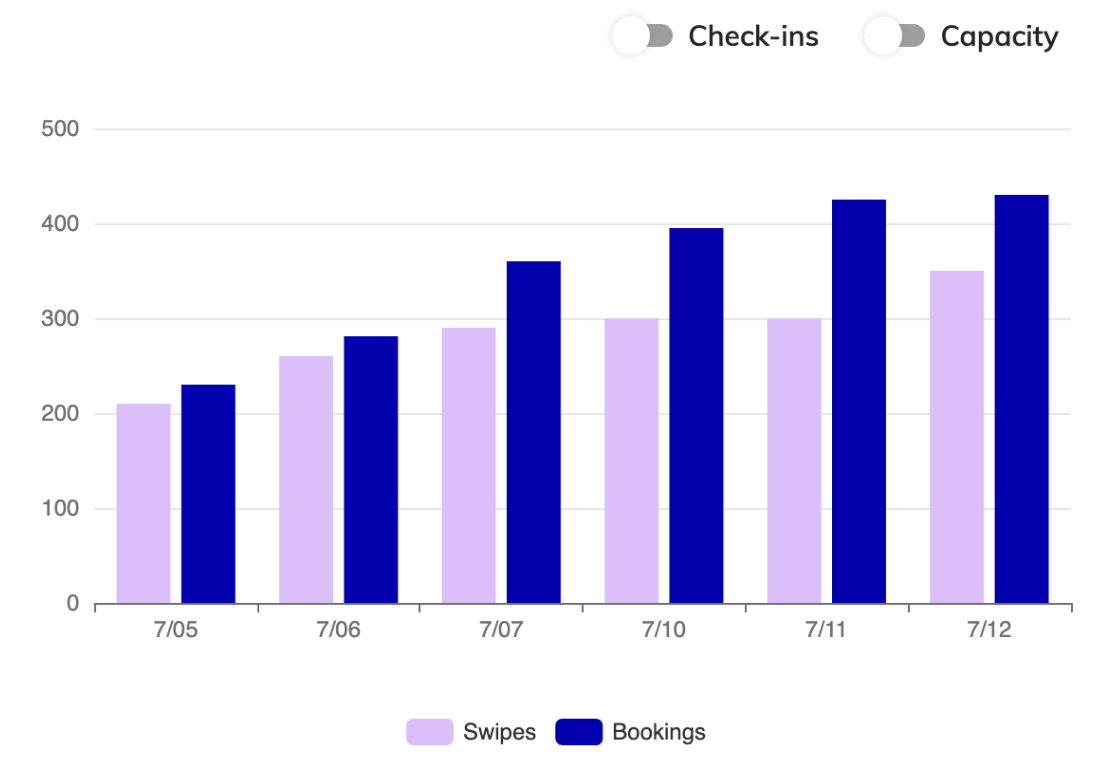 Utilization By Location & Floor
Blue bars show the unique number of bookings per location, while purple bars show the unique number of keycard swipes per location over a defined period. "Capacity" is toggled on, showing the unique keycard swipes and bookings as a percentage of the total capacity of each location.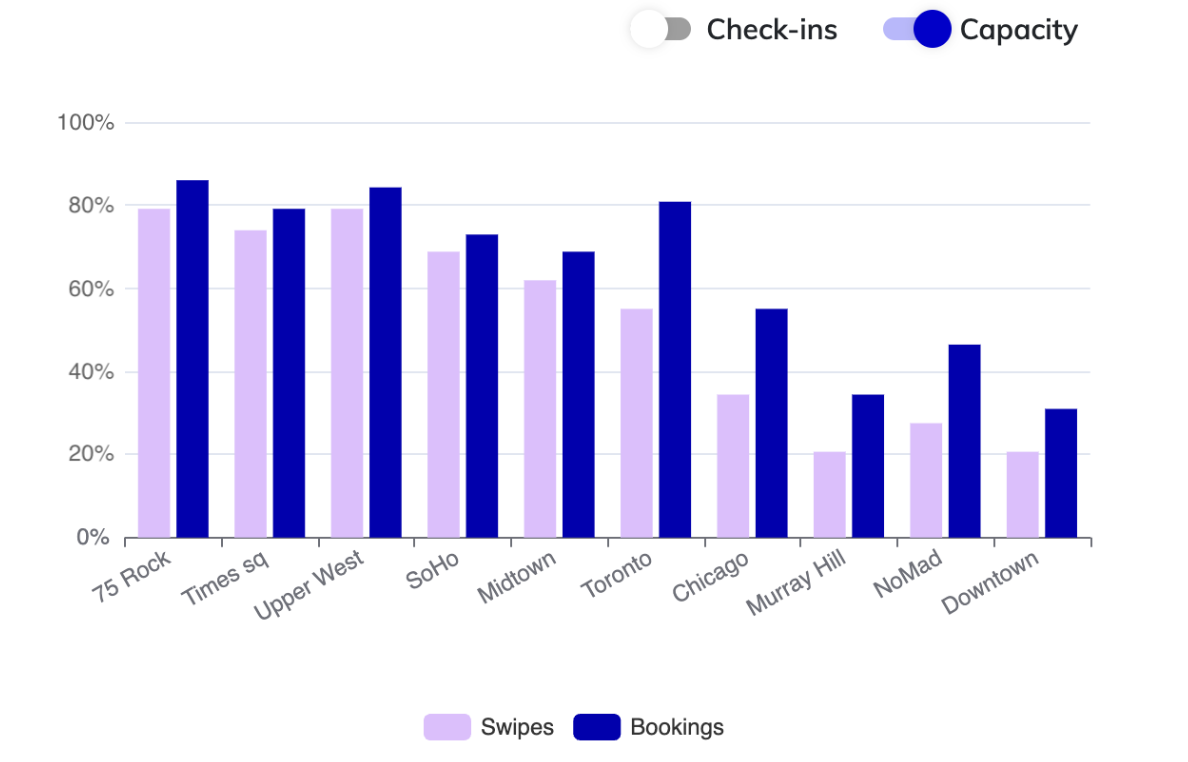 Occupancy by Day
Chart displays unique keycard swipes per location, by day of week, as a percentage of the capacity of the space. Darker hues indicate higher percentages and exclamation points indicate that the space is at capacity.

Usage Frequency By Location
Blue bars show the average number of days per week employees book office space in each location,  while purple bars show the average number of days per week employees swipe into each location.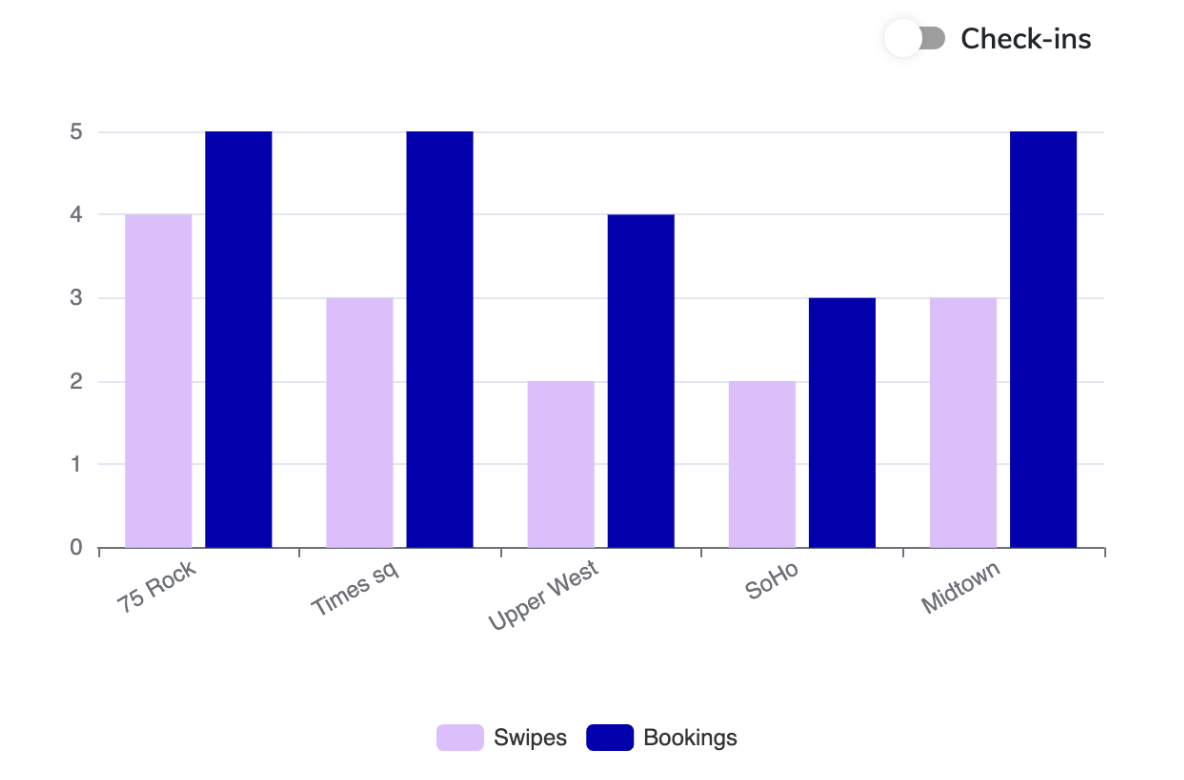 The analytics dashboard and reporting tools build on an extensive suite of existing features within the WeWork Workplace app, including desk and meeting room booking, colleague search, team calendars, and integration with Microsoft Teams. Since its launch in July 2022, hundreds of companies have adopted WeWork Workplace to make smarter real estate decisions and enhance in-person collaboration.
* All charts are based on hypothetical data and locations for demonstration purposes only. Feature availability subject to applicable law.
About WeWork
WeWork Inc. was founded in 2010 with the vision to create environments where people and companies come together and do their best work. Since then, we've become the leading global flexible space provider committed to delivering technology-driven turnkey solutions, flexible spaces, and community experiences. For more information about WeWork, please visit us at wework.com