NEW YORK, September 26, 2023 – Business leaders are crafting their hybrid and return-to-office policies to boost in-person collaboration, but say it's difficult to understand what their employees want and to manage their expectations, according to a survey of WeWork member companies released today.
With one million U.S. employees subject to newly effective return-to-office (RTO) mandates in the second half of 2023, WeWork surveyed 110 member companies representing over 200,000 full-time employees about their current RTO strategies and plans for the future in order to understand how leaders are approaching these decisions. The responses, from small businesses to Fortune 500 enterprises, highlight the opportunities and challenges of the post-pandemic office.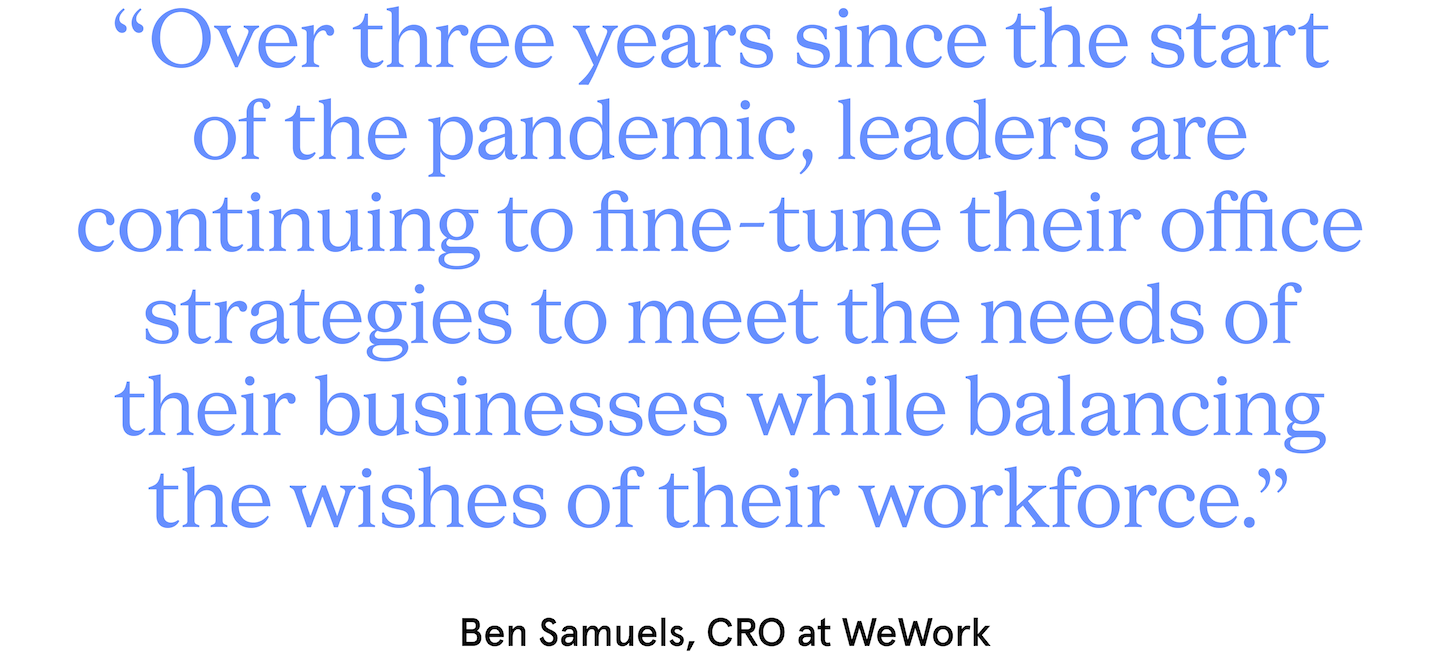 "Over three years since the start of the pandemic, leaders are continuing to fine-tune their office strategies to meet the needs of their businesses while balancing the wishes of their workforce," said Ben Samuels, Chief Revenue Officer, WeWork. "There is no one-size-fits-all approach to the return to office, which is precisely why flexibility is proving to be such a powerful asset during this period of change and experimentation."
Here are the top findings from WeWork's survey:
Hybrid schedules dominate, but more in-person work is on the horizon
Hybrid schedules have become the most popular return-to-office policy, with a majority (55%) of employers classifying their current RTO policy in this category. Under a third (32%) say they are remote or remote-first, with office space available for employees to access as they wish, while just 10% of companies are in-person full time. Employers expect in-person attendance to increase, though, with 21% planning to require more time in-office over the next 12 months. None plan to require less time in the office.

Decision makers are largely confident in their return-to-office policies
Three quarters of employers are confident in their RTO strategies today, and a similar number (70%) say they won't change these policies in the next 12 months. However, confidence varies depending on a company's current RTO policy. 100% of companies that require their people to be in the office full-time are confident in their approach – significantly more than remote and remote-first companies (75%) or hybrid companies (68%).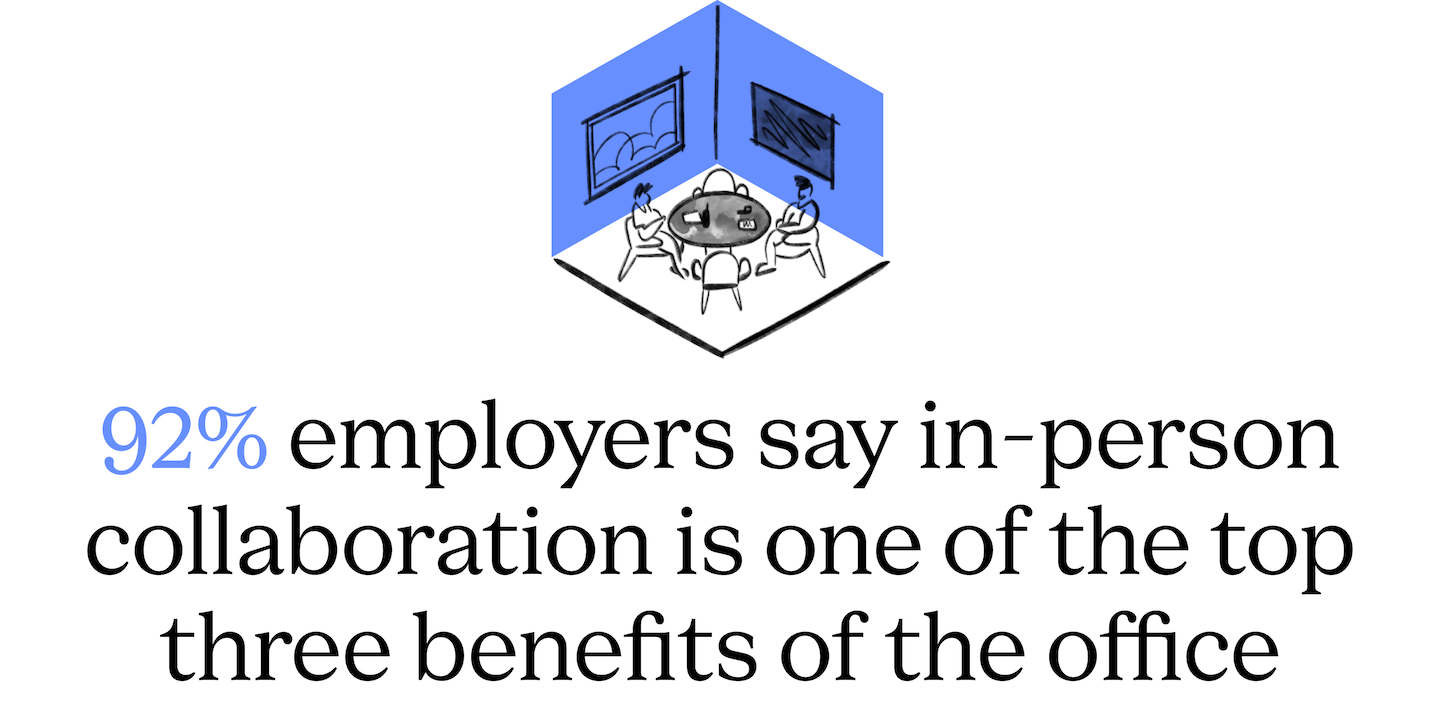 Employers want more in-person collaboration
Employees are top of mind as businesses assess their RTO strategies. A plurality of companies (35%) say the primary driver behind their return-to-office policy is that they want their workforces to collaborate more in person. Relatedly, nearly all employers (92%) listed increased in-person collaboration among the top three benefits of employees being in the office.
Managing employee expectations is the biggest RTO challenge
While employers see clear benefits in increased office attendance, getting there is not without its challenges. Nearly a third of companies (31%) say that the most difficult part of RTO planning is managing employee expectations. While only 8% of leaders say that understanding what their employees want is the hardest part of planning, nearly half (48%) rank it among the top three most difficult aspects.
Cost is also a key consideration, with over a quarter (27%) of leaders labeling it the hardest part of RTO planning, but this varies widely based on company size. 30% of small and medium-sized businesses (less than 500 full-time employees) consider it the most difficult factor, while just 14% of enterprises (500+ full-time employees) said the same, reflecting the importance of flexible pricing and terms for smaller companies eager to return to the office.
*Survey Methodology
Findings are based on responses from 110 WeWork member companies in the United States and Canada who were surveyed between July 7 – August 1, 2023. Respondents met at least one of the following criteria: WeWork All Access members with 10+ passes, private office members with 10+ desks, and/or WeWork Workplace members with over 30 full-time employees. Respondents comprised 71 small and medium-sized businesses (less than 500 full-time employees) and 39 enterprises (500+ full-time employees), which collectively employ over 200,000 full-time employees.
About WeWork
WeWork Inc. (NYSE: WE) was founded in 2010 with the vision to create environments where people and companies come together and do their best work. Since then, we've become the leading global flexible space provider committed to delivering technology-driven turnkey solutions, flexible spaces, and community experiences. For more information about WeWork, please visit us at wework.com.