There is a revolution at work. For the first time in history, more than half of the world is living in cities—seeking community, purpose, and the opportunity to be a part of something greater than themselves. By 2050, two-thirds of the global population will be urban dwellers.
How we will navigate the future of work and cities to progress toward a new economy—that uplifts all people and all communities—is one of the most important questions of our time.

WeWork answers this call by empowering people and businesses to pursue their purpose, supporting a positive economic ripple effect in our neighborhoods and cities.

Over the past nine years, our members have flourished, and with their success, entrepreneurs have become small businesses, and then big enterprises. The WeWork community is having an impact all over the world, and our members are leading with action, working together to dream up, build, and create the future.

Today, in partnership with HR&A Advisors—the industry-leading real estate and economic-development consulting firm—we are excited to release our first annual Global Impact Report, measuring the economic effect of our community in 75 cities around the world.

WeWork helps members and businesses to save, grow, and thrive. WeWork provides flexible, high-quality spaces at a significant cost saving. Over a year, a company of four can save $24,000 on occupancy costs, on average, over traditional commercial real estate. WeWork members not only save—their companies grow and thrive: 54 percent credit WeWork with accelerating their company's growth.

But growth isn't just about the bottom line. Eighty percent of WeWork members report increased productivity since joining, and in the U.S., members who have started a business are 13 percent more likely to survive after three years than their peers who aren't WeWork members.

In Washington, D.C., Nathan Kigenyi—founder and creative director of Capture Create Media, a member at WeWork Metropolitan Square—says, "Our studio is strategically positioned, giving us the opportunity to showcase our work in real time. This advantage allowed us to grow our business by 75 percent in the first year."

WeWork fosters business growth and innovation in the cities in which we operate by offering mentorship and programming to our members. With WeWork Labs, we are supporting a global network of startup ecosystems, playing host to 1,000 startups operating in 49 locations in 32 cities across 15 countries.

The Fortune 500 are joining this movement. Over one-third of the Global Fortune 500 are WeWork members, having joined in search of global scale and flexibility, access to talent, and community. Forty-nine percent of enterprise WeWork members say that WeWork has helped them enter new markets.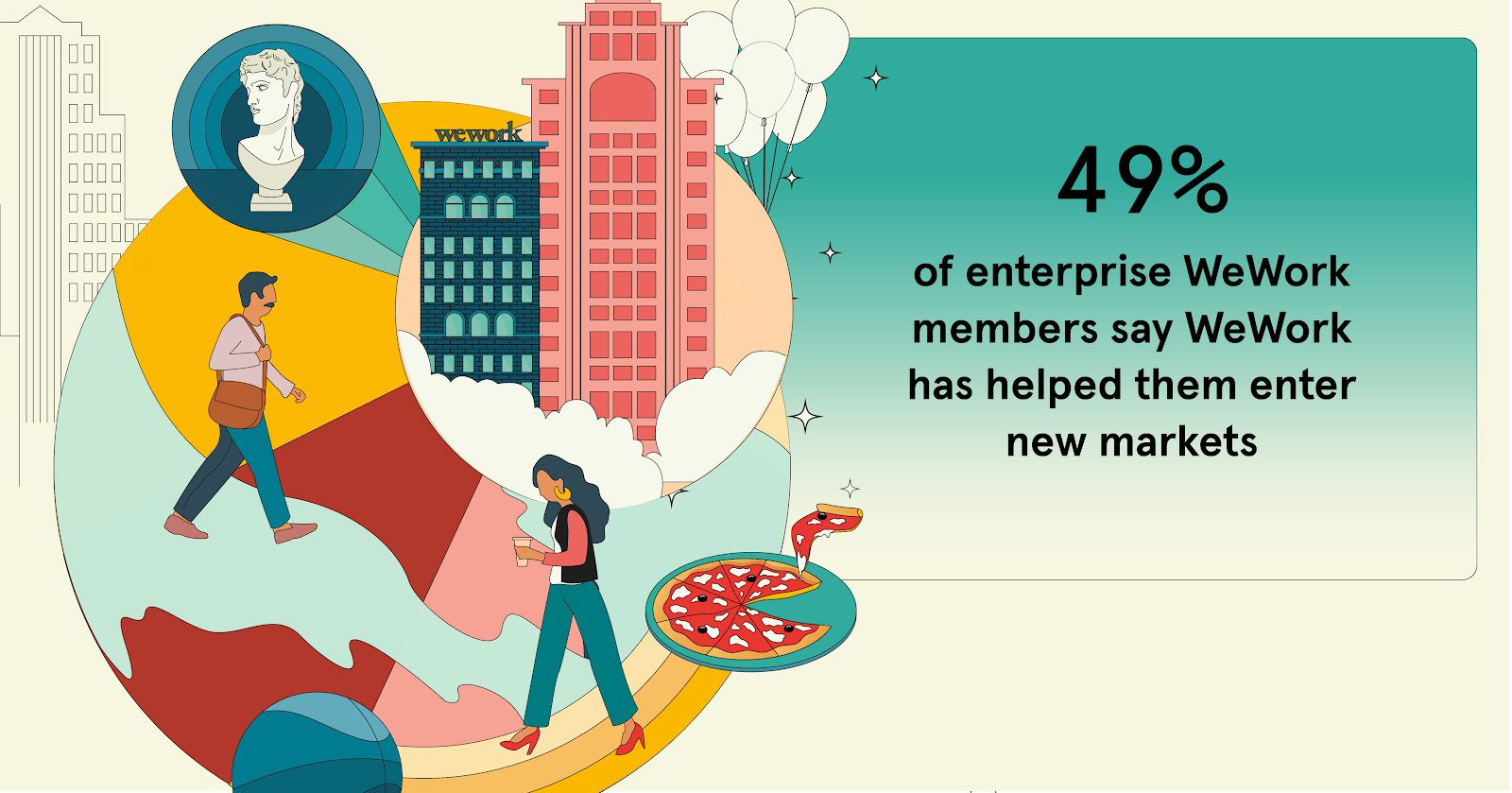 Getaround—which has space in 12 WeWork locations around the country—is using WeWork as a launchpad in new cities. "It's been an important part of how we've been able to rapidly scale our team and operations in new markets," says CEO Sam Zaid. "It's not just about the space—having a community of over 400,000 potential users is invaluable to our growth and to achieving our mission of bringing sustainable car-sharing to people everywhere."

Getaround isn't alone: 44 percent of enterprise members have locations in more than one city, and on average, the largest 25 enterprise members have members in 10 cities around the world.

Enterprise members are using WeWork not only to enter new markets but also to access key talent: 86 percent of members have a bachelor's degree or higher. "WeWork has enabled us to hire great talent that we otherwise wouldn't have been able to," says Leslie Kurkijian Crowe, chief people officer at TripActions, which operates in five WeWork locations across the U.S., UK, and the Netherlands. "Instead of being siloed in our Palo Alto headquarters, we now recruit the very best talent in cities all over the globe."

WeWork brings new people, businesses, and economic activity to neighborhoods. Seventy percent of WeWork members are new to the neighborhood, and one in 10 has moved closer to their WeWork locations since joining. This means more business for neighboring shops, cafes, restaurants, and pubs.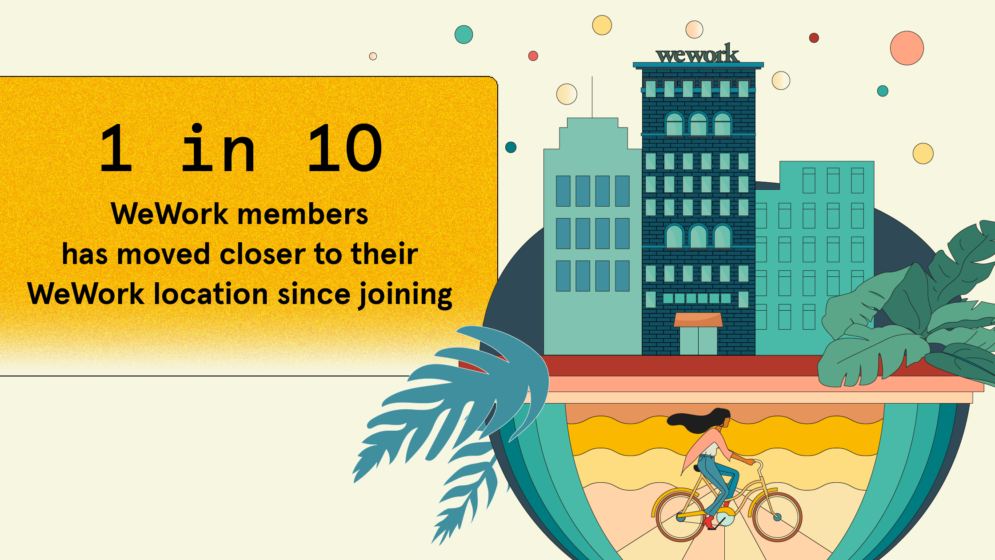 In Paris, WeWork draws more members to new neighborhoods than anywhere else in the world: 84 percent are new to the neighborhood in which they work. "Thanks to WeWork I have discovered a new neighborhood and created new daily habits," says Ingrid Libbrecht, founder of La Parigotte and a member at WeWork 33 Rue la fayette. "I have now found my new favorite coffee shop, after-work bar to meet friends, and restaurant in Paris."

All these new neighbors also mean more in-person connection and community. This year WeWork is on track to host hundreds of thousands of events, from wellness experiences to speaker series and networking opportunities.

The WeWork economy is helping fuel innovation and small-business growth. In major U.S. cities, one in eight first-time entrepreneurs are building their businesses in WeWork, and 83 percent of WeWork members in the U.S. are in the innovation economy—high-growth sectors such as technology, creative and professional services, and advanced manufacturing—compared to 15 percent in those cities.

Simply put, WeWork helps cities create communities of innovation, entrepreneurship, and creativity.

"WeWork has created the physical-world equivalent of a digital platform, creating value by imprinting design onto physical space, which leads to network effects at both the individual and institutional levels," says Arun Sundararajan, a professor at New York University's Stern School of Business and the author of The Sharing Economy. "Its global constellation of companies and entrepreneurs allow members to tap into and realize value from these economic spillovers, within their local communities and across cities."

In Bogota, Colombia, where 23 percent of WeWork members are first-time entrepreneurs, David Lancheros, CEO of Imagine Apps and a member at WeWork Calle 93 #19-55, says, "Thanks to the connections we have been able to make within the WeWork community, my learning process as an entrepreneur has accelerated, and 25 percent of our current clients are WeWork members. This has contributed to the exponential growth of our company."

A powerful economic multiplier for cities. The WeWork economy creates a 2.2 economic multiplier for cities in the U.S., meaning that for every 10,000 WeWork members, an additional 12,000 jobs are created through direct and indirect spending. Globally, the average economic multiplier is 1.7. This "multiplier effect" is responsible for millions more in spending and taxes—a boon to local and state governments.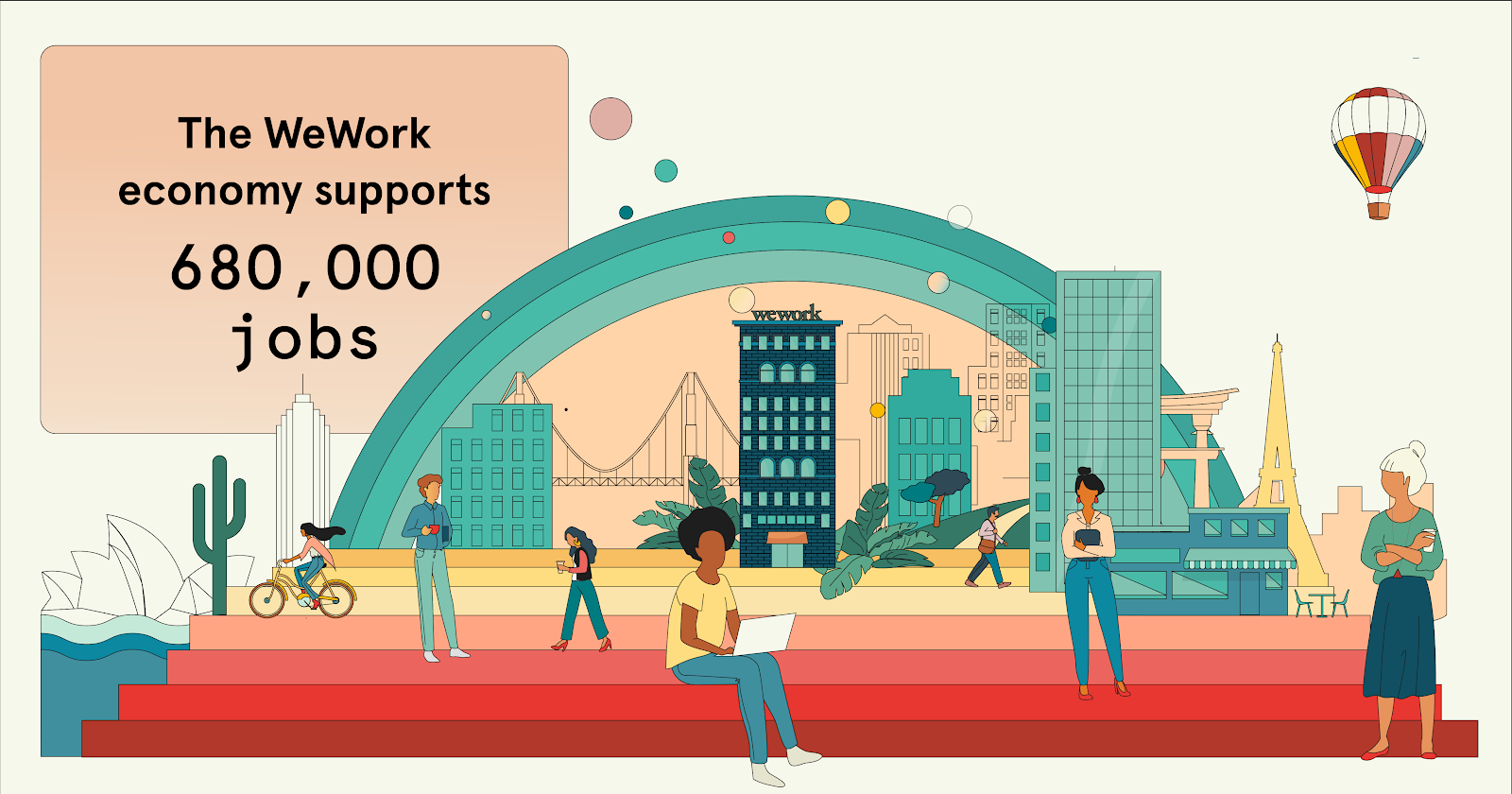 Injecting billions into city economies. The WeWork economy is big and getting bigger, supporting $122.3 billion of GDP worldwide—roughly the size of the economies of cities like Vancouver, Dublin, or Austin.

Impact beyond WeWork. This story is bigger than work. And it is a story about all of us.

By working with cities and our communities, together we can reimagine not just how we work, but how we live and grow, and in doing so help our cities become more sustainable, human, and inclusive centers of community and opportunity.

What people want from work is changing, and what they expect from life is changing. They are yearning for connection in a world that increasingly feels disconnected.

The We Company is building the first global physical platform designed to bring people together to pursue their purpose.

Together, we're just getting started.