A "jackpot in your pocket" is the clever idea behind Peter Sullivan's latest venture, Jackpocket. The eponymous app, which is transforming the $80 billion U.S. lottery industry by allowing people to play through their mobile phones, sprang from WeWork Labs in 2012. 
Traditionally, the biggest friction in playing the lottery is the time spent going into a physical retailer, purchasing a ticket, and keeping it safe for the drawing—and if you're lucky, the collection of the prize. Jackpocket removes that friction as the first third-party app in the U.S. to offer players a secure way to remotely buy official state lottery tickets. Jackpocket helps lotteries drive incremental revenue—benefiting essential state programs for public education, veterans assistance, natural resources, and more—while attracting new customers like millennials. It has seen rapid growth in the past seven years and now covers three states—Minnesota, New Hampshire, and Texas—with plans to expand to more.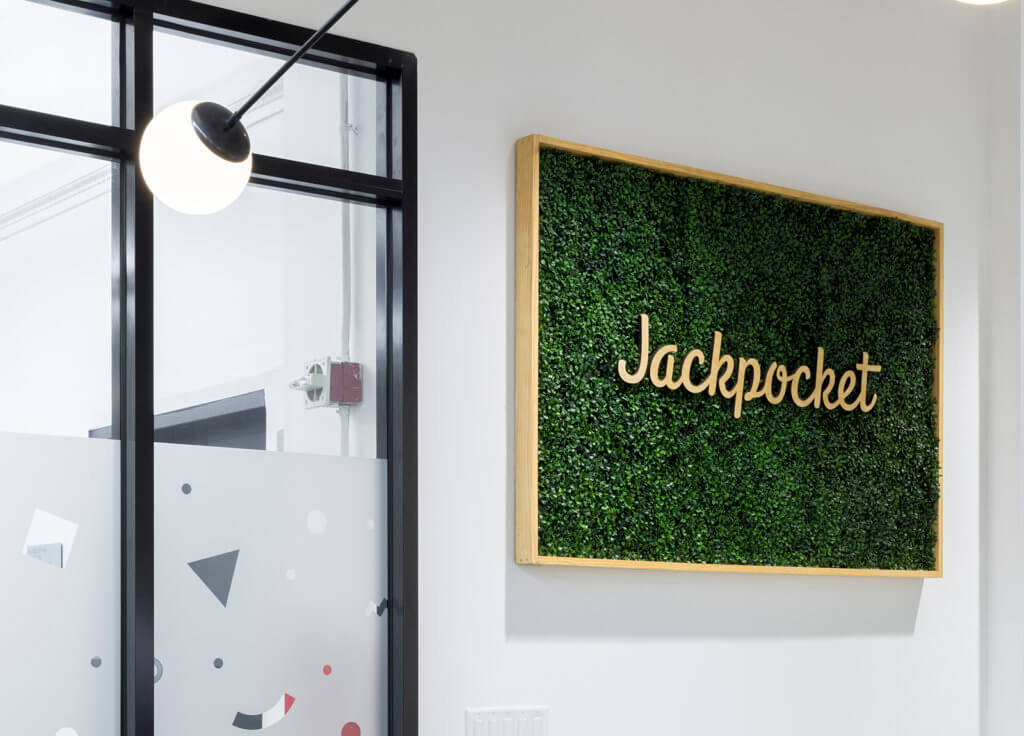 That same ambition has pushed the company from an idea at WeWork Labs to a thriving business, one that outgrew its first few offices at New York's Varick and Bedford Street WeWork locations and is now in its official headquarters located across from Bryant Park. But going from one employee to dozens isn't what makes Jackpocket's growth fascinating; instead, it's the intention with which the company set out to grow.
Growing into a custom private office in a flexible workspace
When trying to foster innovation in an industry filled with restrictions, regulations, and a complex hierarchy of decision-making, it's vital to build a team and culture that keep momentum going through every "no." Jackpocket hired strategically, focusing on both a high level of patience now and enough rapid adaptability for the future. The same principle informed its office journey. By bringing in WeWork to build out its latest office space through the headquarters by WeWork service, Jackpocket received all of the benefits of a flexible workspace with the longevity and organic employee engagement of a truly custom private office.
With headquarters by WeWork, Jackpocket found a space that could scale with the company's growth while remaining both a familiar home base and a reflection of its brand: simple, elegant, and fun. The location currently houses 36 employees plus a dog, Maybelle, the office's "chief treat officer." Instead of just an open floor plan with rows of desks, the company added its own music corner and custom arcade machine—and enough space to support the company's massive goals to bring Jackpocket to more states this year.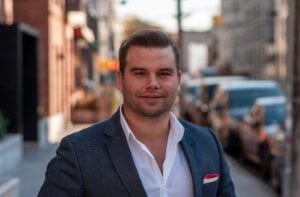 We needed a space that could support our growth and help us continue to foster our identity. We felt the ethos and aesthetic of headquarters by WeWork would reflect our look and feel as a playful but polished organization.

Peter Sullivan, Jackpocket founder and CEO
Why Jackpocket has stuck with WeWork
WeWork Labs offered guidance to get the Jackpocket idea off the ground and served as a soft cushion for the bumps along the way. In fact, Sullivan met Jackpocket's CTO, Leo Shemesh, at WeWork Labs. They were sitting across from each other and got to talking. WeWork Labs Cofounders Jesse Middleton and Matt Shampine were also some of Jackpocket's earliest investors. WeWork Private Offices provided a flexible workspace with all of the logistics taken care of: internet, printing, housekeeping, while providing a community and sounding board, which can often be missing in a small-headcount organization.
Today, headquarters by WeWork offers a spatial confirmation of the company's success. The company has no shortage of funding, but rather than take on a long-term lease, pay for a fully custom ground-up build-out, and place its financial focus on something besides growth, Jackpocket went with a low-stakes, high-reward approach to its headquarters. It's a place to work proudly, think deeply, and collaborate with a team that's destined to bring responsibility, efficiency, and ease to the lottery community worldwide.
Interested in full-floor offices in less time and with less capital? Get in touch
Headquarters by WeWork is a private office built for you, managed by us. If you're interested in learning more about headquarters by WeWork, let us know below, or ask your broker and we'll reach out.