You might already know that WeWork powers the real estate portfolios of enterprise corporations, but before our global growth, WeWork was a startup, just like many of our current small business members. This uniquely positions us to understand what those companies need to succeed. In fact, 54 percent of our members globally credit WeWork with accelerating their company's growth.
We believe that access and community form the foundation of success for small businesses: access to what you need when you need it, whether it's talent, resources, or specific assets; and a community to support you every step of the way. The office space you choose for your business should help you with both. This could manifest as an affordable space for your company in a convenient location. Space with flexible commitment terms and room to grow. Space to innovate, to try new things and learn from what works. Space to meet and connect with like-minded business decision-makers. Space to host clients. A space to belong.
Yet, even when you believe you've found that ideal space, moving into it is costly—causing stress for even the biggest companies. For a small business, where every dollar counts, you need to feel sure that you're making the right decision. So how can small businesses trust they've found that perfect balance of access and community?
Six factors to consider when selecting a new workspace
When selecting a new space for your business, consider these six factors to make sure you're getting maximum value.
1. Is your workspace as agile as your business?
Today, businesses of all sizes must be agile, yet real estate often hinders this. The cost of sourcing and obtaining real estate is one of a company's largest expenses, second only to payroll. The money that a company spends on real estate is cash that otherwise could be spent on hiring talent or launching growth initiatives. In the past, a bad office space decision could follow a company for years, sometimes decades, into the future. But with agile real estate, you pay only for the space you need—freeing up valuable funds. For example, if your team is currently 10 people but expected to grow to 20 in a year, you can pay for a 10-person space until it's time to expand. At that point, you can add additional space for your new employees.
2. Is your workspace allowing you to focus on what matters?
As a small business owner, do you spend more time than you'd wish to on office logistics and operations? Have you had to source a space, then hire contractors to build out and decorate it? Has your time ever been occupied with fixing coffee makers and ordering supplies? If the answer to any of those questions is yes, then you may benefit from a workspace provider that handles these tasks so you can focus on your business.
3. Does your workspace provide the technology your business requires?
In order for your space to enable your employees to do their best work, it needs to be equipped with the right technology, such as high-speed Wi-Fi, printing, security, and video-enabled conference rooms. In this way, you and your team can connect with one another as well as your clients (and potential clients). A workspace should offer all of this and more without additional lift from you—right down to IT to make sure it's all running smoothly.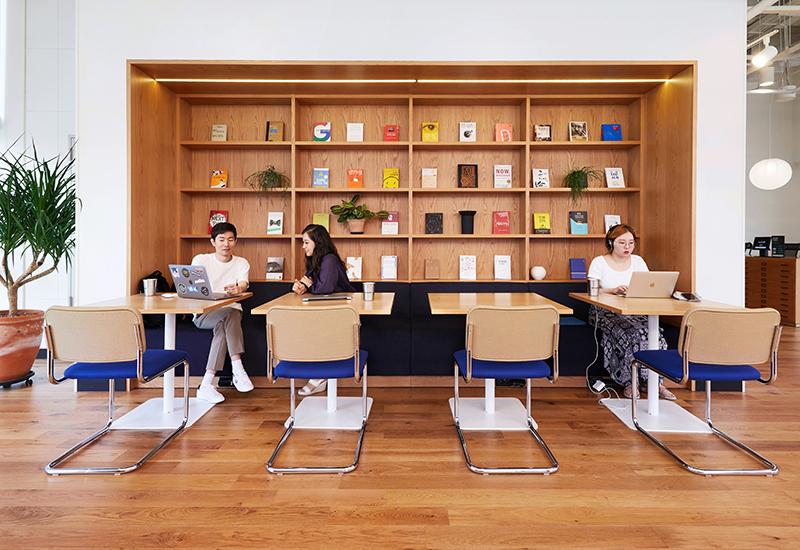 4. Can you ensure your workspace will help you attract top talent?
Your workspace should be more than just a place where employees gather; it should be an ecosystem that supports productivity and focus. The ideal workspace has a positive vibe that energizes employees. The high-quality design should also support wellness with plants and plenty of natural daylight. It should also inspire innovation by providing mental stimulation, encourage movement and activity, and provide little moments of surprise and delight with beautiful artwork with local touches. In addition, your workspace should have a variety of space types so you can choose when and where you work, whether it's in a common area designed to fuel connection and collaboration or a quieter area for heads-down work.
5. Is your office location convenient for you and your team?
When it comes to an office commute, time is money. That's why it's important to select a strategic location for your workspace, close to public transportation, with easy access from airports. To ensure this, the buildings themselves should be in central locations in prime buildings—which means increased quality and convenience for your teams. Plus, think of how impressed your clients will be when they visit your new office in one of the most sought-after areas of your city.
6. Does your workspace include a community to support and grow your business?
Small business leaders and their teams don't have to go it alone. It's important to consider joining a workspace with built-in community. This community becomes your extended network, from which you can source talent, vendors, partners, and advice.
Whether you need a hot desk (a guaranteed place to work from a WeWork location), a dedicated desk, or a private office, WeWork meets all six of these factors. Our agile real estate solutions, amenities, technology, community, and intentionally designed workspaces in prime locations help you and your employees do your best work and focus on growing your business.

WeWork empowers small businesses, startups, and individuals to focus on doing their best work by offering premium workspace at the best value with the flexibility to grow and evolve their business. Reach out to us today to learn more.
Marnie Williams was a global content marketing manager at WeWork. She writes about the intersection of business and real estate. Previously, she created data-driven editorial and video at Oracle.