NEW MEMBER OFFER
Try WeWork All Access at a special rate for the first 3 months
Learn more
Minneapolis may be part of America's heartland, but the city draws more than just professionals in the manufacturing and farming sectors. Minneapolis is a welcoming place for anyone seeking a mix of bustling city life and small-town charm and hospitality. The only problem: With so many flocking to the area, finding an affordable office space is becoming harder and harder.
Coworking spaces provide the perfect solution. These flexible office spaces offer a sense of community for those who enjoy traditional settings, as well as the agility to work from multiple locations so workers aren't chained to one desk in one place. And for young businesses, it's a great setup—you'll be able to house your team in startup offices in Minneapolis without having to worry about long-term leases, steep up-front costs, and all the overhead.
Check out the best coworking spaces in Minneapolis, designed to help your business succeed.
Downtown West
Capella Tower
WeWork All Access starting at: $299 per month
Workspace starting at: $29/day
Conference Room starting at: $10/hr
Nearby Transit: Lightrail; Northbound bus
Cross Streets: S 6th St & 2nd Ave S
Energetic professionals will feel right at home in a coworking space in the Minneapolis neighborhood of Downtown West. The high-energy area is home to successful media and financial companies that will motivate you to take your business to the next level. Need a break? Get some fresh air at nearby Government Center Park, or visit a local coffee house and independent roaster for an afternoon pick-me-up.
You'll also be in close proximity to the City Center mall for retail therapy, as well as The Armory and Skyway Theater for live entertainment. There are also a variety of eateries to choose from, including fast-casual restaurants as well as midrange American and Middle Eastern fare. Need to impress a client? There are a number of high-end steakhouses in the area, suitable for wooing new business or celebrating successes. With so much around, you can focus on what you do best—building your brand.
Choosing a shared office space in Minneapolis at Capella Tower means basking in modern aesthetics inside and out. The facade is all glass and metal, with a sleek look any professional will admire. Inside, you'll find open, airy common spaces with comfy furniture so you can work wherever you feel most focused. Private offices are available for those who prefer to work on their own, while others who thrive on the energy of being around their peers can opt for a dedicated desk in a shared, lockable space.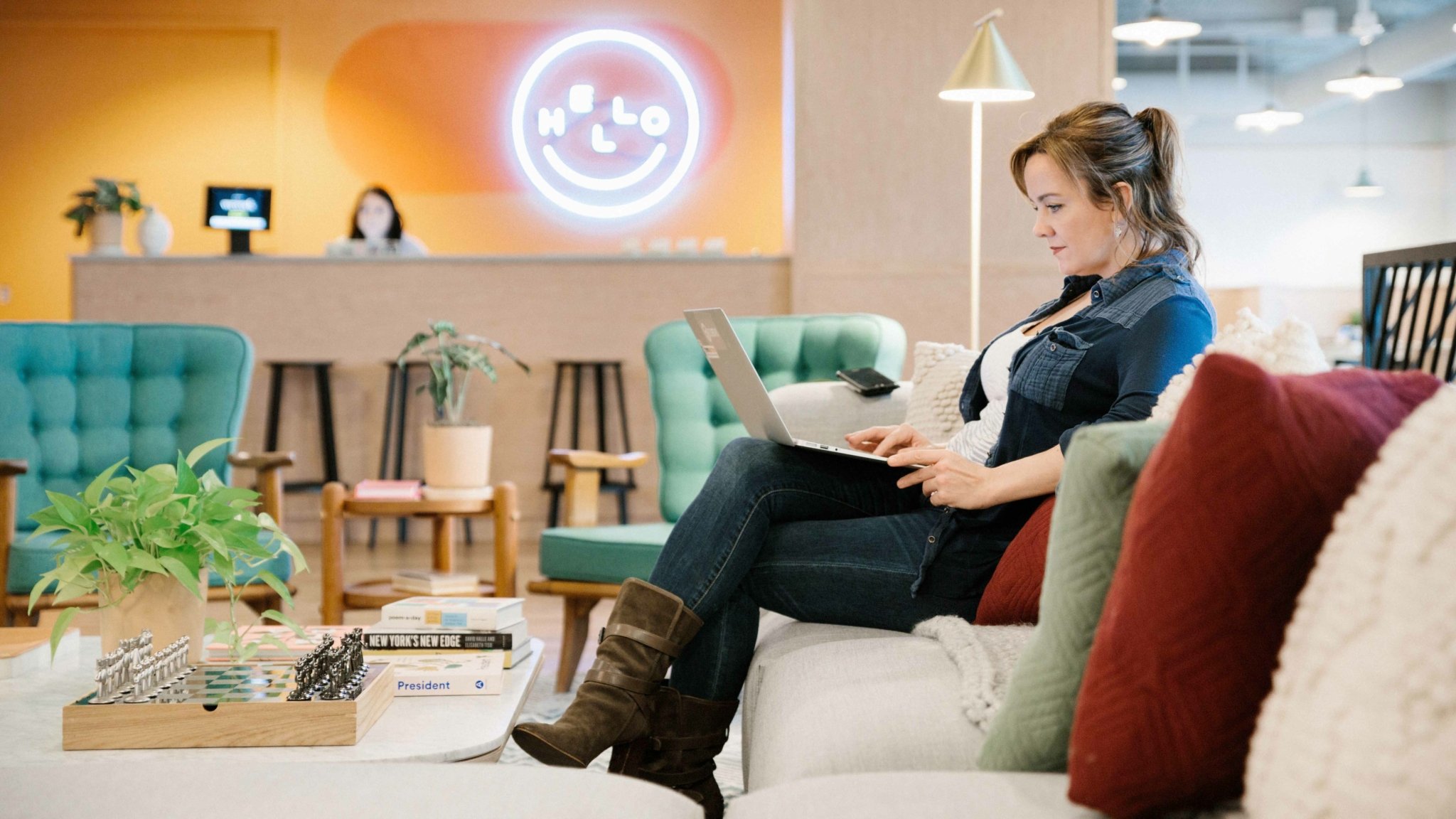 Those in the market for startup offices in Minneapolis will find exactly what they need here—full-floor spaces dedicated to your company that can house your entire team but also be customized with your own branding so it'll truly feel like your own. Just need a space to brainstorm for a while? Conference rooms are available to rent for as little as $10 per hour. Those who prefer to commute to the office by bike will appreciate the on-site bike storage at this location, as well as in-house showers for those who need to refresh after a particularly vigorous ride. Capella Tower also has a fitness center, so you can easily keep up your gym routine without having to take additional time out of your day.
The outdoor space offers the perfect location for laid-back meetings or just a quiet break. But if you need something more serene, the wellness room is a private, lockable space where workers can find their peace. Recreational games allow for multiple ways to blow off steam, so you can return to work feeling refreshed, and the event space is where you can attend community-hosted gatherings. Meet your peers, mingle, and network—you may be surprised by the kinds of connections you'll form that can help you elevate your career.
Warehouse District
729 N Washington Ave
WeWork All Access starting at: $299 per month
Workspace starting at: $29/day
Conference Room starting at: $10/hr
Nearby Transit: 14 bus at Washington Ave & 8th Ave N; Nice Ride Station at 2nd St & 4th Ave N
Cross Streets: N Washington Ave & 7th Ave N
Professionals who appreciate an industrial vibe will feel right at home with a coworking space in the Minneapolis Warehouse District. There are numerous apartments nearby, so this location is ideal for those who live in the area and don't want a long commute. Despite the neighborhood's industrial vibe, there's still plenty of charm to see and fun to be had. You'll find original dining options in close proximity to these shared office spaces, including seafood, American cuisine, and other healthy fare. There are also a few hotspots that are ideal for post-work drinks, from standard bars to a brewpub. If you want to maintain your fitness routine, the Alchemy 365 North Loop gym location is about a five-minute walk away. But if you prefer a more outdoorsy form of fitness, the Mississippi Walking Trail is less than 15 minutes away by foot. Want to treat your team after achieving a milestone? Catch a hilarious routine at the Acme Comedy Club or a live show at the Lab Theater—both a short walk away. Working here means you won't have to venture very far to find what you need, which gives you more time to focus on building your business.
The exteriors of these shared office spaces in Minneapolis blend with their industrial surroundings, but inside it's a different story. There you'll find stylish, bright spaces and accents that are downright chic. Choose between private offices and dedicated desks, or book a conference room for as little as $10 per hour.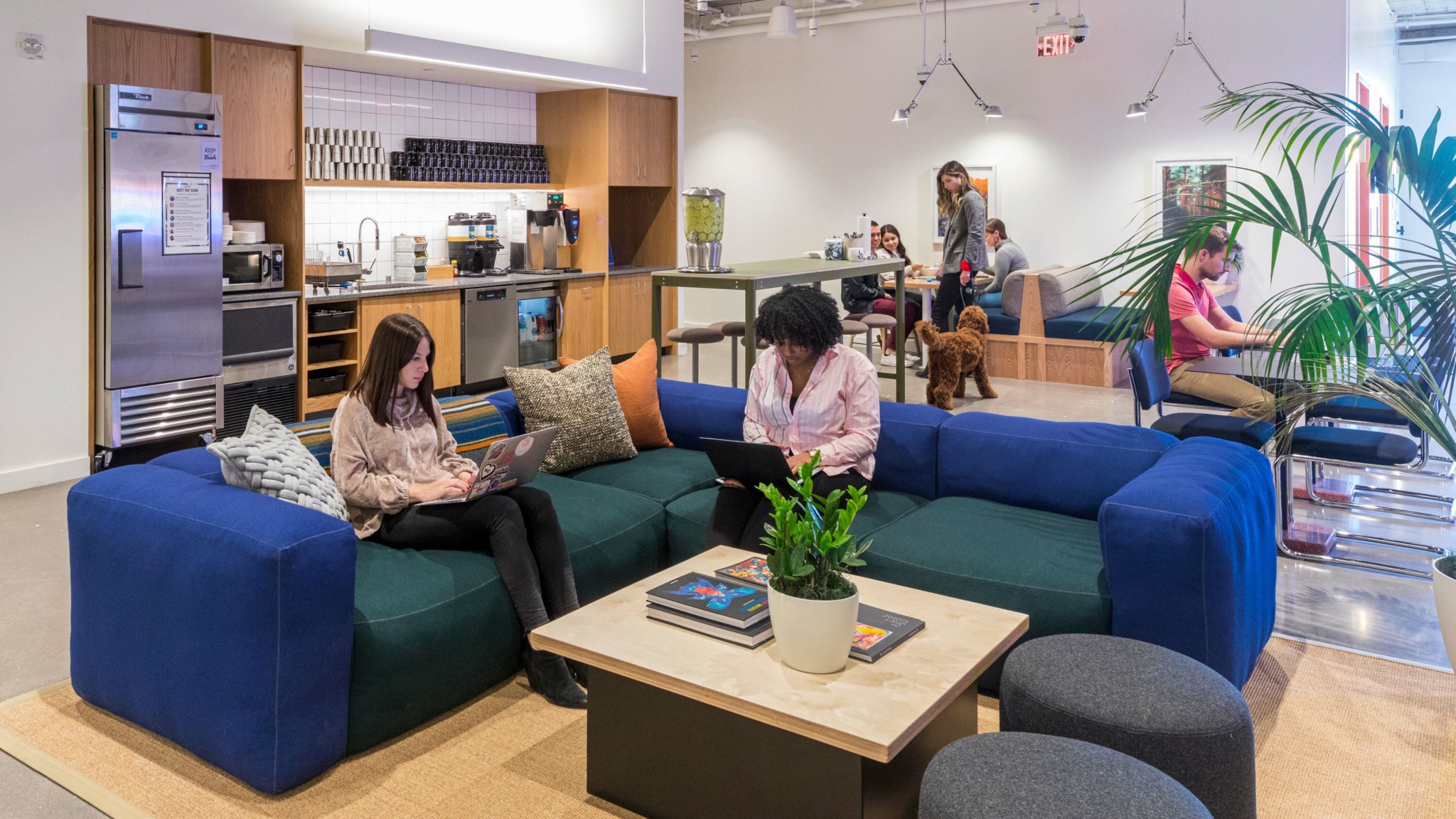 The amenities in this Warehouse District location are so nice that you can easily spend all day every day here and not have to worry about leaving for anything except going home at the end of a productive day. It's dog-friendly, so you can bring your furry pal to work with you, and the outdoor space and wellness room offer reprieves during a busy day. New moms will feel comfortable with access to the mothers' room, a private, lockable area equipped with a sink and refrigerator for convenience.
Have an active lifestyle to maintain? In-house fitness centers and showers ensure you can do just that without having to take extra time out of your day to hit the gym—even though there is one close by. The food hall provides delicious meals with seasonal menus, and recreational games and the event space offer relaxed settings to connect with your peers. With so many resources at hand, you'll find all the inspiration and motivation you need.
Uptown
1330 Lagoon Ave
WeWork All Access starting at: $299 per month
Workspace starting at: $29/day
Conference Room starting at: $10/hr
Nearby Transit: 12, 17, 612 buses at Hennepin Ave & Lagoon Ave; 21, 23 buses at Fremont Ave S & Lagoon Ave; 53 bus at Lake St & Girard Ave S; Nice Ride Station at YMCA Uptown
Cross Streets: Lagoon Ave & Hennepin Ave S
Ambitious professionals will be drawn to coworking in the dynamic Minneapolis Uptown neighborhood. The area is a hub for global cuisine, making it a foodie's dream. Picking a coworking space in Minneapolis is made easier with so much to see, do, and eat in the Uptown neighborhood. In the immediate vicinity of 1330 Lagoon, you'll find Korean BBQ, seafood, and Indian and Thai fare—along with some familiar fast-casual chains. There are also a number of places to gather for drinks, whether you want to enjoy happy hour with your team or take in the area's lively nightlife. Pubs, sports bars, and the Uptown Tavern and Rooftop are all within walking distance of these coworking spaces in Minneapolis. For those who enjoy being outdoors, Bryant Square Park is about a 10-minute walk from this hip setting. With such creative vibes here, you'll find inspiration around every corner.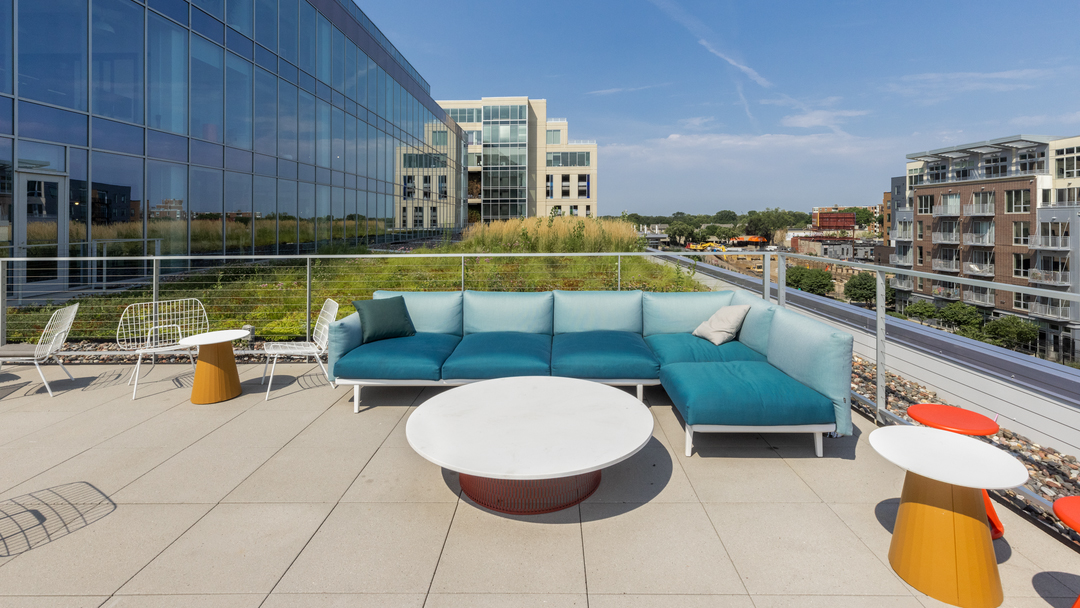 1330 Lagoon in Uptown offers the very best of shared office space in Minneapolis. The building features colorful common areas with plenty of windows that let in natural light. But if you prefer to work solo, private offices are also available, as are dedicated desks in a shared, lockable office. If you're in the market for startup offices in Minneapolis, 1330 Lagoon has full-floor offices available as well. Need less space but still want private meeting areas? Consider renting a conference room—they start at only $10 per hour and are great for brainstorming sessions as well as meeting with potential clients.
In addition to resources designed to help you grow your business, you'll also find amenities here that set it apart from standard offices. On-site bike storage and an in-house fitness center and showers are just some of the features here. Plus, it's a dog-friendly coworking space, so feel free to bring your furry friend.
The outdoor space offers a beautiful spot for laid-back meetings or afternoon breaks with colleagues and friends, while the wellness room provides a private, lockable space for those who need a moment or two of serenity. When you want to socialize and network, the event space will be your go-to for community-hosted gatherings. With so many perks available, your work-life balance will be easier to maintain, which will leave you free to focus on your work.
Whether you're a freelancer looking for an occasional desk, a startup looking for your first office space, or an established company expanding to a new location, there's a WeWork location in Minneapolis to fit your needs. WeWork On Demand offers pay-as-you-go access to shared office spaces across Minneapolis, while WeWork All Access unlocks WeWork locations in cities around the world.
Rethinking your workspace?