Business in Washington, D.C. is constantly on the move, with companies large and small putting down roots in the nation's capital. A thriving economy and access to the federal government makes it easy to land big contracts and secure long-term success, while ongoing growth in law, finance, tech, public policy, and research attracts a diverse community of professionals.
This mobility is not just figurative. With the rise of coworking spaces, more business owners in Washington, D.C. are taking advantage of hot-desking—designed to boost productivity, facilitate collaboration, and maximize networking potential.
For enterprise companies, employees can use hot desks while traveling or working remotely. The practice is ideal if you're expanding between cities, and—when multiple employees are hot-desking at the same spot—it's a great way to encourage interdepartmental collaboration.
If you're freelancing, the benefits of hot-desking are multifold. Community comes from the network of professionals surrounding you, and productivity happens easily when you can choose where and how you work. Stop by to use shared lounges and desks in Downtown D.C. and the next day do the same in Columbia Heights.
Whether you're working for yourself or running a team of remote workers, WeWork offers a range of hot-desks in D.C. to keep you moving forward. Here are some of our best locations in the city.
Hot-desking for the community
With so much business in D.C. anchored upon the Senate, the surrounding area is buzzing with lobbyists, policymakers, lawyers, and journalists. Nearby, WeWork 80 M St SE offers a unique blend of professionalism and community.
Expansive lounges and private conference rooms are ideal for impressing clients and meeting with government partners, while the Capitol itself is only a 10-minute drive away. This location is particularly idyllic in the summer, with a riverside boardwalk right on your doorstep and a program of outdoor concerts on show at The Yards. Plus, the home of the Washington Nationals baseball team is just down the road—perfect for outings with the team.
Hot-desking for work-life balance
Close to an assortment of foreign embassies and sprawling, beautiful green spaces, Woodley Park is winning mix of business and lifestyle. Here, you'll find nonprofits, tech firms, and a slew of other enterprises, as well as easy access to vibrant nightlife and dining.
The area is perfect for those who enjoy a blend of rural living mixed with city life. The neighborhood comprises crisp, clean streets and a mixture of row houses and condominiums. After a day of hot-desking at WeWork 1875 Connecticut Ave NW, you can visit the local retailers and enjoy the premier eateries.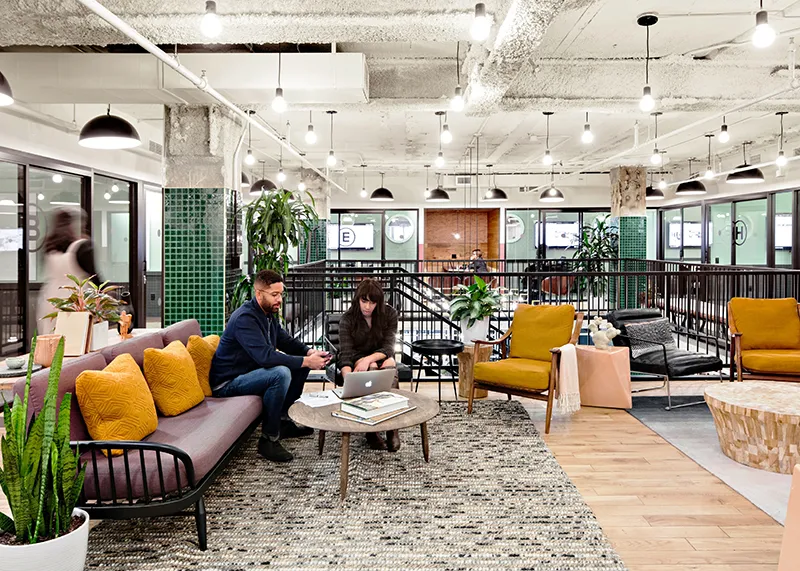 Hot-desking in Chinatown
Rich with culture, Chinatown is east of Downtown D.C. and features art venues, museums, theaters, and upscale retailers. In 2004, the city revitalized Chinatown with a $200 million renovation project—and the growth hasn't stopped.
WeWork 777 6th St NW rests in the heart of Chinatown. Art-filled lounges, contemporary conference rooms, and stylish private offices cater to all work styles. And it's easy to stay productive with all-inclusive amenities like free-flowing coffee and fully stocked kitchens.
Hot-desking to entertain clients
Surround yourself with some of the nation's most renowned museums and performing arts centers in Penn Quarter. Take a lunch break to visit the Reynolds Center or the Smithsonian National Museum. After work, head to Ford's Theatre or the Shakespeare Theatre Company for some creative inspiration.
WeWork Metropolitan Square is ideally situated between this thriving creative scene and a number of government agencies. As well as light-filled workspaces and soundproofed phone booths, this location regularly hosts workshops and thought-leader panels—perfect for making new connections and finding future clients.
Hot-desking on a budget
Located minutes from Howard University, just outside the city's center, Columbia Heights is a hub of artists, retailers, and buzzing entertainment options. Here, a modern social scene meets historic buildings that predate the nation's capital—creating a vibrant backdrop for watching your business thrive.
Nearby, WeWork Manhattan Laundry is the base of operations for creative agencies, tech startups, and nonprofit groups—and you can choose between our affordable hot desks and dedicated desks to join them. With its proximity to the 12-acre Meridian Hill Park preserve, this facility offers ample options for unwinding at the end of the day. Plus, the nearby university is helpful in finding and retaining talent.
For those traveling from other cities to hot-desk in Washington D.C., WeLive's co-living spaces in Crystal City offer an amenity-rich alternative to hotels with flexible terms. Residents can stay for a few nights or a few months in a fully-furnished apartment that feels like home.
Hot-desking brings with it convenience, flexibility, and affordability—and it's an easy solution to finding workspace in such a competitive and fast-moving city. Whether you're starting as a freelancer in Washington, D.C. or growing your team between locations, WeWork's hot-desking options will put you on track to success.