Podcasts continue to skyrocket in popularity, with news of Spotify investing nearly $1 billion in the industry. And with new online tools helping people create professional-sounding podcasts,  DIY recording and distribution are on the rise as well. But there's another essential element to any successful podcast: the space and equipment to produce a stellar-sounding show.
Ideally, podcast hosts don't have to worry about things like setting up and constantly checking for optimal sound quality. When everything's ready to go right off the bat, they can just jump in and focus on the conversation. These days, most shows offer videos of their recording sessions to drive more engagement via YouTube, TikTok, and beyond, so an aesthetically pleasing space is also something to consider.
WeWork has podcast rooms all over the world that members can use to record. Whether you're recording an episode on video, shooting marketing images, hosting an exciting guest, or looking for a steady space to work, these beautifully designed spaces create the perfect backdrop for any brand or personal podcast. And with all the tools you need right at hand, from sound mixers and sound-absorbing panels to mics, headphones, and more, all you need to bring is your A game.
Take a look at seven stylish and technologically equipped podcast studios in WeWork locations around the world—then start imagining the possibilities for your own show or branded podcast.
Hollywood glamour in Los Angeles
"WeWork recognizes that podcasting is an intimate experience, and audio is intimate because we're in your ears," says Sim Sarna, former cohost of "Unqualified" with star actress and comedian Anna Faris. Their show is recorded at Hollywood's WeWork Vine St, with a custom-outfitted office and recording studio created in partnership with the interior design specialists at Suitely. "The studio is designed like a living room, which we love, because we want to make sure everyone feels comfortable"—especially when they're on-air.
Going straight from work to podcasting in London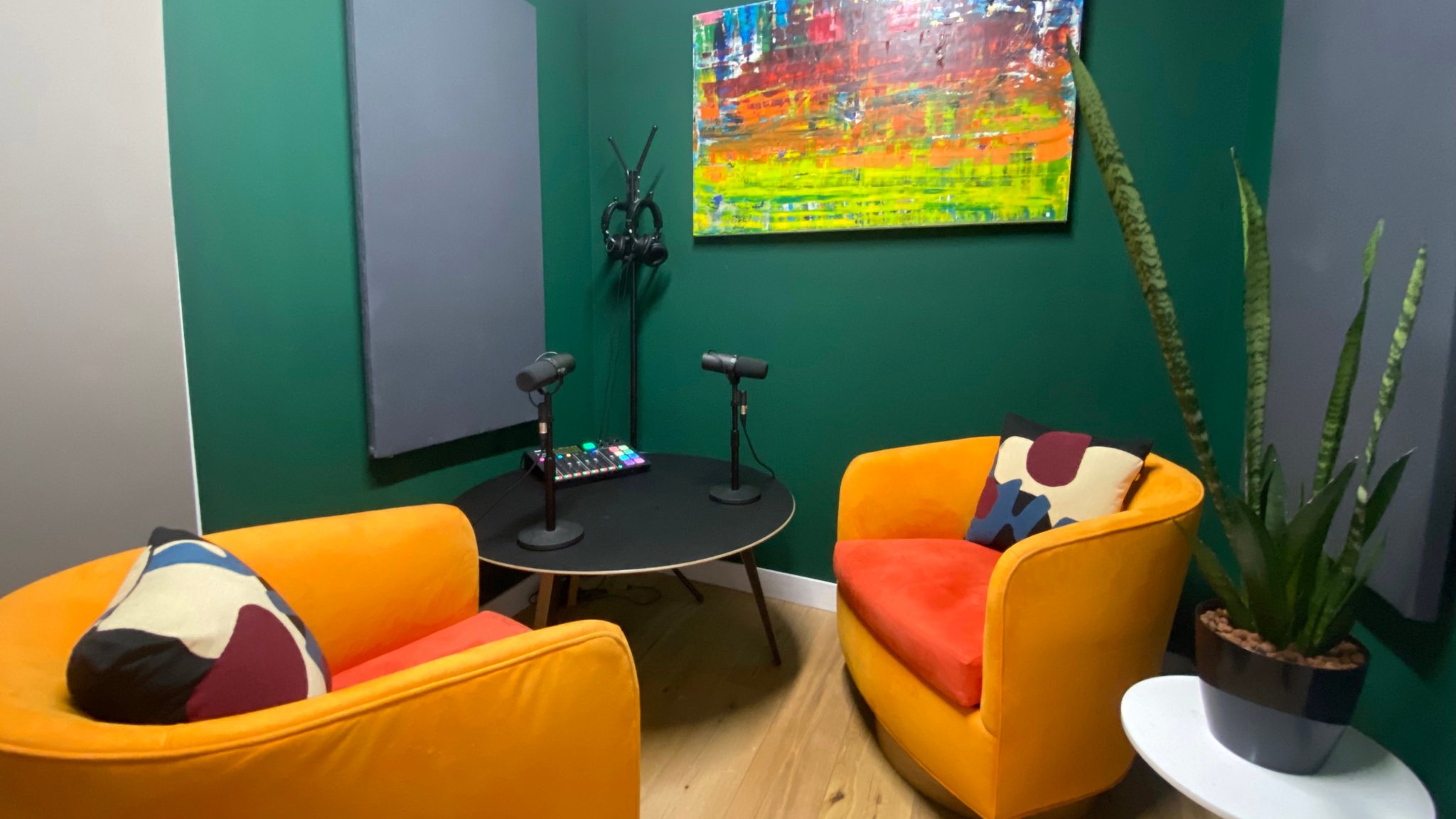 Jennie Becker is a director of events at WeWork as well as the host and creator of the podcast Sliding Doors. She uses the podcast room at WeWork 184 Shepherds Bush Rd in London to record. "With such a busy work life, trying to balance time for my podcast is really hard. Being able to use a podcast room that is so easily accessible to where I work is amazing—it helps the quick transition from my day job into my podcaster mindset," she says. The podcast room is also great for hosting guests. "They always love their visits to WeWork when we record a Sliding Doors episode," she says.
Channeling Motown in Detroit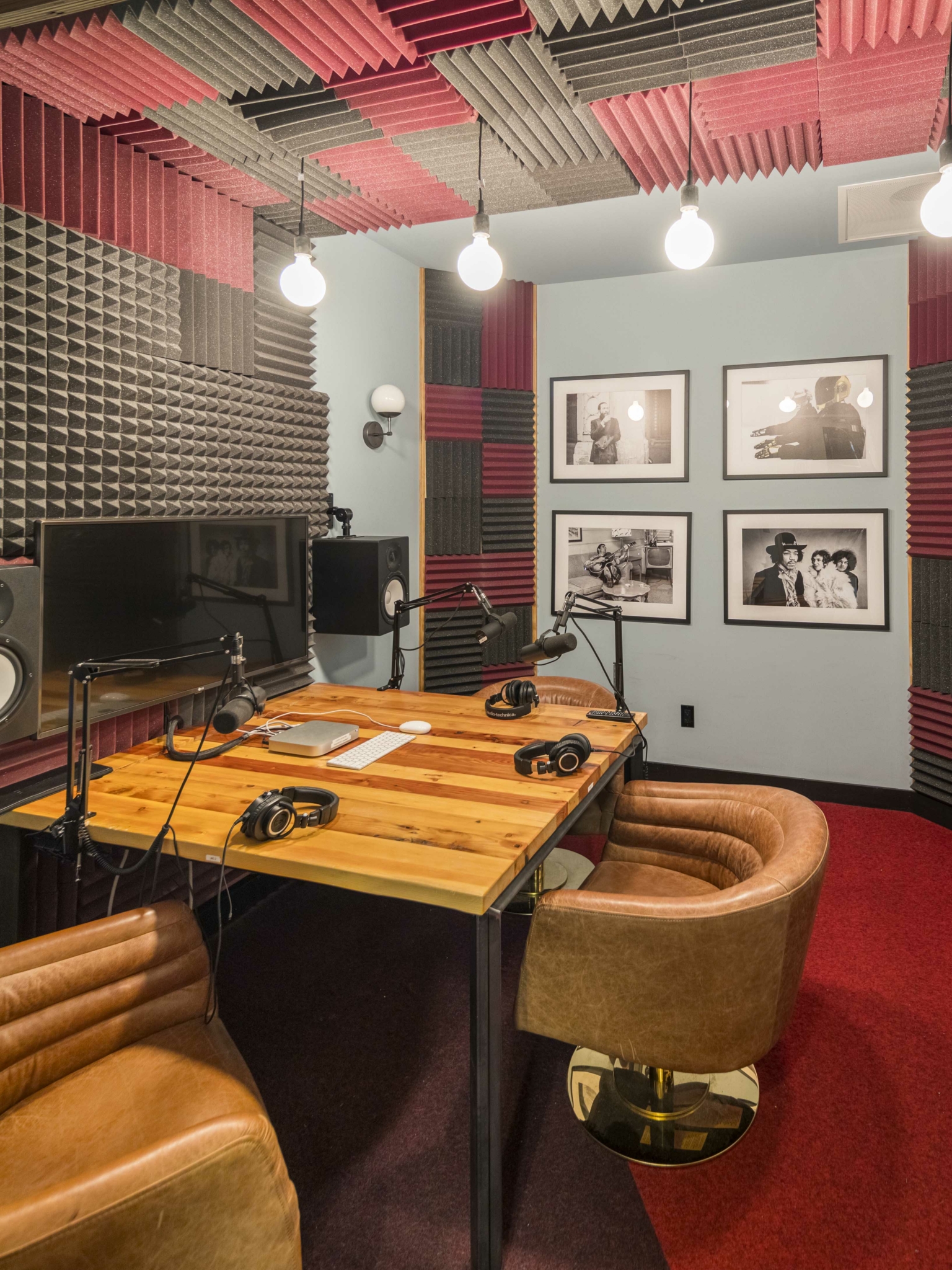 This Motown-themed podcast room in Detroit, Michigan's WeWork 1001 Woodward Ave makes the perfect spot for recording in style, even if music isn't your main topic of discussion. Black-and-white fine art portraits of icons like Jimi Hendrix and Johnny Cash line one wall, and supple leather chairs and sleek red-and-black finishes complete the inspirational vibe. The walls are lined with sound-absorbing panels, so nothing can interfere while you're on-air—just the sweet, smooth sounds of your conversation.
Streamlined creativity in Seoul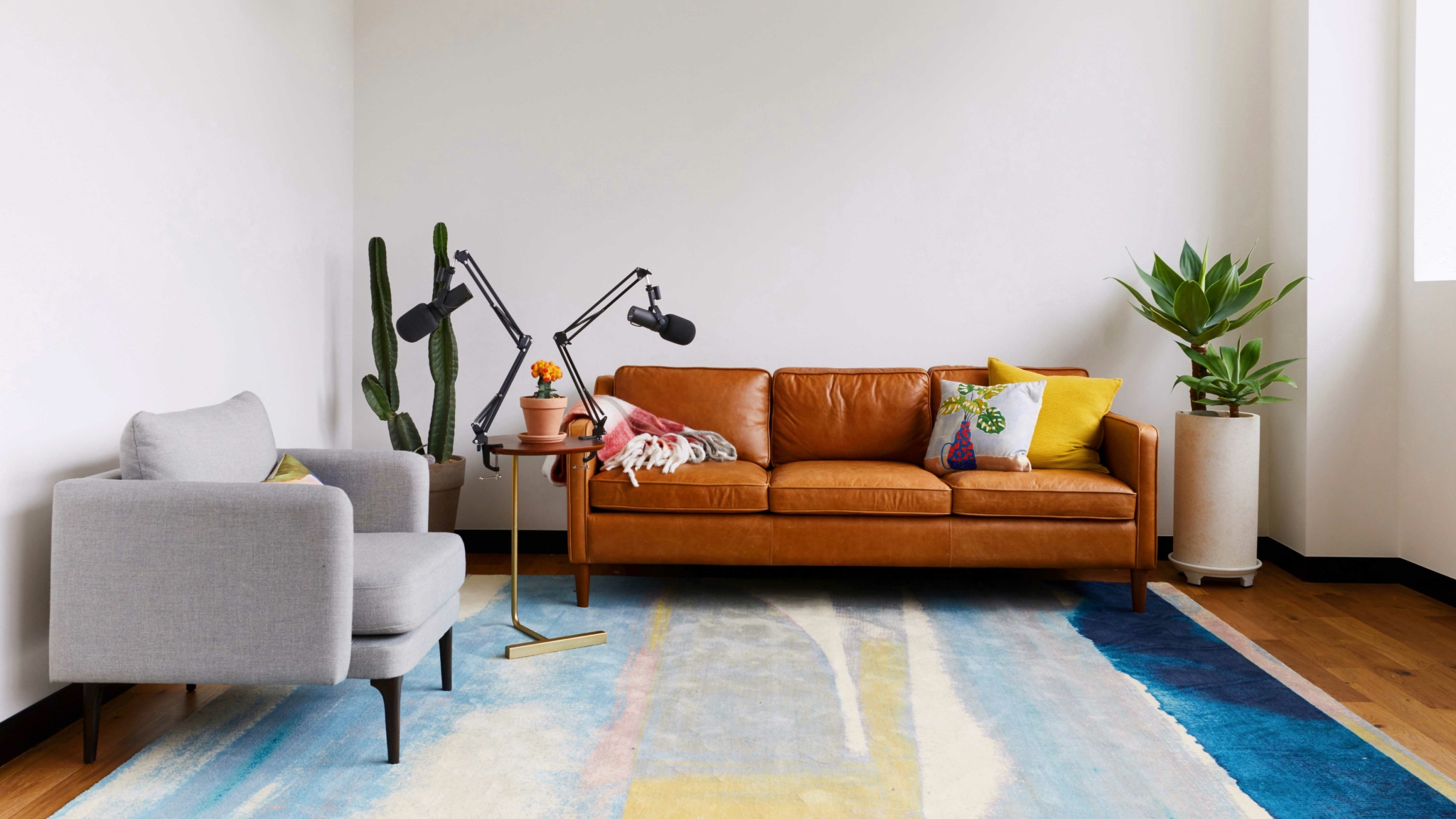 On the minimalist end of the spectrum both aesthetically as well as in terms of technical setup, the two podcast studios in South Korea's WeWork Sinsa Seoul feature two high-quality microphones for an intimate setting free of distractions. A simple sofa and a few armchairs with carefully selected rugs and accent pillows complete the space, along with a touch of greenery courtesy of floor and table plants.
Going pro in Irvine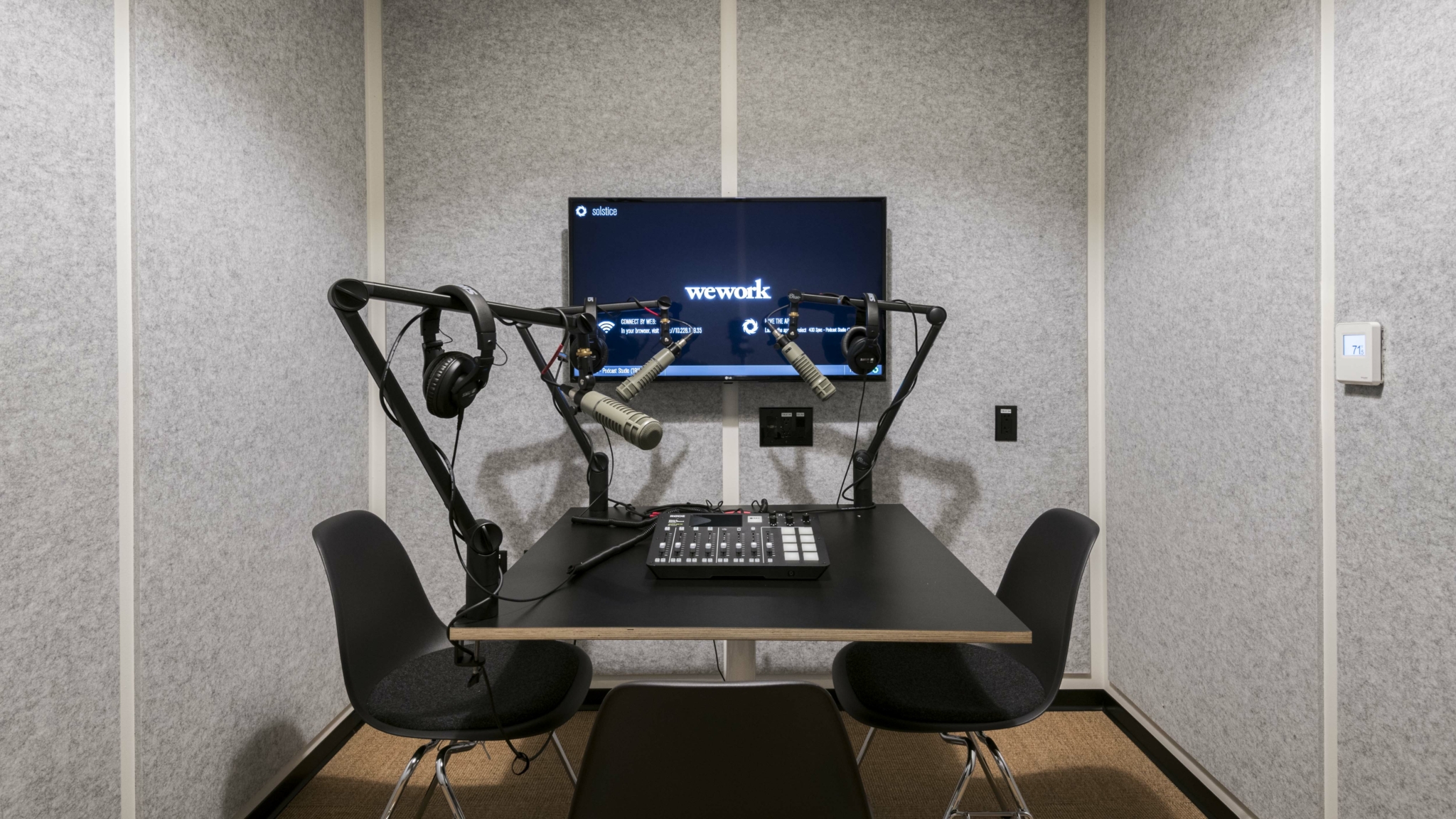 Even podcast newbies will feel like pros at the studio in WeWork 400 Spectrum Center in Irvine, California. The location offers a fully equipped podcast room featuring a DJ mixer, sound-absorbing panels, and a wall-mounted display screen in addition to a set of four professional-grade microphones and headphones.
Hooked up in Austin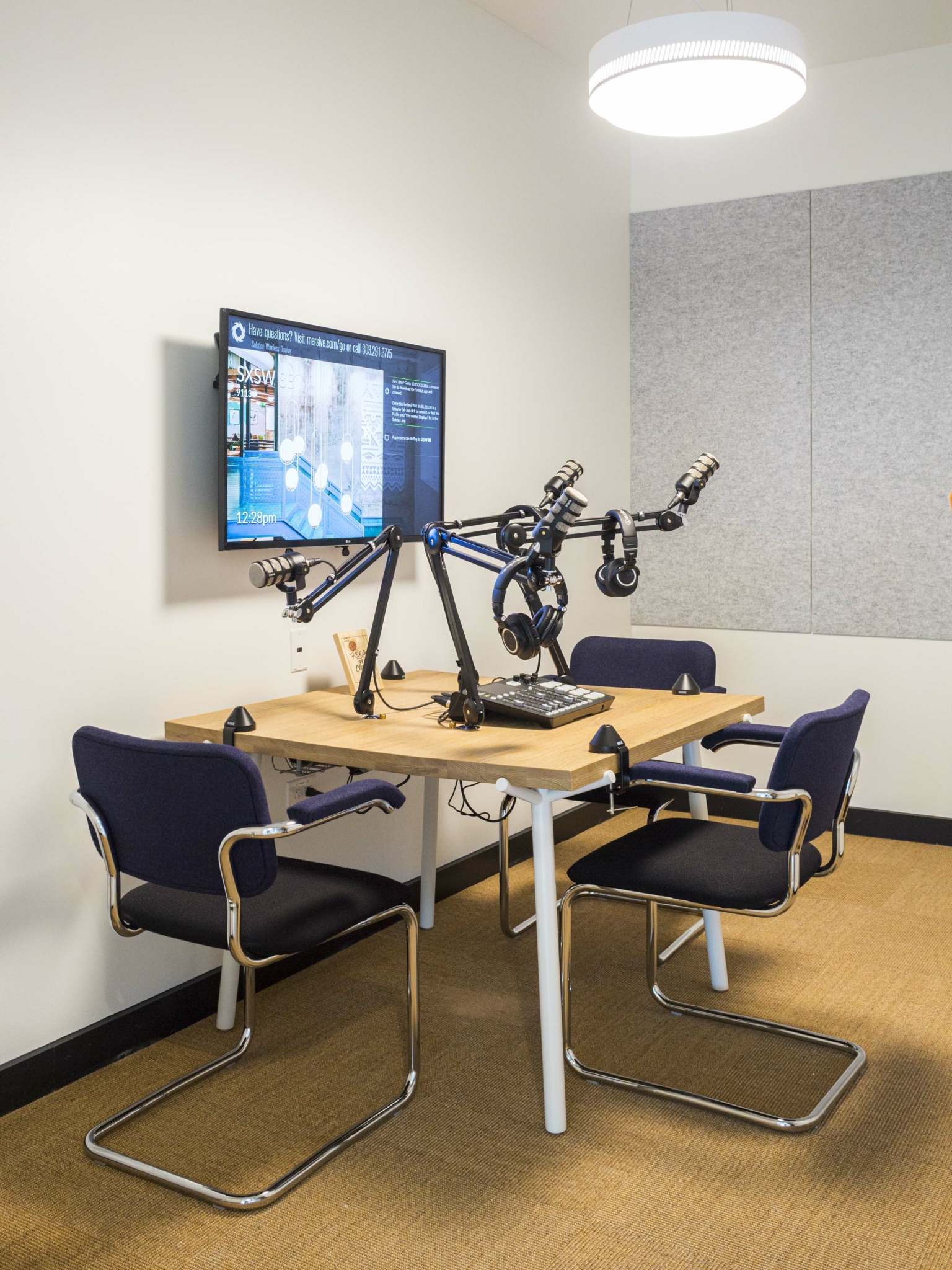 The WeWork SXSW Center in Austin, Texas, is fully hooked up for professional podcasters to do what they do best. With four mics, a sound mixer, absorption panels, and a wall-mounted screen for easy script viewing, connection, and navigation, you'll have everything you need to create a killer episode of your show.
Sight and sound in Sydney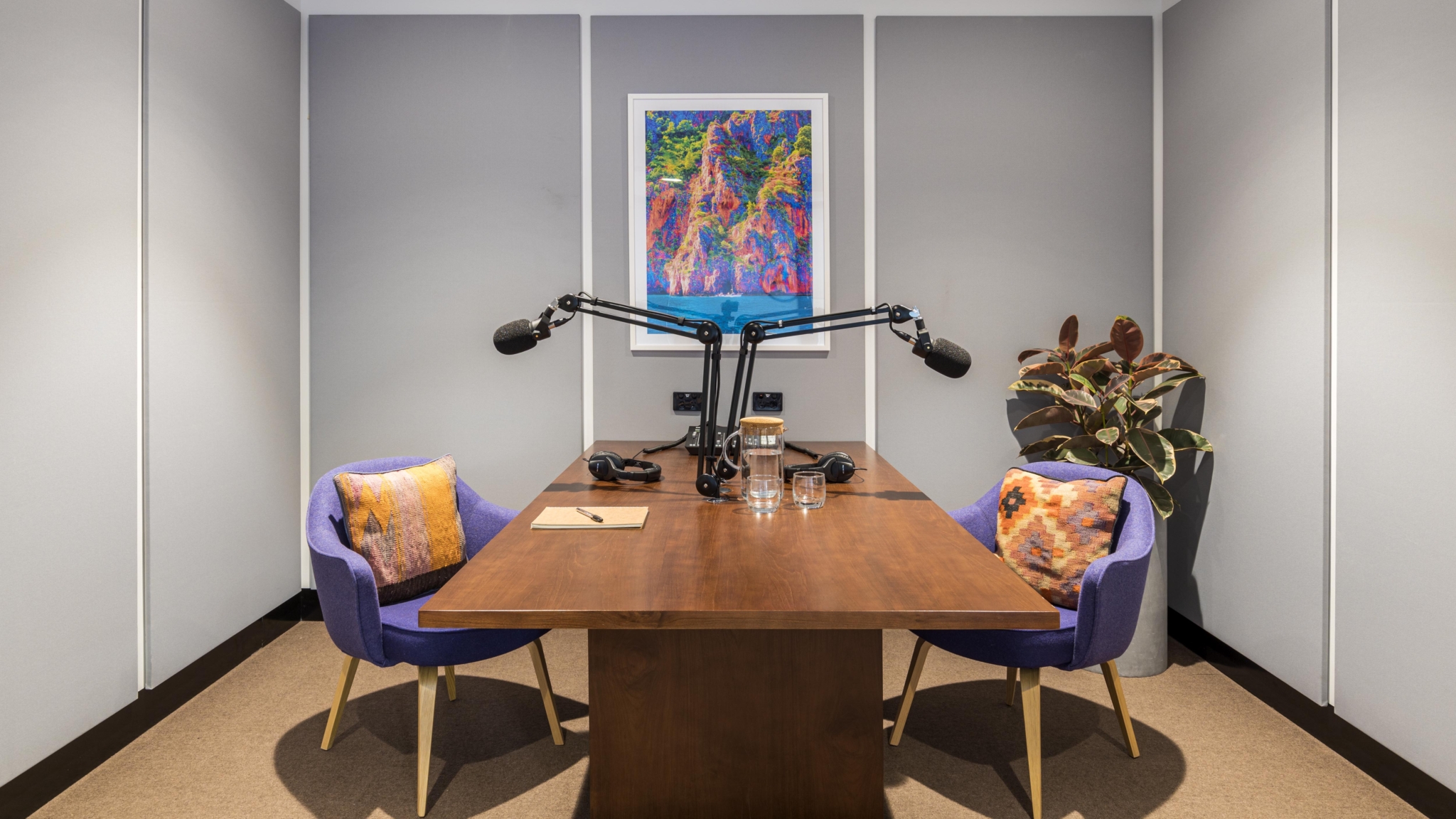 The podcast studio at WeWork 320 Pitt Street in Sydney, Australia, is accented with bright pops of color on walls and furnishings, making it the perfect spot for a video-recorded session, a photo shoot, or your weekly workspace. With two quality mics affixed to a beautiful wood table in a sound-dampened space, hosts and visiting guests can sit back, relax, and get right to the issues at hand.
Fully equipped in Washington, D.C.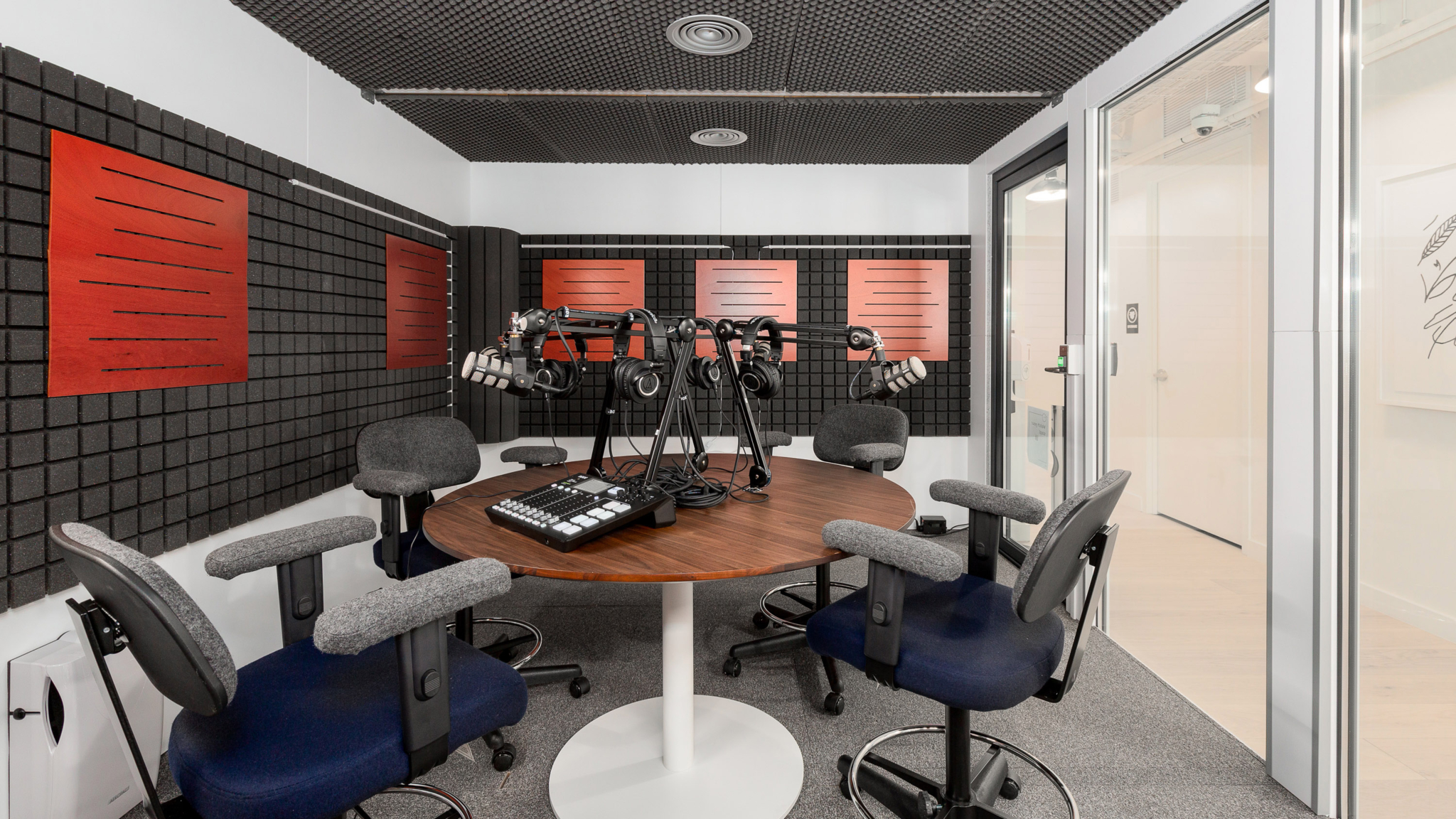 The sound-absorbing podcast room at WeWork 700 K Street NW in Washington, D.C., is built for serious discussions. Featuring ergonomic chairs as well as best-in-class microphones and sound mixing equipment, this conveniently located hub is the perfect place for local and visiting professionals to record their podcasts in the nation's capital.
Anastasia Dyakovskaya is a writer, content producer, and native New Yorker living in Madrid. She works with folks like Bain, Edelman, and Industry Dive and holds a master's in creative writing from the University of St Andrews.
Rethinking your workspace?