Imagine colorful workspaces draped in office plants, kombucha on tap, and a diverse network of professionals plugged in, hard at work in lounges, hot desks, and kitchen benches. The workday's new look is best captured in coworking spaces, and the rise of these shared offices in cities and urban centers is showing no signs of slowing.
In 2018, the number of coworking spaces in the United States increased by 16 percent, and the number of flexible workspaces outside the U.S. jumped by 36 percent. This growth is expected to continue, with projections showing the number of coworking spaces will rise by 6 percent annually in the U.S. until 2022, and by 13 percent around the world.
More than a trend, this phenomena is fueled by—and also helps drive—changes in work culture. Remote work and flexible working are becoming more common as technology advances and the corporate world modernizes. With this, coworking spaces aren't only the realm of freelancers and entrepreneurs; they're a thriving ecosystem involving remote enterprise teams, established companies in private offices, budding startups in brainstorming areas, and a variety of creatives and gig economy workers.
Here, we look into the diverse (and, in some cases, surprising) benefits of coworking spaces.
1. Networking and community events
One of the most commonly touted benefits of coworking is the ability to connect with people you otherwise wouldn't meet. Part of this comes from working alongside new people every day, but elements of a community are also built into workspace solutions like WeWork.
Monthly networking events are an easy way to find fresh collaborators and exercise your networking know-how, while the programming of educational workshops, yoga classes, catered lunches, and seasonal markets helps you to turn those introductions into lasting relationships—and possibly new business.
2. Reduce loneliness; increase connection
When the alternative is working from your living room, coworking spaces surround you with a network of professionals and can reduce the isolation sometimes associated with working from home.
Recent research shows the significance of small, seemingly irrelevant interactions on our sense of belonging; that friendly conversation with the barista, the postman, or your neighbor can help heighten happiness. These interactions are the fabric that binds coworking communities together, and everyone—from the person greeting you as you arrive, to the person sitting at the hot desk next to you—adds to this sense of belonging. Even outside the planned community events, you'll find that inspiration flows in an energetic environment bustling with coworkers.
3. Access to shared and private spaces
In terms of design, coworking spaces are much more than your standard office: There are no cubicles here. Between expansive lounges, convenient hot desks, glass-walled private offices, and write-on-the-wall conference rooms, there's plenty of space for collaboration when teams get together. Privacy and heads-down productivity is possible, too, with bookable meeting rooms and sleek private offices.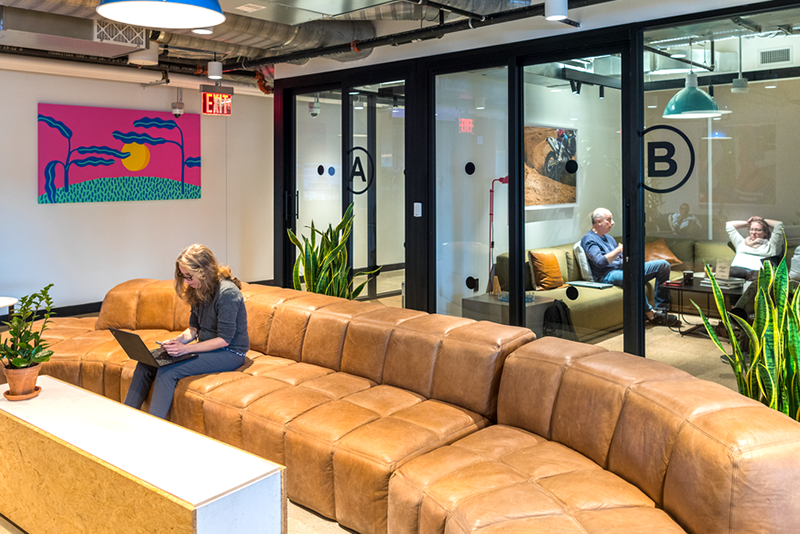 4. Flexibility and cost savings
Whether you're a freelancer looking for a drop-in space, or an established team seeking a dedicated desk or private office, coworking solutions allow you to pay for only the space you need. Plus, flexible agreements mean you can scale at your own pace, without the pressure or rigidity of long-term traditional leases—and this flexibility is absolutely essential to growing companies.
"WeWork gives us that flexibility to grow fast, without having to worry that we're overpaying for space we don't need," says Rich Liu, chief revenue officer at WeWork member company TripActions, a travel management website.
In addition to this, built-in amenities like front-desk and cleaning staff, printing services, internet connectivity, and kitchen and bathroom amenities eliminate the overhead costs typically associated with opening an office space of your own.
5. Remote access
With coworking spaces dotting cities around the world, the ability to plug in at any time, in any location, is a major draw for coworking professionals. Working while traveling is instantly more achievable when you know there's accessible WiFi, a comfortable place to work, and office essentials like printing and coffee just a card-swipe away. Plus, employers can choose to hire the best talent, regardless of location, without relocation costs or the fear of remote employees feeling disconnected.
6. Enhanced productivity
From the morning meeting flurry to the 3 p.m. slump, your focus and energy levels fluctuate during the workday—and your workspace should accommodate this. Typically, coworking spaces blend a range of work environments to cater to different work styles. Offering greater variety than a traditional office, yet greater structure compared with working from home, coworking spaces are optimized for productivity. Progress comes easy in intentionally designed spaces, while intangibles like background music, natural light, and moderated air temperatures keep you energized and refreshed.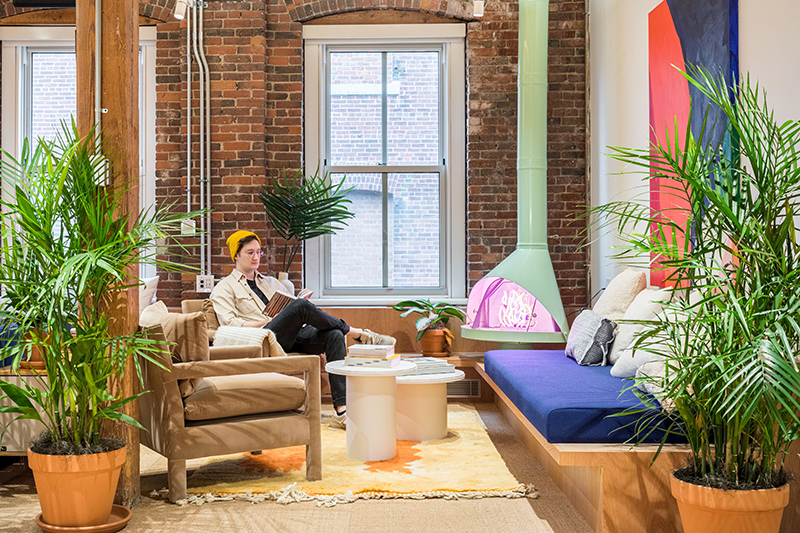 "WeWork provides a comfortable vibe that feels a bit like home," says Meg Chen, general manager of marketing and PR at Alimama, the digital marketing platform that's part of the Alibaba Group. "The space makes it easy for [my team] to focus and it helps with work efficiency."
In addition, coworking solves a problem often associated with working from home that's linked to equity theory. In an office environment, you can see the work of your colleagues—how they're performing, when they're arriving each day—which serves as a reference point for tracking your own performance. When this is eliminated in a home office environment, it can be difficult to stay productive, and the question "Is this enough?" is a constant nag. Surrounding yourself with people pushes you to focus—and also allows you to rest easy in breaking for coffee or taking a walk outside.
7. Breaking out of your comfort zone
If you're not used to open, buzzing office plans or the social aspect of coworking, the ever-changing work environment can be challenging at first. But by breaking out of your comfort zone, meeting new people, and working in different settings each day, you're required to stay innovative and creative in the face of uncertainty—traits similar to those needed in growing a startup.
According to clinical psychologist and author Dr. Elizabeth Lombardo, stepping out of your comfort zone to try new things and consider different perspectives helps fuel innovation and entrepreneurship. The challenge keeps you agile and this, in turn, leads to greater success in both your professional and personal lives.
8. Wellness and work-life balance
Exercising during the workday has been linked to increased productivity and enhanced cognitive ability, and activities like meditation and yoga can help fuel focus and drive creativity. Coworking spaces often include design elements like internal staircases and expansive indoor lounges that encourage movement during the workday. Many WeWork locations are also built into a wider complex, giving you access to gyms and exercise studios. WeWork also provides wellness rooms for meditation, frequent community yoga sessions, and onsite showers that are convenient post-workout.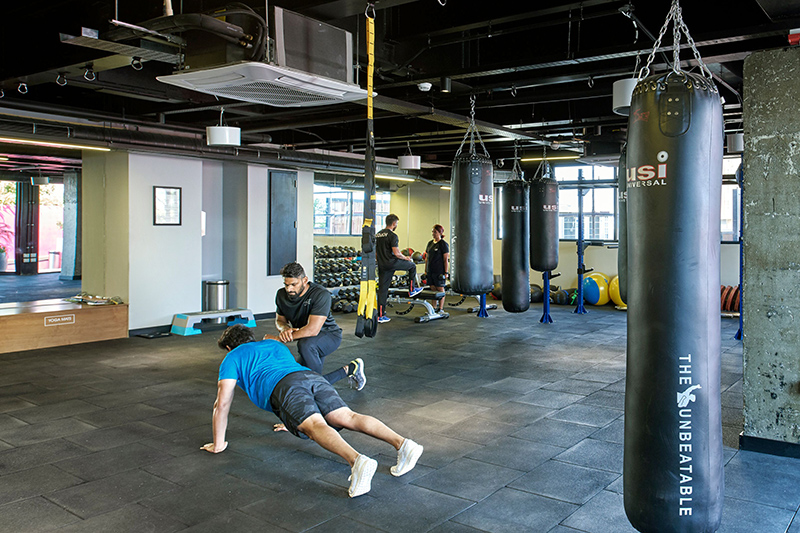 9. Bring structure to your day
A workday at home can pass in a blur, with minimal structure and without a commute to separate home life from work responsibilities. As a result, this schedule can have you working long past the time you should have clocked off: checking your emails from bed, or reading through project plans before your morning coffee. Coworking spaces offer structure to your day, providing a place to arrive every morning and leave once the work is done. Whenever you choose to start work each day, you'll find that this structure helps prevent the unbidden creep of work life into personal time.
The advantages of coworking spaces depend on your business needs
Perhaps not all advantages of coworking spaces apply to you personally—you might be exploring the benefits for remote teams, or before hiring talent elsewhere. No matter your professional needs, flexibility is at the heart of coworking, and you can make the experience fit your team, company, clients, or creative pursuits.
Whether you're an entrepreneur looking for investors, a creative looking for collaborators, or an established team looking for new clients, coworking spaces can be incubators for fresh opportunities. These vibrant shared offices help you increase productivity and foster fresh connections. Plus, they give you the flexibility to work when you want, where you want, and scale operations as you see fit.
Caitlin Bishop is a writer for WeWork's Ideas by We, based in New York City. Previously, she was a journalist and editor at Mamamia in Sydney, Australia, and a contributing reporter at Gotham Gazette.