Around the world, companies of all sizes find space to succeed at WeWork. Our case studies share their unique stories.
Founded in Moscow in 2007, Citymobil, one of the biggest ride-hailing apps in Russia, has expanded quickly beyond its country's borders. Today it offers its taxi services in more than 60 cities throughout Russia. To solve the need for a flexible workspace that serves a growing number of teams, Citymobil turned to WeWork.
The challenge: finding the right space for a development team
After several successful investment rounds and a huge demand for its services, Citymobil started to grow at hyper speed. To keep its operations running efficiently, it needed to rapidly expand its team of engineers. With a talent hunt underway for high-profile developers to push the business forward, the business was faced with a problem: Where would the developers work?
The Citymobil headquarters, located at Leningradsky corridor business district, was not large enough to house the additional 100 development team members the company was taking on, yet the development team needed to stay within close proximity to the rest of the business.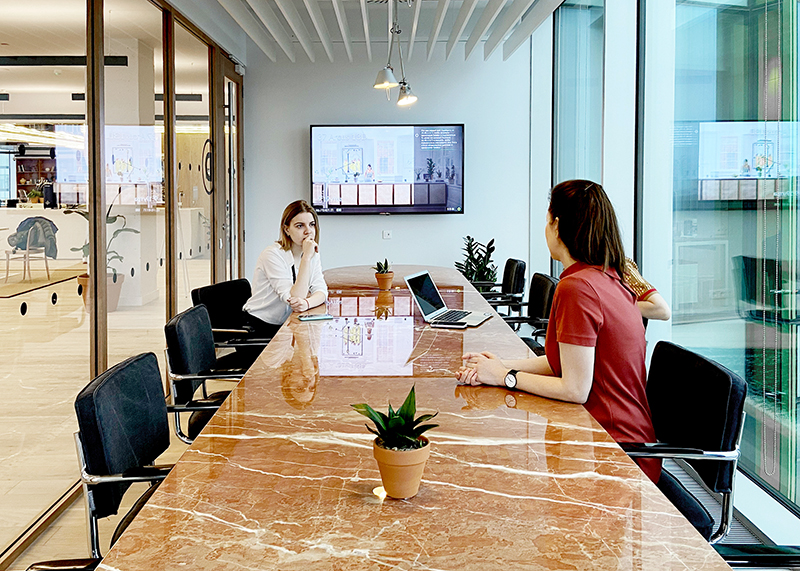 Any additional office space also needed to meet Citymobil's very high standards. Its requirements included having a diverse set of spaces that featured communal areas for collaborative working and social occasions, quiet zones where employees could dig in and focus, and flexible spaces where individuals could come together.
"For people who spend a lot of time at work, the office is often an important factor in choosing a company," says George Lobushkin, head of communications at Citymobil. "And for fast-growing IT companies, flexibility in renting is important [so that it does] not limit their growth and ambitions to the size of the rented property."
The solution: an innovative workspace that flexes at the pace of the business
The most important factor for Citymobil was keeping teams close by, so a WeWork location in the same area was a natural choice. The development team moved into WeWork White Square in fall 2019. With WeWork, Citymobil was able to grow its space from 100 to 630 employees while staying in the same tech hub and neighborhood as its global headquarters.
While employees from headquarters traveled to their office, they could stop by and hold meetings at WeWork with members of the development team, or choose to stay and work from the communal areas for cross-functional collaboration. The human resources team soon moved in, too, realizing it would be more productive being in the same workplace as the faster-growing teams.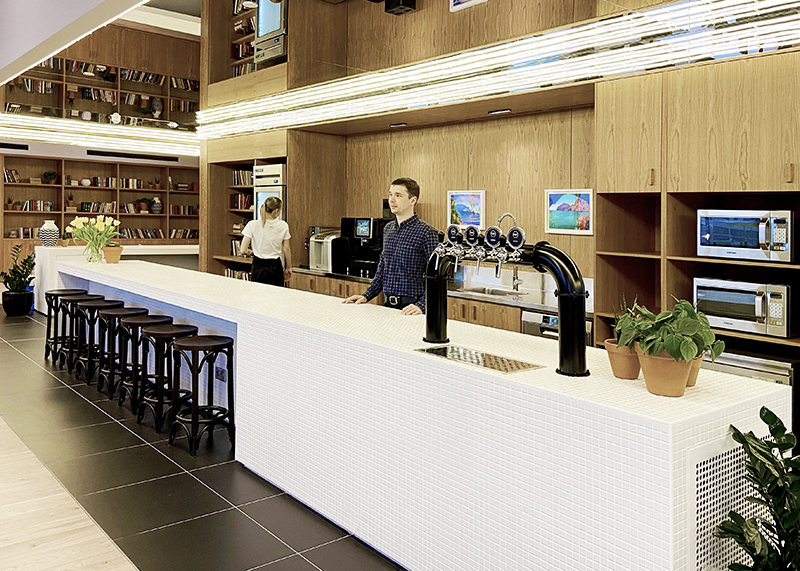 Citymobil and WeWork collaborated in customizing several spaces to give them the same feel as Citymobil's headquarters. Citymobil's hypergrowth meant the company was conducting so many interviews with potential new hires that it made sense to create bespoke conference rooms. WeWork also constructed a custom snack pantry to fuel late-night workers and the support team, whose shifts run 24 hours a day. In addition, there are custom, quiet spaces for engineering teams in need of deep focus.
WeWork's community team created a tailor-made events program that gathers technology talent from other companies in the building—largely IT companies and tech venture funds—as well as businesses across Moscow. This has given Citymobil employees a chance to network with like-minded professionals in similar fields, and has helped with employee retention and attracting talent.
The result: room for all employees to innovate and thrive
Hosting events for the IT community to come and experience new features, hunt for the best developers on the market, and bring the industry together had been challenging for Citymobil in the past, but it is a necessary part of its business. It's hard to find the right spaces to hold regular events for a lot of people.
"WeWork allows you to communicate and share experiences with colleagues from other member companies," says Lobushkin. "We have organized a number of events at WeWork, and our colleagues have repeatedly attended coworking activities in the evenings."
As Citymobil grows, it continues to scale within WeWork. This year, WeWork Leningradsky Ave, 37 (Arcus III) opened in Moscow—a new location even closer to Citymobil headquarters. Citymobil now has 630 extra desks at Arcus III, occupied by the company's engineering, sales, marketing, and other teams.
Key highlights:
A space near headquarters to house hypergrowth teams
Custom-designed spaces that express Citymobil's culture
Flexible office space that is able to accommodate different teams in a variety of collaborative areas
Bespoke programming by WeWork's community team that allows Citymobil employees to engage with technology professionals from other businesses
A partnership that allows Citymobil to quickly move into new WeWork spaces that open 
WeWork offers companies of all sizes space solutions that help solve their biggest business challenges