Those looking to get ahead in their career know the power of having a network. New research conducted by the Massachusetts Institute of Technology recently confirmed that these acquaintance-level connections—referred to as "weak ties"—can benefit everything from job mobility to innovation. These connections can act as a bridge between clusters of individuals who know one another and facilitate the flow of new information, relationships, and ideas.
That's the animating principle behind 20:40, a not-for-profit membership organization dedicated to growing those weak ties among young leaders and budding entrepreneurs. The nonprofit connects people with both peers and established leaders via a common network and platform; it is so named because its members tend to be between the ages of 20 and 40. The organization also offers a development program that includes mentoring by established captains of industry and senior leaders of their respective industries and fields.
Sam Tidswell-Norrish, 20:40 co-chair and cofounder, wants every member to experience "magic moments"—such as when Google cofounders Sergey Brin and Larry Page first met, for example—that moment when a conversation leads to new ideas, or a chance interaction offers the potential to change the MO of a startup. "We want to unlock potential, solve challenges, and create long-lasting relationships," he says.
Solving the problem of the lonely founder
The road to success can be a rocky one, filled with ups and downs, both personal and professional, and young founders can find the journey lonely at times. The more than 200 members of 20:40 have a network in which they can forge new connections with like-minded people, including founders, executives, philanthropists, and investors.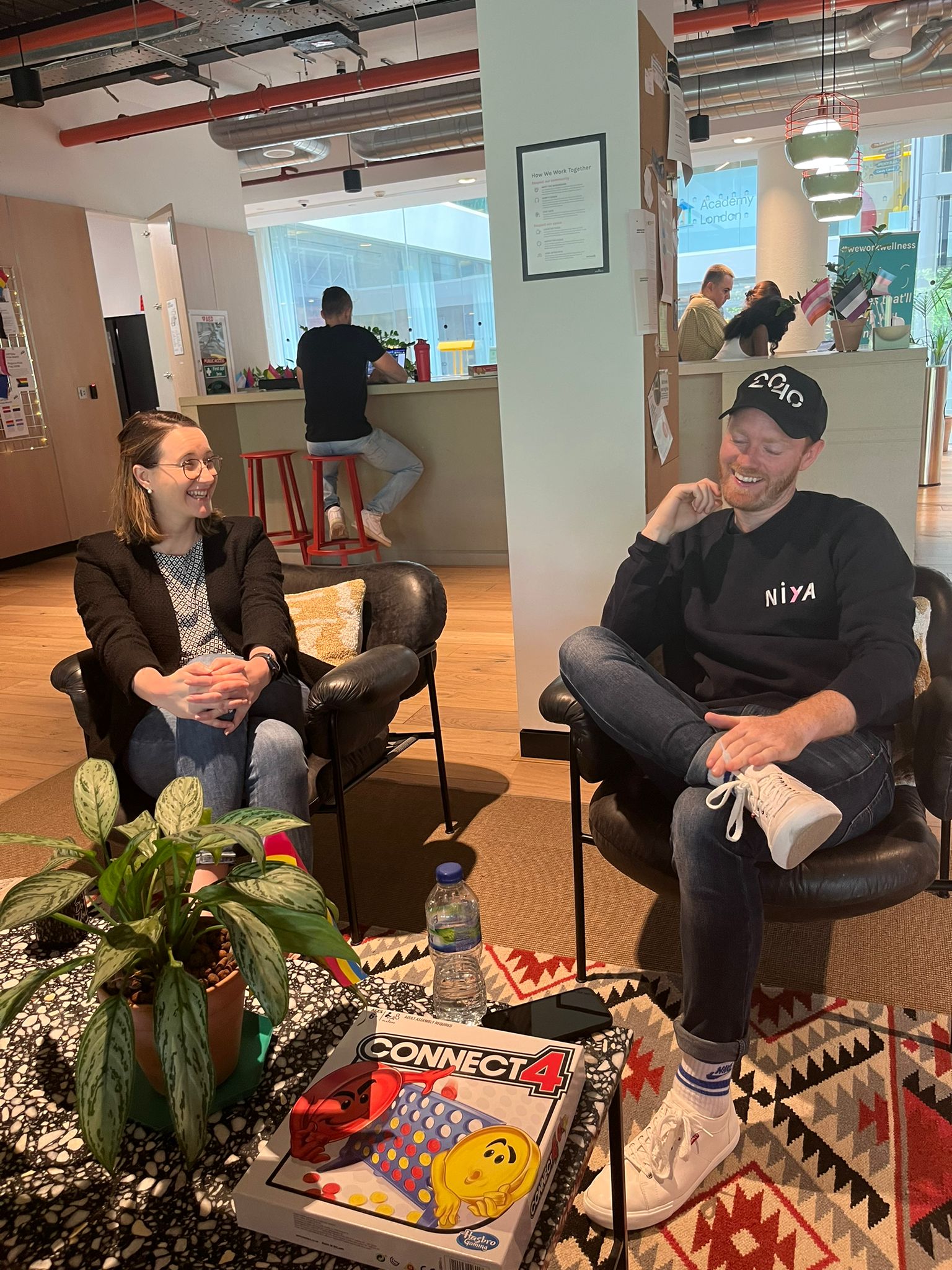 "They want a sense of belonging," Tidswell-Norrish says. "They want to talk to people who face similar challenges. We want to combat that sense of isolation or loneliness young leaders can sometimes face."
Tidswell-Norrish describes the potential of 20:40 through a series of pointed questions. Has an individual ever had challenges in their job? Has a boss ever had trouble finding talent? Has a high-level executive ever wanted to know something about fintech, say, or renewables, health tech, agritech, and so on? The organization is designed to connect these people with one another, and hopefully transform ties into valuable connections, he says.
We want to combat that sense of isolation or loneliness young leaders can sometimes face.

Sam Tidswell-Norrish, co-chair and cofounder of 20:40
Having a physical space where people can congregate, convene, and collaborate can make a huge difference in feeling less isolation. That's why both 20:40 staff and members have WeWork All Access memberships, which allow them to work from hundreds of WeWork buildings around the world. In London, where 20:40 is headquartered, Tidswell-Norrish often works out of WeWork No 1 Poultry or WeWork 10 York Road. As 20:40 looks to expand globally, Tidswell-Norrish knows that all members will benefit from the connectivity, development, wellness, and impact of having access to WeWork's global locations.
When WeWork Workplace, a space management app that supports hybrid work strategies, launched in July 2022, 20:40 became the first nonprofit to sign up to use it. WeWork Workplace provides long-term insights for 20:40, offering data and guidance on where the organization should move based on how and where its members are using space today. That way, it can adjust its operations to serve members globally. Kerry Fennell, a cofounder and member operations lead, praises the usefulness of the analytics and reporting tools offered by WeWork Workplace. "It allows us to know where it's trendy, where it's hot, where it's convenient," she says.
In the end, the organization is all about facilitating those magic moments for young leaders. Fennell mentions the efforts of their youngest member, Onyinye Udokporo, who spent days and nights at a WeWork while writing her book, Dyslexia and Me. Or that time 20:40 hosted Niya—a talent marketplace that connects refugees and individuals from the displaced community with opportunities at leading tech and data companies—at WeWork.
By definition, magic moments occur spontaneously—but 20:40 is determined to increase the odds and opportunities for the next generation of leaders.
Lu-Hai Liang is a British Chinese writer and journalist. He was previously based in Beijing, before being grounded in Sussex, England. But he will be resuming his nomadic status soon.
Want to learn more about flexible work?