I used to think business founders were a special breed of person. I felt they knew something I didn't. In marketing, in which I have over a decade of experience, I thought the digital agencies I worked with would have all the answers. But it took just one experience to convince me otherwise. That same experience set me on the path to becoming one of the founders I had previously thought were so unlike me.
The making of an opportunity
I was head of marketing at a company in Silicon Valley when I employed an outside consultancy to help with building our new website. My team was impressed by what this agency said they could do. They had strong thought leaders, wrote compelling content, and presented a track record of generating leads. Very quickly, however, the process of working with them became a problem.
First, our main point of contact—the salesperson who signed us—was never heard from again. We were introduced to another person who did three hours of work on our project but then also disappeared. A third person worked with us for 15 hours before being pulled off our project. In the end, we paid the agency a lot. But when they handed off the project to me, it was still an unfinished website. They said it was as far as they could go, and they couldn't figure the rest of it out.
My company was generating millions of dollars in revenue, so each month our website wasn't launched was a missed opportunity. I was disappointed with the work of the agency, and knew it was up to us to fix it. I hired another developer—someone I had worked with before—to collaborate closely with us and help achieve the finished product. This was a moment of awakening. I wondered: How many other companies have had similar disappointing experiences?
Finding a partner
Around this time, I had the good fortune of meeting another consultant who approached marketing from a different perspective than I did. Randy Hamilton is a former engineer who deeply understands coding, software marketing, and technology. We hit it off immediately. In our first conversation, we were finishing each other's sentences. We talked at length about how to grow revenue and different strategies to build a business. It felt as if we were perfect complements: I was well versed in the art behind marketing, and he, the science.
We continued our conversation over several bowls of poke. It felt natural when the conversation turned to one about starting our own business. At the time, we were both momentarily swept up in the Bitcoin craze, so we had an idea of starting a Bitcoin company. But was that really our area of expertise? We quickly realized we needed to start a company around something we both really understood. It had to be a marketing consultancy.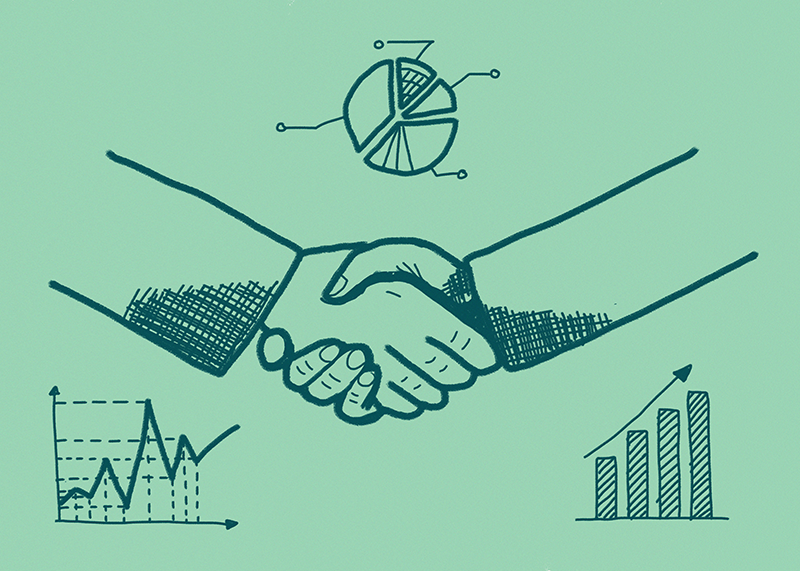 How I conquered my fears
I had a lot of hesitation about launching a business. Practically, it was difficult for me to leave a stable, full-time job that I truly enjoyed. Entrepreneurship felt foreign and scary. Not only did it take marketing experience, it also needed sales, accounting, and other skills that were outside my realm of expertise. My wife was also six months pregnant at the time. It wasn't exactly the best time to start from scratch in my career. Both she and my boss at the time asked: Are you sure you want to be doing this now?
But the strongest hang-up I had was the fact that I had never thought of myself as a founder. I saw myself as someone who worked hard, did well, built strong teams, but ultimately reported to someone else. I had always thought that people who started their own businesses were doing something so remarkable—something that I wasn't ready to do myself.
The more I talked to others about the prospect of founding my own business, the more I started thinking differently. When I spoke to friends who either founded or worked in venture-funded companies about their strategies, they often commented how talented I was at marketing. Chief executives consistently praised my work and my ability to come up with new ideas.
Two things eventually changed my mind. First it was the validating presence of Randy cheering me on. Randy was someone I respected and trusted. If he truly didn't think that I had the potential to be a company founder, then he wouldn't have been so steadfast in his belief in me.
The second was the project the agency half-delivered that I finished myself. I kept coming back to that. My aha moment came when I realized that I give other people a lot of credit and don't give myself enough. I knew that I could deliver customer service with a lot more expertise and skill than I received from this agency—and I was finally starting to believe that I had the skills and expertise to launch a company. Not only did I know marketing well, but I would never have presented such a disjointed, disorganized experience or abandon clients. That's no way to build a business.
When I thought about all the companies that were likely going through similarly disappointing experiences with marketing agencies, I began to stop undervaluing myself. I realized that by believing in myself, I wasn't just helping myself—I had the potential to deliver better services to others and prevent them from encountering frustrating business situations like the one I'd experienced.
Growing the company
With that conviction, Randy and I founded Clutchgrowth. Rooted in our unique expertise and motivated by our experiences with agencies, our business takes a different approach than that of traditional agencies. Given our deep understanding of the space, we specialize in the B2B SaaS space, with a focus on driving revenue and growth.
Most important, from the get-go, we set out to build Clutchgrowth to be relationship-first. We partner with our clients for the long-term. Rather than just delivering ads, landing pages, or campaigns, we consult with clients on how to best generate revenue, including how to hire exceptional talent, budget and scale their teams, and strategize for sustainable growth. What's the use of an experienced SaaS consultant if all you're using them for is to launch ads and report on clicks?
Those relationships have developed to transcend the client-agency relationship. Our client relationships often go from B2B marketing to ideating on how to grow the business to providing a second opinion on high-stakes decisions.
Who knew a relationship-based agency with deep expertise in a key vertical was exactly what so many companies needed? I had an inkling. It wasn't until I could conquer my own hesitations—with the support of an equally talented cofounder—that I had the courage to actually leap and make it a reality.
Zaki Hussain is chief executive officer of Clutchgrowth, a B2B SaaS revenue marketing consultancy and member at WeWork Riverpark Tower in San Jose, California. He is the author of the ebook From Inbound to Account-Based Marketing, a guide on how to launch successful account-based marketing programs.