These days, you'd have to make a serious effort not to eat healthy if you're a member of WeWork Boston.
Several WeWork locations in the city recently rolled out a new member perk—the ability to sign up for a year-round CSA (community supported agriculture) share of fresh produce, delivered weekly right to each office space. The community partnership is with local hydroponic greens grower Freight Farms, which delivers hyper-fresh, flavorful, nutrient-dense, pesticide-free produce. While most CSAs focus on freshness and being local, these greens—grown indoors, without soil—bring new meaning to clean eating.
At eight months pregnant, Casey Barrett, director of community for WeWork in Cambridge and Boston, is concerned about the quality of the food she eats. "I love that the greens I get from the CSA at WeWork are protected from pesticides and the elements because they're grown indoors, hydroponically. I'm not neurotically washing my produce like I used to," she says. Plus, the convenience of getting high-quality produce delivered weekly at work throughout the year—regardless of Boston's typically harsh winter weather—is an added bonus. "There are a lot of farmers markets in Boston during the summer, but by late fall, they're gone," says Barrett, who looks forward to continuing her subscription into the winter months.
Born out of a need for urban agriculture that defied space, cost, and changing weather, Freight Farms grows vertical, hydroponic crops inside shipping containers. "Not only are containers widely available, but they allow farms to exist in areas that can't support traditional methods, such as the South End of Boston," says Freight Farms CEO Brad McNamara. The Boston-based company has a diverse customer base around the world—from traditional farmers to hotels and restaurants, corporate campuses (such as Google and Ford), universities, schools, and nonprofits. "We have over 200 farms located in 38 U.S. states and 15 countries," says McNamara.
The "WeWork farm"—a dedicated container—is managed by a Freight Farms–trained farmer/operator. ("We can actually see [the WeWork container] stacked on top of other Freight Farms containers from the highway," says Barrett.) From initial seeding to final harvest, the farmer tends to the plants and will even implement feedback from WeWork members on their preferences in future plantings. Freight Farms's technology allows for an incredibly fast farm-to-table turnaround: The farmer harvests and packages a variety of greens into individual share boxes and delivers them to WeWork Boston locations that same day. "Time between harvest and delivery is hours, not days, so WeWork subscribers are getting the freshest greens possible," says McNamara. "And that's accomplished in the most sustainable way possible"—using 95 percent less water than traditional agriculture, he says.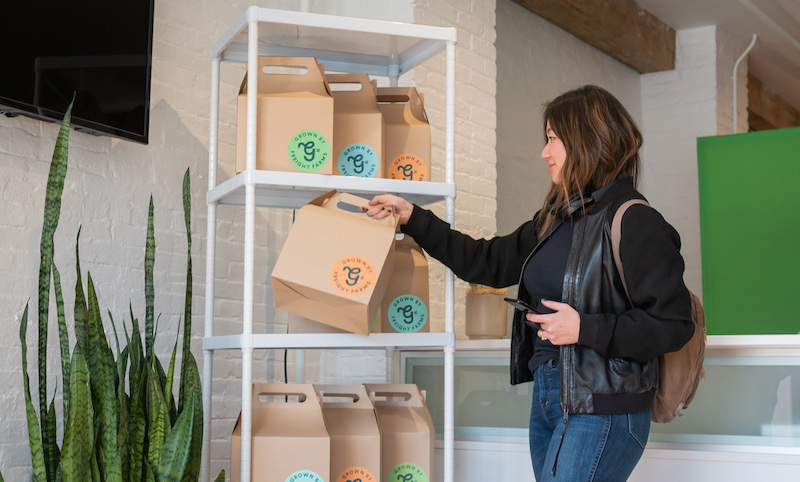 WeWork members and employees are encouraged to get involved beyond just subscribing to the CSA. Members who subscribe to the CSA can take a tour of the company's Freight Farm to see how their food is grown or participate in a "Lunch and Learn" presentation to educate themselves about sustainable farming.
The synergy between WeWork and Freight Farms is natural, says McNamara. "Both companies' values align when it comes to sustainability, engaging locally, and focusing on wellness," he says. Barrett points to the success of WeWork's Wellness Wednesday events, which include meditation, yoga, and other outdoor activations. "Pairing wellness with workplace is a no-brainer," she explains. "Offering healthy eating options for members while supporting local entrepreneurs just feels like the perfect fit."
So far, the feedback has been overwhelmingly positive. "I feel like WeWork is bringing a farmers market to me every week," says Heather Devantier, who participates in the Freight Farms CSA at WeWork 625 Massachusetts Av, where her company, Benchling, has offices. "The quality of the produce is so much better than what you find at most supermarkets, and I love the convenience," she says. Plus, Devantier enjoys an extra perk: Her company pays for the cost of the CSA. "I use the CSA to make salads for lunch, and Benchling reimburses my lunches," she says.
WeWork members located at the Back Bay, 33 Arch St, 745 Atlantic Av, and 625 Massachusetts Av locations can sign up for the CSA subscription on the WeWork Services Store. (There are plans to roll out a subscription service to the rest of WeWork's Boston community by year-end and beyond.) CSA shares are $50 per month ($12.50 a week) for six-month program increments. Shares will be delivered to WeWork offices for convenient pickup each week and include a variety of leafy greens, root vegetables, and edible flowers.